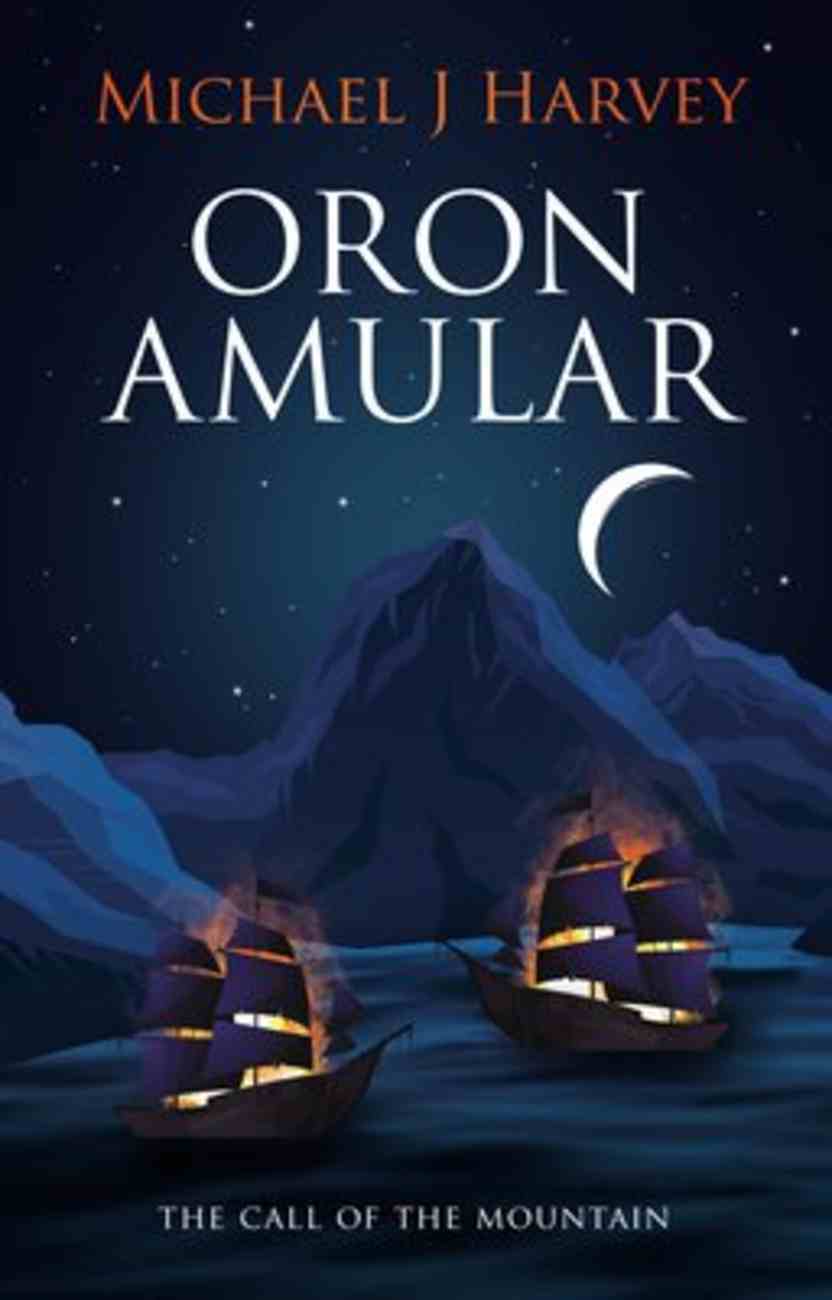 The Call of the Mountain (#01 in Oron Amular Series)
The news goes far and wide. The Keeper of the Mountain has broken his long silence. Oron Amular, home of the fabled League of Wizardry, had been lost to mortal memory, but suddenly the legends are awakening again. Lords and...
---
Expected to ship tomorrow from Australia.
---
Free Shipping
for orders over $99.
The news goes far and wide. The Keeper of the Mountain has broken his long silence. Oron Amular, home of the fabled League of Wizardry, had been lost to mortal memory, but suddenly the legends are awakening again. Lords and princes, heroes and wanderers, all have felt the call of the Mountain. Curillian, the restless king of Maristonia, receives an invitation that cannot be ignored, knowing that invitations have also gone to his allies and adversaries alike. A Tournament is to be held, the like of which has never been heard of. The contestants can only guess at the purposes of the Keeper; all they know is that the prize on offer is Power Unimaginable. All are eager to claim the riches of a lost ancient world, but who can even find the Mountain, let alone survive what awaits them there? When the maps are blank and the loremasters at a loss, another way must be found. Such is the hour when a mysterious stranger crosses the threshold of Maristonia's capital, someone with a call of their own to answer.
-Publisher
Michael Harvey had a successful career in the insurance and consumer electronics industries. He now runs Back to Church Sunday campaigns around the world. Rebecca Paveley is a professional journalist.
I A Tournament This Was the day. Wasn't it? It must be. The thought kept him going as he climbed the hill during the night. He had been waiting for this day half his life. If his conviction were wrong, he wasn't sure he could carry on. He was at the summit in time to see the first hint of dawn colouring the sky behind the mountains in the east. He shivered as the wind blew away the last wisps of mist around him, leaving the view he had come for unimpeded. He was not disappointed. The tranquil violet of the slumbering world was blushed with peach as the sun peeped over the mountains. The light shifted imperceptibly through exquisite shades of rose and vermillion. As it did so, the landscape of tilled fields and little towns gradually took on definition. So too did the poplar-lined road, running east to west through it all. Settling down to wait, he watched the road. The higher the sun rose, the more his eyes narrowed. Daylight imparted each contour of the land with a subtly unique tint of gold as it advanced westward, but the beauty of it was lost on him. His attention was fixed on the road. He would wait for the sign. He would wait all day if need be – but after that? He wasn't sure. Fourscore years had given him patience, half of them spent in waiting. Yet an armist could not live on hopes and dreams forever. He was not yet past his prime, as some armists might view it, but he felt much older. Instead of the excitement and camaraderie which others of his age might have experienced, all he had ever known was sorrow, frustration and delay. He had spent forty years waiting upon a promise, clinging to a hope. His mane of red hair might look aflame in the waxing daylight, but the strength of that hope within was now scarce more than a flicker. He thought that today was the day. Or had he misread the sign? He had spent all his life in the mountains, had stood every night facing east. Hoping. Waiting. Willing. In his dreams he had seen many times that towering flash of fire searing the mountain sky so many times that when his waking eyes beheld it, he could not be sure that it had not been another dream after all. If today was not the day, what would he do? He looked down at himself. The hose, tunic, coat and cloak which had once been such bright red and orange were now faded to dusty browns and yellows and a colour which looked depressingly like dried blood. His strong leather boots, studded with gripping nails, were starting to fall apart again. That's what came of constantly being on the move. Yet often he had nothing better to do than collect news of all kinds. He had no place to call his own; the only home he had ever known had been burned to the ground by bandits. So he simply wandered. Wandered from place to place and from town to town, seeking lodgings where he could or sleeping underneath the stars when no place could be found. Early on he had discovered that he could conjure and enchant like his father, and with the help of Prélan he had somehow managed to scratch a living. Some villages had shunned him as a vagabond, others had refused to let him stay after discovering what he could do, and even those few which paid for his entertainment soon grew weary of him and rarely had kind words to say. That had left him little choice but to mostly keep his own company. He had no one to call him friend. If he died here, casting himself from that high place, would anyone ever know? Eyes squinting in the strengthening sunshine, he watched society begin to pulse in the world below him. Work parties tramped to the fields and merchant caravans plied the roads. Their life was so alien to him, bracketed as it was by the daily rhythms of purpose, and he understood them little. Overlong locks of reddish hair kept falling across his eyes, and time and again he brushed them away with his hand. Then he saw it. One puff of dust among many, as of a swift rider galloping along the highway, but there could be no mistaking what happened next. His eyes widened when out from the dust-cloud there bloomed a vision. It was the emblem of a foreign power. Silver runes and a conical mountain, all on a sable field. Within the mountain were successive roundels of different colours, whilst flanking it on either side was a staff, fire pouring from their tips. This banner mushroomed so large that it filled most of Roujeark's vision, allowing him to see every detail. His eyes were drawn especially to the device in the bottom corner of the vision: a six-pointed star with strange words beneath it: ce avar kalanor, genmos ey ce corpide. His father had taught him the elven characters, so he knew it said the brightest star, first and the last, but he had no idea what it meant. Yet there could be no mistaking it: this was the same emblem that had appeared in all his visions. This was it. He closed his eyes, awash with silent relief. When he opened his eyes again the vision had vanished as if it had never been. All that was left was the fast-moving cloud of dust that denoted the rider's rapid westward progress. Straightaway his mind tried to tell him that he had been seeing things, that he was so weary from his night-climb that he had dozed and dreamt as he sat, but his heart was pounding so hard that it seemed determined to gainsay the doubts. No consternation anywhere in the land implied that anyone else had seen the vision, but he trusted the insistence of his heart. He got to his feet in growing excitement. He turned his eyes back northward, towards the mountains. Somewhere up there was the home he had been forced to leave behind. A home he might never see again. With his waking eyes he saw a cottage burning, the mountain-faces above lit red by the glare. He heard breaking glass and vengeful voices. He felt again the thud of hoof-beats as the pony carried the boy into the unknown. He closed his eyes to shut out the memories, and slowly, with the unclenching of his fists, they died away behind his eyelids. Turning his back on the pain-filled past, he opened his eyes again and looked west to the white-walled city. If the rider of the vision was heading for Mariston then so would he. He would go to the capital and find him. Would there be a message or set of instructions? A guide to take him back, perhaps? After so long the old man owed him that much at least. Pushing those thoughts aside, he set off down the steep slope in an eager shuffle.