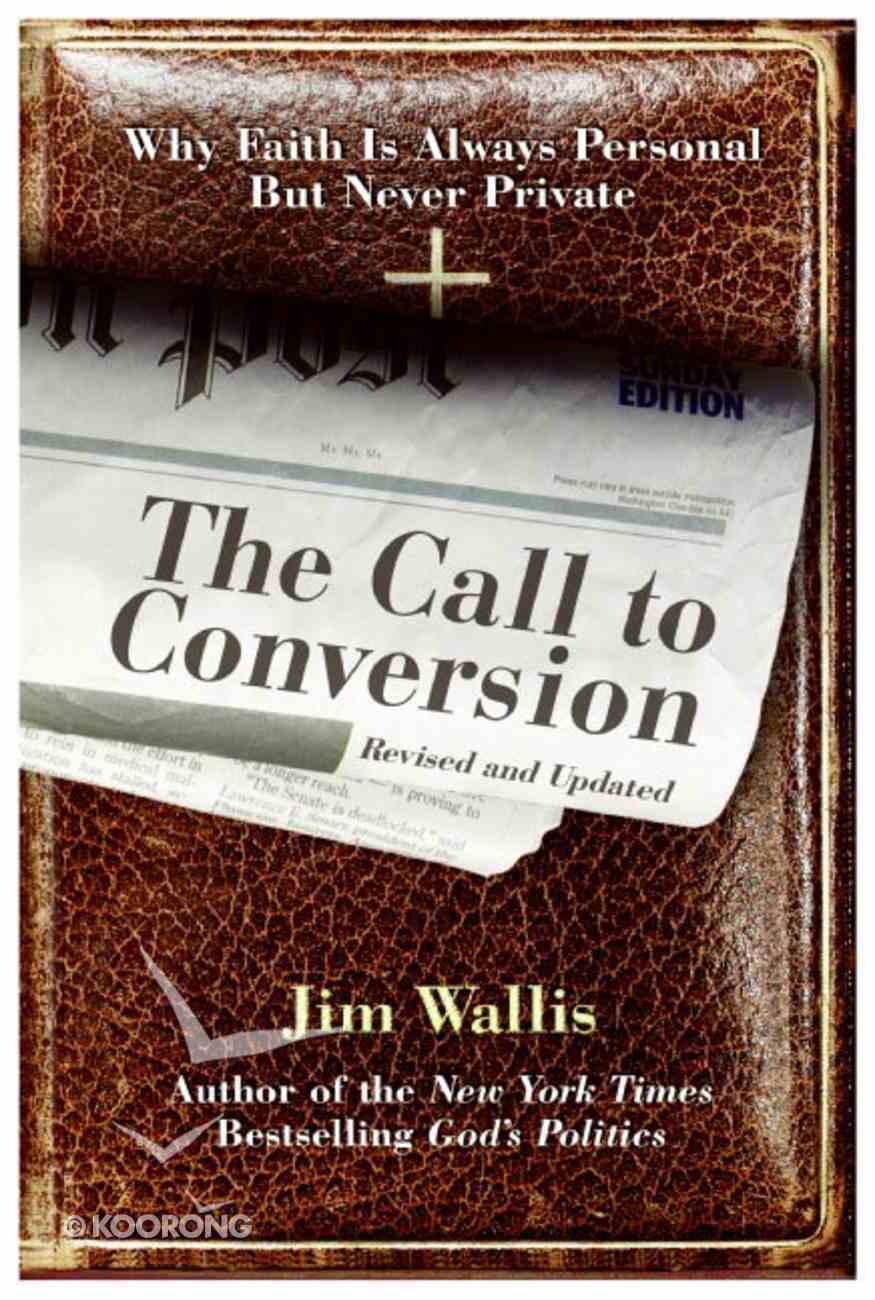 The Call to Conversion (2005)
Put Your Faith into Action A leading voice at the crossroads of faith and politics offers a prophetic appeal for our times: faced with a growing gap between the rich and poor, bombarded by national security alerts...
Instant download
---
Read using our free app on your tablet or mobile!
---
Free Shipping
for orders over $99.
Put Your Faith into Action
A leading voice at the crossroads of faith and politics offers a prophetic appeal for our times: faced with a growing gap between the rich and poor, bombarded by national security alerts that ratchet up our stress levels, taxed by a government that spends billions of dollars on war -- where do we find hope? In this revised and updated edition of his classic, Jim Wallis insightfully critiques contemporary culture and politics, inspiring us with stories to convert our way of thinking and point to a solution to our current social and political dilemmas.

^ A leading voice at the crossroads of faith and politics offers a prophetic appeal for our times: with a growing gap between the rich and the poor, with our fears surrounding national security, with the enormous costs of war, where do we find hope? In this revised and updated edition of his classic book, Wallis provides an insightful critique of our culture and politics, offering inspiring stories that show a way out of our social and political dilemma.^ He elaborates on the concept of conversion, surveying both the biblical and historical meanings as well as the experience itself. He shows us how to reassess the significance of conversion in today's world. By gaining a profound understanding, Wallis argues, we will come to see how economic injustice and the threat of war can serve
-Publisher
Put Your Faith into Action
A leading voice at the crossroads of faith and politics offers a prophetic appeal for our times: faced with a growing gap between the rich and poor, bombarded by national security alerts that ratchet up our stress levels, taxed by a government that spends billions of dollars on war -- where do we find hope? In this revised and updated edition of his classic, Jim Wallis insightfully critiques contemporary culture and politics, inspiring us with stories to convert our way of thinking and point to a solution to our current social and political dilemmas.


-Publisher
Jim Wallis is the author of the "New York Times" bestseller "God's Politics", which electrified Americans disenchanted with how the Right had co-opted all talk about integrating religious values into our politics by offering an alternative voice. Wallis is a leading figure at the crossroads of religion and politics in America today, the author of eight books, and the founder of Sojourners, a global faith and justice network. He is a public theologian, an internationally renowned speaker and preacher, a faith-based activist, husband, and father to two young boys, and a Little League baseball cC
<center><strong>put Your Faith Into Action</strong></center> <p>a Leading Voice At The Crossroads Of Faith And Politics Offers A Prophetic Appeal For Our Times: Faced With A Growing Gap Between The Rich And Poor, Bombarded By National Security Alerts That Ratchet Up Our Stress Levels, Taxed By A Government That Spends Billions Of Dollars On War -- Where Do We Find Hope? In This Revised And Updated Edition Of His Classic, Jim Wallis Insightfully Critiques Contemporary Culture And Politics, Inspiring Us With Stories To Convert Our Way Of Thinking And Point To A Solution To Our Current Social And Political Dilemmas.</p>
Bestsellers in Christian Worldview