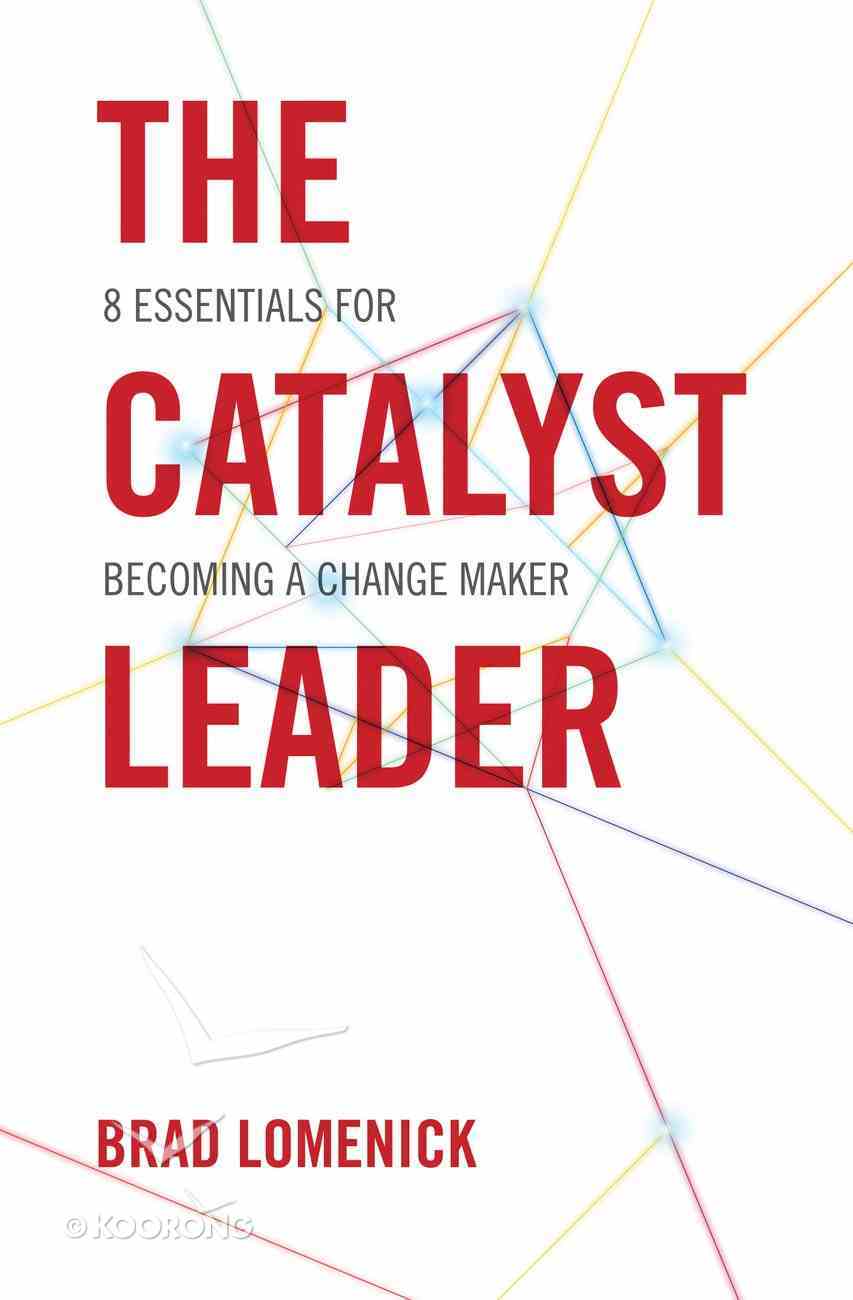 It's time for a new generation of leaders to rise up and take charge.The Catalyst Leader is the ultimate guide to get there. After thirteen years of gathering, influencing, and inspiring hundreds of thousands of young leaders through cutting-edge experiential...
---
Available in other Formats
Instant download
---
Expected to ship within 10 hours from Australia.
---
Free Shipping
for orders over $99.
It's time for a new generation of leaders to rise up and take charge.The Catalyst Leader is the ultimate guide to get there. After thirteen years of gathering, influencing, and inspiring hundreds of thousands of young leaders through cutting-edge experiential events, conferences, and resources, Brad Lomenick understands leadership and the next generation.The Catalyst Leader provides practical help for all leaders at any stage of their leadership journey, ultimately defining what it means to be a Catalyst in this generation, and inspiring us all to be true change makers wherever we lead. The question isn?t how do we lead now; it's how do we lead well. This is the new generation of leaders? handbook for influence. Practical. Inspiring. Timely. Defining. Get ready for your own leadership to be taken to a new level.Endorsements:?Called, but not yet equipped.? Now there's a phrase I can relate to. That's how my friend Brad Lomenick describes his initiation into the world of leadership. Little did he know that his discipline and faithfulness would eventually land him in a role that would give him the opportunity to influencetens of thousands of emerging leaders in the U.S. and around the world. The Catalyst Leader is a must-read for next-gen leaders who want to start strong, end strong, and change their worlds along the way.? Andy Stanley, senior pastor, North Point MinistriesIn The Catalyst Leader, Brad Lomenick shares eight essentials for becominga change maker?a young leader who has the potential to dramatically impact the world for the sake of the Kingdom. I highly recommend this book to those who are passionate about the calling God has placed on their lives.? Jim Daly, president, Focus on the FamilyNot surprisingly, Brad walks deftly between vision and reality, stirring an ache and a resolve in the hearts of leaders. This is one of the best books I've read on leadership in recent memory. It is a clear, compelling, and stirring call to leaders everywhere.? Nancy Ortberg, author, Non-Linear LeadershipThe Catalyst Leader is an amazing guide for the purposeful culture maker, and intentional game changer. This book is for people who live to make good things happen.? Charles Jenkins, senior pastor, Fellowship Missionary Baptist ChurchBrad Lomenick offers a treasure trove of leadership knowledge that you can?t afford to not cash in on. This book contains the kind of transformative insights and truths that guarantee you'll become a stronger, more innovative leader.? Margaret Feinberg, author, Wonderstruck and Scouting the Divine; www.margaretfeinberg.comBrad Lomenick is a leader of leaders. He's also one of the nicest people I know, which is a highly underrated quality of great leaders! I?m a huge fan of the Catalyst Conference and The Catalyst Leader. Without Brad's investment in my life as a leader, I know I wouldn?t be where I am today.? Mark Batterson, lead pastor, National Community Church; best-selling author, The Circle Maker and Soul PrintIt is a widely known fact that today's emerging young leaders are not content with status quo ... to simply rest on past successes and/or mediocre results. Rather, these young ?movers and shakers? in today's society are deeply passionate, highly motivated men and women who think globally, are armed with the latest technology, and are determined to make an immediate and lasting difference in their world. And they are avid readers and learners. The Catalyst Leader by Brad Lomenick is an honest, candid look at eight leadership ?essentials,? packed with snippets of stories and practical advice from top leaders, and is, frankly, one of the best books on leadership in the market today. If you are called to be an effective influencer in any capacity, then this book is for you!? Dr. Wess Stafford, president and CEO, Compassion International; author, Too Small to Ignore and Just a MinuteI've seen and experienced the Catalyst leadership and Brad in action and up close. It's the real deal, and so is this book. We need a new generation of change makers, and The Catalyst Leader outlines the keys for making a difference now.? Mark Burnett, award-winning executive producer and creator, The Voice, Survivor, Apprentice, and Shark TankNo one is more qualified to write a book on leadership than the leader of Catalyst, a leadership movement helping to shape and inspire the next generation of leaders. I've been waiting for this book from Brad, and he's given us great insight with loads of practical application. This is a strong addition to your leadership library.? Christine Caine, cofounder, A21 Campaign; author, UndauntedBrad Lomenick is one of the best leaders I know. His book, The Catalyst Leader unpacks years of invaluable leadership wisdom. Whether you are a beginning leader or a seasoned one, this book will unquestionably make you better.? Craig Groeschel, senior pastor, LifeChurch.tv; author, Altar EgoThis is the fastest-moving, most exciting time in the history of business. Incredible opportunities are flying past us at breakneck speed, and once they're gone, they're gone. But if you don?t have the spiritual and emotional foundation for growing as a leader, those opportunities will roll right over you. Brad Lomenick has become a master at preparing young leaders for the opportunities and challenges they'll face, and I?m fired up that he's poured everything he's learned about growing leaders into The Catalyst Leader.? Dave Ramsey, New York Times best-selling author; nationally syndicated radio show hostFor years, Brad Lomenick has been one of the people who have helped me navigate the tricky waters of leadership and influence. I?m thrilled that now he's taking that same wisdom and making it available to so many people in the form of this book.? Jon Acuff, Wall Street Journal best-selling author, Quitter and Stuff Christians LikeI am called to be a leader of a national organization, but I don?t always feel fully equipped. I suspect you've felt this way too. Most of us wish there was a roadmap of essential practices to help us lead well, navigate the pitfalls of success, avoid burnout, and really become a change maker. The Catalyst Leader is that roadmap and fresh leadership voice for which we've been looking. Brilliantly written by my friend, Brad Lomenick, this research-based book is innovative, practical, and refreshingly authentic. I highly recommend this resource!? Lysa TerKeurst, New York Times best-selling author, Made to Crave and Unglued; president, Proverbs 31 Ministries
-Publisher
Brad Lomenick is President and Key Visionary of Catalystâa movement purposed to equip and inspire young Christian leaders through events, resources, consulting, and community.
Bestsellers in Leadership