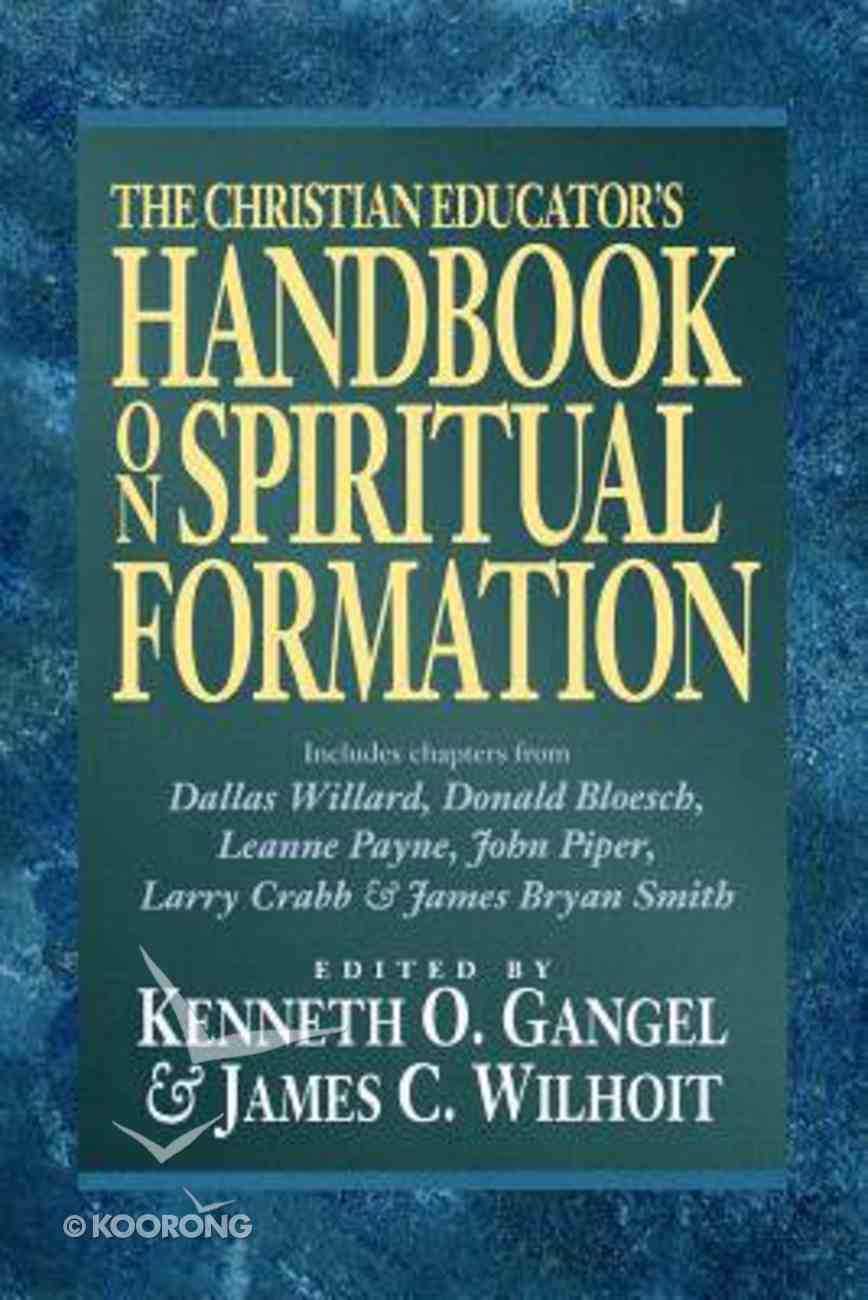 The Christian Educator's Handbook on Spiritual Formation
Out of Stock
Available to Order
---
Expected to ship in 5 to 6 weeks from Australia.
---
Free Shipping
for orders over $99.
25 Chapters
-Publisher
"Here is a smorgasbord of essays that range wide and between them probe deep into the roots of spiritual life. Everyone who has a ministry of pastoral guidance will find something new and useful in these pages."--J. I. Packer, Regent College"This resource volume is long overdue and will provide the kind of help many Christians have been seeking to understand and pursue spiritual growth."--Luder G. Whitlock, Reformed Theological Seminary"It is not often that a book combining adequate coverage of the subject, accurate information, and genuine spiritual insight appears, but The Christian Educator's Handbook on Spiritual Formation does just that. It draws together theoretical insight on spiritual formation for the academician and practical help on growing spiritually for the layperson."--Walter A. Elwell, Wheaton College"What a pertinent topic. What a great group of writers. What a wealth of information. Having read through Wilhoit and Gangel's handbook of spiritual formation, I'm certain I'll be going back to it time and again."--David R. Mains, The Chapel of the Air Ministries"The assembly of such an array of wisdom on the topic of spiritual formation is an editorial tour de force. I found myself pausing long over memorable paragraphs and beginning each chapter with ever mounting anticipation. Uplifting!"--R. Kent Hughes, College Church in Wheaton
-Publisher
In this resource, available for the first time in paperback, twenty-five church leaders explore spiritual formation in the light of history; through specific acts of liturgy, public worship, and prayer; and in different age groups. The editors explain their purpose in the introduction, "We offer this volume as an alternative to a humanistic education which has robbed some churches of the ability to transform believers. We want to assist congregations in producing the kind of people who can witness to the world through both their words and the depth of their being. Our hope is that it will be used to educate and nurture believers in the process of spiritual formation."
-Publisher
Kenneth O. Gangel, distinguished professor emeritus at Dallas Theological Seminary, is a frequent lecturer and author of more than a dozen books and hundreds of articles. His son and coauthor, Jeffrey S. Gangel, holds a D. Min. and is vice president for spiritual formation at Toccoa Falls College in Toccoa Falls, Georgia, where Kenn is scholar-in-residence.
James Wilhoit is Scripture Press Professor of Christian EducJames Wilhoit is Scripture Press Professor of Christian Education at Wheaton College in Wheaton, Illinois. He is the autation at Wheaton College in Wheaton, Illinois. He is the author of Spiritual Formation as if the Church Mattered, coedithor of Spiritual Formation as if the Church Mattered, coeditor of the Dictionary of Biblical Imagery (IVP Academic) and or of the Dictionary of Biblical Imagery (IVP Academic) and coauthor, with Leland Ryken, of Effective Bible Teaching. coauthor, with Leland Ryken, of Effective Bible Teaching. C
Introduction<br>1.&#9;what Is Spiritual Formation?<br>&#9;john M. Dettoni<br>2.&#9;spiritual Formation In The Early Church<br>&#9;craig A. Blaising<br>3.&#9;salvation And Spiritual Formation<br>&#9;robert P. Lightner<br>4.&#9;the Puritan Model Of Spiritual Formation<br>&#9;leland Ryken<br>5.&#9;counterfeit Spirituality<br>&#9;timothy R. Phillips And Donald G. Bloesch<br>6.&#9;god Is Most Glorified In Us When We Are Most Satisfied In Him<br>&#9;john Piper<br>7.&#9;longing For Eden And Sinning On The Way To Heaven<br>&#9;larry Crabb<br>8.&#9;spiritual Formation Through The Liturgy<br>&#9;lynn C. Bauman<br>9.&#9;spiritual Formation Through Public Worship<br>&#9;kenneth O. Gangel<br>10.&#9;living And Growing In The Christian Year<br>&#9;d. Bruce Lockerbie<br>11.&#9;nurturing The Spiritual Lives Of Teachers<br>&#9;robert W. Pazmi&ntilde;o<br>12.&#9;principles Of Church Renewal<br>&#9;alan Schreck<br>13.&#9;teaching Scripture Intake<br>&#9;donald S. Whitney<br>14.&#9;following The Lord's Pattern Of Prayer<br>&#9;james C. Wilhoit<br>15.&#9;teaching People To Pray<br>&#9;t. W. Hunt<br>16.&#9;the Imitation Of Christ: Means And End Of Spiritual Formation<br>&#9;robert P. Meye<br>17.&#9;personal Healing And Spiritual Formation<br>&#9;leanne Payne<br>18.&#9;the Spirit Is Willing: The Body As A Tool For Spiritual Growth<br>&#9;dallas Willard<br>19.&#9;spiritual Formation In Children<br>&#9;robert Clark<br>20.&#9;spiritual Formation Of Adolescents<br>&#9;james Bryan Smith<br>21.&#9;spiritual Formation In Older Adults<br>&#9;beth E. Brown<br>22.&#9;spiritual Formation Through Small Groups<br>&#9;peter V. Deison<br>23.&#9;the Family As A Context For Spiritual Formation<br>&#9;ronald T. Habermas<br>24.&#9;the Pietistic Tradition In Evangelical Spirituality: <br>&#9;&#9;a Bibliographic Essay<br>&#9;lyle W. Dorsett<br>25.&#9;annotated Bibliography Of Resources<br>&#9;james C. Wilhoit<br>&#9;references<br>&#9;name Index<br>&#9;subject Index<br>&#9;scripture Index
Bestsellers in Ministry Resources