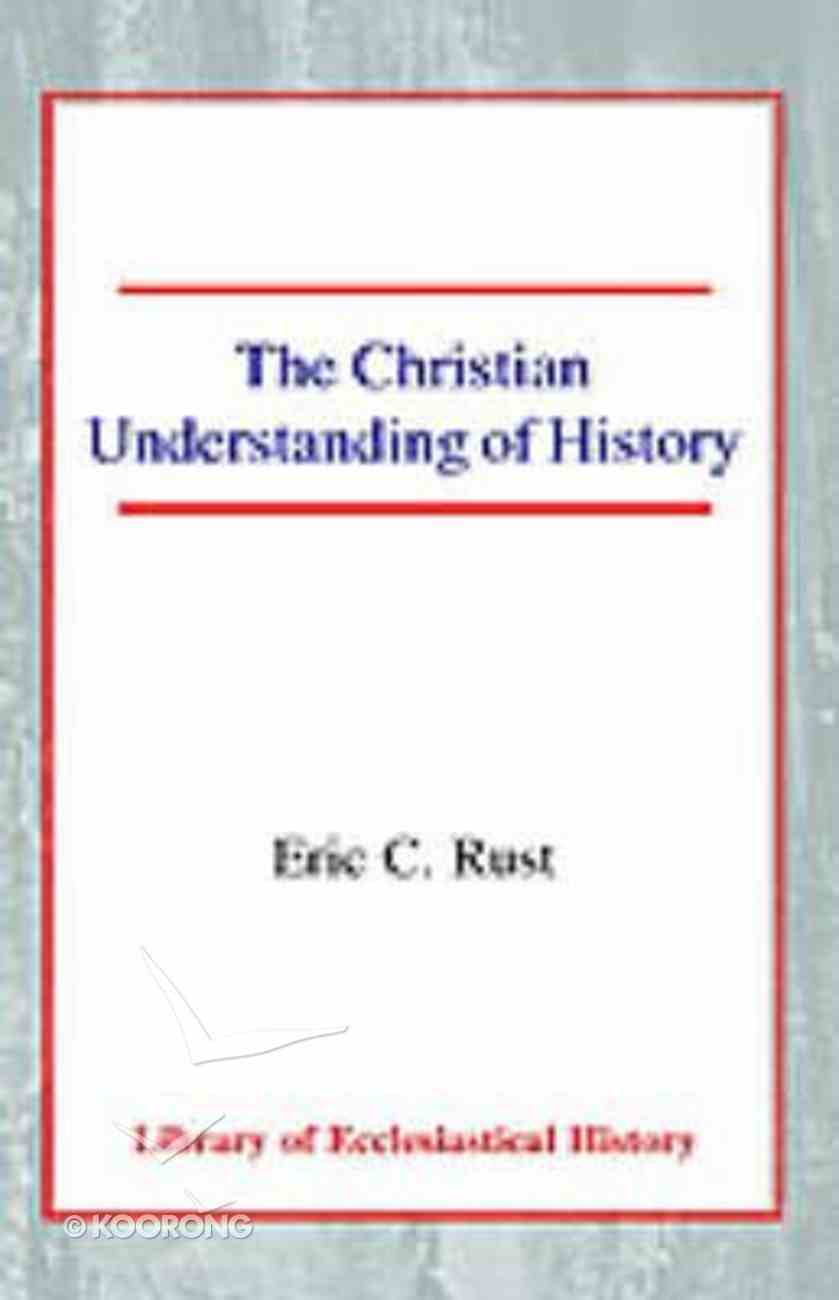 The Christian Understanding of History
The problem of world-history and its meaning is acute. In a scientific age we are also becoming historically conscious, realising how many of our contemporary problems cannot be solved without an understanding of their historical perspective. For the whole conception...
Special Order
Payment is by credit card only. Orders for this item cannot be cancelled or returned.
---
Free Shipping
for orders over $99.
The problem of world-history and its meaning is acute. In a scientific age we are also becoming historically conscious, realising how many of our contemporary problems cannot be solved without an understanding of their historical perspective. For the whole conception of world-history is rooted in Christianity. The Christian faith proclaims God's special revelation through His Son as the key to historical meaning. How does this salvation history relate to the complex events of our historical existence? Does God only work in salvation history or is there also a general revelation of His presence? This book suggests answers to these questions. Its author believes that only by examining the problems in the light of the biblical revelation and the meaning it gives to history can they be understood.
-Publisher
PRODUCT DETAIL
Catalogue Code 

277808

Product Code 

9780227171196

ISBN 

0227171195

EAN 

9780227171196

Pages 

308

Department Academic
Category History
Sub-Category General
Publisher James Clarke & Co
Publication Date 

Nov 2002

Dimensions 

220 x 140 x 17

mm

Weight 

0.390

kg
Contents: Part I. The Basic Principles I. The Enigma Of History 1. The Nature Of History 2. History And Meaning Ii. History As A Process Of Nature 1. The Scientific View Of History 2. The Biological Theory Of History 3. The Element Of Truth Of Spengler's Interpretation Iii. Utopian Illusions 1. The Cult Of Progress 2. Dialectical Materialism 3. The Weakness Of Marxism Iv. History And The Eternal Order 1. Philosophical Idealism And History 2. The Theistic Solution And The Perversion Of Reason By Sin 3. The Christian Understanding Of History And The Categories Involved V. Salvation History And The History Of Religions 1. Religious Relativism And The Denial Of The Uniqueness Of Salvation History 2. The Falsity Of Religious Parallels And Analogies 3. Sin In The Religious Consciousness Vi. Salvation History As Historical Myth 1. The Unity Of Salvation History In Christ And Its Mythical Framework 2. The Legitimacy Of The Historical Criticism Of Salvation History 3. The Failure Of Historical "explanations" By Causation And Analogy 4. Faith And The Divine Incognito In Salvation History 5. The Limits Set To Historical Criticism By Faith 6. Historical Knowledge And The Certainty Of Faith Part Ii. The Course Of Salvation History And Its Eschatological Framework Vii. Israel: The Covenant And The Promises 1. The Falsity Of Evolutionary Categories And The True Approach To Salvation History In Terms Of Crisis 2. The Consciousness Of Election And The Inner Unity Of Salvation History 3. Moses And The Exodus 4. The Implications Of The Covenant-relationship Viii. The Failure Of The Nation And The Doctrine Of The Remnant 1. The Mighty Acts Of God 2. The Prophetic Consciousness And Historical Events 3. The Eschatological Framework Of The Prophetic Ministry 4. From The Settlement To The Exile 5. The Hope Of Israel Ix. The Travail Of The Exile And The Deepening Revelation 1. The "saved" Remnant Of The "saving" Remnant 2. The Frustration Of The Post-exilic Period And The Increasing Consciousness Of Sin And Of The Need Of Atonement 3. The Maccabean Crisis And The Contribution Of The Apocalyptists 4. The Pharisaic Ideal And Its Failure X. The Fulness Of Time And The Coming Of The Kingdom 1. The Preparatio Evangelica And The Failure Of Greek Philosophy 2. The Possibility Of World-brotherhood And Its Political Frustration 3. The Yearning For Salvation 4. The Jewish Hope At "the Fullness Of Time". 5. The Apostolic Gospel And Its Transformation Of The Jewish Expectation Xi. The Son Of Man And The Kingdom Of God 1. The Kingdom Of God And The Claim Of Jesus 2. The Operation Of The Kingdom In Jesus Against Sin And Evil 3. The Messianic Mission And The Significance Of The Title "son Of Man" 4. Jesus And The Remnant 5. The Son Of Man And The Final Consummation 6. The Judgement Of The Jewish Nation In History Xii. Paul's Understanding Of History 1. The Eschatological Framework Of Paul's Thought 2. Human Sinfulness And The Demonries Of This World 3. Paul's Interpretation Of Salvation History 4. The Divine Act Of Redemption In Christ And Him Crucified 5. Faith And The New Humanity In Christ 6. The Present Realization Of The Kingdom And Its Ultimate Consummation Xiii. The Gospel And Hellenism A. The Epistle To The Hebrews 1. The Unfulfilled Hope Of The Jewish People And The Sacrificial Interpretation Of Jewish History 2. The Fulfilment Of The Covenant-hope In Jesus And The Significance Of His High Priesthood 3. The Residue Of Jewish Eschatology And The Hellenistic Emphasis B. The Johannine Literature 1. The Glory Of The Incarnate Word And The Significance Of The Prologue 2. The Tension Between History And Super-history 3. Eternal Life As A Present Experience. Part Iii. Salvation History And World History' Xiv. History And Eschatology 1. The Reality Of The Time-process 2. The Incompleteness Of Time 3. The Paradoxical Nature Of Time 4. The Relationship Of The Temporal And The Eternal Orders 5. The Hiddenness Of God In The Time-form 6. The Significance Of "the Fullness Of Time" 7. Sin And The Time-form 8. The Necessity Of An Ultimate Consummation And The Two-dimensional Relationship Of Time To Eternity 9. The End Of The Time-process Xv. Secular History And Fallen Man 1. Secular History And The Myth Of Creation 2. The Imago Dei And The Nature Of Man 3. Historical Man And His Fallen State. 4. The Paradoxical Nature Of Man's Historical Existence 5. The Problem Of The Demonic 6. Sin And The Secular Historian 7. The Nature Of The Divine Omnipotence 8. The Wrath Of God 9. The Divine Sovereignty Over And Presence In Secular History Xvi. Fallen Man And Community 1. The Fact Of Social Solidarity And The Tension Between The Individual And The Community 2. The Social Orders And Historical Existence 3. The Actualization Of Meaning In Historical Existence 4. The Sinful Perversion Of Secular History 5. The Divine Judgement In Secular History Xvii. Salvation History And The New Humanity 1. The Redemptive Act Of God In Christ-the Divine Love And The Divine Wrath 2. The Cross And Man's Demonic Bondage-christus Victor 3. The Representative Penal Sacrifice Of Calvary 4. The Cosmic Significance Of The Atonement 5. The Contemporaneity Of The Atonement And The Nature Of Faith 6. The Paradox Of Divine Election 7. The Church And The New Humanity 8. The Paradoxical Nature Of The Church's Life 9. The Church As The Instrument Of The Kingdom Xviii. Secular History And The Divine Sovereignty 1. Two Possible Errors And The True Understanding Of Secular History 2. The Diversity Of Cultures And Their Significance 3. The Effect Of Salvation History On Secular History 4. The Church In Secular History 5. The Overruling Of The Divine Sovereignty Xix. The End Of History. 1. Personal Eschatology And Its Relation To The Final Consummation 2. The "resurrection Of The Body" 3. Judgement And The "intermediate State" 4. The Final Consummation And The Parousia 5. The Symbol Of The Last Judgement 6. The Symbol Of The General Resurrection Indexes