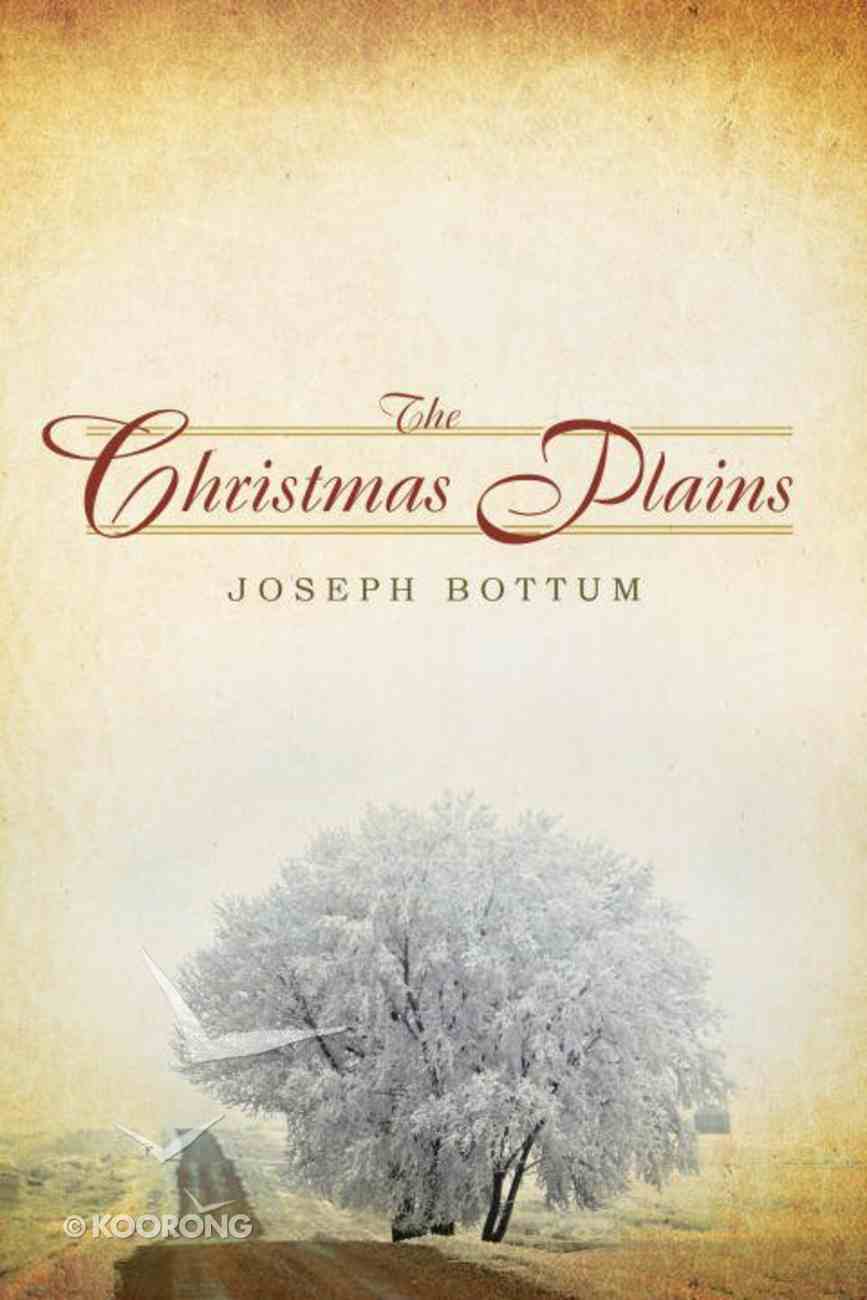 A well-respected writer and editor's memoir of childhood Christmases set in the sometimes harsh but always captivating landscape of South Dakota. Wreaths and holly, fruitcakes and mistletoe, ornaments and snowflakes, St. Nick and Scrooge's humbug, Joseph and Mary, a young...
---
Free Shipping
for orders over $99.
A well-respected writer and editor's memoir of childhood Christmases set in the sometimes harsh but always captivating landscape of South Dakota.
Wreaths and holly, fruitcakes and mistletoe, ornaments and snowflakes, St. Nick and Scrooge's humbug, Joseph and Mary, a young child in a manger and magi from the East. These words automatically stir up the season of Christmas and invoke memories of family and friends and hope and faith. By turns sweet and comic, sentimental and serious, the former editor of First Things magazine shares his reflections of the mad joys and wild emotions of the season while growing up on the South Dakota plains.
-Publisher
PRODUCT DETAIL
Catalogue Code 

396042

Product Code 

9780770437657

ISBN 

0770437656

EAN 

9780770437657

Pages 

224

Department General Books
Category Biography
Sub-Category General
Publisher Image
Publication Date 

Oct 2012

Dimensions 

197 x 132 x 21

mm

Weight 

0.276

kg
JOSEPH BOTTUM is the editor of First Things, the nation's leading journal of religion and public life. The former literary editor of the Weekly Standard and host of the nationally syndicated radio show Book Talk, he lives in New York City. His essays, reviews, and poems have appeared in the Atlantic Monthly, the Washington Post, National Review, and many other publications.
:Chapter 1

See Amid the Winter

"I tell you what, my dear," said my aunt, one morning in the Christmas season when I left school: "as this knotty point is still unsettled, and as we must not make a mistake in our decision if we can help it, I think we had better take a little breathing-time. In the meanwhile, you must try to look at it from a new point of view, and not as a schoolboy."

—David Copperfield

I

It was in the meadows along the little lake at Cottonwood Springs, a hundred yards or so up from the dam, that I saw the fox, red-brown against the December snow. For decades after the Black Hills were named a "national forest reserve" in 1897, the government would exchange small pieces of land with ranchers along the edges, trading pastures for tree-grown lots. The result was a more natural, serrated line of dark spruce and ponderosa pine on the forest's border, but the reduction of open spaces within the protected woods—the loss of meadows like the one where I saw the fox this winter—also limited some of the land's support for small wildlife and the animals that hunt them.

Not that those western territories ever held a large population of predators. Cutting through the middle of the Dakotas, the Missouri River marks the boundary of the ancient glaciers that scraped out, to the east, a gentler countryside of softened plains and easy lakes. West of the river lies a different world, one that the Pleistocene ice never cleared. The Badlands and Black Hills, Bear Butte and Devils Tower—a rough landscape of broken prairie and high plateau that stretches five hundred miles from the Missouri to the Tetons.

And that country is just too thin, the winters too hard, to feed many hunters. A single horned owl, fluffing its feathers on a gnarled cottonwood branch, will easily dominate two hundred acres of night hunting ground. A nesting pair of red-tail hawks will control a daylight range for an entire season. Add the superior small-game hunting of the coyotes, the depredations of the occasional mink or weasel down near the creek beds, the scavenging of the omnivore skunks and raccoons, and how much life is left in a lean land, especially over the winter?

Still, there was the fox, in a South Dakota meadow this past December, clear eyed and healthy, his dark brush lightly marking his back-trail in the snow. If you've ever seen mountain lions, you know how they pace: arrogant and powerful, as though they had greased machines coiling and uncoiling just beneath their skin. Coyotes slink through the yellow grass of the prairies, rough haired, scrawny, and cautious. Raccoons scurry, skunks blunder, and minks—well, it's hard to describe the behavior of minks. They seem to live a kind of vicious insanity, oddly matched with their rich fur and sweet faces. Foxes, however, are the strolling kind. Flashing white at their throats, with those black stockings around their paws, they pad through the fields like dandies ambling along the Paris pavement: inquisitive yet self-possessed, eager yet sensible, bold yet judicious.

We'd gone out to the area around the lake, my wife, Lorena, and I, with our daughter, Faith, to cut our annual Christmas tree. Lorena had stopped by the Forest Service office to pick up a harvesting permit days before, but we hadn't organized ourselves enough to accomplish our original plan of heading deep into the woods, back behind Crazy Horse or up toward Mount Rushmore. So we drove instead just a few miles west to look at a nearer place: tape measure, bow saw, and rope in hand, with Faith tugging along an old Flexible Flyer sled, its once red-painted runners tracing out their parallels in the snow behind her.

Every Christmas, during the years we lived back east, I would hunt and hunt for the perfect tree. Maybe it had something to do with the feverish life we were living at the time, straining for some unknown perfection that always seemed just around the next bend. I had left the western world of my childhood intending only to go to college, but I stayed on the East Coast a little longer to finish graduate school. And then to teach, while I tried to find my footing as a writer. And then to complete some of that writing. And then to work on other people's writing as a magazine editor. And then . . . 

About a decade ago, Lorena and I began to worry that we were letting too much of our time slip away—living homeless, in a peculiar kind of way: chasing from East Coast city to East Coast city, one new job after another, and providing for our daughter no clear geography in which she could center herself as she grew. Giving her no sense of place like the one I was given as a child, for good and for ill, out on those western plains. We needed a foothold, we decided, and what we found, at last, was a sprawling old Victorian monstrosity going cheap in the town of Hot Springs, down in the southern Black Hills.

We intended the house mostly as a playground, I think—a summer retreat that would serve the secondary purpose of allowing us to teach Faith western things: how to ride a horse, how to study the wildlife, how to climb the crumbling granite rocks. How to cut a tree, for that matter. But the ridiculous Black Hills house proved a help when, last fall, the eastern world in which I was working felt as though it were blowing up all around me. Lorena and I decided, in a sudden rush, that we needed to escape the craziness for a while. We said good-bye to our friends in Washington, DC, sublet our tiny apartment in New York City, and fled out, for the winter, to that summer place in the hills—hoping, I think, just to get a little breathing room. A little distance from which to think about it all.

Anyway, back in our East Coast days, I would drive like a man possessed through the slush-filled streets of Washington at Christmastime—up Georgia Avenue to Silver Spring or down through Georgetown and over the bridge to Arlington—going from lot to lot in anxious search of the ideal height, the best spread, the proper fullness of the branches. While I was working in New York, I would spend a fortune on taxis down to Greenwich Village, up to Central Park, across town to those seasonal tree stands along the West Side Highway. But at some point—maybe around the time we left New York for South Dakota—I seem to have given up on perfection in Christmas trees.

Given up on perfection in other things, too, it may be. Still, we had been spoiled by the model cones of thick evergreens for sale in the cities back east. The dry western lands grow a thinner tree with sparser branches, and a good Christmas tree from the Black Hills typically has character rather than flawlessness: an eccentric limb trained up at angle, an interesting twist in the trunk. And that's what we were hunting—Lorena, Faith, and I—as we hiked up the hill to cut this year's tree, our breath rough in the afternoon sun.

It proved a surprisingly hard climb. Under the dusting of the morning snow, yesterday's crust would hold each footstep just long enough to hint that it would support us before we broke through, ankle deep. Knee deep in the drifts. I stopped for a moment to rest, and it was then, looking back down toward the lake, that I saw the fox, pausing as he padded on the snow's surface across the meadow.

His clever sharp face, those alert pointed ears. I don't know how exactly to explain it, but he seemed somehow wildly alive at that instant: a curious, observant creature, both fascinated by and satisfied with the world that God and nature had set around him. He studied the lake shrewdly, as though considering whether the cottontails would come down to the shore to drink. He glanced up at the leeward woods, where his rank scent had made the chipmunks and red squirrels chitter angrily in the trees. He cocked his head, listening for the rustle of winter mice in the grass beneath the snow. Dozens of possibilities seemed to lie before him—all interesting, all worth pursuing in their proper time.

Then Faith called out to say she'd found the tree, the exact tree she'd been searching for, just over the hill. And by the time we measured it, and walked around it, arguing its points, and sawed through its trunk, and bound it to the sled, and pulled it back up over the hill, the fox had made his choice and was gone. We packed up, tied the tree to the roof of the car, and drove carefully up the snow-packed road, heading home to begin setting up for Christmas. My first Christmas back in South Dakota since I was a child.

II

I guess I should have known, or reasonably expected, that a return to places I knew in childhood would trigger memories: every step kicking up the past, like the dust that trails up behind us on a dirt road. But what I hadn't quite counted on was the magnifying effect of Christmas, for something in the design of the holiday seems determined to bring our childhoods back upon us. An exaggerated past, too, even if we mean to be strictly honest: After my father died, I found among his things an old cartoon he had clipped from somewhere. The New Yorker, maybe, or some other magazine. It showed a man and a boy standing in their front doorway after a winter storm. "This is nothing," says the man, waist-high in snow. "When I was your age, the snow came to here," raising his hand to his chin. And there's the boy, wide-eyed, with the snow all the way up to his chin.

Lorena and I had run off to South Dakota to think of a way forward, a new choice for our lives. But then Christmas came upon us, and with it, the rush of memory that will not be denied: rich, thick, and often deeply annoying. My daughter hunches down in dread as we drive through the winter hills these days, knowing that every passing rock and side road is likely to provoke some tale of her father's childhood, some entry in the mythology of his western self.

And yet, even as I tell her the old Christmas stories, I notice what may be the most curious feature of memory—for the stories themselves are not what we have to struggle to remember. Stirred up by a visit home, aggravated by the power of Christmas, occasions for remembering hurl themselves at us like ice storms, whether we want them or not. No, it's not the facts but the feelings, the sharp emotions we felt at the time, that fail us, slipping into indistinction even while we tell our stories of the past.

I can call up moment after moment of precise memory from the Christmases of my childhood, like frozen frames of recollection: A sparrow, its feathers so fluffed for warmth it looked like a fat monk in a robe and tonsure, peering out from the ice-wrapped lilac hedge while I sat at the living room window, waiting for my parents to wake. The sideways tilt of my father's head as he looked down in concentration, cutting out the sections of a grapefruit for Christmas breakfast. The heft of the new Swiss Army knife from my uncle, smuggled in the pocket of my dress pants to church. The steam rising while we washed the endless piles of dishes after Christmas dinner, until the fog condensed in rivulets that raced each other down the kitchen windowpanes to pool on the painted sill.

I can call up nearly everything—except the sensation, the overwhelming waves that beat upon my sisters and me down the long stream of days in the Christmas season when we were young. To think again about those times is more to recall that we had a certain feeling than it is to recapture just how that feeling actually felt. The memories come faded, like last year's pine needles: the few that always seem to find their way in among the Christmas ornaments, to sift out yellow and brittle when the box comes down from the back of the linen closet the next December.

Why should I remember the heavy-scented balsam tree we had when I was six? The long-needled ponderosa, drooping under the weight of its ornaments, when I was eight? The Douglas fir, the juniper? The scallop-leaved holly set out on the sideboard and mantel with a stern warning every year not to eat the berries? The silly-looking plastic mistletoe my mother would hang, giggling with my father over a joke they wouldn't explain?

There in Pierre, South Dakota, when I was young—and later, when my parents had moved us out to Utah—I was happy, I suppose, and I was sad, but happy and sad are always lies, of a sort: the words we use to smooth the sharp edges off our memories and sand them down to generalities. Think of the parallel with hot and cold: I realize now, in retrospect, that the houses of my childhood were simultaneously too warm and too cool. The clanking furnaces kept them overheated from September to April, a dry heat that dulled out within a year the gloss in the painted window frames and cracked down the middle the door of the china cupboard. But those western houses were drafty as well. All winter the wind screamed down the frozen plains from Canada, clawing through the weather stripping and the storm windows and the door seals and the crumbling mortar of the cinderblock foundations.

And yet, I don't remember actually being any general thing like hot or cold. What I remember is lying on the living room floor alongside the burbling radiator, propped up on my elbows and a cushion filched from the sofa, to read Gerald Durrell's My Family and Other Animals while the sweat dripped inside my shirt and the wind whistled up through the gap around the radiator pipe to chill my hands. So, too, I don't remember being happy or sad. There were happy things and sad things, moments of strange fear and moments of lopsided comedy, tumbled together in such complete immediacy I had neither space nor time to rise above them and call them by some generic name.

Our days move differently now, of course. A few weeks ago, Lorena reminded me we had only a month in which to clear away enough work to take a trip we had scheduled—and then she began to laugh, asking, "Do you remember when a month seemed a long time?" It might stand as the surest marker of the difference between childhood and age: a month was once forever, and now it's just a month. Or less.