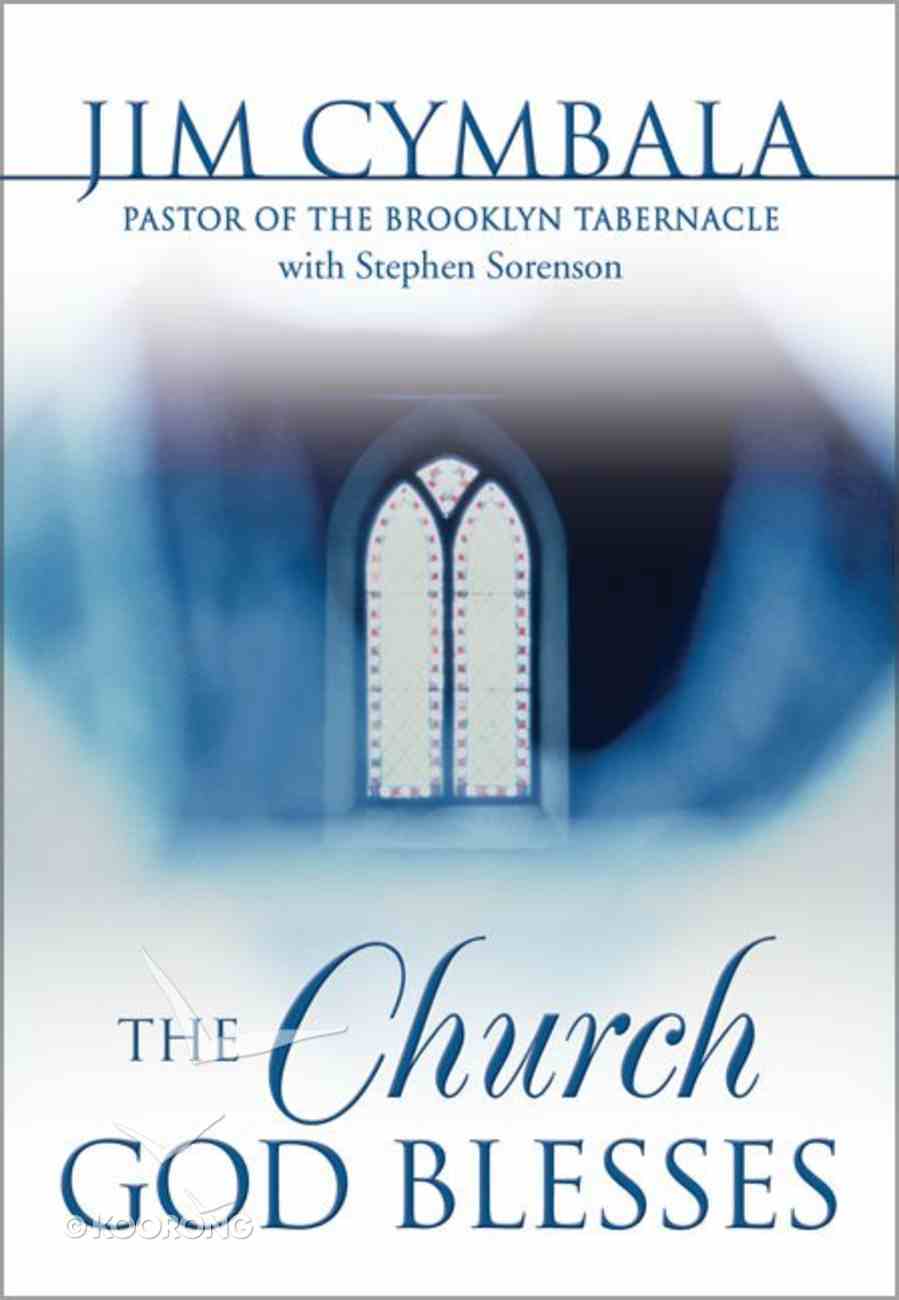 This is a book about refusing to settle for less than God wants for your church. The pastor of The Brooklyn Tabernacle shares what he has learned, sometimes painfully, about building a church that God is blessing though his empowering...
Out of Stock
Available to Order
---
Expected to ship in 5 to 6 weeks from Australia.
---
Free Shipping
for orders over $99.
This is a book about refusing to settle for less than God wants for your church. The pastor of The Brooklyn Tabernacle shares what he has learned, sometimes painfully, about building a church that God is blessing though his empowering presence.
God Is Looking For A Church To BlessGod wants to transform his church into a people of power, joy, and peaceJim Cymbala reminds us that Christianity is only as strong as the local church and that God wants to bless our churches in ways we can't possibly imagine. It doesn't matter whether a church is alive and growing or barely surviving on life support. God has a plan for it. It doesn't matter whether a church is facing financial challenges, internal divisions, or strife among its leaders. God has a plan for it. God is able to deal with any problem a church will ever face--as long as his people earnestly seek him. As the pastor of The Brooklyn Tabernacle, Cymbala knows that God's blessing and grace is available to us today just as much as it was in the early church, when thousands of people became believers despite the fact that the church lacked everything we consider vital: church buildings, seminaries, printed materials, sound systems, choirs, and money. None of these things matter
-Publisher
In this second book of a three-book series on the way God wants to pour out his blessings, best-selling author Jim Cymbala describes the kind of church God wants to bless and use mightily for his kingdom. Cymbala, who pastors The Brooklyn Tabernacle and has seen his church grow from a handful of the faithful to a vibrant, multi-ethnic and growing beacon of hope in the city, believes that God desires to bless the church but that the church is often more interested in programs and "fads." He outlines the qualities that God is looking for in the church and shows how any church can become a vessel for God's blessings. Through the use of stories from his own congregation and this pastor's wise insights from Scripture, this book will satisfy the hunger every Christian has to see the church become what God intended it to be.
-Publisher
PRODUCT DETAIL
Catalogue Code 

171782

Product Code 

0310242037

EAN 

9780310242031

UPC 

025986242039

Pages 

168

Department Academic
Category Church
Sub-Category Church Life/issues
Publisher Zondervan
Publication Date 

Mar 2002

Sales Rank 

28645

Dimensions 

159 x 124 x 15

mm

Weight 

0.117

kg
Stephen and Amanda Sorenson are founders of Sorenson Communications and have co-written many small group curriculum guidebooks, including the entire Faith Lessons series.
Jim Cymbala has been the pastor of The Brooklyn Tabernacle for more than twenty-five years.
He is also the author of the bestselling titles Fresh Wind, Fresh Fire; Fresh Faith; Fresh Power; Breakthrough Prayer; The Life God Blesses; The Church God Blesses; The Promise of God's Power and most recently When Gods Spirit Moves.


He lives in New York City with his wife, Carol, who directs the Grammy Award-winning Brooklyn Tabernacle Choir.


Prologue: The Search 7
One: The Man Who Wouldn't Listen 13
Two: Imitating God 41
Three: When Blessing Becomes A Curse 65
Four: Looking Up 89
Five: The Power Of Tenderness 111
Six: The Last Half Hour 133
The Baby Under Attack Carol and I have often read the Christmas story in Matthew 2, which includes King Herod's vicious attack on the babies of Bethlehem in his efforts to seek and destroy Jesus, the newborn King. From this story we thought we understood that Satan often attacks the 'baby' when it is young and vulnerable. Through the experiences of others we had learned that when a new ministry for Christ begins or when someone steps out in faith to do God's will, Satan will often try to squelch what God is doing right at the outset---before it gathers momentum and builds a stronger faith. As we began our ministry at the Brooklyn Tabernacle, we both thought we understood and were prepared for Satan's attacks. We were (and still are) hungry to be like the early Christians who so powerfully experienced the Lord's hand on their lives. Carol and I wanted the Brooklyn Tabernacle to be a place where God's grace would be clearly evident and not just talked about. But soon we learned just how intense it can get when the 'baby' is under attack. The story of this satanic attack actually begins with some precious verses in the New Testament that God used in a tremendous way in my life. They paint a beautiful picture of the church God blesses: Now those [Christians] who had been scattered by the persecution in connection with Stephen traveled as far as Phoenicia, Cyprus and Antioch, telling the message only to Jews. Some of them, however, men from Cyprus and Cyrene, went to Antioch and began to speak to Greeks also, telling them the good news about the Lord Jesus. The Lord's hand was with them, and a great number of people believed and turned to the Lord (Acts 11:19--21). WHAT'S THE SECRET? The great Christian church in Antioch was begun, surprisingly, by some unknown and unnamed 'men from Cyprus and Cyrene.' So what was the real secret of its wonderful birth? One simple phrase tells it all: 'The Lord's hand was with them.' With no New Testament yet written, surrounded by hostile Jews and Romans, with no benefit from a legalized religion or formal church buildings, with no apparent source of income, with no printed materials or sound systems or choirs or seminary training, anonymous believers started one of the most dynamic congregations of the Christian era. The Bible offers no specifics concerning the methodology or doctrinal statement of its founders. We are told only that 'the Lord's hand was with them.' Because of God's blessings, this church evidently led multitudes of people to the Lord Jesus Christ in repentance and faith! It didn't matter what was against these believers because God's blessings and grace were for them in a remarkable way. Soon the older church in Jerusalem heard about God's blessing being poured upon this unique, Jewish/Gentile congregation in Antioch. The leaders sent a trusted man, Barnabas, to confirm the wonderful reports. Acts 11:23 records what happened next: 'When he arrived and saw the evidence of the grace of God, he was glad and encouraged them all to remain true to the Lord with all their hearts.' Barnabas 'saw the evidence' that God was blessing and at work in special ways. The church in Antioch had no publicity department or magazine to sing its praises, but it needed noth-ing of the sort. When unbelievers are repenting of sin and turning to the Lord, when mass water baptismal services have to be scheduled, when there are strong congregational prayer meetings, when there is a spirit of unity and love among believers---that, my friends, is a little of heaven right here on earth! The whole impact of these unnamed believers and the church they founded revolves around the fact that 'the Lord's hand was with them.' And what occurred in Antioch about two thousand years ago can also occur today. No matter where we are, we can experience God's blessings to the extent that his hand of power is with us. Whether we are pastors, teachers, evangelists, Christian education workers, or music ministers or have other positions in our local churches, we can all accomplish more for God's kingdom than we have ever dreamed if we learn the secret of asking the Lord to stretch out his hand and do what only he can do in our midst. This is God's plan for our lives as individual Christians as well as in being part of 'his body, which is the church' (Colossians 1:24). Our main calling is to live in fellowship with Christ and to labor with him in extending his kingdom. To miss out on this is to forfeit the deep sense of fulfillment and joy that comes only when we are partnering with Jesus. It also means that we miss out on life as God intended it and exist only on a physical level that will never satisfy the yearning of our souls. Job summarized things well when he observed, 'Naked I came from my mother's womb, and naked I will depart' (Job 1:21). Every home, every automobile, and all our investments will evaporate in one split second at the coming of Christ. But if we enjoy the blessings of God and labor for the cause of Christ---that has significance for both now and all eternity. SATAN, OUR CEASELESS ADVERSARY Satan knows all about the crucial role that local churches play in the building of God's king-dom. In fact, he has suffered much loss when congregations have properly connected with the living Christ. Because of the threat that all Christian congregations are to Satan, churches are his special target. He cleverly uses every device possible to make us ineffective.