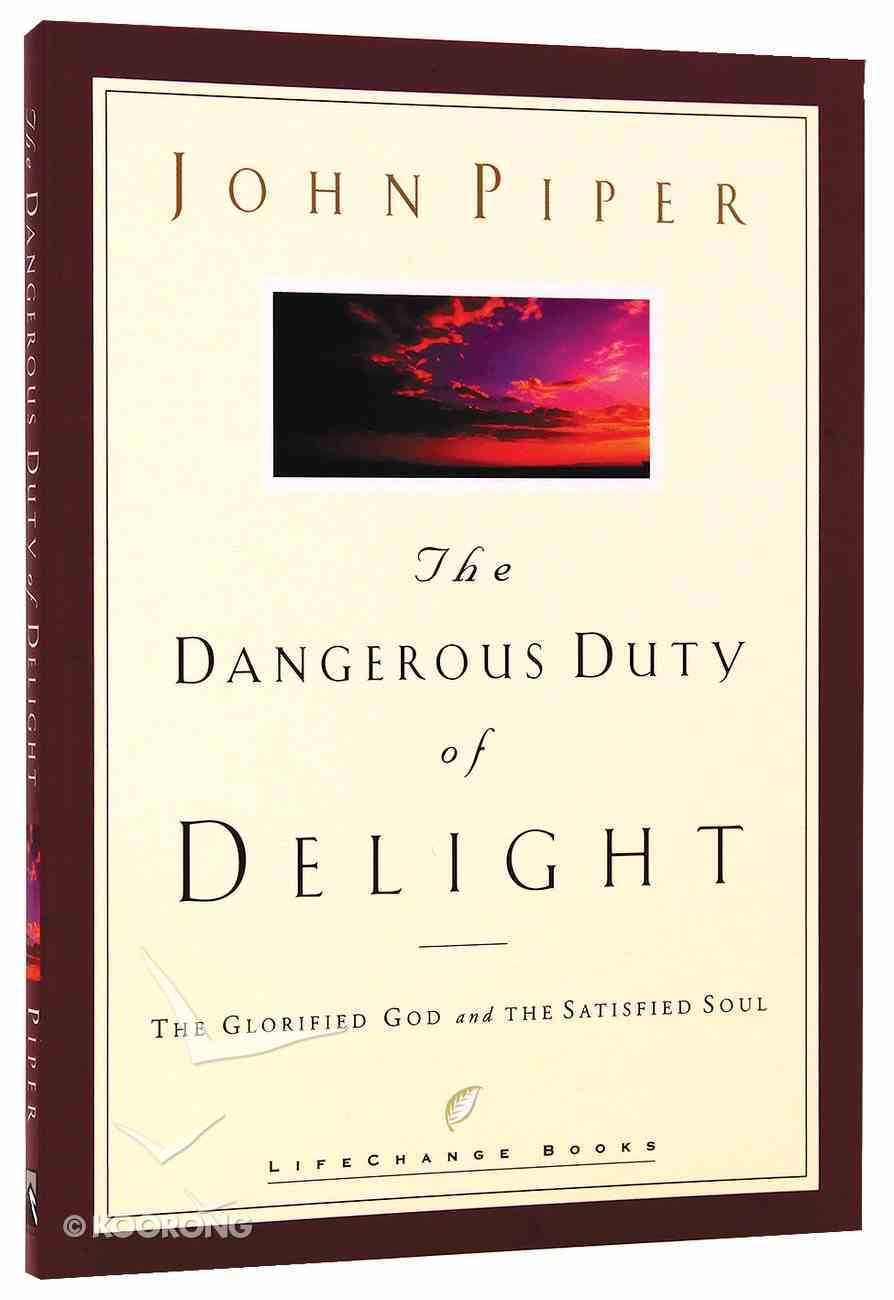 The Dangerous Duty of Delight (Lifechange Books Series)
Discover a dramatically different and joyful experience of faith! This compact book, drawn from Piper's best-selling Desiring God, emphasizes the importance of strengthening our relationship with our Creator by enjoying Him and His creation.
---
Expected to ship on Monday from Australia.
---
Free Shipping
for orders over $99.
Discover a dramatically different and joyful experience of faith! This compact book, drawn from Piper's best-selling Desiring God, emphasizes the importance of strengthening our relationship with our Creator by enjoying Him and His creation.
This compact 96-page book, drawn from Piper's popularDesiring God,emphasizes the importance of strengthening our relationship with our Creator by enjoying Him and His creation. The author's now classic ideas are presented here in an accessible size that will allow readers to absorb and apply them quickly -- leading them to a dramatically different and joyful experience of their faith. Filled with biblical reasons for living a life of celebration, this life-changing read helps people discover not only why but how to delight more fully in the Lord. Jesus is not safe, but He is satisfying! Each of us has a restlessness, an inconsolable longing within. Some try to satisfy it with scenic vacations, creative accomplishments, huge cinematic productions, sexual exploits, sports extravaganzas, hallucinogenic drugs, ascetic rigors, managerial excellence, and more. Yet our longing remains. Why? John Piper turns your heart towards the one true Object of human desire - God. He shows how fulfilling your duty to delight in Him can change your attitude toward worship, toward marriage, toward material goods, toward your very mission and purpose on earth! Join him on a journey from desperate desire to infinite delight!
-Publisher
Each of us is hard-wired to pursue our happiness. We long for significant, profound joy. Some try to satisfy it with exotic vacations, high-tech gadgets, career success, sports, academics, drug experimentation, even ascetic rigors.

Yet the longing remains. Why?

In The Dangerous Duty of Delight, John Piper turns our heart toward the one true object of human desire and happiness: God. Piper shows from Scripture that pursuing our happiness in Christ is not optional for the Christian, but essential.
 
Come along on a journey from desperate desire to infinite delight. Learn how you were created for ultimate satisfaction in Him, and how this new perspective will change your attitudes toward worship, relationships, material goods—and everything.

"Our hearts are restless until they find their rest in Thee."
--Saint Augustine
-Publisher
John Stephen Piper was born 11 January 1946 in Chattanooga, Tennessee, to Bill and Ruth Piper. The Pipers soon moved to Greenville, South Carolina, where John spent his growing-up years. His father was an itinerant evangelist who also ministered through international radio and Bible courses. John has written a tribute to his mother, who died in 1974, in the booklet, What's the Difference (Crossway Books, 1990) which is also chapter one of the book, Recovering Biblical Manhood and Womanhood (Crossway Books, 1991).

At Wheaton College (1964-68), John majored in Literature and minored in Philosophy. Studying Romantic Literature with Clyde Kilby stimulated the poetic side of his nature and today he regularly writes poems to celebrate special family occasions and rich, biblical truths. At Wheaton John also met Noel Henry whom he married in 1968.

Following college, John completed a Bachelor of Divinity degree at Fuller Theological Seminary in Pasadena, California (1968-71). While at Fuller, John discovered the writings of Jonathan Edwards.

John did his doctoral work in New Testament Studies at the University of Munich, Munich, West Germany (1971-74). His dissertation, Love Your Enemies, was published by Cambridge University Press and Baker Book House (and is now available through Crossway). Upon completion of his doctorate, he went on to teach Biblical Studies at Bethel College in St. Paul, Minnesota for six years (1974-80).

In 1980, sensing an irresistible call to preach, John became the senior pastor of Bethlehem Baptist Church in Minneapolis, Minnesota, where he ministered for 33 years, until 2013. Together with his people, John was dedicated to spreading a passion for the supremacy of God in all things for the joy of all peoples through Jesus Christ - a mission he continues now for the wider church through the ministry of desiringGod.org. John says of his ministry:
"The ministry of preaching is the central labor of my life. My prayer is that through that ministry and everything else I do the great glory of our God and Savior Jesus Christ would be magnified as more and more people come to live out the obedience of faith more and more deeply."

John is the author of over 50 books and now frequently travels to speak, and writes regularly, through Desiring God.

John and Noel have four sons, a daughter, and twelve grandchildren.
TREATING DELIGHT AS DUTY IS CONTROVERSIAL

"Christian Hedonism" is a controversial name for an old fashioned way of life.

   It goes back to Moses, who wrote the first books of the Bible and threatened terrible things if we would not be
happy: "Because you did not serve the LORD your God with joy and a glad heart…therefore you shall serve your enemies" (Deuteronomy 28:47–48).
   …and to the Israelite king David, who called God his "exceeding joy" (Psalm 43:4); and said, "Serve the LORD
with gladness" (Psalm 100:2); and "Delight yourself in the LORD" (Psalm 37:4); and who prayed, "Satisfy us in the morning with Your lovingkindness, that we may…be glad all our days" (Psalm 90:14); and who promised that complete and lasting pleasure is found in God alone: "In Your presence is fullness of joy; in Your right hand there are pleasures forever" (Psalm 16:11).
   …and to Jesus, who said, "Blessed are you when people insult you…. Rejoice and be glad, for your reward in heaven
is great" (Matthew 5:11–12); and who said, "I have spoken to you so that My joy may be in you, and that your joy may be made full" (John 15:11); and who endured the Cross "for the joy set before Him" (Hebrews 12:2); and who promised that, in the end, faithful servants would hear the words, "Enter into the joy of your master" (Matthew 25:21).
   …and to James the brother of Jesus, who said, "Consider it all joy…when you encounter various trials" (James 1:2).
   …and to the apostle Paul, who was "sorrowful yet always rejoicing" (2 Corinthians 6:10); and who described the ministry of his team as being "workers with you for your joy" (2 Corinthians 1:24); and who commanded Christians to "rejoice in the Lord always" (Philippians 4:4); and even to "exult in…tribulations" (Romans 5:3).
   …and to the apostle Peter, who said, "To the degree that you share the sufferings of Christ, keep on rejoicing, so that also at the revelation of His glory you may rejoice with exultation" (1 Peter 4:13).
   …and to Saint Augustine, who, in the year 386, found his freedom from lust and lechery in the superior pleasures of God. "How sweet all at once it was for me to be rid of those fruitless joys which I had once feared to lose!… You drove them from me, you who are the true, the sovereign joy. You drove them from me and took their place, you who are sweeter than all pleasure."4
   …and to Blaise Pascal, who saw that "all men seek happiness. This is without exception. Whatever different means they employ, they all tend to this end…. The will never takes the least step but to this object. This is the motive of every action of every man, even of those who hang themselves."5
   …and to the Puritans whose aim was to know God so well that "delighting in him, may be the work of our lives,"6
because they knew that this joy would "arm us against the assaults of our spiritual enemies and put our mouths out of
taste for those pleasures with which the tempter baits his hooks."7
   …and to Jonathan Edwards, who discovered and taught as powerfully as anyone that "the happiness of the creature consists in rejoicing in God, by which also God is magnified and exalted."8 "The end of the creation is that the creation might glorify [God]. Now what is glorifying God, but a rejoicing at that glory he has displayed?"9
   …and to C. S. Lewis, who discovered "We are far too easily pleased."10
   …and to a thousand missionaries, who have left everything for Christ and in the end have said, with David Livingstone, "I never made a sacrifice."11
   Christian Hedonism is not new.
   So if Christian Hedonism is old-fashioned, why is it so controversial? One reason is that it insists that joy is not just the spin-off of obedience to God, but part of obedience. It seems as though people are willing to let joy be a by-product of our relationship to God, but not an essential part of it. People are uncomfortable saying that we are duty-bound to pursue joy.
   They say things like, "Don't pursue joy; pursue obedience." But Christian Hedonism responds, "That's like saying, 'Don't eat apples; eat fruit.'" Because joy is an act of obedience. We are commanded to rejoice in God. If obedience is doing what God commands, then joy is not merely the spin-off of obedience, it is obedience. The Bible tells us over and over to pursue joy: "Be glad in the LORD and rejoice, you righteous ones; and shout for joy, all you who are upright in heart" (Psalm 32:11). "Let the nations be glad and sing for joy" (Psalm 67:4). "Delight yourself in the LORD" (Psalm37:4). "Rejoice that your names are recorded in heaven" (Luke 10:20). "Rejoice in the Lord always; again I will say, rejoice!" (Philippians 4:4).
   The Bible does not teach that we should treat delight as a mere by-product of duty. C. S. Lewis got it right when
he wrote to a friend, "It is a Christian duty, as you know, for everyone to be as happy as he can."12 Yes, that is risky
and controversial. But it is strictly true. Maximum happiness, both qualitatively and quantitatively, is precisely what we are duty-bound to pursue.
   One wise Christian described the relationship between duty and delight this way:

   Suppose a husband asks his wife if he must kiss her
   good night. Her answer is, "You must, but not that
   kind of a must."What she means is this: "Unless a
   spontaneous affection for my person motivates you,
   your overtures are stripped of all moral value."13

In other words, if there is no pleasure in the kiss, the duty of kissing has not been done. Delight in her person, expressed in the kiss, is part of the duty, not a by-product of it. 
   But if that is true—if delight in doing good is part of what doing good is—then the pursuit of pleasure is part
of the pursuit of virtue. You can see why this starts to get controversial. It's the seriousness of it all. "You really mean this?" someone says. "You really mean that hedonism is not just a trick word to get our attention. It actually says
something utterly, devastatingly true about the way we should live. The pursuit of pleasure really is a necessary
part of being a good person." That's right. I mean it. The Bible means it. God means it. It is very serious. We are not playing word games.
   Let it be crystal clear: We are always talking about joy in God. Even joy in doing good is finally joy in God,
because the ultimate good that we always aim at is displaying the glory of God and expanding our own joy in
God to others. Any other joy would be qualitatively insufficient for the longing of our souls and quantitatively too short for our eternal need. In God alone is fullness of joy and joy forever.
   "In Your presence is fullness of joy; in Your right hand there are pleasures forever" (Psalm 16:11).
Bestsellers in Christian Living