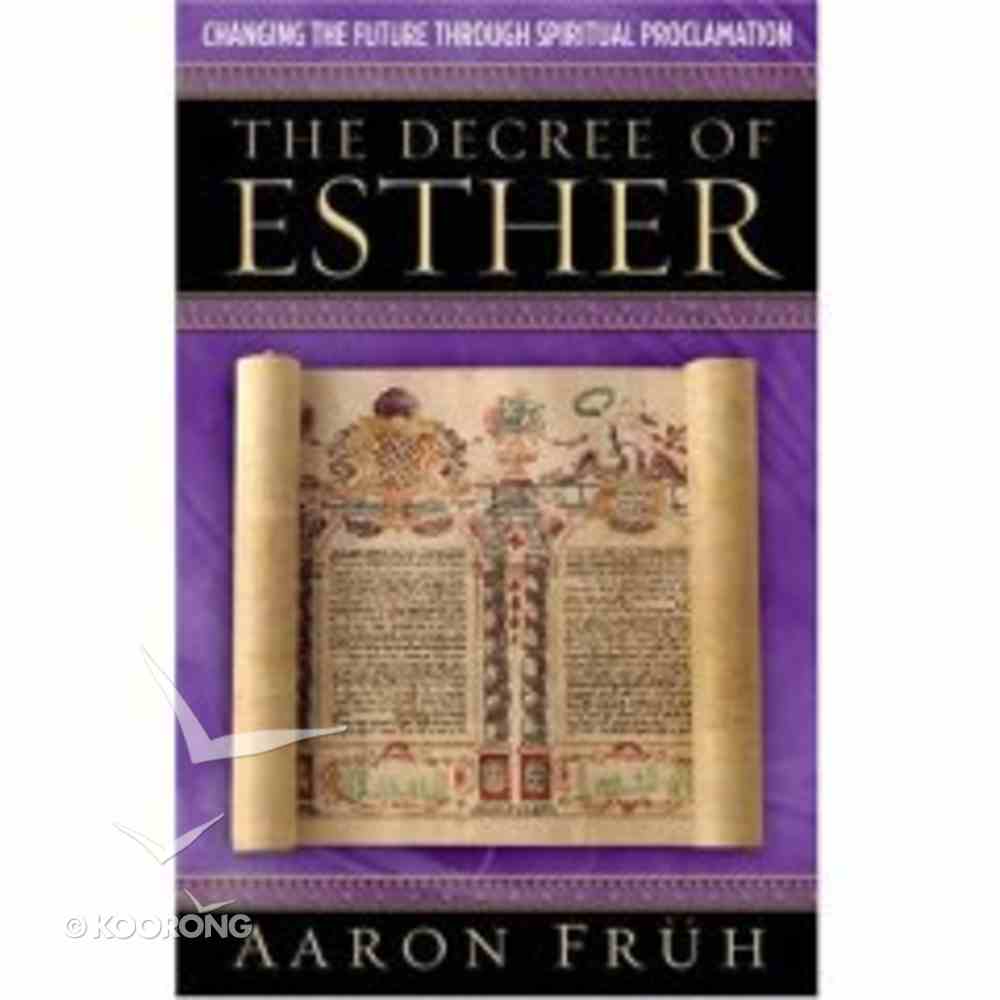 ---
Free Shipping
for orders over $99.
192 Pages
-Publisher
In the last days the saints will be falsely accused. Even today Christians feel the sting of judgment. But despite widespread discussion of the end days, modern Christians have left out a major truth from public dialogue and personal practice: the power of spiritual proclamation. Using Esther as an example, Aaron Fruh gives readers practical strategies for overcoming the false accusations of the enemy and writing decrees that change the course of their lives and prepare them for Christ's return. Just as Esther reversed the curse on the Jewish people in Persia, modern Christians can write their own decrees of protection and provision. Anyone interested in the state of our nation today, including pastors, intercessors, worship leaders, and teachers, will find valuable insight and practical help for healing the individuals and communities around them.
-Publisher
"Aaron Fruh's book goes far beyond the intriguing story line of Esther's life. It opens up new vistas of understanding the Hebrew Scriptures as continually pointing to the coming Messiah. If Jesus is not foreshadowed in the stories of the patriarchs and prophets, then He cannot be the Messiah of Israel and the nations. Aaron understands this and will challenge you to listen to the Holy Spirit as you read the story of this Persian queen."--Don Finto, pastor emeritus, speaker and author"This is a book full of vital truth that will set you free and cause you to gain the victory over your enemies. If any Christian, whether a minister or church member, is not living in peace and victory within and without, there is a missing ingredient in his or her formula for victorious living. The truth revealed in this book concerning spoken and written decrees could be that missing ingredient. In my fifty years of ministry, I have practiced this truth in maintaining my personal life, family and ministry. Much of the advancement we have made in pioneering the full restoration of Christ's fivefold ministers can be attributed to practicing the principles and truths found in this book. We called them 'apostolic decrees' and 'prophetic proclamations.'Aaron uses life and biblical examples to prove that every Christian can have this same power in his or her life. If you, like Esther, learn to make the proper preparation, practice the right principles, develop Christ's attitude and take the prescribed biblical action, then you can defeat all your enemies and live the victorious life. This book is necessary reading for every Christian who wants to be free, holy, victorious and prosperous. Like Esther, you will gain victory not only for yourself but for many of God's people."-Dr. Bill Hamon, chairman, founder and bishop, Christian International Ministries Network; president, Christian International College"With articulate precision and pastoral grace, Aaron Fruh in his book The Decree of Esther gives us a clear roadmap to a life of personal victory and fruitfulness. He not only details the ways in which the Spirit prepares us for the King, but he offers practical wisdom on how we can walk in overcoming victory amidst the present tensions and anxieties of our age. This is a refreshing book and one that is timely and prophetic for our time."--Steve Fry, senior pastor, Belmont Church, president, Messenger Fellowship, author, Rekindled Flame"Pastor Aaron Fruh's Decree of Esther is a timely and revealing book that illustrates how just one person can make a difference. Faced by overwhelming odds, Esther was faithful, courageous and obedient in carrying out God's plan for her life, thereby liberating the Jews of Persia. Pastor Fruh's in-depth study and unique analysis provides encouragement for the faithful that God is in control."--Stuart J. Roth, senior counsel, American Center for Law and Justice"There are power truths layered between the lines written in the account of Esther for those who dare to dig beneath the surface of her story. Aaron Fruh brings the hidden things to life in this deep exploration of principles that will not only bless you but liberate you to experience another level of blessing in your own life."--Michelle McKinney Hammond, author of The Power of Being a Woman
-Publisher
Aaron Fr??h is senior pastor of Knollwood Assembly of God in Mobile, Alabama. Author of The Decree of Esther and television host for TBN, he has traveled extensively for missions. In addition to pastoring, he takes part in humanitarian work in Israel. He and his wife, Sharon, have four children and live in Point Clear, Alabama.
Bestsellers in Spirit-filled Living