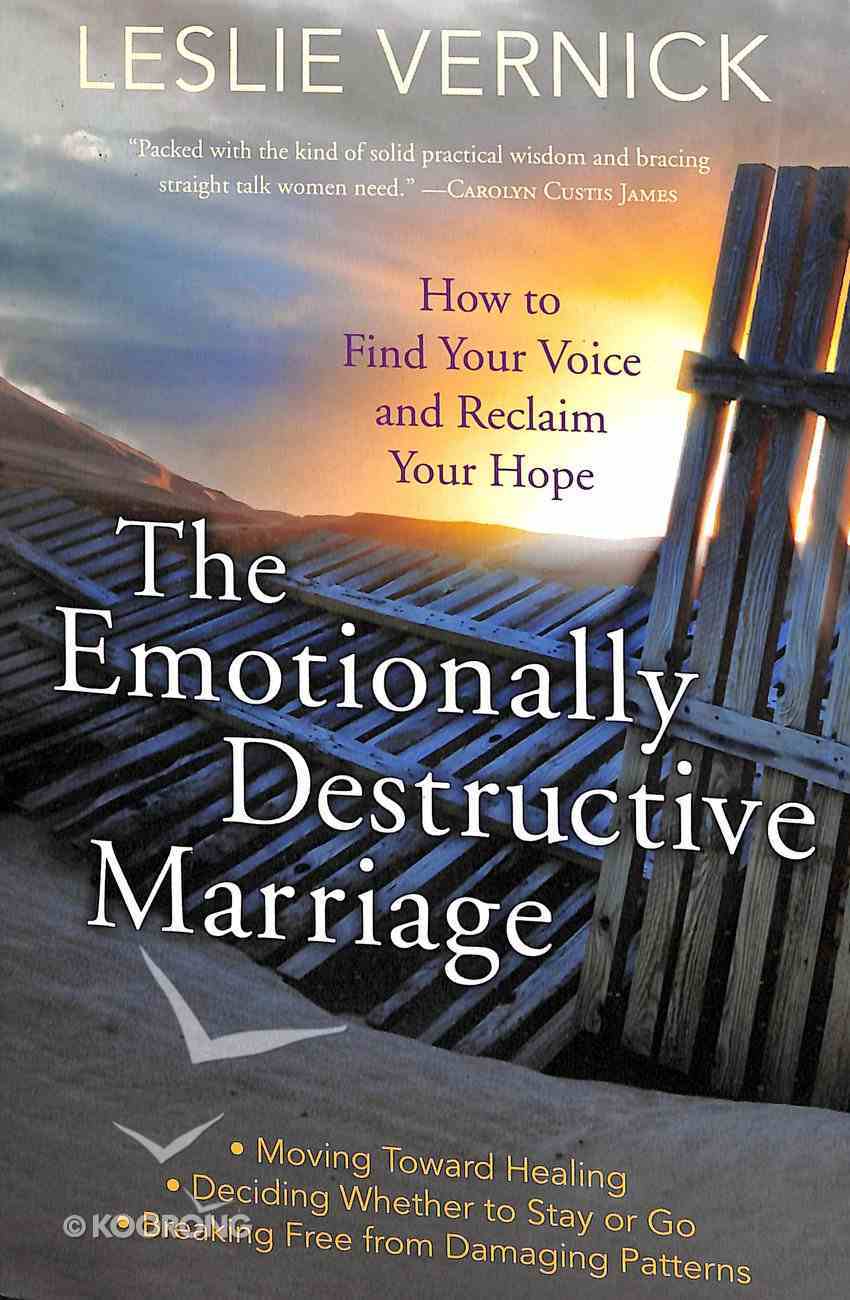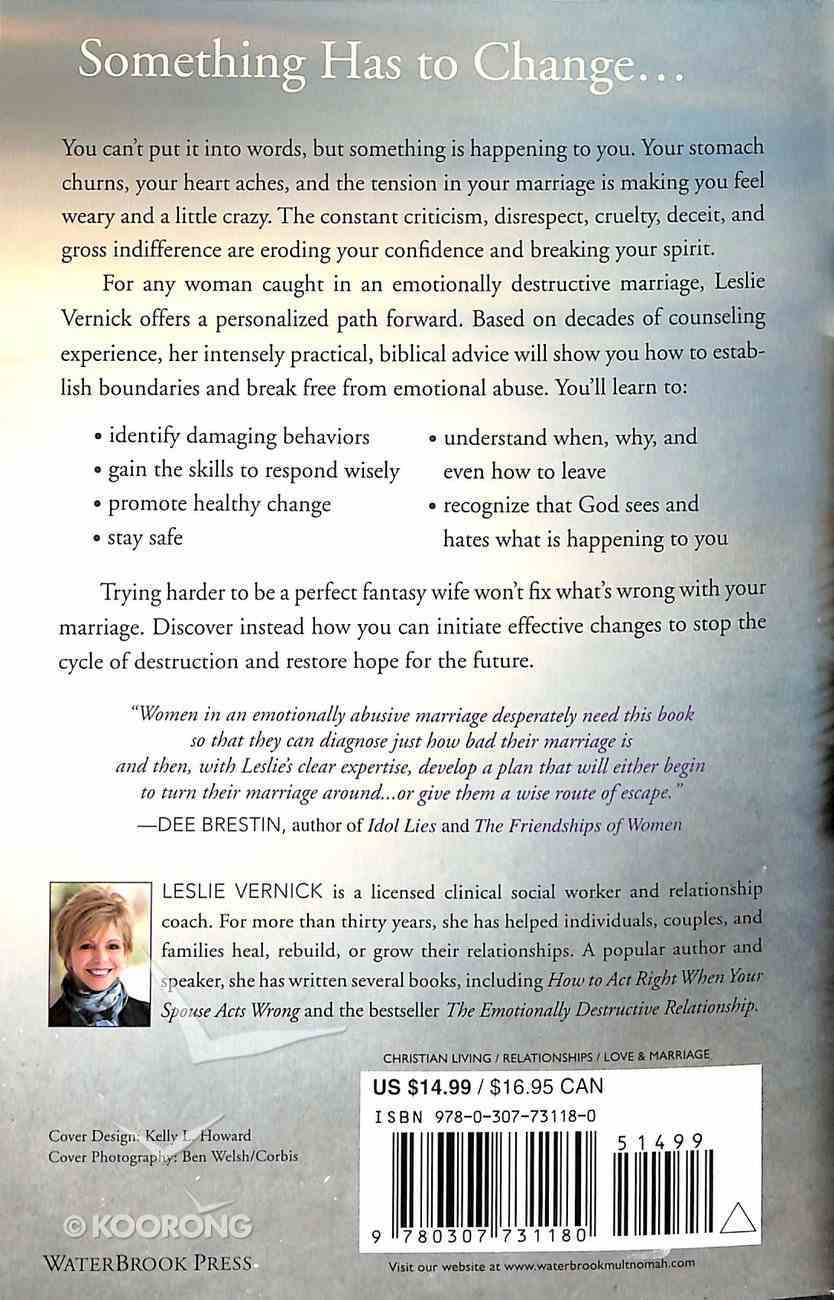 The Emotionally Destructive Marriage
Something Has to Change… You can't put it into words, but something is happening to you. Your stomach churns, your heart aches, and the tension in your marriage is making you feel weary and a little crazy. The constant...
---
Expected to ship tomorrow from Australia.
---
Free Shipping
for orders over $99.
Something Has to Change…

You can't put it into words, but something is happening to you. Your stomach churns, your heart aches, and the tension in your marriage is making you feel weary and a little crazy. The constant criticism, disrespect, cruelty, deceit, and gross indifference are eroding your confidence and breaking your spirit.    
 
What can you do to stop the cycle of destruction and restore hope for the future?
 
For any woman caught in an emotionally destructive marriage, licensed clinical social worker, relationship coach, and marriage counselor Leslie Vernick offers a personalized path forward. Based on decades of experience, her intensely practical, biblical advice will show you how to establish boundaries and break free from emotional abuse today. Learn to:
 
·         Indentify damaging behaviors
·         Gain the skills to respond wisely
·         Utilize tools that promote healthy change
·         Stay safe
·         Understand when, why, and even how to leave
·         Recognize that God sees and hates what is happening to you
 
Trying harder to be a perfect fantasy wife won't help fix what's wrong with your marriage. Now initiate some changes that can.
 
"Women in an emotionally abusive marriage do not need another book on how to have a good marriage; those books rub salt in raw wounds. No, they desperately need this book so that they can diagnose just how bad their marriage is and then, with Leslie's clear expertise, develop a plan that will either begin to turn their marriage around...or give them a wise route of escape."
—Dee Brestin, author of Idol Lies and The Friendships of Women

-Publisher
Leslie Vernick is a licensed clinical social worker who has her own private counseling practice and more than twenty years of experience counseling individuals and families from a biblical world view. She is a popular speaker for women's groups, couple's retreats, and professional seminars, and the author of How to Act Right When Your Spouse Acts Wrong and How to Live Right When Your Life Goes Wrong.
Introduction

Hanging On by a Thread

It's easy to find a plethora of good books about how to be a godly wife or what steps to take to build a successful and happy marriage. There aren't many books written on how to wisely deal with a destructive and abusive marriage. As a counselor and coach, I have grown increasingly troubled by the advice hurting women receive from well- meaning pastors, Christian counselors, friends, and lay leaders when they seek help for their destructive and abusive marriages. Many times we've not understood the gravity of the problem. We've misdiagnosed a marriage that has terminal cancer and treated it as if it were only suffering from a common cold. We've also misplaced the responsibility for keeping the marriage alive by putting an extraordinarily heavy burden on a wife's shoulders to somehow maintain a loving and warm relationship with a husband who treats her with cruelty, disrespect, deceit, and gross indifference. It's not feasible, nor is it biblical.

Each week e-mails flood my inbox from women desperate for answers, hanging on to their marriages and sometimes their sanity by a single thread. The details vary, but the questions are usually the same: "What do I do?" and "Where do I turn for help?" The woman's spirit, and sometimes her body, is depressed and depleted from the distress she feels within the walls of her own home. She wants to honor God and do his will, but does that mean she must continue to allow herself to be destroyed by her husband, a man who has promised to love and protect her?

Marriage and family are important to God, but just as important to him are the individuals within those marriages and families. God does not value men more than women, or the institution of marriage more than the people who are in it. He wants to help you know how to heal and what to do to bring true restoration to your destructive marriage. He also knows that because of the hardness of your husband's heart, true reconciliation of your relationship isn't always possible.

Throughout this book you will clearly see what's wrong and why keeping the marriage together at all costs or at any price can be dangerous. You will gain fresh insights and a new paradigm in which to understand your role in your marriage. You'll learn strategies and be given tools so that you can find your own voice again and be able to develop the strength and courage to stand up against the destruction. Within these pages is a biblical road map to help you know whether genuine repentance and restoration is taking place, and what the specific steps are to get there.

The Emotionally Destructive Marriage is divided into three parts. Part 1, "Seeing Your Marriage Clearly," will help you distinguish the difference between a disappointing marriage and a destructive one. At the end of chapter 1, there is a self-administered test you can take to determine whether you are in a destructive marriage. In chapter 2 you will learn what a healthy marriage looks like and the three essential ingredients that are required for any relationship to flourish. Chapter 3 will open your eyes to the different types of destructive relationship patterns and why they are so damaging to you, your children, and your marriage. In chapter 4 you will see that God hates what's happening to you. He is with you and for you and wants to help you make changes so that genuine healing can take place.

Part 2, "Change Begins with You," opens with chapter 5 showing you the ways you may be unknowingly enabling the destruction in your marriage to continue. You will understand how being a true biblical helpmate is very different than staying inappropriately submissive and silent about the destruction. In chapter 6 you'll understand why trying harder in the traditional wifely ways will make a destructive marriage worse and how the common teachings on biblical headship and submission can lead to an abuse of power and entitlement thinking. Chapter 7 will help you
build internal core strength, so that when the time is right, you will be empowered to take firm yet godly action to protect yourself and your children. Then, in chapter 8, you will know exactly what you need to do to prepare before you have a difficult conversation with your husband about his destructive behaviors.

In part 3, "Initiating Changes in Your Marriage," you'll be given specific strategies to wake up your husband to his destructiveness and invite him to godly change. In chapter 9 you'll discover how to speak up in love, using words that invite your spouse to stop his destructive behaviors and attitudes without shaming, scolding, or disrespecting him. In chapter 10 you will receive a plan on how to calmly confront your husband, together with examples of specific consequences you can implement if he refuses to listen. Chapter 11 takes you step by step through your biblical options if nothing changes in your marriage, and ways you can stay strong and God-centered in the midst of continued destructive behaviors. Lastly, in chapters 12 and 13, you'll learn the specific changes that are required if a destructive marriage is to heal, and how you will know whether or not you're making progress as a couple. In the closing epilogue, I invite you to read the words of an abusive man who is learning to become a better man.

I debated whether to write this book just for women or to include men, as they, too, are in destructive marriages and feel distraught, impotent, and confused about how to change the damaging dynamics in their marriages. In the end I decided to write this book for women, but if you are a man who is looking for answers for your destructive marriage, you will find help within the pages here if you can overlook the stories and illustrations depicting men as the primary perpetrators. You can also find additional
resources at www.leslievernick.com/the-emotionally-destructive -marriage, if your wife is the one who is the destructive partner.

The individuals in each story are disguised except for those who have given me permission to use their real names. Some stories or characters are composites to illustrate a specific point. All are pictures of the painful realities some women must live with day after day, week after week, year after year.

Please hear me: God doesn't want you to hang on by a thread, my friend. He gives you a lifeline. Grab hold of it and live.

Part 1

Seeing Your Marriage Clearly

The eye is the lamp of the body.
So, if your eye is healthy, your
whole body will be full of light,
but if your eye is bad, your whole
body will be full of darkness. If
then the light in you is darkness,
how great is the darkness!
Jesus, in Matthew 6:22–23


One
Are You in an Emotionally Destructive Marriage?

For nothing is hidden except to be made manifest;
nor is anything secret except to come to light.
—Mark 4:22

Several years ago, while speaking in Hungary, I was shocked to see the new title the Hungarians had given one of my books when they translated it into their language. It was now called How to Survive a D-Minus Marriage. My sister, Patt, who had accompanied me on this speaking trip, joked with me about whether or not people would admit their marriages were that bad. But during the event, the book sold like hot cakes. Marriages everywhere are in dire straits. Christian homes are no exception.

You may feel as if you are in a D-minus marriage and have no idea what to do. I have help for you, but first it's important to clarify the difference between a disappointing marriage and a destructive one.
Bestsellers in Relationships