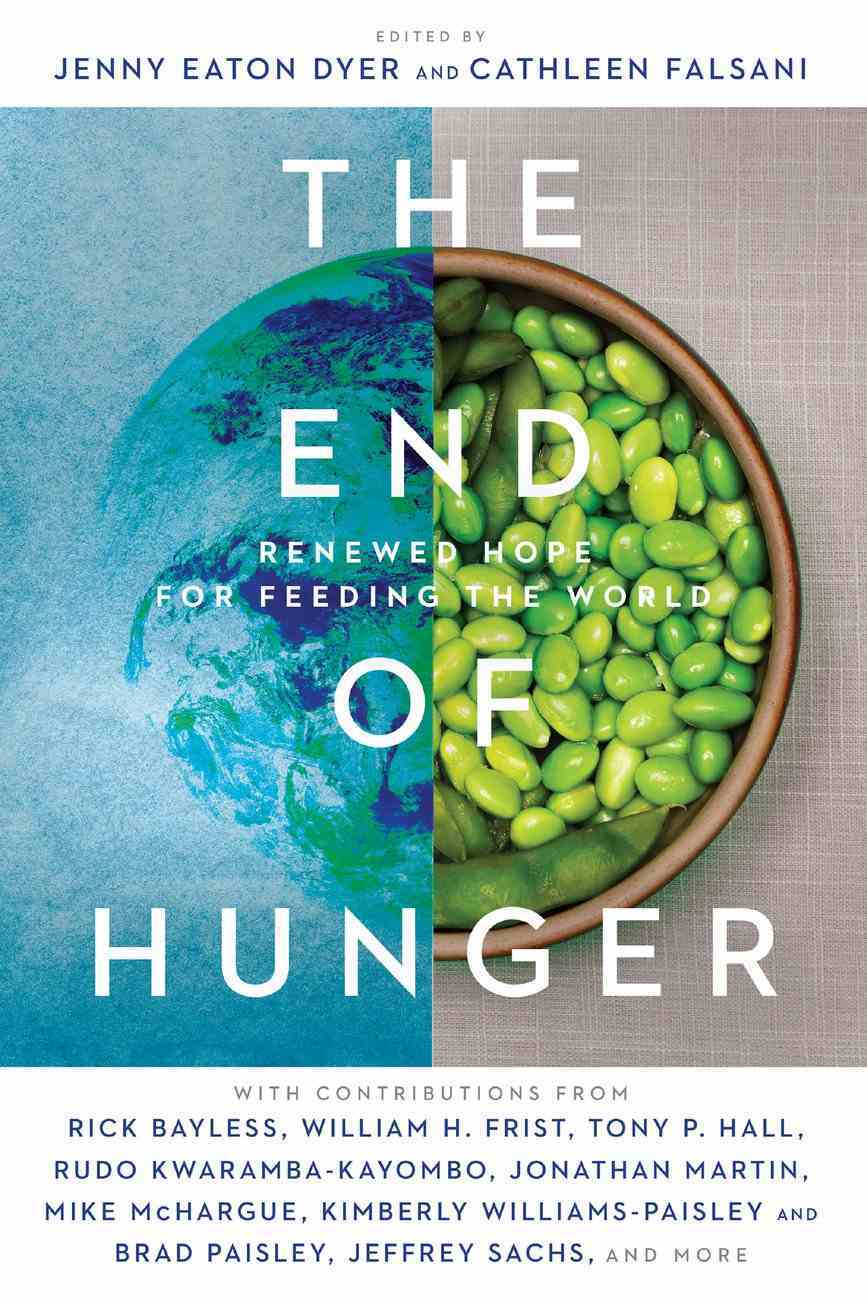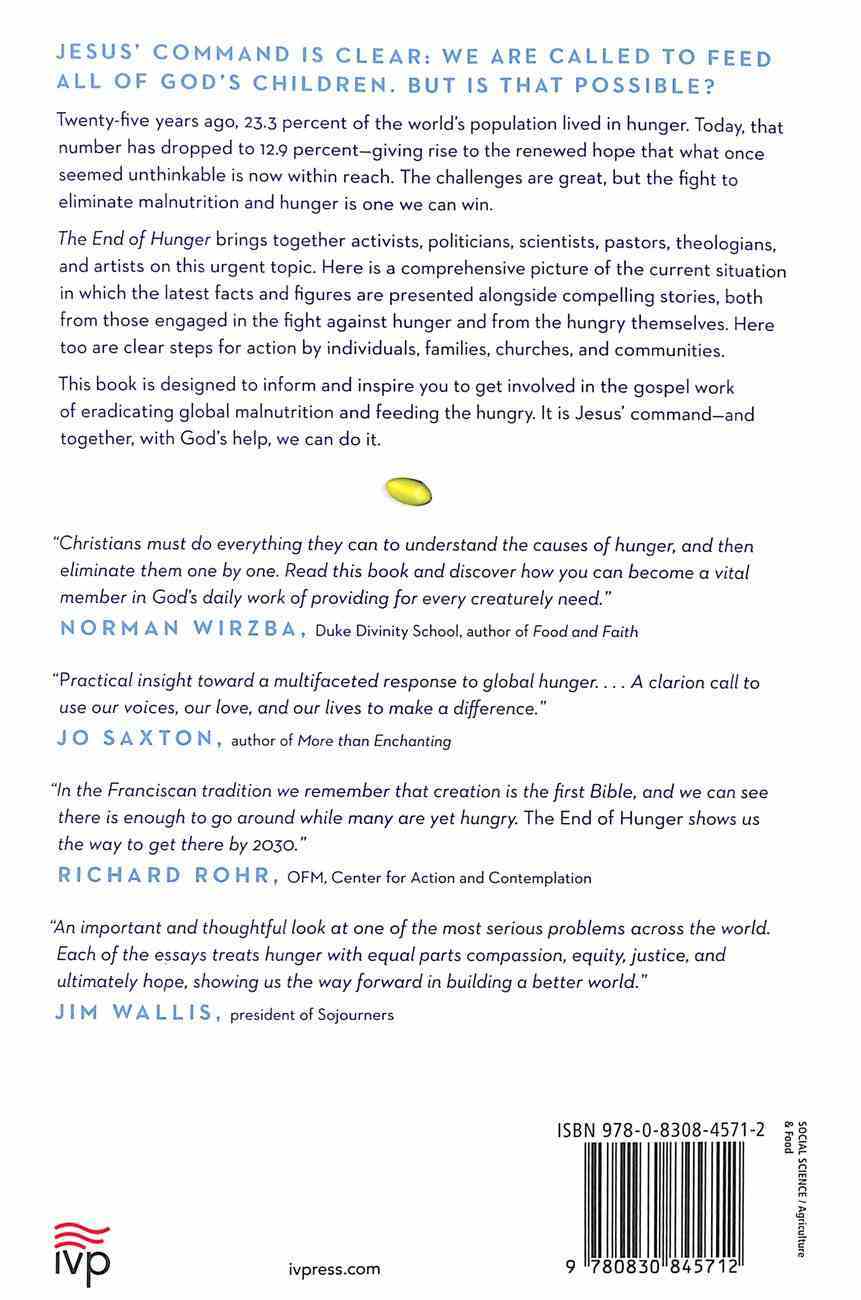 The End of Hunger: Renewed Hope For Feeding the World
:Jesus' command is clear: we are called to feed all of God's children. But is that possible? Twenty-five years ago, 23.3 percent of the world's population lived in hunger. Today, that number has dropped to 12.9 percent-giving rise to...
---
Expected to ship tomorrow from Australia.
---
Free Shipping
for orders over $99.
:Jesus' command is clear: we are called to feed all of God's children. But is that possible? Twenty-five years ago, 23.3 percent of the world's population lived in hunger. Today, that number has dropped to 12.9 percent-giving rise to the renewed hope that what once seemed unthinkable is now within reach. The challenges are great, but the fight to eliminate malnutrition and hunger is one we can win. The End of Hunger brings together activists, politicians, scientists, pastors, theologians, and artists on this urgent topic. Here is a comprehensive picture of the current situation-the latest facts and figures are presented alongside compelling stories, both from those engaged in the fight against hunger and from the hungry themselves. Here too are clear steps for action by individuals, families, churches, and communities. This book is designed to inform and inspire you to get involved in the gospel work of eradicating global malnutrition and feeding the hungry. It is Jesus' command-and together, with God's help, we can do it. Contributors include Chef Rick Bayless David Beasley The Rev. David Beckmann Congressman Diane Black Tony Campolo, PhD Senator Bob Corker Jeremy K. Everett Cathleen Falsani Kimberly Flowers Senator William H. Frist, MD Helene Gayle, MD Amy Grant Ambassador Tony P. Hall Rudo Kwaramba-Kayombo Nikole Lim Jonathan Martin Mike McHargue Angel F. Mendez Montoya, PhD Will Moore Samuel Rodriguez Jeffrey Sachs, PhD Gabe Salguero Mark K. Shriver Ron Sider Rachel Marie Stone Steve Taylor and Family Roger Thurow Elizabeth Uriyo and Christopher Delvaill Kimberly Williams and Brad Paisley
-Publisher
:introduction—jenny Eaton Dyer
<strong>part 1: An Overview Of The Problem Of Hunger</strong>
1. Hunger And Your Brain: Feed The Hungry. You&#x2019;ll Feel Better Too&#x2014;mike Mchargue
2. The End Of Hunger&#x2014;jeffrey D. Sachs
3. A Threat To Health Anywhere Is A Threat To Peace Everywhere&#x2014;william H. Frist
4. The Bible, Poverty, Justice, And Christian Obedience&#x2014;ron Sider
5. A Multipronged Approach&#x2014;rudo Kwaramba-kayombo
6. Onward To 2030&#x2014;will Moore
<em>esther: Oaxaca, Mexico</em>
7. A Path To Peace And Stability&#x2014;david Beasley
8. Bring Everyone To The Table&#x2014;helene Gayle
9. What To Do About Malnourished People Around The World&#x2014;tony Campolo
10. &#x201c;remember Us When You Come Into Your Kingdom&#x201d;: Hunger In America&#x2014;jeremy K. Everett
11. Caught In Conflict&#x2014;kimberly Flowers
12. The Possible Impossible Dream&#x2014;gabe Salguero
13. The Bread Of Heaven&#x2014;jonathan Martin
<strong>part 2: The First One Thousand Days: Young Women, Mothers, And Children</strong>
14. I Am Gita&#x2014;roger Thurow
15. A Thousand Days And A Million Questions&#x2014;cathleen Falsani
<em>vasco: Blantyre, Malawi</em>
16. To End Preventable Deaths In Mothers And Children, We Must End Hunger And Malnutrition&#x2014;mark K. Shriver
17. <em>amazzi:</em> When You Have Enough&#x2014;the Taylor Family: Steve, Debbie, And Sarah
<em>nighty: Pajimo, Uganda</em>
18. Hunger And Sex Trafficking&#x2014;nikole Lim
19. From Hunger To Holistic Health&#x2014;elizabeth Uriyo And Christopher Delvaille
<strong>part 3: A Way Forward: What We Can Do</strong>
<em>rupa: Kathmandu, Nepal</em>
20. When You Eat, Sit Down&#x2014;rick Bayless
21. Begin With Love&#x2014;rachel Marie Stone
22. End Hunger: Do The Thing That&#x2019;s In Front Of You&#x2014;tony P. Hall
23. From The Garden To The Table&#x2014;amy Grant
24. Hunger, Fasting, And Faith&#x2014;&#xc1;ngel F. M&#xe9;ndez Montoya
25. Feeding The Hungry By Raising Dignity&#x2014;kimberly Williams-paisley And Brad Paisley
<em>shorty: Bombay Beach, California, Usa</em>
26. The Lamb&#x2019;s Agenda&#x2014;samuel Rodriguez
27. Teach A Man To Fish&#x2014;diane Black
28. Ending Hunger Starts With Modernizing How We Deliver Food Aid&#x2014;bob Corker
29. Exodus From Hunger&#x2014;david Beckmann
Acknowledgments
Next Steps: Advocacy And Philanthropy
Glossary
Notes
Contributors
Bestsellers in Christian Worldview