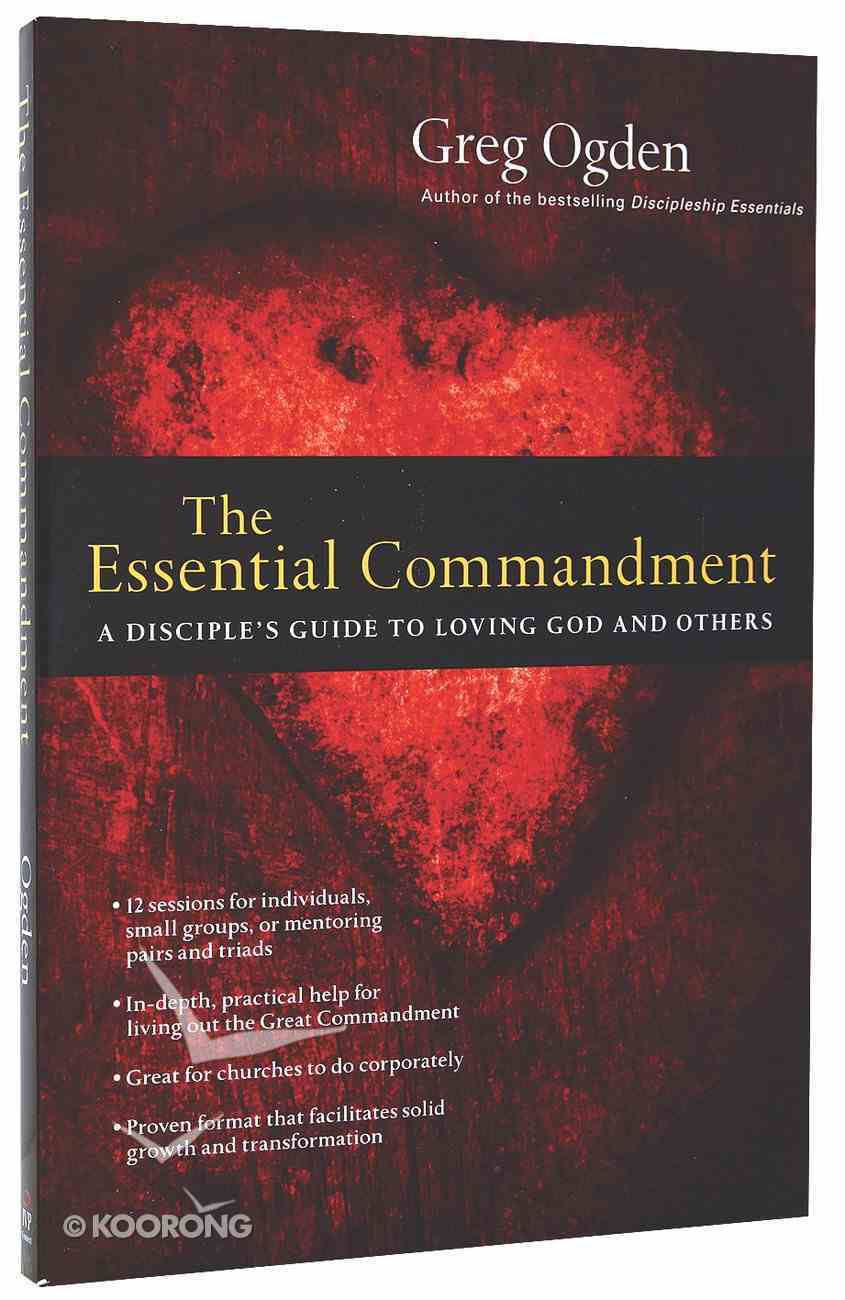 The Essential Commandment
Is it really possible to live out the Great Commandment? When an expert in the law asked Jesus what the greatest commandment is, Jesus gave a clear and simple answer: "'Love the Lord your God with all your heart...
Available Now.
1 Available
---
Expected to ship within 12 hours from Australia.
---
Free Shipping
for orders over $99.
Is it really possible to live out the Great Commandment?

When an expert in the law asked Jesus what the greatest commandment is, Jesus gave a clear and simple answer:
"'Love the Lord your God with all your heart and with all your soul and with all your mind and with all your strength.' The second is this: 'Love your neighbor as yourself.' There is no commandment greater than these."

But what does the Great Commandment look like on the ground, in our day-to-day lives? And can we even come close to living it out?

Jesus, Greg Ogden believes, has a simple answer to that too. He writes, "Jesus didn't follow [the Great Commandment
Is it really possible to live out the Great Commandment? When an expert in the law asked Jesus what the greatest commandment is, Jesus gave a clear and simple answer: "'Love the Lord your God with all your heart and with all your soul and with all your mind and with all your strength.' The second is this: 'Love your neighbor as yourself.' There is no commandment greater than these." But what does the Great Commandment look like on the ground, in our day-to-day lives? And can we even come close to living it out? Jesus, Greg Ogden believes, has a simple answer to that too. He writes, "Jesus didn't follow [the Great Commandment] up by saying, 'I know I'm asking a lot, but do the best you can. I know you'll never fully approximate this high and lofty goal, but it's still worth striving for.' . . . Jesus thinks this is possible." And with Jesus, Ogden has found, it is possible--and essential. In this practical, in-depth handbook, Ogden draws from his years of pastoral experience training and discipling others to help us truly be changed by Christ into people who love God and love others with all that we are. Following the format of his bestselling Discipleship Essentials, each chapter includes a core truth a memory verse an inductive Bible study a reading on one aspect of the Great Commandment Thoughtful questions will also help you examine your heart and life and move you to open yourself to God's transforming work. Above all, Ogden helps you see that the Great Commandment is actually a great invitation to join God in bringing his kingdom to earth. And as you learn to do so, you'll find that the greatest commandment leads to the greatest life possible.
-Publisher
Greg Ogden (D.Min., Fuller Theological Seminary) is executive pastor of discipleship at Christ Church of Oak Brook in Oak Brook, Illinois. Previously he was academic director of the doctor of ministry program and associate professor of lay equipping and discipleship at Fuller Theological Seminary in Pasadena, California. A pastor for 23 years with the Presbyterian Church, USA, he also served for nine years as senior pastor of Saratoga Federated Church in Saratoga, California. While there, he developed a discipleship program used by over 15,000 people and resulting in his book, Discipleship Essentials. Ogden has also written Unfinished Business: Returning the Ministry to the People of God (Zondervan), Leadership Essentials and Transforming Discipleship both from InterVarsity Press
Getting The Most From <em>the Essential Commandment</em>
Introduction: Jesus Believes It Is Possible! .
1 The Essential Commandment Explained
<strong>part One: Love The Lord Your God . . . With All Your Heart</strong>
2. A Broken And Contrite Heart
3. A Listening Heart
<strong>part Two: Love The Lord Your God . . . With All Your Soul</strong>
4. Our Soul Thirsts For God
5. Our Souls . . . Fully Alive . . . To The Glory Of God
<strong>part Three: Love The Lord Your God . . . With All Your Mind</strong>
6. Having The Mind Of Christ
7. Transformation Of The Mind
<strong>part Four: Love The Lord Your God . . . With All Your Strength</strong>
8. Focusing Your Energy
9. Growing Healthy Bodies
<strong>part Five: Love Your Neigbhor As Yourself</strong>
10. Have Mercy For Those In Need
11. Love Those Who Would Do You Harm
12. Demonstrate Compassion: Loves Evidence
Appendix A: How Are We To Understand The Essential Commandment?
Appendix B: Building A Discipleship Ministry
Bestsellers in Spiritual Growth