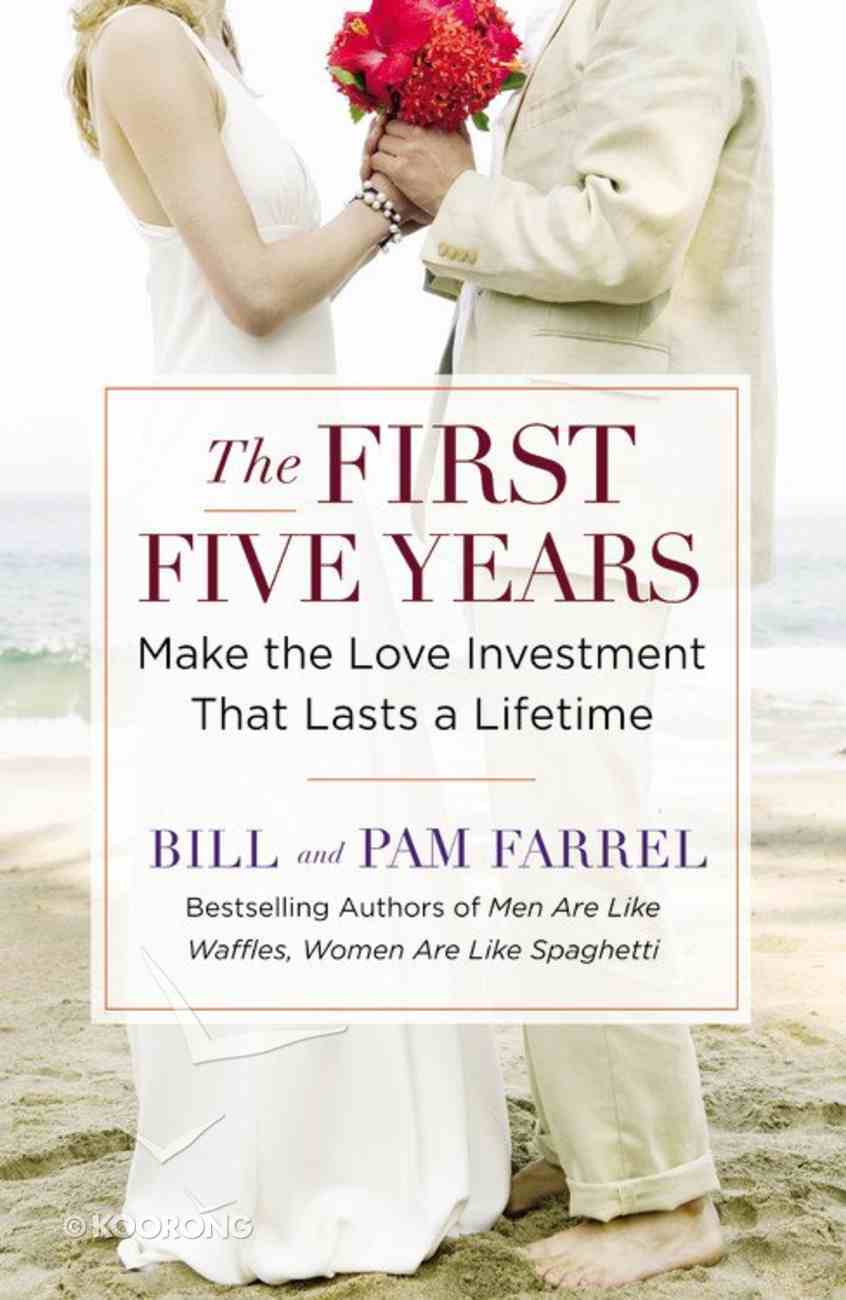 Every couple plants seeds of success or failure in the first five years of their marriage. If they lack basic communication skills and the ability to solve conflicts in areas like sex, finances, and emotional intimacy, they won?t make it...
Out of Stock
Available to Order
---
Expected to ship in 4 to 5 weeks from Australia.
---
Free Shipping
for orders over $99.
Every couple plants seeds of success or failure in the first five years of their marriage. If they lack basic communication skills and the ability to solve conflicts in areas like sex, finances, and emotional intimacy, they won?t make it past the five-year-mark. Authors, speakers, and columnists Bill and Pam Farrel offer sound, simple-to-apply advice to help couples establish firm foundations for their relationships. Based on their own successful twenty-five-year-marriage, Bill (who is also a marriage counselor) and Pam have developed strong principles for staying the course when life challenges their relationship. Lively, fun, and practical for newlyweds anywhere in THE FIRST FIVE YEARS, this book is the best investment a couple can make in building a happy, long-lasting marriage.
-Publisher
A couple plants seeds of success or failure in those first years of a marriage, when some basic skills are needed to help the couple communicate and overcome the rough spots in their relationships. Authors, speakers, columnists, and nationally known marital experts Bill and Pam Farrel have developed a program called GIFT to offer sound, practical advice to help couples establish firm foundations for their lives together: Get in the Game. Just as an athlete has to compete according to the rules of the game, love works best when you follow the guidelines God set. Invest in Your Sex Life. Those first five years are the time to create a strong emotional, spiritual, and physical bond. Figure It Out. Decisions set the emotional atmosphere of your relationship. Bill and Pam show how to relieve the struggle in decision making. Tough on Me, Tender on You. Couples whose love lasts a lifetime are people who decided, I will be tough on myself but tender toward my spouse. Lively, fun, and helpful to couples anywhere in THE FIRST FIVE YEARS, this book is an essential manual to the happiness every couple dreams about.
-Publisher
Bill Farrel is Pastor to Small Groups at Shadow Mountain ComBill Farrel is Pastor to Small Groups at Shadow Mountain Community Church. Bill is co-director (with his wife and anothemunity Church. Bill is co-director (with his wife and another IVP author, Pam) of Masterful Living, a relationships minir IVP author, Pam) of Masterful Living, a relationships ministry. Bill is the co-author ofDevotions for Men on the Go! (stry. Bill is the co-author ofDevotions for Men on the Go! (with Steve Arterburn) and Men are Like Waffles, Women Are Liwith Steve Arterburn) and Men are Like Waffles, Women Are LiC
Pam Farrel, a speaker and author, is co-founder with her husPam Farrel, a speaker and author, is co-founder with her husband Bill of Masterful Living, an organization that helps coband Bill of Masterful Living, an organization that helps couples build successful relationships. Together Pam and Bill uples build successful relationships. Together Pam and Bill authored the bestselling book Men are Like Waffles, Women arauthored the bestselling book Men are Like Waffles, Women are Like Spaghetti (Harvest House). Pam is also the author ofWe Like Spaghetti (Harvest House). Pam is also the author ofWC
Bestsellers in Relationships