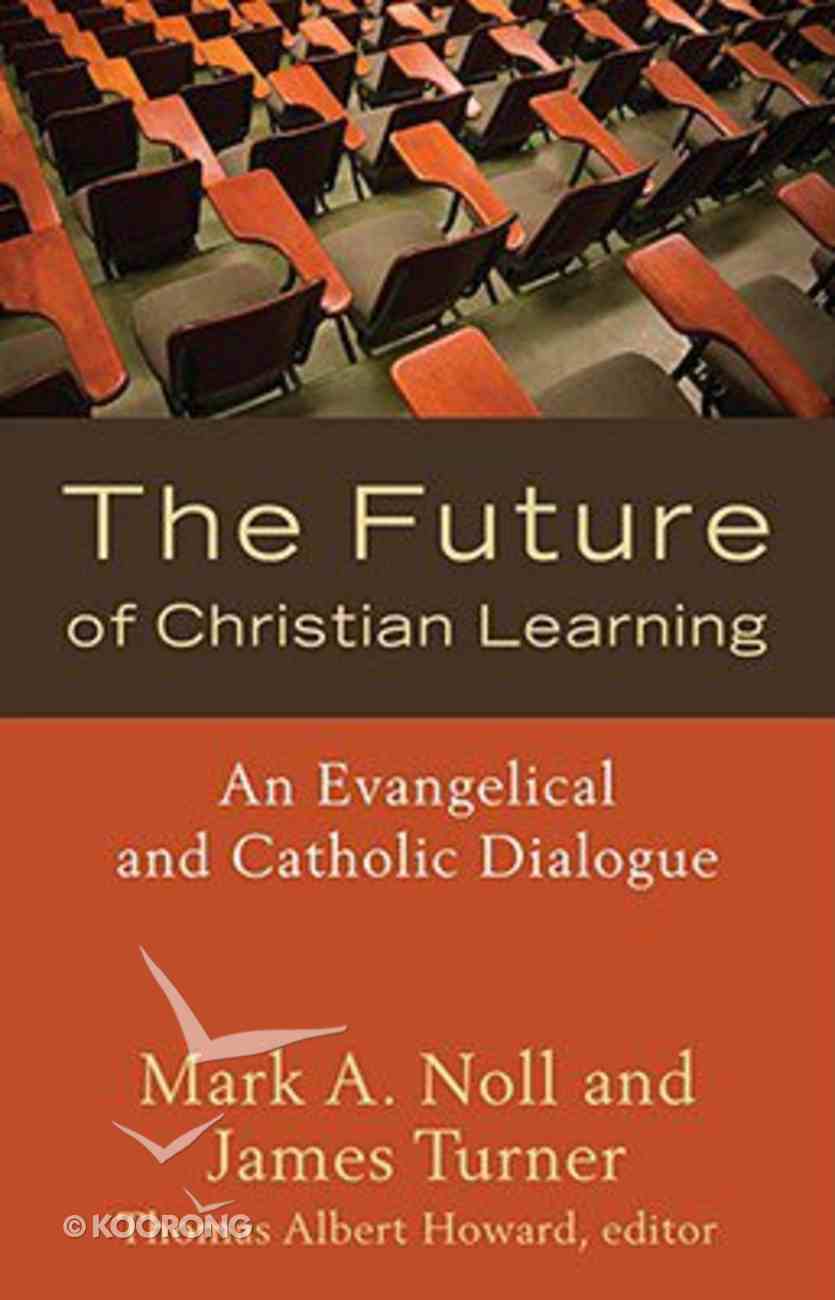 The Future of Christian Learning
Evangelicals and Roman Catholics have been responsible for the establishment of many colleges and universities in America. Until recently, however, they have taken very different approaches to the subject of education and have viewed one another's traditions with suspicion. In...
Out of Stock
Available to Order
---
Expected to ship in 5 to 6 weeks from Australia.
---
Free Shipping
for orders over $99.
Evangelicals and Roman Catholics have been responsible for the establishment of many colleges and universities in America. Until recently, however, they have taken very different approaches to the subject of education and have viewed one another's traditions with suspicion. In this volume, Mark Noll and James Turner offer critical but appreciative reassessments of the two traditions. Noll, writing from an evangelical perspective, and Turner, from a Roman Catholic perspective, consider the respective strengths and weaknesses of each approach and what they might learn from the other. The authors then provide brief responses to each other's essays. Thoughtful readers from both traditions will find insightful and challenging ideas regarding the importance of Christian learning and the role of faith in the modern college or university. EXCERPT In many respects, the current volume . . . touch es] upon three issues: intellectual engagement, tradition, and ecumenism. The basic idea behind the
-Publisher
"Professors Mark Noll and James Turner offer in this small book an illuminating dialogue on the nature of Christian education as well as what and how evangelicals and Catholics may learn from each other. The editor, Thomas Albert Howard, provides an outstanding review of the issues at stake and the importance of the Noll-Turner dialogue. The authors suggest a bold and ambitious vision, one that embodies what should be an uncontroversial premise: scholarship and teaching at a Christian institution of higher learning ought to take seriously the philosophical tapestry of ideas, principles, and beliefs on which the Christian faith rests and from which it offers an account of what is good, true, and beautiful. If evangelicals and Catholics, in true cooperation, can offer this vision to the secular academy, perhaps this will plant the seeds that may result in the ultimate fulfillment of Christ's prayer, 'Holy Father, keep them in thy name, which thou hast given me, that they may be one, even as we are one.'"--Francis J. Beckwith, Baylor University"This volume is a sign of hope in the changing landscape of Catholic and evangelical relationships. And the dialogue it records is a model for many others that need to take place both in the academy and among the churches--candid, insightful, drawing on the wisdom of the past but looking to the future, marked by respect yet filled with hope. That such an exchange should be sponsored by a historic evangelical institution [Gordon College], while no longer surprising, does show how far we have come."--Timothy George, Beeson Divinity School, Samford University"As they strive to contribute to the production of knowledge and reverse a 'scandalous' reputation for second-rate thinking, what can evangelical Christians learn from the experience of their American Catholic counterparts, who sponsor and staff 225 institutions of higher education in the United States? And how are Catholics usefully challenged by the evangelicals' insistence that 'Christian learning' be incorporated into research, teaching, and the (intentional or inadvertent) character formation that goes on in university settings? The Future of Christian Learning brings together in respectful but lively dialogue two prominent and influential historians of religion's various presences and absences in American higher education to consider these and related questions. The call-and-response format allows Professors Noll and Turner to put their considerable erudition and wisdom to lively and provocative use. They agree on much, but it is their disagreements that make this engaging and enjoyable volume a memorable chapter in a larger, vital conversation about the future of faith-based education."--R. Scott Appleby, University of Notre Dame"Two formidable historians give generous and critical evaluations of the roles of Catholicism and Protestantism in American education. Living proof of what Catholics and Protestants can learn from each other, Noll and Turner are both personally and professionally invested in their subject. Their contributions--and Thomas Albert Howard's insightful introductory essay--not only explore, but model, the state of 'Christian learning.'"--Joshua Hochschild, Mount St. Mary's University
-Publisher
James Turner started making comics as soon as he was first able to hold a pencil, and has been spouting a nonsensical whirlwind of monsters, robots and talking vegetables ever since. His acclaimed web comic The Unfeasible Adventures of Beaver and Steve won tens of thousands of followers online, and his anthropomorphic crime fighting team "The Super Animal Adventure Squad" appeared weekly in the pages of the children's comic the DFC. He has sworn that he will not stop making comics until every bizarre character, every unfeasible adventure, and every terrible pun has been uncovered. But he might
Mark A. Noll (Ph.D., Vanderbilt University) is Francis McAnaney Professor of History at the University of Notre Dame. He is a Fellow of the American Academy of Arts and Sciences. He is advisory editor for Books and Culture and subeditor for the new Religion in Geschichte und Gegenwart. Noll's main academic interests concern the interaction of Christianity and culture in eighteenth- and nineteenth-century Anglo-American societies.
He has published articles and reviews on a wide variety of subjects involving Christianity in modern history. Some of his many books include The Civil War as a Theological Crisis; Is the Reformation Over?; The Rise of Evangelicalism: The Age of Edwards, Whitefield and the Wesleys; The Old Religion in a New World and most recently The New Shape of World Christianity; Jesus Christ and the Life of the Mind and Clouds of Witnesses: Christian Voices from Africa and Asia.


Thomas Howard (Ph.D., University of Virginia) is an English professor (recently retired, after nearly forty years of teaching), who taught at Gordon College and then at St. John's Seminary. He is a highly acclaimed writer and scholar, noted for his studies of Inklings C.S. Lewis (Narnia & Beyond: A Guide to the Fiction of C.S. Lewis [2006, 1987]) and Charles Williams (The Novels of Charles Williams [1991]), as well as books including Christ the Tiger (1967), Chance or the Dance? (1969), Hallowed be This House (1976), Evangelical is Not Enough (1984), If Your Mind Wanders at Mass (1995), On Being Catholic (1997), and The Secret of New York Revealed.
I. Introduction<br>thomas Albert Howard<br>ii. The Essays<br>&quot;reconsidering Christendom?&quot;<br>mark A. Noll<br>&quot;enduring Differences, Blurring Boundaries&quot;<br>james Turner<br>iii. The Responses<br>response To &quot;reconsidering Christendom?&quot;<br>james Turner<br>response To &quot;enduring Differences, Blurring<br>boundaries&quot;<br>mark A. Noll