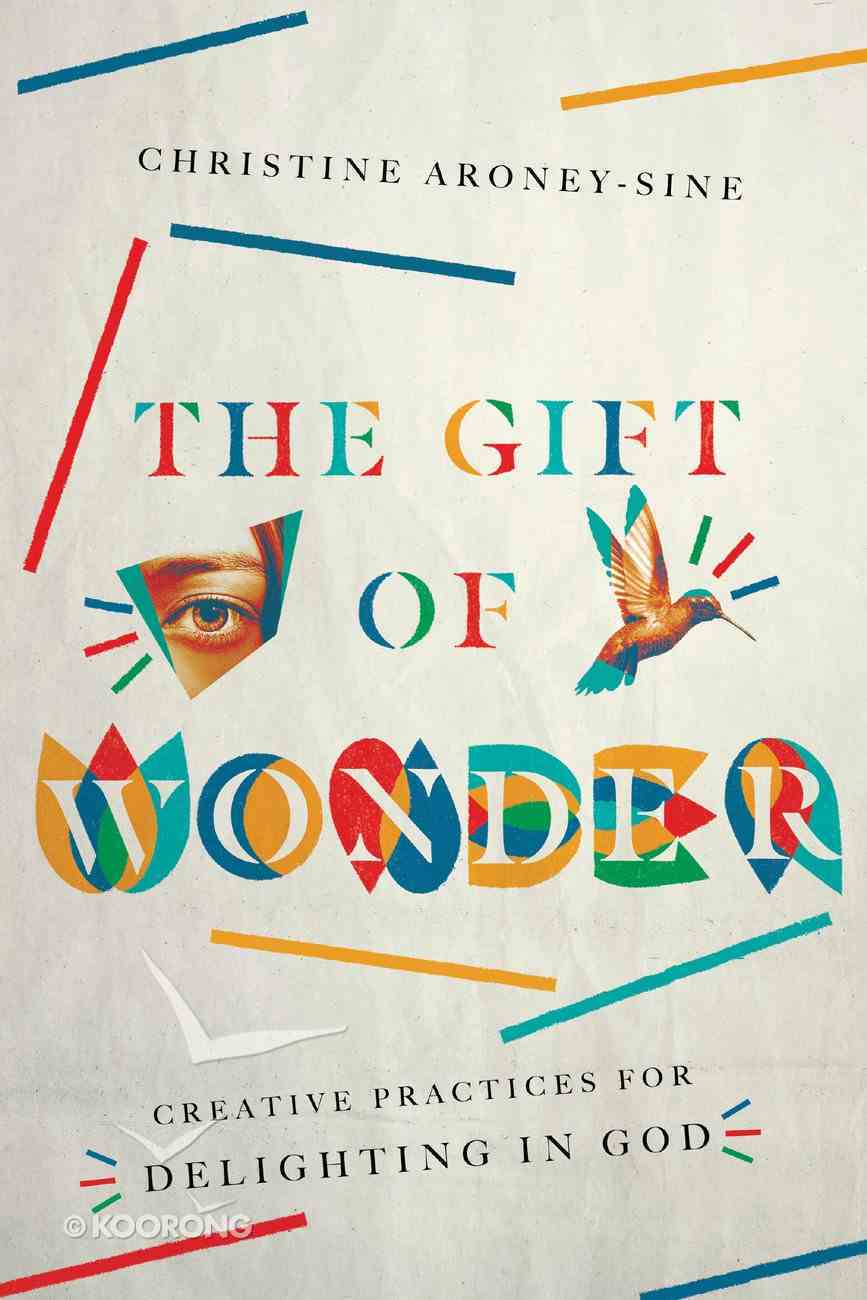 The Gift of Wonder: Creative Practices For Delighting in God
: I choose to breathe in the wonder of God's eternal love, And dance to the rhythm of eternal breath, Listening to the whispers calling me to slow down and take notice. I choose to absorb the beauty of the...
Out of Stock
Available to Order
---
Expected to ship in 4 to 5 weeks from Australia.
---
Free Shipping
for orders over $99.
:I choose to breathe in the wonder of God's eternal love, And dance to the rhythm of eternal breath, Listening to the whispers calling me to slow down and take notice. I choose to absorb the beauty of the divine presence, to delight in the Creator of all things and relish the delight God takes in me. Can you imagine a God who dances with shouts of joy, laughs when you laugh, loves to play, enjoys life, and invites us to join the fun? Like many of us, Christine Sine had spent many years with an image of God who was "a very serious, workaholic type of God." And even when her theology told her this was not true, she struggled to live into this new way of thinking. What she needed was a childlike spirituality. In this book, Christine Sine, online host of the Godspace community, invites us to pay attention to childlike characteristics that have the power to reshape us. Each chapter addresses a childlike characteristic to embrace, including delight, playfulness, imagination, awe and wonder, love of nature, the ability to live in the present, and much more. Fresh spiritual practices that engage all our senses help us live a new spiritual life that embraces the wonder and joy that God intends for us.
-Publisher
Christine Aroney-Sine is an Australian physician who developed and directed the healthcare ministry for YWAMs Mercy Ships. She has a broad background in international health and travel medicine and has worked in Africa, Asia, Central America, the Caribbean and the South Pacific. She now lives in Seattle with her husband, author Tom Sine. They work together with Mustard Seed Associates assisting churches and Christian organizations to engage the challenges of the 21st Century.
Christine works as a consultant in international healthcare and travel medicine as well as conducting seminars to help prepare people for overseas mission service. She also speaks on issues relating to changing our timestyle and lifestyle to develop a more spiritual rhythm for our lives. Christine teaches a course on mission to the urban poor for Fuller Theological Seminary in Seattle and works together with her husband Tom Sine to help Christian organizations prepare for the 21st century. Christine speaks widely at colleges, churches and missions conferences and has written books Tales of a Seasick Doctor (Zondervan 1996) and Survival of the Fittest: Keeping Healthy in Overseas Travel and Service (MARC 1995 )


:introduction
1. Delight Yourself In God
Practice—choose Joy
2. Open Yourself To Awe And Wonder
Practice—ten Miracles Before Breakfast
3. Let Your Life Speak
Practice—listen To Your Life
4. Unleash Your Inner Child
Practice—plan A Playdate
5. Set Your Imagination Free
Practice—read A Children's Book
6. Give Yourself The Gift Of Curiosity
Practice—walk A Finger Labyrinth
7. Remember We Are Earthlings
Practice—seed Bomb Our Neighborhoods
8. Return To The Rhythm Of Life
Practice—have Fun With Leaves
9. Rest In The Moment
Practice—walking In Circles
10. Cultivate Gratitude
Practice—plan A Gratitude Scavenger Hunt
11. See Things Differently
Practice—make A Rainbow
12. Stay Close To The Cracks
Practice—shine Light In The Cracks
13. Come To The Table
Practice—welcome To The Manger
14. Embrace Trust
Practice—braid The Cords Together
Acknowledgments
Appendix: Guidelines For Leading A Group
Creative Practices
Notes
Bestsellers in Christian Living