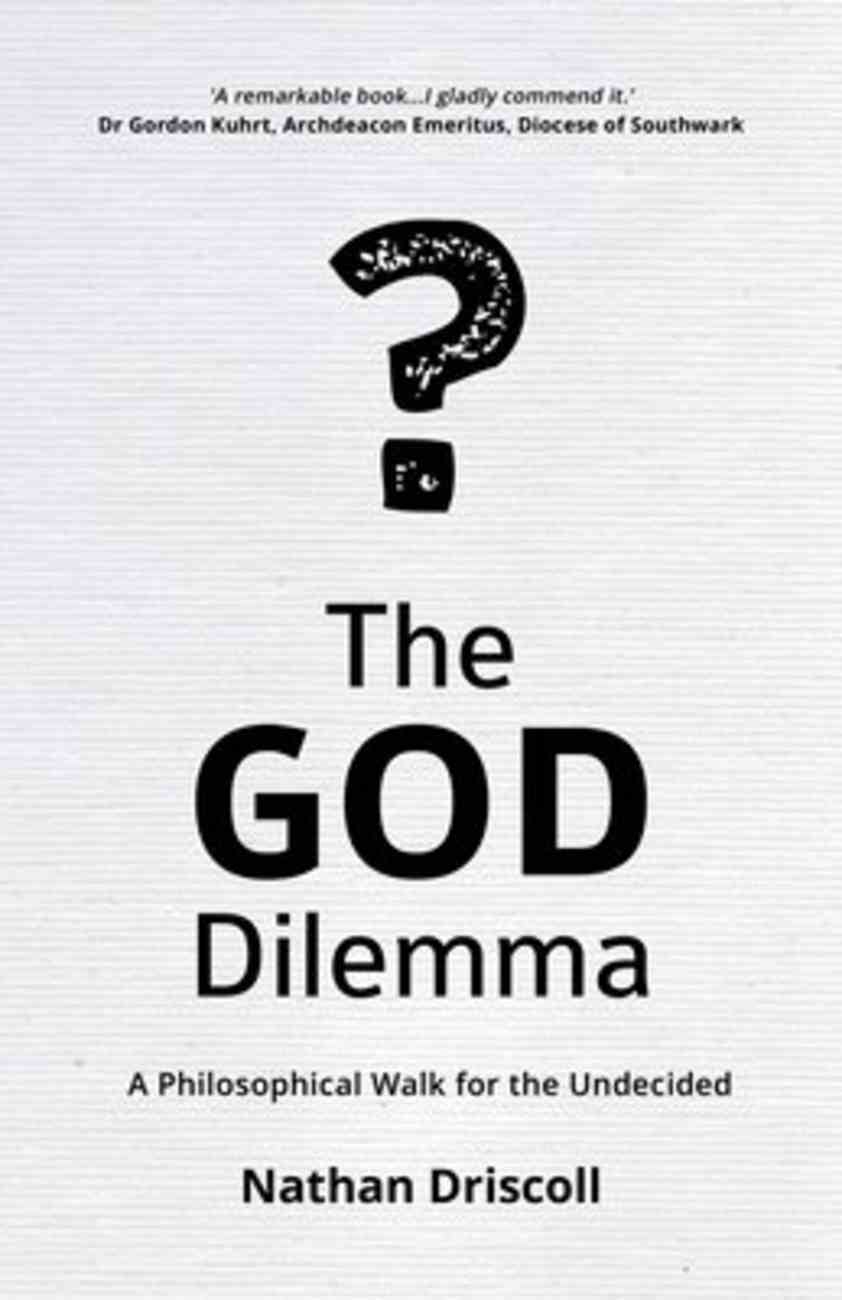 The God Dilemma: A Philosophical Walk For the Undecided
What is behind life itself - God, evolution or something else? Are we alone in this universe? How can we find out if such a thing is possible? How far can our rational powers take us? Have we the self-control...
Out of Stock
Available to Order
---
Expected to ship in 7 to 8 weeks from Australia.
---
Free Shipping
for orders over $99.
What is behind life itself - God, evolution or something else? Are we alone in this universe? How can we find out if such a thing is possible? How far can our rational powers take us? Have we the self-control to use our ever-increasing intelligence responsibly? Is there a place for humility in all of this? Many writers have long since discarded the notion of faith being a rational option, but as we find out more and more about what we do not know, this could very well be a premature conclusion. This book attempts to explore the spaces which science, rationality and faith occupy and poses the question as to whether or not they can coexist.
-Publisher
1. What Do We Know?
2. The Mind-body Debate
3. Our Capacity For Intelligent Redesign
4. Rationality - Our Best Hope?
5. Rationality' - How Does It Apply To Evolution, Intentionality And Creationist Theology?
6. Evolution As A Metatheory - A Reassessment
7. Immanence And Evolution - Are They Compatible?
8. Faith - A Catalyst For Oppression?
9. The New Enlightenment Project
Conclusion (1) - Spaces For Faith In Science .
Conclusion (2) - Human Nature -can We Go It Alone?
What is behind life itself – God, evolution or something else? Are we alone in this universe? How can we find out if such a thing is possible? I am a retired social worker and teacher, now doing a small amount of care work and a lot of grandparenting. What do I know about it? If you read on, you will at least find out what I do know but of course, that may not help you. When asking those questions, most people don't turn to philosophy. They often see philosophy as the province of intellectuals who basically speak a different language to the one of common sense. My friend, Ralph, who is very accomplished, said in a somewhat tongue-in-cheek way, "Isn't it a better use of time to put some shelves up?" I suppose when I took time out to study philosophy in more depth when I was much younger, if I am honest, it didn't really help me in my day to day life or in my relationships with other people, and it certainly has no relevance to putting up shelves. I began to enjoy philosophy and, now I have a little time, I have returned to it. Do I have a set of beliefs? I do, but I want this book to be read by those who are uncertain about any set of beliefs, whether connected to the primacy of science, religion or reason; later on, the substance of my faith will become clearer. I have tried to write it with as open a mind as possible, although it is perhaps only in the literary arts that a fuller escape from our own preconceptions is possible. What fascinated me, and still does so, were the different places particular arguments can take us to; unearthing the assumptions behind particular standpoints deepens our understanding, sometimes by unpacking previously unspoken assumptions. Science, religion and reason are the three areas which this book focuses on. They are the precursors to those questions about equality, social justice, consumerism, environmentalism, diversity or nationalism, which are not covered here. That may be the ground of a further piece of study, something for my grandchildren to ponder when they have nothing better to do. Why science, religion and reason? When going into some shops, there is background music. Our culture is a bit like that – there are various sounds and motifs which hum in the background. We have many such motifs: we are consumers, we have tolerance and we have the media. We also have science and religion. Somehow, we have difficulty putting them together. The philosopher Peter Winch puts it like this: 'On my view then, the philosophy of science will be concerned with the kind of understanding sought and conveyed by the scientist; the philosophy of religion will be concerned with the way in which religion attempts to present an intelligible picture of the world; and so on. And of course these activities and their aims will be mutually compared and contrasted. The purpose of such philosophical enquiries will be to contribute to our understanding of what is involved in the concept of intelligibility, so that we may better understand what it means to call reality intelligible.' In other words, we have a desire to find the common theme from the different parts of our lives: in Winch's language this is what it means to make 'reality intelligible'. Evolution and religion have locked horns over recent years. That impasse has stopped some from seeing what evolution means for human beings, and also what belief in a creative God entails. For evolutionists, the original physicality of genetics has now become a subtler interplay between human choice and our DNA. For Christians, the idea of cause and effect has had to be redrawn as we find out more about the natural world. As modern neuroscience incorporates culture and human intention into its brief, the choice between atheism and faith is nowhere near as stark as it appeared to be even ten years ago. The mystery of how the mind and body intertwine is making us redefine what the mind is. Our ability to reason is both physical and, unless we are totally deceived by ourselves, autonomous. It's that ability to reason that stokes the fires of the humanist enlightenment. Is it strong enough to deliver a better world? Can we dispense with religion, or is it more complicated than that? Even if we could dispense with religion, would reason be able to marshal the force of human passions and our survival instinct in a way that protects everyone? Evolutionists say that what is unknowable can become knowable, and that in itself dispels any need for a belief in God, whereas Christians might say that the character of God is only knowable through an active faith in Christ as God incarnate. Is there a parallel between solving a problem in a chemistry exam and resolving an argument with a friend? One is about pure reasoning and the other concerns a combination of reasons and feelings. Both evolution and faith have their presuppositions. For evolutionists, everything eventually has to be traced back to the survival of the species; for the Christian, what is ultimately left is one's inner connection with God, both here and beyond time. Philosophy does not help you to plump for one or another, but it does help you to appreciate how different views can be legitimately held. The language is technical, so I will begin with a brief attempt to describe the structure of this book in a straightforward way. I start out exploring the question of what can be counted as true. Broadly speaking, I ask if experiential and interpersonal knowledge are just as valid as knowledge of scientifically observed physical processes. From this I move on to discuss the mind-body problem because even though we can and often do separate the physical from the mental aspects of life, there is no better meeting point of what is 'personal' and what is known as 'matter' than us, human beings. Our capacity to think then takes us to the issue of designing nature or for us, at least, redesigning it. Our ability to think creates as many problems as it solves, because so many different options are opened up. In the book, this ability to think is framed as a discussion about rationality, and later on reasoning. After assessing the suitability of the theory of evolution as an umbrella for all other theories, I look at the sceptical view of religion, exploring if it is a cause of human conflict or just one particular way we flawed human beings mistreat each other. Our perceptions of reason and science lead into a conclusion where what we don't know is as 'rational' a component of our understanding as what we do know. The purpose of the conclusion is to open up spaces for faith where previously some may have thought there weren't any. The book is a journey. I started with what is now Chapter 7 and gradually found my way back to a starting point. From there I continued until I reached a stopping place at the end of Chapter 12. I hope that it is at least going to provoke a few thoughts, even if they are imaginative ones. Imagine, for example, that a theory is developed which links particle theory with what goes on in our minds when we make decisions. In particle theory there can be a whole range of potential outcomes, all of which are correct, although when observation is brought in, only one of those outcomes is detected. How might this affect our perception of what it is to make a decision? There are a whole range of possible outcomes but in the end only one choice can be made. Despite the phenomenal growth in scientific knowledge over the last hundred years, we still find it difficult to really grasp the idea of a very large or even infinite set of outcomes. Is the idea of intelligence behind the universe more like a never-ending voyage of discovery rather than a step by step climb to the top of a mountain? Even if we cannot conceive of intelligence behind the universe, we should at least re-evaluate the balance between all the major scientific theories known to date. Along with the certainty that science brings comes a whole new set of questions with each new discovery. It is that balance between certainty and uncertainty which fine tunes our view of life and its origins.
Bestsellers in Philosophy