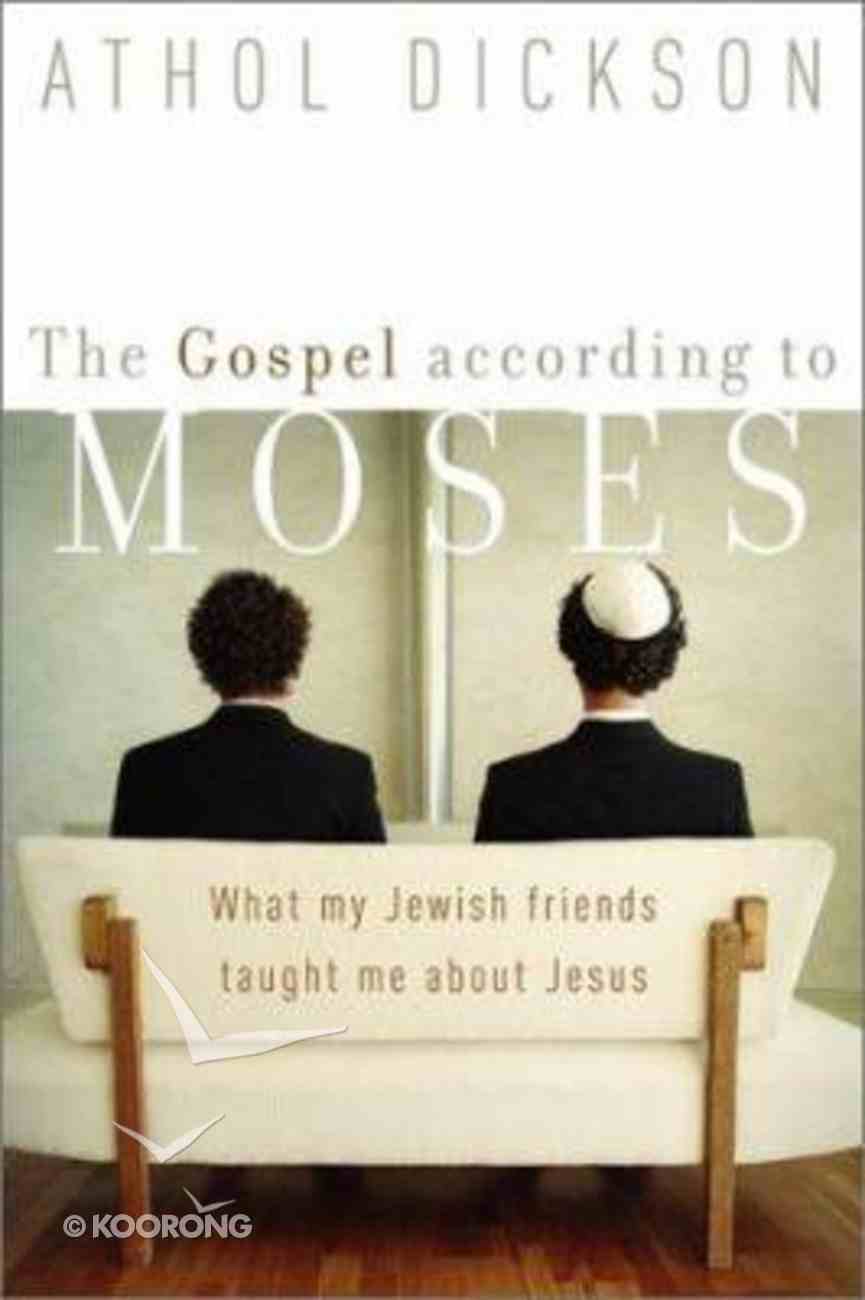 The Gospel According to Moses
"Years ago I exposed myself to the possibility that Judaism might have great truths to offer, and Chever Torah (Jewish Bible study) rewarded my open mind with radical improvements in the way I live and view my Christian faith." -from...
Out of Stock
Available to Order
---
Expected to ship in 5 to 6 weeks from Australia.
---
Free Shipping
for orders over $99.
"Years ago I exposed myself to the possibility that Judaism might have great truths to offer, and Chever Torah (Jewish Bible study) rewarded my open mind with radical improvements in the way I live and view my Christian faith." -from the IntroductionAfter he spent five years attending Chever Torah, Athol Dickson found his faith radically changed-the result being a deeper relationship with God. In beautiful and simple language, The Gospel according to Moses illustrates Dickson's journey of faith exploring some of the primary theological differences and similarities between Christianity and Judaism. He draws generously on both Old and New Testament scriptures, looking at Christian and Jewish perspectives on topics such as suffering, grace vs. works, and the place of Jesus in the Hebrew Scriptures.
-Publisher
Can Christians learn about their faith from Jews? This book explores some of the primary differences between Christianity and Judaism-as well as the common ground.
-Publisher
"The Gospel according to Moses is meat for the soul. It will require some chewing and time to digest, but you will savor this meal. From one hungry soul to another-there is no excuse good enough for not reading The Gospel according to Moses."--Reg Grant, Dallas Tehological Seminary"I have seldom read pages more moving, challenging, or filled with love and truth. Dickson is not afraid to ask hard questions--and God is not afraid to answer. I will reread this book many times!"--Angela Hunt, author of The Shadow Women"Athol Dickson's The Gospel according to Moses chronicles his journey into a foreign country that turns out to be home. Christians will be drawn deeper into the fullness of their faith by learning from the author the oneness of the Bible that proceeds from the oneness of God. A valuable resource. A worthwhile read. Genuine encounter with Jewish faith in the setting of Torah study taught Athol Dickson that God loves an honest question and, most of all, honest questioners. Christian readers will be challenged to embrace Jews as true friends of God without having to abandon faith in Jesus as the Son of God. Christians are to obey Jesus' command to "Love God ... and love your neighbor as yourself," we might start by acknowledging that Gentiles were first neighbors ourselves who were loved by Jesus and other Jews. Athol Dickson teaches us that to love Jews in spiritual friendship leads us to love more deeply the God who has invited us to share in the blessings of Abraham. Personal, thoughtful, critical, and honest: The Gospel according to Moses leads the reader on an informative and provocative journey of discovery. Christians will not only learn more about the Jewish roots of their faith, they will learn more about the God of their faith. Athol Dickson has given us a rigorous challenge and a hopeful path."--Dr. George A. Mason, Senior Pastor, Wilshire Baptist Church, Dallas, Texas"A delight to read . . . and to learn from. Mr. Dickson's growth experience is a testament of how much Christians and Jews share in common. While not trying to homogenize the two faiths--he remains to the end a believing evangelical Christian--he has recognized the truth of Paul's words in Romans 9-11 that Christians are grafted onto the rich olive tree of Israel from which they nourish their spiritual sustenance. While Jews cannot accept his still unmet expectation of the world's ultimate acceptance of Jesus--Jews included--he is nonjudgmental about that conviction. We'll just have to wait for the Messiah's arrival and ask him if it is his first or second coming."-Rabbi Yechiel Eckstein International Fellowship of Christians and Jews"The Gospel According to Moses is not a read for the faint of heart. It requires a pith helmet and the soul of an explorer. Athol Dickson is our trusted guide--a man unafraid to explore the thorny paradoxes of our faith. Athol pulls apart the tangled truths of Torah to help us discover the treasure that awaits us at the heart of the gospel. But this is no journey into the heart of darkness. It is a brave adventure into the heart of light. May you never recover from the truth you find there."-Reg Grant, Dallas Theological Seminary"Athol Dickson takes the Bible seriously. As this book so clearly demonstrates, he is a deeply committed Christian and a gifted student of Scripture. The courage and candor of his convictions have helped me to clarify my own Jewish faith, and I hope for the privilege of studying and arguing with Athol for a long time to come."--Senior Rabbi David Stern, Temple Emanu El, Dallas, Texas
-Publisher
PRODUCT DETAIL
Catalogue Code 

189761

Product Code 

1587430487

EAN 

9781587430480

Pages 

268

Department Academic
Category Biblical Studies
Sub-Category Christ
Publisher Baker Book House
Publication Date 

May 2003

Sales Rank 

38659

Dimensions 

228 x 152 x 19

mm

Weight 

0.442

kg
Athol Dickson is the publisher of the popular news website, DailyCristo.com, and the author of seven novels and the bestselling memoir, -->The Gospel according to Moses". His novels of suspense and magical realism have been honored with three Christy Awards and an Audie Award, and compared to the work of Octavia Butler (by -->Publisher's Weekly") and Flannery O?Connor (by -->The New York Times"). He and his wife live in Southern California.
1.&#9;god On The Spot:&#9;<i>dealing With Doubts </i><br>&#9;2.&#9;our Mutual God:&#9;<i>finding Meaning In Monotheism </i><br>&#9;3.&#9;god In Chains: <i>why God Lets Me Suffer </i><br>&#9;4.&#9;yes And Yes:&#9;<i>understanding Scriptural Paradox </i><br>&#9;5.&#9;the Beautiful Terror:&#9;<i>approaching The God Of &quot;fire And Brimstone&quot; </i><br>&#9;6.&#9;spiritual Suicide:&#9;<i>why It Is So Easy To Be Bad </i><br>&#9;7.&#9;pitching Tabernacles:&#9;<i>finding Connections Between Obedience And God's Grace </i><br>&#9;8.&#9;the Small Print:&#9;<i>christians And The Laws Of Moses </i><br>&#9;9.&#9;up From The Well:&#9;<i>reconciliation With God <br></i>&#9;10.&#9;skeletons In My Closet:&#9;<i>evil Christians In Spite Of Jesus </i><br>&#9;11.&#9;one And All:&#9;<i>the Trinity And Monotheism </i><br>&#9;12.&#9;the Word In The Word:&#9;<i>jesus In The Hebrew Scriptures </i><br>&#9;13.&#9;one Way: &#9;<i>are Jews Going To Hell?</i>
Bestsellers in Biblical Studies