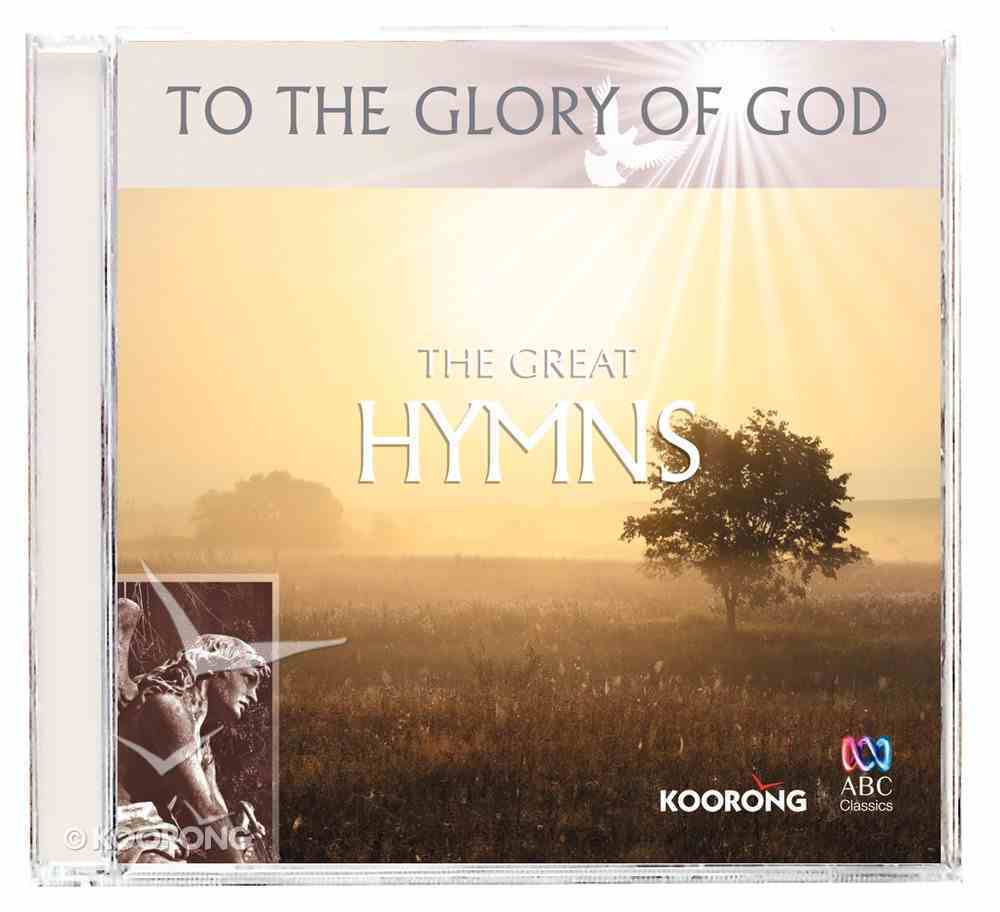 The Great Hymns (To The Glory Of God Series)
Tracks: 1. Praise to the Lord (Tune: Lobe den Herren) 2. Come Down, O Love Divine (Tune: Down Ampney) 3. Guide Me, O Thou Great Jehovah (Tune: Cwm Rhondda) 4. Eternal Father, Strong to Save (Tune:...
Order now to secure your copy when our stock arrives.
0 Available. Expected to ship January 2020.
---
Expected to ship January 2020.
---
Free Shipping
for orders over $99.
Tracks:

1. Praise to the Lord (Tune: Lobe den Herren)

2. Come Down, O Love Divine (Tune: Down Ampney)

3. Guide Me, O Thou Great Jehovah (Tune: Cwm Rhondda)

4. Eternal Father, Strong to Save (Tune: Melita)

5. Amazing Grace (Tune: New Britain)

6. Be Thou My Vision (Tune: Slane)

7. Be Still, My Soul (Tune: Finlandia)

8. Lord of Earth and All Creation (Tune:Westminster Abbey)

9. Love Divine, All Loves Excelling (Tune: Hyfrydol)

10. All My Hope on God is Founded (Tune: Michael)

11. Abide With Me (Tune: Eventide)

12. When I Survey the Wondrous Cross (Tune: Rockingham)

13. The Lord's My Shepherd (Tune: Crimond / Brother James' Air)

14. Now Thank We All Our God (Tune: Nun Danket)

15. Praise, My Soul, the King of Heaven (Tune: Praise my Soul)

16. And Did Those Feet in Ancient Time (Tune: Jerusalem)

17. All Creatures of Our God and King (Tune: Lasst Uns Erfreuen)

18. For All the Saints (Tune: Sine Nomine)


Behind the Hymns

From the earliest days of the Christian church, the singing of hymns has been part of worship. This was a tradition inherited from the Jewish liturgy, in which psalms have always played an important role - the hymn that Christ and his disciples sang at the end of the Last Supper (Matthew 26:30 / Mark 14:26) would have been a traditional Passover psalm. The Christian Church, as it established itself and began to grow and thrive, continued to draw strength from the psalms and they remained central to the prayer life of the community.

The music to which they were sung, called 'plainsong' or 'plainchant', held itself apart from the diversions of the secular world and aimed towards simplicity, dignity and discipline: a single line of melody, with no accompanying instruments and no hint of any regular beat which might recall the rhythms of dance! With the coming of the Reformation, many of the new Protestant worship communities, even as they rejected the use of Latin (once a universal language, but by this time an alien tongue for most of the population) and the elaborately codified rites of the Roman Catholic church, upheld these same ideals of purity and directness in their own music, and revered the psalms as the first and the greatest of spiritual songs. The psalm texts were translated into poems with regular, rhyming lines, which were then set to simple tunes; these 'metrical psalms' became the musical heart of the Reformed Churches of Switzerland, France, the Netherlands, Germany, Scandinavia and Scotland - The Lord's My Shepherd is an example of a text from the Scottish Psalter of 1650, set to a 19th-century tune.

With time, however, many came to feel a need for hymns which spoke more explicitly of the Christian revelation. As one of the first and greatest of English hymn writers, Isaac Watts, pointed out at the age of 16, if the faithful were allowed to sing nothing but psalms, that meant they could not actually sing about their Lord, Jesus Christ! Watts went on to write almost 800 hymn texts, including When I Survey the Wondrous Cross. Watts wrote words, but paid little attention to the music - all his hymns were designed to be sung to the existing tunes (though he did ask for them to be sung faster than was the standard practice of the day). With the Wesley brothers, John and Charles, came a new era in English hymnody: hymns designed to stir the emotions and rouse the hearts of worshippers. Some of the tunes they wrote themselves, others they borrowed from other traditions, or even from popular songs, but always they insisted that the faithful 'sing lustily; sing modestly; sing in time; above all sing spiritually, with an eye to God in every word.' Their meetings were held in the open air, and the warmth and fervour of the singing attracted hundreds of thousands of followers. It was Charles who wrote most of the hymn texts (over 6,000 all up), including Love Divine, All Loves Excelling.

The conversion of John Henry Newton took place in a very different environment, as the then slave trader contemplated his experience of having been saved from shipwreck and drowning after calling on the mercy of God. Twenty-five years later, he penned the immortal words to Amazing Grace as part of a New Year's Day sermon for his congregation in Buckinghamshire, but it was in the USA that the hymn acquired its immense popularity, in the course of revival meetings in the 19th century.

Through the 19th century and into the early 20th, the Romantic movement brought with it an increased concern for the poetic merit of hymn texts, and an interest in the hymns of bygone ages - from this era come the well-known translations of 17th-century German Lutheran hymns by Catherine Winkworth (Praise to the Lord, Now Thank We All Our God and Praise, My Soul, the King of Heaven) and Robert Bridges (All My Hope on God is Founded). In terms of the music, perhaps the greatest composer of hymns in this period was John Bacchus Dykes (Eternal Father, Strong to Save), whose music was one of the key factors in the unparalleled success of the great Victorian hymnal Hymns Ancient and Modern. 'A&M', as it is affectionately known, also introduced Abide With Me as we now know it: Henry Francis Lyte had written the words and music in 1847, as he lay dying of tuberculosis, but it was not until William Henry Monk married the text to a new tune of his own making in 1861 that the hymn became popular.

The successor to Hymns Ancient and Modern was the English Hymnal of 1906, and its musical editor, Ralph Vaughan Williams, was one of England's greatest composers of the first half of the 20th century. As well as editing the Hymnal, he contributed a large number of tunes to it: whether arrangements of folk songs or sacred melodies from past centuries, such as All Creatures of Our God and King, which uses phrases from a 17th-century German Easter hymn, or entirely new creations like For All the Saints and Come Down, O Love Divine, Vaughan Williams's hymns quickly became a vital part of the living tradition of praising God in song. The great singing traditions of Ireland and Wales have also produced some mighty hymn tunes: Be Thou My Vision and Guide Me, O Thou Great Jehovah are two well known examples. Be Still, My Soul takes its melody from an orchestral piece by the Finnish composer Jean Sibelius: originally a patriotic tune, written as the Finns struggled against Russian oppression, its mood of quiet yet absolute confidence has made it the perfect musical setting for this hymn of profound faith. Patriotism of a different kind produced the rousing Jerusalem: as British morale faltered in 1916, confronted with mounting casualties and receding hopes of peace, William Blake's prophetic vision of the city of God established in the present day, sung to Hubert Parry's uplifting tune, was an inspiration - as it has been ever since. Another stirring English tune from more than two centuries earlier is Henry Purcell's 'Westminster Abbey', which has been raised by enthusiastic congregations to the words 'Christ is made the sure foundation', 'Blessed city, heavenly Salem' and now, with a distinctly Australian flavour, Lord of Earth and All Creation, written for the ecumenical hymn book Together in Song in 1999.

- Publisher.
PRODUCT DETAIL
Catalogue Code 

351572

Product Code 

9338684001275

EAN 

9338684001275

Tracks 

18

Department Music
Category Hymns/traditional
Sub-Category General
Release Date 

Mar 2012

Sales Rank 

47519

Weight 

0.093

kg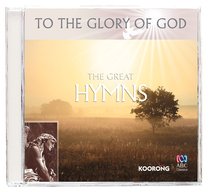 1. Praise To The Lord
The Great Hymns (To The Glory Of God Series) - DISC 1
1. Praise To The Lord

0:59

2. Come Down, O Love Divine

0:59

3. Guide Me, O Thou Great Jehovah

0:59

4. Eternal Father, Strong To Save

0:59

5. Amazing Grace

0:59

6. Be Thou My Vision

0:59

7. Be Still, My Soul

0:59

8. Lord Of Earth And All Creation

0:59

9. Love Divine, All Loves Excelling

0:59

10. All My Hope On God Is Founded

0:59

11. Abide With Me

0:59

12. When I Survey The Wondrous Cross

0:59

13. The Lord's My Shepherd

0:59

14. Now Thank We All Our God

0:59

15. Praise, My Soul, The King Of Heaven

0:59

16. And Did Those Feet In Ancient Time

0:59

17. All Creatures Of Our God And King

0:59

18. For All The Saints

0:59
Bestsellers in Hymns/traditional