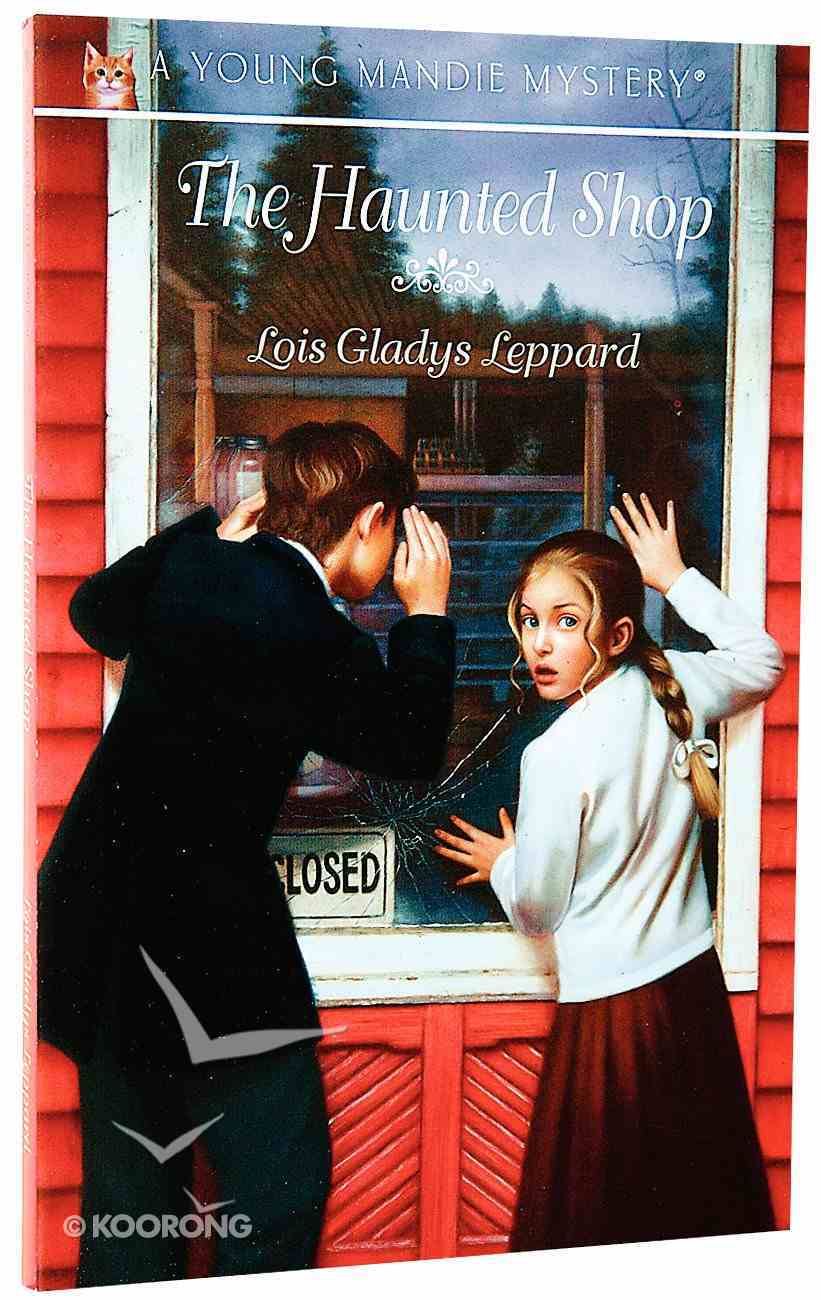 The Haunted Shop (#07 in Young Mandie Series)
Nine-year-old Mandie Shaw lives with her family in a log cabin in the woods. Her life is filled with fun, friendship, challenges - and exciting mysteries! Wonderful reading for 7-10 year-old girls!
Supplier is out of stock indefinitely
Unavailable
---
Free Shipping
for orders over $99.
Nine-year-old Mandie Shaw lives with her family in a log cabin in the woods. Her life is filled with fun, friendship, challenges - and exciting mysteries! Wonderful reading for 7-10 year-old girls!
Mandie, Joe, and Faith are thrilled when Miss Abigail invites them to join her on a trip to Bryson City. Joe and Faith are looking forward to meeting Miss Abigail's sophisticated friends. Mandie is, too -- but she's also hoping for a mystery to solve.And she's not disappointed. There's a spooky general store in Bryson City, a store where folks say strange things happen. Cobwebs droop from the ceiling, and the merchandise is covered with dust. But rumors aren't the only thing swirling around town -- a ghostly apparition has been seen floating down the shop's aisles!
-Publisher
1 Plans Are Made "IRENE AND I are finally getting to go to Bryson City," Mandie informed Joe as they walked to school one April morning. "Miss Abigail sent our mother a note last night asking us to go with her next weekend." Mandie smiled at Joe as she walked quickly to keep up with him. "My mother also received a note from her," Joe replied with a big grin. "Are you going?" Mandie asked. "I'm not sure if I want to go," Joe said. "Not sure?" Mandie asked. "Why aren't you sure you want to go?" She couldn't believe anyone would turn down an invitation to go to Bryson City. The courthouse was there, along with shops full of interesting things she had always heard about but never seen. The community where they lived, Charley Gap, only had one general store. Joe looked down at her and said, "I've been there before with my father while he was making calls, and I didn't think it was a very interesting place." "Joe Woodard!" Mandie exclaimed, stopping in the road to stomp her foot. "How can you say that? I've always heard there are lots of interesting places in Bryson City." "There are a lot of stuffy old city people over there," Joe answered. He paused to look down at her. "But we will be staying with some friends of Miss Abigail," Mandie replied. "Yes, and those friends are stuffy old city people," Joe told her. "Come on, Mandie. We're going to be late for school." He started to walk on. Mandie quickly followed. "How do you know they're stuffy?" she demanded. "My mother knew the name of the people in the note who Miss Abigail said we would be staying with. Mother also said they were very well-off people who live in a great mansion. I just wouldn't be comfortable," Joe explained. "Besides, what would we do there?" Mandie grinned and said, "Maybe we'll run into a mystery!" "Oh, Mandie, you and your mysteries!" Joe exclaimed. "All right then, if you don't go and I find a mystery, I won't even tell you about it when I get back," Mandie said. Joe ignored that remark and asked, "Is Irene going?" Mandie frowned and said, "Of course she's going. She's been wanting to go there for a long time too." "Then Irene can help you solve any old mystery you run into over there," Joe replied with a big grin. "You know as well as I do that Irene is not interested in solving mysteries. She just doesn't have the patience," Mandie said. She looked ahead and saw Faith at the crossroads. "Come on, Faith's waiting for us." After they caught up with Faith, Mandie asked, "Did you know Miss Abigail invited Irene and me to go with y'all to Bryson City next weekend?" And glancing at Joe, she added, "She asked Joe, too, but he's not interested." "Yes, she told me she was inviting all of you," Faith replied as they continued walking toward the schoolhouse. She looked at Joe and asked, "Why don't you want to go with us?" Joe cleared his throat and replied, "I told Mandie I'm not sure if I'm going." Faith and her grandmother, Mrs. Chapman, were temporarily staying with Miss Abigail while the local men repaired the old, ramshackle house, which Mrs. Chapman had inherited from a distant cousin. "Faith, I know you are from a city in Missouri and are probably used to being around shops, but you are still interested in going, aren't you?" Mandie asked. "Of course," Faith replied. "I've never been to Bryson City. I like to visit places I've never seen." "Do you know anything about Miss Abigail's friends we'll be staying with?" Mandie asked. "N
-Publisher
Lois began her first Mandie story when she was only 11 years old. But eventually the manuscript was tucked away in a drawer and forgotten. Lois went on to attend Furman University and studied music for several years in New York City where she and her sister sang professionally. Some years ago, Lois was prompted to pull that old manuscript out and began to work on Mandie's story - of her childhood in the South at the turn of the century and her Cherokee heritage. The rest is history - and now the Mandie books series have sales nearing six million copies! Lois writes from her home in South Carolina. Enthusiastic young fans fill her mailbox with their insightful responses to her stories. - Publisher.
:1

Plans Are Made

"IRENE AND I are finally getting to go to Bryson City," Mandie informed Joe as they walked to school one April morning. "Miss Abigail sent our mother a note last night asking us to go with her next weekend." Mandie smiled at Joe as she walked quickly to keep up with him.

"My mother also received a note from her," Joe replied with a big grin.

"Are you going?" Mandie asked.

"I'm not sure if I want to go," Joe said.

"Not sure?" Mandie asked. "Why aren't you sure you want to go?" She couldn't believe anyone would turn down an invitation to go to Bryson City. The courthouse was there, along with shops full of interesting things she had always heard about but never seen. The community where they lived, Charley Gap, only had one general store.

Joe looked down at her and said, "I've been there before with my father while he was making calls, and I didn't think it was a very interesting place."

"Joe Woodard!" Mandie exclaimed, stopping in the road to stomp her foot. "How can you say that? I've always heard there are lots of interesting places in Bryson City."

"There are a lot of stuffy old city people over there," Joe answered. He paused to look down at her.

"But we will be staying with some friends of Miss Abigail," Mandie replied.

"Yes, and those friends are stuffy old city people," Joe told her. "Come on, Mandie. We're going to be late for school." He started to walk on.

Mandie quickly followed. "How do you know they're stuffy?" she demanded.

"My mother knew the name of the people in the note who Miss Abigail said we would be staying with. Mother also said they were very well-off people who live in a great mansion. I just wouldn't be comfortable," Joe explained. "Besides, what would we do there?"

Mandie grinned and said, "Maybe we'll run into a mystery!"

"Oh, Mandie, you and your mysteries!" Joe exclaimed.

"All right then, if you don't go and I find a mystery, I won't even tell you about it when I get back," Mandie said.

Joe ignored that remark and asked, "Is Irene going?"

Mandie frowned and said, "Of course she's going. She's been wanting to go there for a long time too."

"Then Irene can help you solve any old mystery you run into over there," Joe replied with a big grin.

"You know as well as I do that Irene is not interested in solving mysteries. She just doesn't have the patience," Mandie said. She looked ahead and saw Faith at the crossroads. "Come on, Faith's waiting for us."

After they caught up with Faith, Mandie asked, "Did you know Miss Abigail invited Irene and me to go with y'all to Bryson City next weekend?" And glancing at Joe, she added, "She asked Joe, too, but he's not interested."

"Yes, she told me she was inviting all of you," Faith replied as they continued walking toward the schoolhouse. She looked at Joe and asked, "Why don't you want to go with us?"

Joe cleared his throat and replied, "I told Mandie I'm not sure if I'm going."

Faith and her grandmother, Mrs. Chapman, were temporarily staying with Miss Abigail while the local men repaired the old, ramshackle house, which Mrs. Chapman had inherited from a distant cousin.

"Faith, I know you are from a city in Missouri and are probably used to being around shops, but you are still interested in going, aren't you?" Mandie asked.

"Of course," Faith replied. "I've never been to Bryson City. I like to visit places I've never seen."

"Do you know anything about Miss Abigail's friends we'll be staying with?" Mandie asked.

"Nothing, except their name is Pettigru, they are about Miss Abigail's age, and they don't have any children," Faith replied.

As they came to the lane leading to the schoolhouse, Joe suddenly rushed forward, saying, "I don't see anyone outside. I hope we're not late."

The girls quickly followed. When Joe opened the front door, they saw no one there except the schoolmaster, Mr. Tallant, who was busy at his desk.

"Good morning," Mandie said as she took her books from Joe and went to her desk.

Mr. Tallant looked up from his paperwork and smiled. "Good morning," he said. "Y'all are here bright and early."

"Early?" Joe muttered under his breath as he went to his seat.

Faith looked at Mandie and Joe and said, "I came out on the road early so I'd be sure to catch y'all, so we really are early."

At that moment the door opened and Mandie looked back to see Esther rush into the schoolroom.

"Oh, it's so nice of Miss Abigail to invite all of us to go to Bryson City with her, isn't it?" Esther said to Faith while glancing at Mandie and Joe.

Mandie silently thought, Oh, goodness! Esther is going too? Oh, no! She looked at Joe and he grinned at her. He had probably immediately made the decision that he was definitely not going now. Everyone knew Esther was hard to get along with because she always wanted everything her way.

"Yes," Faith said to Esther. "Did your mother give you permission to go?"

"Of course," Esther replied. "And she has heard of Miss Abigail's friends over there. They are supposed to be very wealthy."
Bestsellers in Confident Readers (Age 8-12)