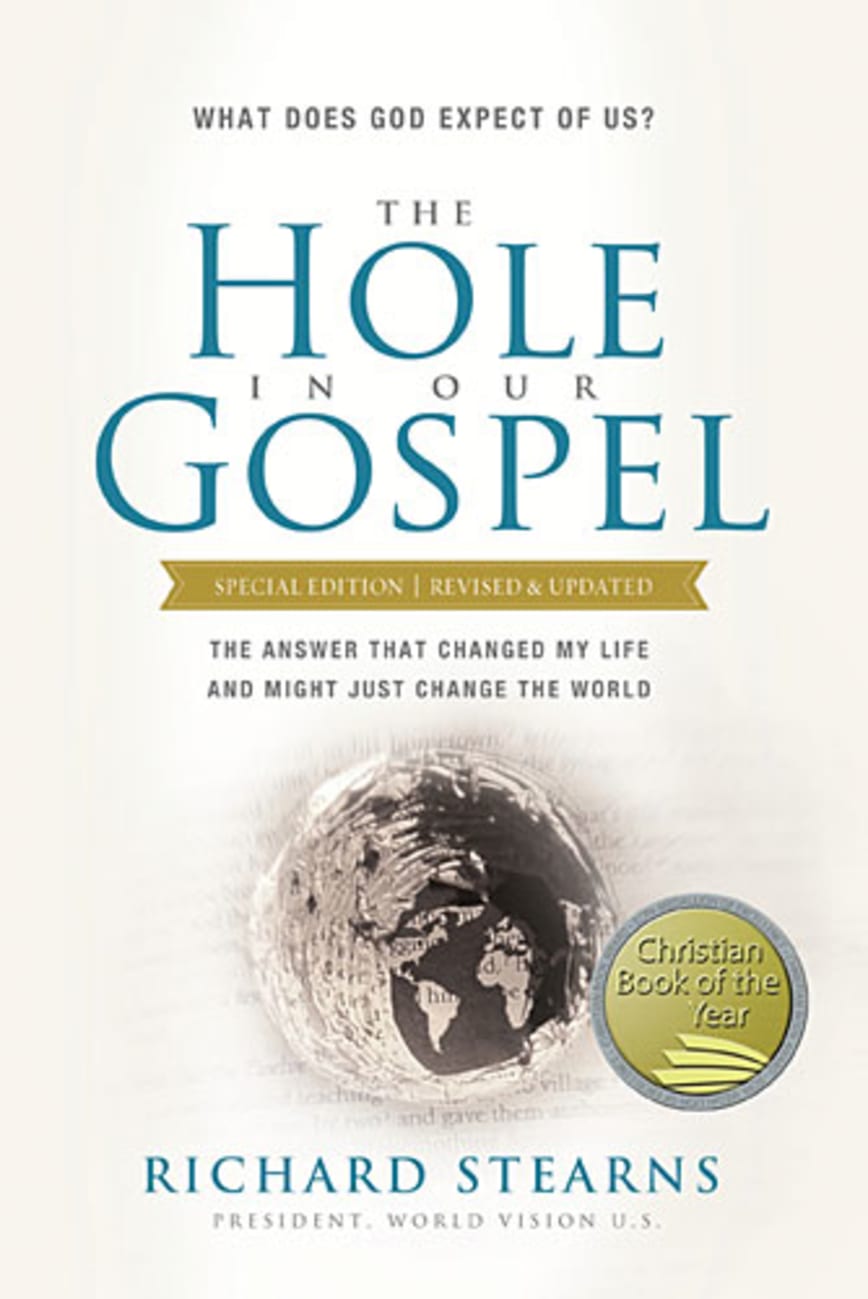 The Hole in Our Gospel (Special Edition)
What Does God Expect of Us? Is our faith only about going to church, studying the Bible, and avoiding the most serious sins-or does God expect more? Have we embraced the whole gospel or a gospel with a hole in...
---
Free Shipping
for orders over $99.
What Does God Expect of Us?

Is our faith only about going to church, studying the Bible, and avoiding the most serious sins-or does God expect more?

Have we embraced the whole gospel or a gospel with a hole in it?

Fifteen years ago Rich Stearns came face-to-face with that question as he sat in a mud hut in Rakai, Uganda, listening to the heartbreaking story of an orphaned child. Stearns's journey there took much more than a long flight to Africa. It took answering God's call on his life, a call that tore him out of his corner office at one of America's most prestigious corporations-to walk with the poorest of the poor in our world.

Marking its fifth year, this anniversary edition of The Hole in Our Gospel features new content along with full-color graphics on poverty statistics, a guide for churches on short-term missions and international engagement, and an index of Scripture on poverty, justice, faith in action, and more. The Hole in Our Gospel changed people's lives, and some of those personal accounts also appear in this anniversary edition. Stearns's compelling story demonstrates that the whole gospel was always meant to be a world-changing, social revolution, a revolution that begins with each one of us.

ECPA 2010 Christian Book of the Year Award Winner!

"Read this compelling story and urgent call for change-Richard Stearns is a contemporary Amos crying 'let justice roll down like waters. . . .' Justice is a serious gospel-prophetic mandate. Far too many American Christians for too long a time have left the cause to 'others.' Read it as an altar call." -Eugene H. Peterson, translator of The Message; and Professor Emeritus of Spiritual Theology, Regent College

"Rich Stearns calls us to exhilarating obedience to God's life-altering, world-changing command to reflect his love to our neighbors at home and globally. The Hole in Our Gospel is imbued with the hope of what is possible when God's people are transformed to live radically in light of his great love." -Gary Haugen, president & CEO, International Justice Mission

"Richard Stearns is quite simply one of the finest leaders I have ever known. . . . When he became president of World Vision, I had a front row seat to witness the way God used his mind and heart to inspire thousands. . . . The Hole in Our Gospel will call you to a higher level of discipleship. . . . Now is the time . . . Richard Stearns has the strategy . . . your move!" -Bill Hybels, founding and senior pastor, Willow Creek Community Church

"World Vision plays a strategic role on our globe. As the largest relief organization in the history of the world, it initiates care and responds to crisis. Rich Stearns navigates this mercy mission with great skill. His book urges us to think again about the opportunity to love our neighbor and comfort the afflicted. His message is timely and needed. May God bless him, the mission of World Vision, and all who embrace it." -Max Lucado, pastor and best-selling author

"An urgent, powerful summons to live like Jesus. Stearns weaves solid theology, moving stories, and his own journey of faith into a compelling call to live the whole Gospel. Highly recommended!" -Ronald J. Sider, president, Evangelicals for Social Action; and author of Rich Christians in an Age of Hunger

"With passionate urging and earnestness, Rich Stearns challenges Christians to embrace the whole Gospel of Jesus Christ by embracing the neediest and most vulnerable among us. After reading the moving stories, the compelling facts and figures, Stearns's excellent application of the Scripture, and his own experiences at World Vision, you will no doubt be asking yourself: What should I do?" -Chuck Colson, founder, Prison Fellowship

"This book is a clarion call for the church to arise and answer the question, 'Who is my neighbor?' . . . If you read this book, you will be inspired, but if you do what this book is asking, you will be forever changed. Rich Stearns's book is like a safari for hurting souls that cannot be written in the safety of an office suite. . . . If you have been feeling something missing or an aching emptiness inside, read The Hole in our Gospel. It will show you how to fill that void!" -T.D. Jakes Sr., The Potter's House of Dallas, Inc.

"Rich Stearns's book is showing us through stories and examples how it is better to see a sermon rather than hear one. This is an important book for all of us!" -Tony Hall, US Ambassador and former US Congressman

"This is much more than 'just another book' from a Christian leader. It is a message to Christendom that we all need." -Dr. Tony Campolo, Professor Emeritus of Sociology, Eastern University; and author of Red Letter Christians
Richard Stearns brought nearly 25 years of corporate experience to World Vision when he became the president of its US operations in June 1998. Stearns holds an MBA form the Wharton School at the University of Pennsylvania. His professional career began in marketing with the Gillette Company. From 1977 to 1985, he held various roles with Parker Brothers Games, culminating in his appointment as president in 1984. In 1985, he became a vice president at The Franklin Mint, then joined Lenox in 1987 as president of Lenox Collections. In 1995, Stearns was named president and chief executive officer of Lenox Inc. As president of World Vision Inc., Stearns is responsible for US operations, which include fund raising, advocacy, and program development. Stearns and his wife, Renee, have been World Vision supporters since 1984. They have five adult children and live in Bellevue, Washington.
Bestsellers in Christian Living