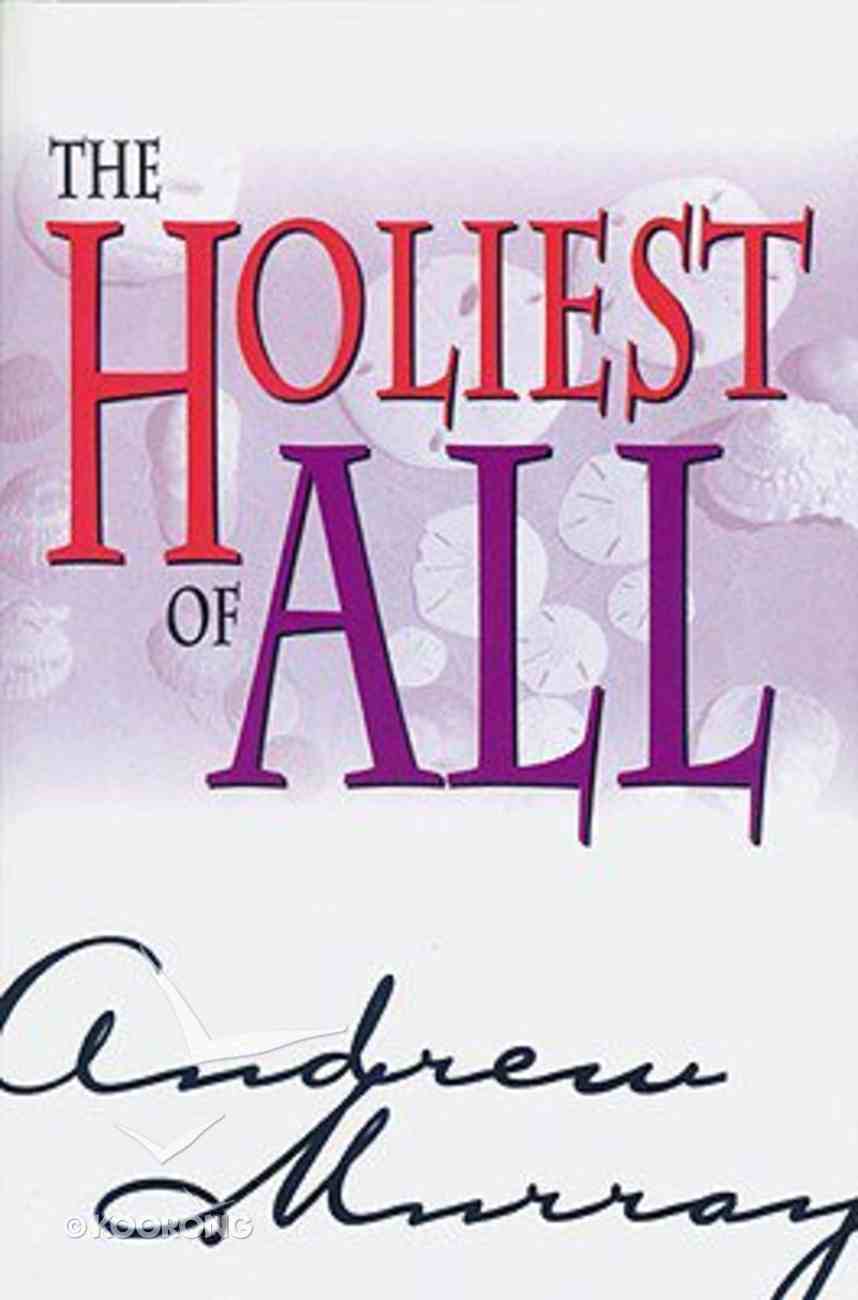 The Holiest of All (2004)
---
Free Shipping
for orders over $99.
576 Pages
-Publisher
It is only the full and perfect knowledge of what Christ is and does for us that can bring us to a complete Christian life. Andrew Murray explains: how to have a life of joy, strength, and final victory; the cure for all our failures and weaknesses; how to destroy the Devil's power; God's holy place; the power of the blood; the witness of the Holy Spirit; false and true riches. Christians can always live in victory and inherit the promises in the Bible.
-Publisher
Every Christian has a ministry, a call to serve the Lord. This book reveals the keys to finding God's purpose for your life. Discover how you can: find supernatural wisdom and strength, prepare to enter into your ministry, see God's power miraculously at work, be spiritually productive, have God's approval, know the will of God concerning your life, and find your eternal reward in heaven.



-Publisher
PRODUCT DETAIL
Catalogue Code 

217673

Product Code 

088368523X

EAN 

9780883685235

Pages 

576

Department Academic
Category Classic
Sub-Category Andrew Murray
Publisher Whitaker House
Publication Date 

Jan 2004

Dimensions 

228 x 154 x 30

mm

Weight 

0.771

kg
South African pastor and author Andrew Murray, (1828-1917), one of four children was raised in the most remote corner of the world - Graaff-Reinet (near the Cape), South Africa, It was here, after his formal education in Scotland and three years of theological study,in Holland, that Andrew Murray returned as a missionary and minister. Murray's first appointment was to a remote and unattractive territory of nearly 50,000 square miles and 12,000 people.
In 1873, he helped to establish the Huguenot Seminary for girls. He also served as the first president of the Young Men's Christian Fellowship (YMCA).


Not only was Andrew Murray the author of over 240 books, he was also a man of great prayer. He began writing on the "deeper Christian life" - a favorite subject for Murray - for his congregation as an extension of his local pastoral work, but he became internationally known for his books, such as With Christ in the School of Prayerand Abide in Christ, that searched men's hearts and brought them into a deep relationship with Christ. Writing with an intensity of purpose and zeal for the message of the Gospel, Murray wrote numerous books even after his retirement at age seventy-eight. .- Publisher.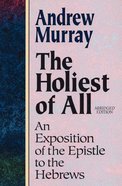 Prefacethe Epistle To The Hebrewsintroductionfirst Half-doctrinal-hebrews 1:1-10:18the Son Of God: The Mediator Of The Better Covenantthe Theme-hebrews 1:1-3the Glory Of The Son In His Person And Work1. The Son-in Whom God Has Spoken2. The Son-more Than The Prophets3. The Son-the Glory Of His Person4. The Son-the Glory Of His Workfirst Section-hebrews 1:4-14the Son Of God More Than The Angels5. The Son-a More Excellent Name6. The Son-the Only Begotten7. The Son-himself God8. The Son-the Everlasting Creator9. The Son-on The Right Hand Of Godthe First Warning-hebrews 2:1-4to Take Heed To What The Son Speaks10. The Danger Of Neglecting So Great Salvationsecond Section-hebrews 2:5-18jesus As Man More Than The Angels: The Reasons Of His Humiliation11. The World Made Subject To Men, Not To Angels12. We See Jesus Crowned With Glory And Honor13. Jesus Tasting Death For Every Man14. The Leader Of Our Salvation15. For Whom And Through Whom Are All Things16. Jesus Calls Us Brethren17. That He Might Bring To Nought The Devil18. A High Priest Able To Succorthird Section-hebrews 3:1-6christ Jesus More Than Moses19. Consider Jesus20. Christ And Moses21. If We Hold Fast Our Boldness Firm To The Endthe Second Warning-hebrews 3:7-4:13not To Come Short Of The Promised Rest22. On Hearing The Voice Of God23. Even As The Holy Ghost Saith24. Today25. An Evil Heart Of Unbelief26. Exhort One Another Day By Day27. Partakers Of Christ28. The Rest In Canaan29. The Rest Of Faith30. The Rest Of God31. Rest From Works32. Give Diligence To Enter Into The Rest33. The Heart-searching Word Of Godfourth Section-hebrews 4:14-5:10jesus Our High Priest More Than Aaron34. A Great High Priest35. A High Priest, Able To Sympathize36. Let Us Draw Near With Boldness37. The High Priest Bearing Gently With The Ignorant38. The High Priest Called By God39. The High Priest Learning Obedience40. The High Priest Perfected Through Obedience41. The High Priest Saving The Obedientthe Third Warning-hebrews 5:11-6:20against Sloth, Standing Still, And Apostasy42. Of The Sin Of Not Making Progress In The Christian Life43. Solid Food For The Perfect44. Let Us Press On To Perfection45. The Danger Of Falling Away46. Of Diligence And Perseverance47. Inheriting The Promise48. The Oath Of God49. The Forerunner Within The Veilfifth Section-hebrews 7:1-28the New Priesthood After The Order Of Melchizedek50. Melchizedek Made Like Unto The Son Of God51. Melchizedek More Than Abraham52. Melchizedek More Than Aaron And The Law53. A Priest Forever-in The Power Of An Endless Life54. A Better Hope, Through Which We Draw Nigh To God55. Jesus, The Surety Of A Better Covenant56. A High Priest Able To Save Completely57. Such A High Priest, The Son Perfected Forevermoresixth Section-hebrews 8:1-13the New Sanctuary And The New Covenant58. The Priest-king On The Throne In The Heavens59. The Priest-king, The Minister Of The True Sanctuary60. The Priest-king, The Mediator Of The New Covenant61. The Central Blessing Of The New Covenant-the Law Written In The Heart62. The Crowning Blessing Of The New Covenant-fellowship With God63. The Initial Blessing Of The New Covenant-the Pardon Of Sinseventh Section-hebrews 9:1-28the Power Of Christ's Blood In The Opening Of The New Sanctuary And The New Covenant64. The Holy Place And The Most Holy65. The Holy Spirit And The Way Into The Holiest66. The Opening Up Of The Holiest67. The Power Of Christ's Blood To Open The Holiest68. The Power Of Christ's Blood To Cleanse The Conscience69. Through The Eternal Spirit70. The Power Of The Blood To Fit For The Service Of The Living God71. The Power Of Christ's Death Ratifying The Covenant And The Testament72. Even The First Covenant-not Without Blood73. Heaven Itself Cleansed By The Blood74. Sin Put Away By The Sacrifice Of Himselfeighth Section-hebrews 10:1-18the New Way Into The Holiest75. The Sacrifices Of The Law Cannot Make Perfect76. A Body Didst Thou Prepare For Me77. Lo, I Am Come To Do Thy Will78. Once And Forever79. The Sanctified Perfected Forever80. The Witness Of The Holy Spiritsecond Half-practical-hebrews 10:19-13:25the Call To A Life In Harmony With The Glory Of God's Revelation Of Himself In The Sonninth Section-10:19-25of Life In The Holiest Of All81. The Entrance Into The Holiest82. Boldness In The Blood Of Jesus83. The New And Living Way84. A Great Priest Over The House Of God85. With A True Heart86. In The Fullness Of Faith87. Our Hearts Sprinkled88. Our Bodies Washed89. Let Us Draw Near90. The Confession Of Our Hope91. Love And Good Works92. The Assembling Togetherthe Fourth Warning-hebrews 10:26-39of Those Who Sin Willfully And Draw Back93. Of Willful Sin94. The Sin Against The Triune God95. The Former Days96. Boldness And Patience97. Believing Or Drawing Backtenth Section-hebrews 11:1-40the Fullness Of Faith98. Faith-the Sense Of The Unseen99. Abel-the Sacrifice Of Faith100. Enoch-the Walk Of Faith101. Noah-the Work Of Faith102. Abraham-the Obedience Of Faith103. Sarah-faith In The Faithfulness Of God104. Faith And Its Pilgrim Spirit105. Faith Counting On The Power Of God106. Faith Blessing The Children107. Moses And The Decision Of Faith108. Israel And Redemption By Faith109. Faith And Its Power Of Achievement110. Faith And Its Power Of Endurance111. Some Better Thing For Useleventh Section-hebrews 12:1-13the Patience Of Hope112. Let Us Run With Patience The Race113. Looking Unto Jesus114. Faint Not115. Chastening And Holiness116. Yet Afterwardthe Fifth Warning-hebrews 12:14-29against The Rejection Of God's Son117. Follow After Sanctification118. Of Falling Short Of The Grace Of God119. Not Sinai, But Zion120. Ye Are Come Unto Mount Zion121. Our God Is A Consuming Firetwelfth Section-hebrews 13:1-25love And Good Works122. Of Love123. False And True Riches124. Jesus Christ, The Same Forever125. Let Us Go Forth, Without The Camp126. Well-pleasing Sacrifices127. The God Of Peace-what He Has Done For Us128. The God Of Peace-what He Will Do In Us129. Glory Be To God130. Parting Wordsabout The Author