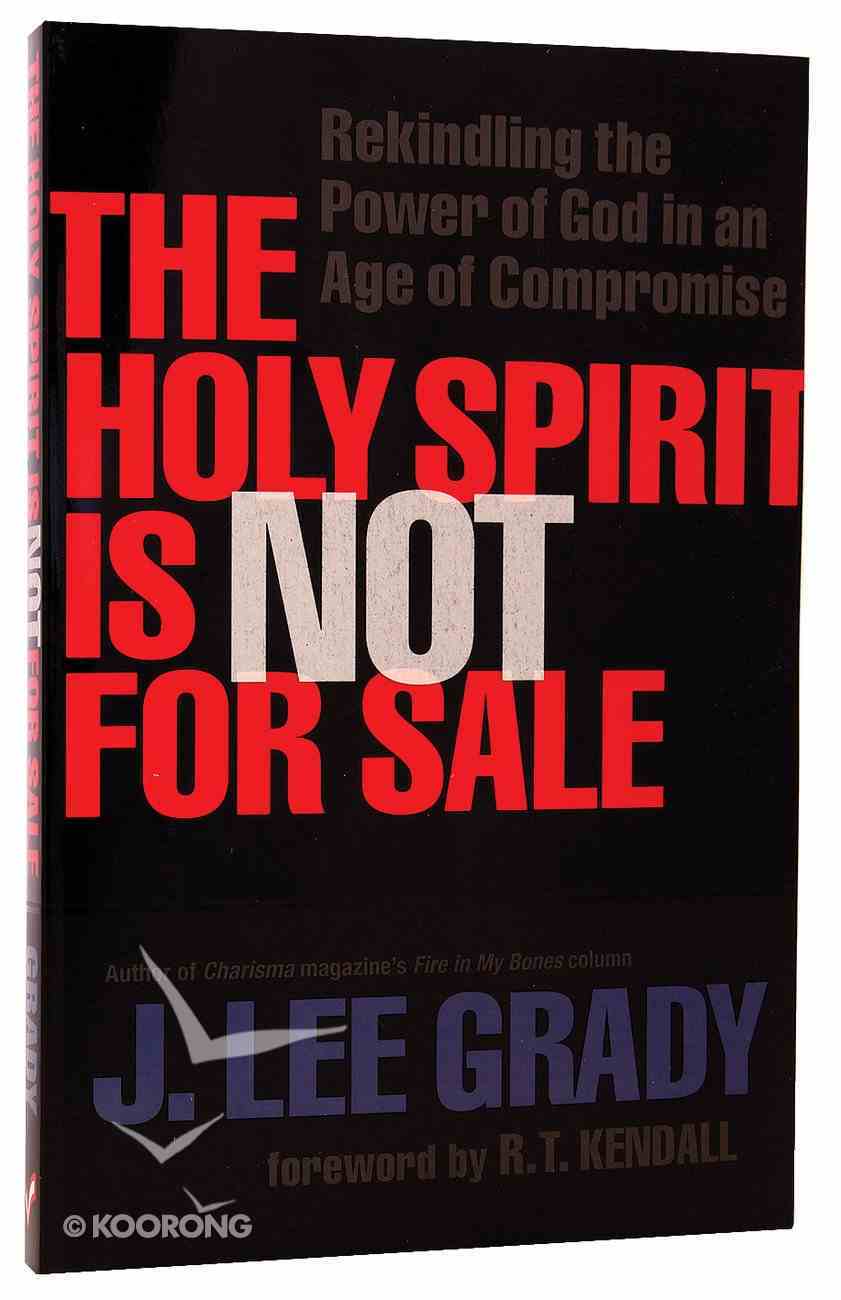 The Holy Spirit is Not For Sale
For more than sixteen years, veteran journalist J. Lee Grady has kept a finger on the pulse of the charismatic and Pentecostal renewal, which restored the power of the Holy Spirit to the church, but which now suffers from abuse....
Out of Stock
Available to Order
---
Expected to ship in 5 to 6 weeks from Australia.
---
Free Shipping
for orders over $99.
For more than sixteen years, veteran journalist J. Lee Grady has kept a finger on the pulse of the charismatic and Pentecostal renewal, which restored the power of the Holy Spirit to the church, but which now suffers from abuse. Since many Spirit-empowered believers have lost their original focus and purity, Grady delves into some of the problems that plague churches and ministries: financial scandal, faulty theology, moral failure, and more. Yet the message of this fervent journalist, who loves the gifts of the Spirit, isn't one of condemnation and finger-pointing. Instead it is a clarion call to restore the fire of supernatural anointing with biblical boldness, purity, integrity, humility, truth, justice, and compassion. Grady longs for every believer to find or recover a genuine experience with the Holy Spirit. Among the topics he addresses are
- the genuine work of the Holy Spirit
- strategies for developing healthy leaders
- how to set up proper accountability structures
- why so many churches and ministries have imploded in recent years

With extraordinary insight, a keen eye for discernment, and a desire to see the church purified and believers empowered, Grady gives a straightforward and ultimately affirming message that will expose the problems and ignite believers with God's fire.


-Publisher
"As editor of Charisma, Lee Grady has always cut through the contemporary religious veneer of men and movements in the charismatic world with profound perception and analytical accuracy. He has been a voice of reason in an unreasonable world of pompous preachers, pulsating music and pillaged pocketbooks. The Holy Spirit Is Not for Sale is the heart of Lee Grady poured out on paper to ignite a present fire or rekindle an old fire in your own heart, while not asking you to check your mind at the door. It is a must-read for anyone passionate about a genuine, Pentecostal relationship with God."--Dr. Ronald W. Carpenter, Sr., presiding bishop, International Pentecostal Holiness Church"I know of no more discerning, prophetic voice speaking with clarity and compassion and backed by such integrity of character as Lee Grady''s. Today''s Church needs not only to hear but to heed the wisdom of the warnings set forth in the wisdom of this book."--Jack Hayford, chancellor, The King''s College & Seminary; founding pastor, The Church On The Way"This book should be in every believer''s library! Grady trumpets a clarion call to the Body of Christ for a return to godly living and biblical ethics. He speaks with boldness and courage to expose abuse, manipulation and charlatan practices operating in churches and ministries today. The Holy Spirit Is Not for Sale will cause you to contend for a fresh move of God''s Spirit. I highly recommend this powerful and timely book!"--Barbara Wentroble, president, International Breakthrough Ministries; author, Removing the Veil of Deception, Prophetic Intercession, Praying with Authority"While calling us to return to our first love, Lee has provided us with a strong reminder that God''s grace is not cheap. May God use this to stir the Body of Christ to be all He expects us to be."--Dr. Naomi Dowdy, senior pastor, Trinity Christian Center (Singapore); founder, Naomi Dowdy Ministries"I could not put this book down. It is compulsive reading. But it is more than that; it is essential reading for every person who professes to be a charismatic Christian, for all those who are anti-charismatic and also for those who are somewhere in between. I thank God for Lee Grady. This book can only do good. I pray it will have wide distribution, change many lives and ministries, and bring great glory and honor to God."--from the foreword by R. T. Kendall, Ph.D., former minister, Westminster Chapel (London); author, Total Forgiveness, etc. "J. Lee Grady is fearlessly sounding the alarm. He exposes sins in the Church and reveals the pathway to true repentance and a lifestyle of holiness. It is my prayer that everyone who reads will awaken to righteousness and ask the Holy Spirit to rekindle the fire of love for God within them. Only then will He send the fires of revival and bring healing to our land."--Germaine Copeland, president, Word Ministries, Inc.; author, Prayers That Avail Much"You have heard the cry of this generation for the authentic message and the messenger. You have seen their hunger for a genuine move of God, not orchestrated by man or driven by excellence in promotion and marketing. You have seen them turned off by superstar Christianity, makeup-laden prophets for profit who scream ''I'' more than they preach Jesus. Buckle up! You have picked by a book written by a man whom God has raised for such a time as this. "Lee Grady is one of the most genuine and humble proclaimers I have ever met. He carries a powerful and rare anointing. God is using this man around the world to herald a radical shift among Spirit-empowered people. The Holy Spirit Is Not for Sale will rock your world."--Sujo John, laborer for Jesus @ Sujo John Ministries; www.sujojohn.com"In his book The Holy Spirit Is Not for Sale, Lee Grady provides a voice for sanity and conscience in the exploding and sometimes turbulent world of Pentecostal and charismatic renewal. I recommend it."--Vinson Synan, Ph.D., dean emeritus, School of Divinity, Regent University"
-Publisher
J. Lee Grady is an author, award-winning journalist and ordained minister. He serves as contrubuting editor for Charisma magazine and as editor of Experience. His Fire in my Bones column is distributed to thousands around the world. He is also founder of The Mordecai Project, a ministry aimed at confronting the abuse of women around the world. He has been interviewed by numerous media outlets, including Time, The New York Times, and Christianity Today. He and his wife Deborah have four daughters and live in Florida.
Bestsellers in Spirit-filled Living