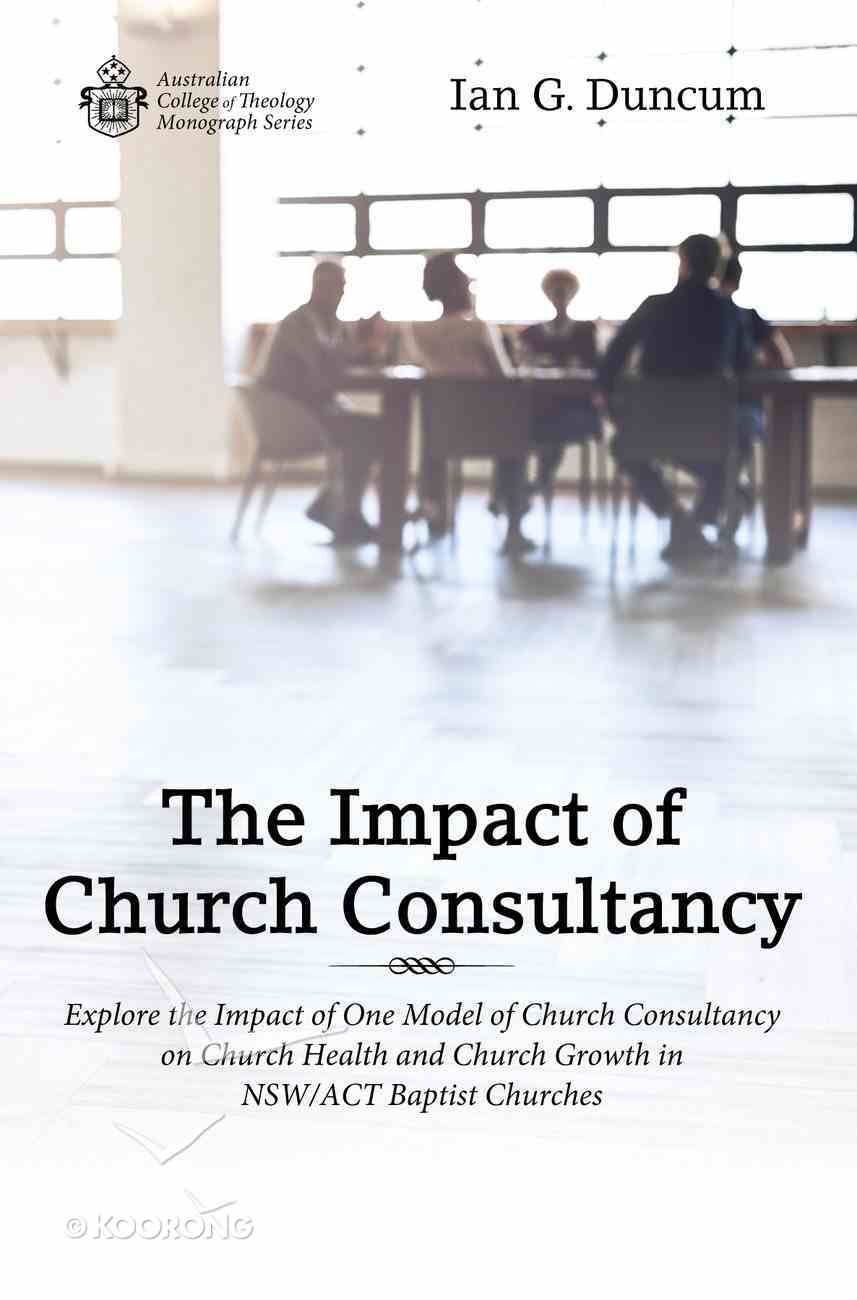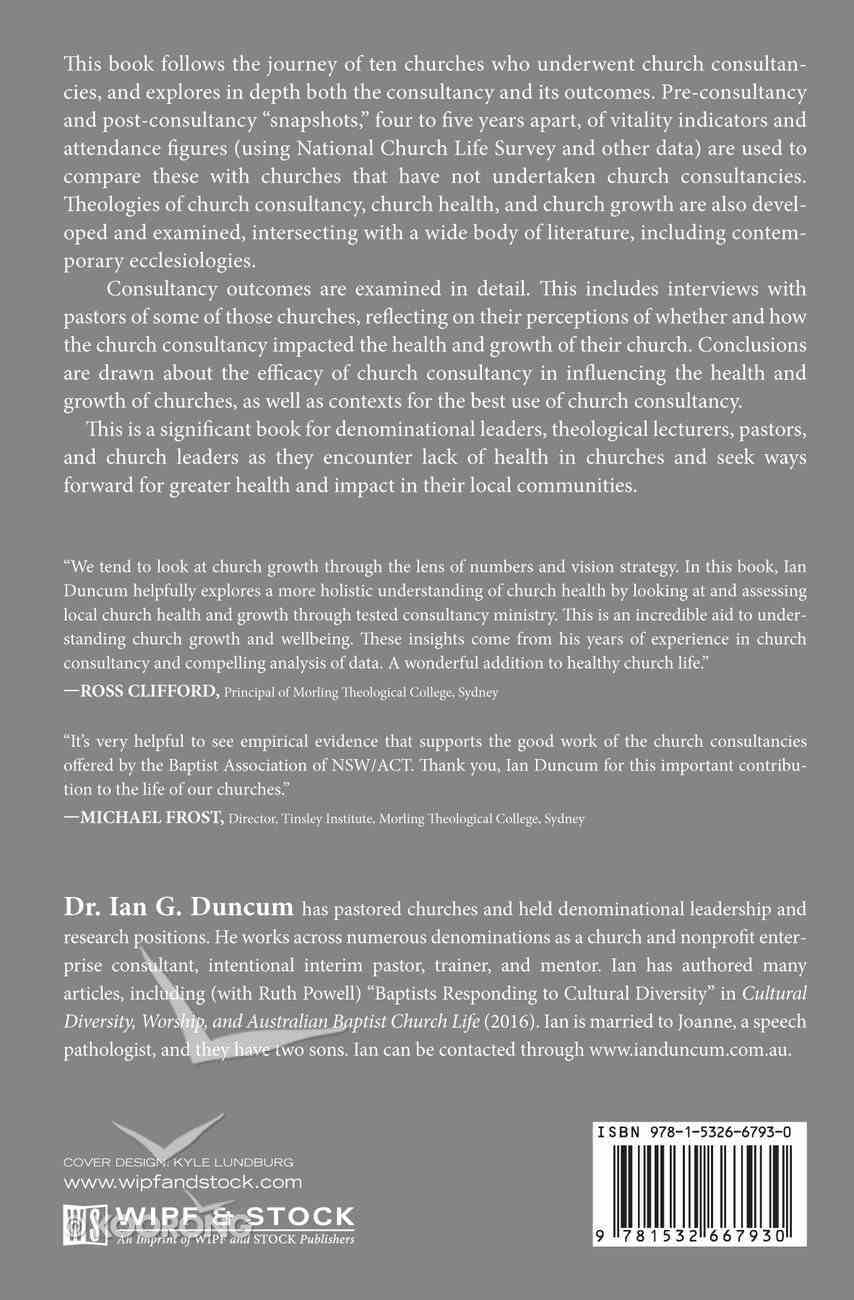 The Impact of Church Consultancy (Australian College Of Theology Monograph Series)
This book follows the journey of ten churches who underwent church consultancies, and explores in depth both the consultancy and its outcomes. Pre-consultancy and post-consultancy ""snapshots,"" four to five years apart, of vitality indicators and attendance figures (using National Church...
Available Now.
2 Available
---
Expected to ship within 1 hour from Australia.
---
Free Shipping
for orders over $99.
This book follows the journey of ten churches who underwent church consultancies, and explores in depth both the consultancy and its outcomes. Pre-consultancy and post-consultancy ""snapshots,"" four to five years apart, of vitality indicators and attendance figures (using National Church Life Survey and other data) are used to compare these with churches that have not undertaken church consultancies. Theologies of church consultancy, church health, and church growth are also developed and examined, intersecting with a wide body of literature, including contemporary ecclesiologies. Consultancy outcomes are examined in detail. This includes interviews with pastors of some of those churches, reflecting on their perceptions of whether and how the church consultancy impacted the health and growth of their church. Conclusions are drawn about the efficacy of church consultancy in influencing the health and growth of churches, as well as contexts for the best use of church consultancy. This is a significant book for denominational leaders, theological lecturers, pastors, and church leaders as they encounter lack of health in churches and seek ways forward for greater health and impact in their local communities. ""We tend to look at church growth through the lens of numbers and vision strategy. In this book, Ian Duncum helpfully explores a more holistic understanding of church health by looking at and assessing local church health and growth through tested consultancy ministry. This is an incredible aid to understanding church growth and wellbeing. These insights come from his years of experience in church consultancy and compelling analysis of data. A wonderful addition to healthy church life."" --Ross Clifford, Principal of Morling Theological College, Sydney; author of thirteen books, including Taboo or To Do? and The Cross Is Not Enough ""As we grapple with missional leadership and congregational transformation in the Western world, we desperately need reliable assessments, valid metrics, and practical tools for understanding and fostering church health and growth. Sometimes churches need a consultant to come alongside to ask diagnostic, curious, and subversive questions. But sometimes consultants need someone else to ask diagnostic, curious, and subversive questions of their processes. Ian Duncum has been asking insightful questions for twenty years as a pastor and church consultant and now offers a timely in-depth analysis of church consultancy in a group of Australian Baptist Churches. The Impact of Church Consultancy is a gift and resource for churches, pastors, denominational leaders, and consultants to learn about the necessary dance between pastor and congregational system that fosters church health and lays the groundwork for church growth."" --Darren Cronshaw, Head of Research and Professor of Missional Leadership with Australian College of Ministries (Sydney College of Divinity); pastor of Auburn Life Baptist Church; author of Credible Witness (2006), Sentness (with Kim Hammond, 2014) and Dangerous Prayer (2017) ""It's very helpful to see empirical evidence that supports the good work of the church consultancies offered by the Baptist Association of NSW/ACT. Thank you, Ian Duncum for this important contribution to the life of our churches."" --Michael Frost, Director, Tinsley Institute, Morling Theological College, Sydney; author or editor of seventeen books, including The Shaping of Things to Come (with Alan Hirsch), Exiles, The Road to Missional and Surprise the World! ""Ian Duncum's book is an important study of the impact of church consultancies on church health and growth. When church consultancies are done well, they help churches become healthy, be revitalised, embrace fresh purpose and vision, and grow missionally. This is a valuable and timely book."" --Graham Hill, Lecturer in Applied Theology, Morling Theological College, Sydney; Founding Director of The GlobalChurch Project; author or editor of five bo
-Publisher