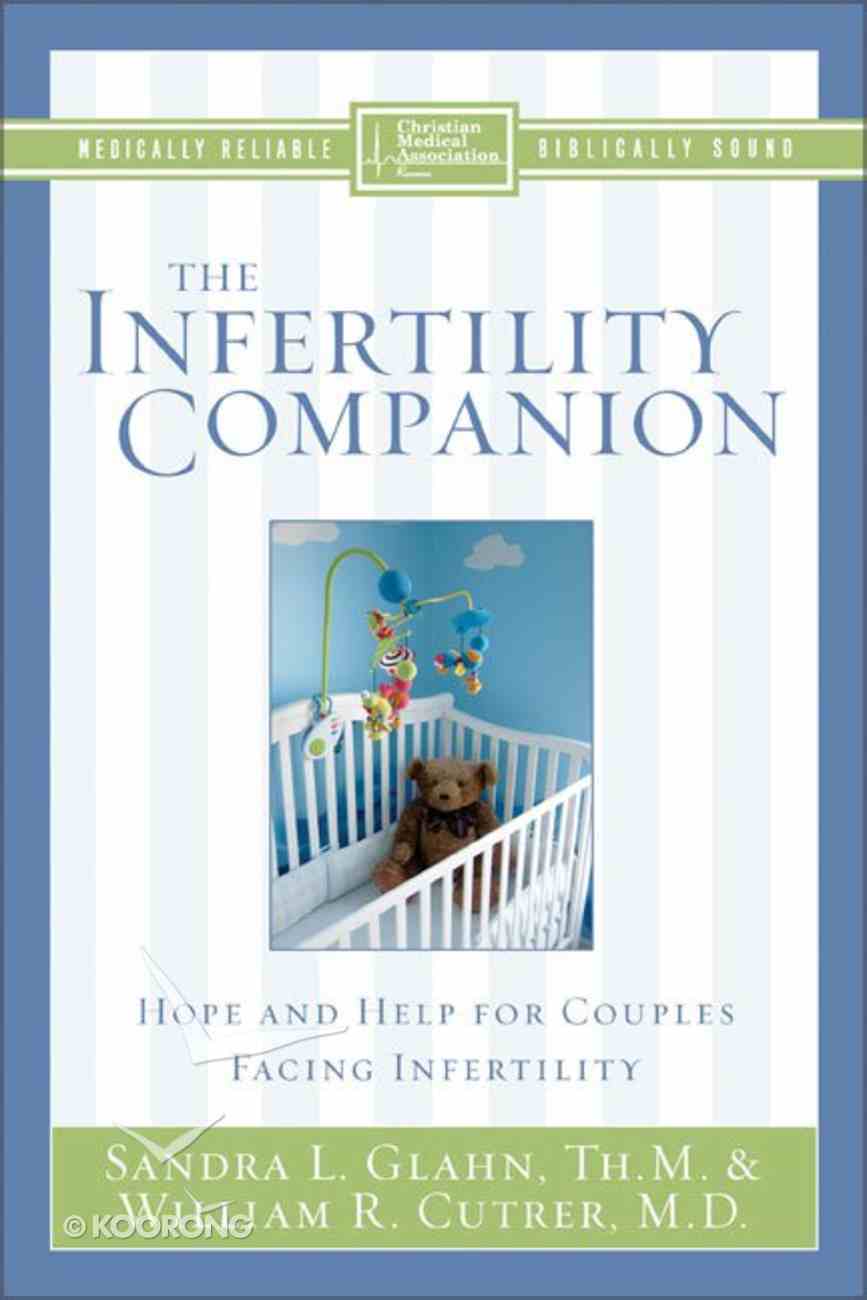 The Infertility Companion (Christian Medical Association Resources Series)
A Christian guide to the medical, ethical, emotional, marital, spiritual, and biblical challenges of infertility. Includes chapter questions and a workbook section with exercises ideal for individual or small-group use.
Out of Stock
Available to Order
---
Expected to ship in 5 to 6 weeks from Australia.
---
Free Shipping
for orders over $99.
A Christian guide to the medical, ethical, emotional, marital, spiritual, and biblical challenges of infertility. Includes chapter questions and a workbook section with exercises ideal for individual or small-group use.
-Publisher
The Infertility Companion Copyright 2004 by Sandra L. Glahn and William R. Cutrer Requests for information should be addressed to: Zondervan, Grand Rapids, Michigan 49530 Library of Congress Cataloging-in-Publication Data Glahn, Sandra, 1958- The infertility companion : hope and help for couples facing infertility / Sandra L. Gahn and William R. Cutrer. p. cm. Includes bibliographical references and index. ISBN 0-310-24961-9 (softcover) 1. Infertility-Religious aspects-Christianity. 2. Infertility-Psychological aspects. I. Cutrer, William, 1951-. II. Title. RC889.G536 2004 248.8'6196692-dc22 2004004099 All Scripture quotations, unless otherwise indicated, are taken from the Holy Bible: New International Version. NIV. Copyright 1973, 1978, 1984 by International Bible Society. Used by permission of Zondervan. All rights reserved. Scripture quotations marked KJV are taken from the King James version of the Bible. Scripture quotations marked NASB are taken from the NEW AMERICAN STANDARD BIBLE, Copyright The Lockman Foundation 1960, 1962, 1963, 1968, 1971, 1972, 1973, 1975, 1977, 1995. Used by permission. Scripture quotations marked NKJV are taken from the New King James Version. Copyright 1979, 1980, 1982 by Thomas Nelson, Inc. Used by permission. All rights reserved. The website addresses recommended throughout this book are offered as a resource to you. These websites are not intended in any way to be or imply an endorsement on the part of Zondervan, nor do we vouch for their content for the life of this book. All rights reserved. No part of this publication may be reproduced, stored in a retrieval system, or transmitted in any form or by any means-electronic, mechanical, photocopy, recording, or any other-except for brief quotations in printed reviews, without the prior permission of the publisher. Interior design by Michelle Espinoza Printed in the United States of America 04 05 06 07 08 09 10 /.DC/ 10 9 8 7 6 5 4 3 2 1 WHEREWE'VE BEEN Your Companions in "the Ditch" Sandi's Journey: Knots and Tangles I am Sandra, daughter of Ann, daughter of Velma, daughter of Ella, all the way back to Eve. But the genes carried down through my ancestors will stop with me. When I was a little girl, I never dreamed that I might be unable to have children. In my childhood home in Oregon's Willamette Valley, by mid-April the plum trees had sprouted purple blossoms and the whole world seemed to bloom with new life. Foals, calves, and lambs appeared in the fields. By Mother's Day, everything had either given birth or was celebrating hope, and I assumed that I would someday join in that process. I was the fourth of five children. When I reached adolescence and started babysitting-which I loved-I became increasingly aware that many people have more children than they anticipate. I figured that, if anything, I'd fall into that group. Fast-forward to age twenty-seven. My adoration of spring turned to dread as I felt out of sync with the rest of the world. While everything around me celebrated new life, I experienced spring more as an injury- almost as an indictment. With tear-stained cheeks, I watched birds build nests and lay eggs in our trees and thought of how children described me as "nobody's mommy." Mother's Day-that dreaded "M-Day"- came as the crowning insult. My husband, Gary, and I had been married seven years, and he was starting his last year of seminary training (master's degree) in Dallas, Texas. In addition to our jobs-he at a law firm, I as a writer at an insurance company-and his studies, we served as part-time staff at our church, ministering to college students. After working full-time to put my husband through graduate school, I dreamed of quitting my job and staying home to take care of our children. Friends and family were asking when we'd start having babies, and it was finally time to get an "all clear" from my physician. Dr. Bill Cutrer,
-Publisher
William R. Cutrer (M.D., University of Kentucky) is a recognized expert in reproductive technology and medical ethics. A licensed obstetrician/gynecologist who specialized in the treatment of infertility for more than fifteen years, he also holds a graduate degree from Dallas Theological Seminary and is an ordained minister. Currently he is the Gheens Professor of Christian Ministry at The Southern Baptist Seminary in Louisville, Kentucky. He is the author of Sexual Intimacy in Marriage; Lethal Harvest; Deadly Cure and The Church Leader's Handbook: A Guide to Counseling Families and Individuals in Crisis along with a number of other books.
Koorong -Editorial Review.
Sandra Glahn, ThM, is adjunct professor at Dallas Theological Seminary, her alma mater. She is the coauthor of eight books, including the CBA bestseller and Christy Award finalist, Lethal Harvest. She is also editor-in-chief of the award-winning magazine Kindred Spirit. Glahn is currently pursuing a PhD in aesthetic studies at the University of Texas at Dallas. She serves on the board of the Dallas Christian Medical/Dental Associations and the advisory board of Hannah's Prayer.
WHEREWE'VE BEEN Your Companions in 'the Ditch' Sandi's Journey: Knots and Tangles I am Sandra, daughter of Ann, daughter of Velma, daughter of Ella, all the way back to Eve. But the genes carried down through my ancestors will stop with me. When I was a little girl, I never dreamed that I might be unable to have children. In my childhood home in Oregon's Willamette Valley, by mid-April the plum trees had sprouted purple blossoms and the whole world seemed to bloom with new life. Foals, calves, and lambs appeared in the fields. By Mother's Day, everything had either given birth or was celebrating hope, and I assumed that I would someday join in that process. I was the fourth of five children. When I reached adolescence and started babysitting---which I loved---I became increasingly aware that many people have more children than they anticipate. I figured that, if anything, I'd fall into that group. Fast-forward to age twenty-seven. My adoration of spring turned to dread as I felt out of sync with the rest of the world. While everything around me celebrated new life, I experienced spring more as an injury--- almost as an indictment. With tear-stained cheeks, I watched birds build nests and lay eggs in our trees and thought of how children described me as 'nobody's mommy.' Mother's Day---that dreaded 'M-Day'--- came as the crowning insult. My husband, Gary, and I had been married seven years, and he was starting his last year of seminary training (master's degree) in Dallas, Texas. In addition to our jobs---he at a law firm, I as a writer at an insurance company---and his studies, we served as part-time staff at our church, ministering to college students. After working full-time to put my husband through graduate school, I dreamed of quitting my job and staying home to take care of our children. Friends and family were asking when we'd start having babies, and it was finally time to get an 'all clear' from my physician. Dr. Bill Cutrer, my medical doctor, was also a seminary student, and he had a reputation for being a godly man with technical expertise. So I made the new-patient appointment, and after our consultation, he told me everything looked great. The next six months were wonderful. There's something magical about making love with the expectation that you'll produce something as marvelous as a child. The plans and dreams arrived in full force. I mentally picked out nursery colors. For graduation we got a car---a new station wagon big enough for the family we were going to have. I told a few close friends we were trying. We saved up all we could for the day when I could quit work. Nine months passed with no success. I had expected to get pregnant the first month, but I told myself we'd been too busy. Then months turned into a year. But I wasn't too worried. Another six months passed, though less quickly, and my sister confided to me that she was going through fertility testing. Apang of concern started gnawing inside me. Mary recommended a book about infertility, and I read it. Afterward I wrote in my journal, 'The infertility fear is getting greater. There's a lot of denial on my part. I'm finally having to come to grips with the fact that there's a problem.' I cried for the first time when someone asked when we were going to start a family. Three days later I wrote, 'I'm facing that we may not have kids. It's tough. But his mercies are there, too.' A church in British Columbia interviewed Gary by phone for a pastoral position. Aweek later I wrote in my journal, 'My strong preference would be to stay in my current job until I know I can have kids. The Lord knows.' The job didn't pan out, and we both kept working. After eighteen months had passed, I returned to see Dr. Cutrer for what was supposed to be a belated annual checkup. All went fine until near the end, when he asked me a few questions. 'I think I just need to relax,' I told him. 'We've been trying to get pregnant, but we've probably been too busy to hit it right.' Looking up with gentle eyes, he rolled closer. 'How long have you been trying?' 'About eighteen months.' I had believed the myth so many people had told me: 'Just relax and you'll get pregnant.' He spoke in a soothing tone. 'No. Perhaps it's time to stop 'just relaxing.' There are a few simple things we can try. The pace is up to you.' We could take it fast or slow, he told me, starting with the easiest, simplest test: a semenalysis on my husband. Not a chance. We're not infertile! I thanked him politely and left for another eighteen months. Threads of Grief The time passed with increasing emotional pain. It got harder to deny the reality. So I finally returned to the doctor. By that time, I had heard a lot more about 'Dr. Bill,' as many of his patients called him: 'He stayed up with us all night rather than rush a C-section.' 'He came in on the weekend to do our insemination.' 'He prayed with us during our rough delivery.' Dr. Bill had a reputation for being a kind and compassionate man of God. I wish I could say we hit it off from the start, but at the time, I resented what I perceived as 'doctor worship' on the part of many of his patients, so I determined to be distant. Gary and I decided to begin the testing process. Dr. Bill began by testing Gary, who appeared to have no problem. Then Dr. Bill ran a lot of blood tests and did some studies to make sure I was ovulating. After
Bestsellers in Relationships