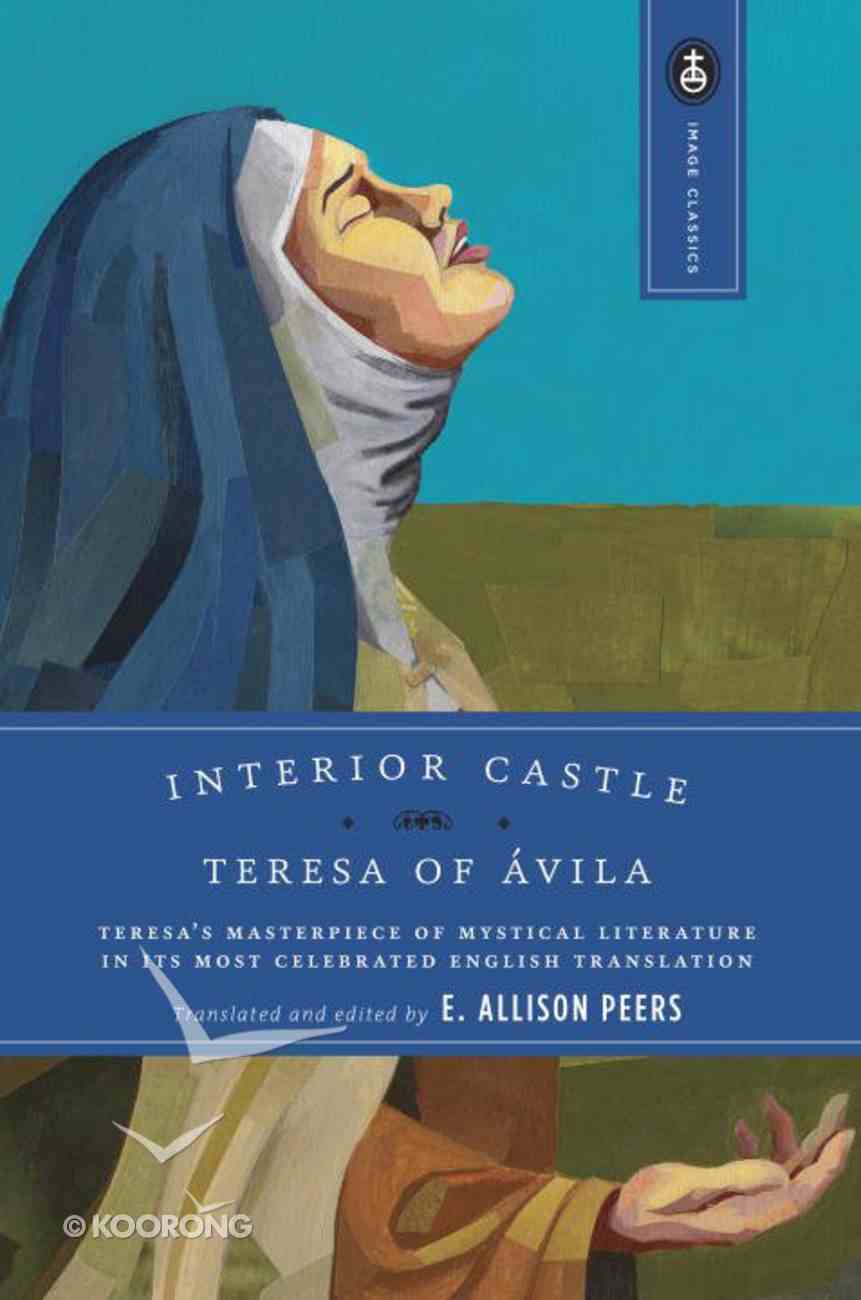 A cornerstone book on mystical theology, Interior Castle describes the seven stages of union with God. Using everyday language to explain difficult theological concepts, Teresa of Avila compares the contemplative life to a castle with seven chambers. Tracing the passage...
Out of Stock
Available to Order
---
Expected to ship in 4 to 5 weeks from Australia.
---
Free Shipping
for orders over $99.
A cornerstone book on mystical theology, Interior Castle describes the seven stages of union with God. Using everyday language to explain difficult theological concepts, Teresa of Avila compares the contemplative life to a castle with seven chambers. Tracing the passage of the soul through each successive chamber, she draws a powerful picture of the path toward spiritual perfection. It is the most sublime and mature of Teresa's works, offering profound and inspiring reflections on such subjects as self-knowledge, humility, detachment, and suffering.

One of the most celebrated works on mystical theology in existence, as timely today as when St. Teresa of Avila wrote it centuries ago, this is a treasury of unforgettable maxims on self-knowledge and fulfillment.
-Publisher
At the age of seven, Teresa ran away from her home in Avila, hoping to be martyred at the hands of the Moors. As a teen, she secretly enjoyed reading novels of chivalry. Taught by Augustinian nuns, Teresa acquired a sense of religious vocation only gradually. Deciding to become a nun, she professed as a Carmelite of Avila in 1537. Although she became ill to the point of having wax applied to her eyes in preparation of death, she did not die, but she did leave the convent. Teresa later returned to the convent and, upon reading St. Augustine's Confessions, experienced a conversion at the age of 40. When she experienced visions and heard voices, she wondered at first if it was the work of the devil. She found comfort in Peter of Alcantara's assessment that her experiences were of a divine origin. Life as a Carmelite nun tended to be comfortable, but not dissolute. Inspired by her mystical experiences, Teresa took practical steps to reform the Carmelite order. In 1562 she founded a convent with a stricter regime of discipline than was common. She also organized a Discalced Carmelite monastery for men. In doing so, she met Juan de Yepes y Alvarez, known to us as the mystic St. John of the Cross, who became a fellow reformer. In all, she founded 16 reformed convents. Teresa's spirituality cannot be characterized in a word, but humility rather than honor was at its center. Her life of contemplation led to active service. Upon her death in 1582, her body remained preserved. This, along with other signs of saintliness, led to her canonization in 1622. In 1970, she was declared a "Doctor of the Church," the first woman in the history of the Catholic church to receive that honor. Her books, which include her autobiography, The Life of Teresa of Jesus, and her seminal work, The Interior Castle, are an integral part of Spanish Renaissance literature, as well as Christian mysticism and Christian meditation practice.
Chapter I



Treats of the beauty and dignity of our souls; makes a comparison by the help of which this may be understood; describes the benefit which comes from understanding it and being aware of the favours which we receive from God; and shows how the door of this castle is prayer.



While I was beseeching Our Lord to-day that He would speak through me, since I could find nothing to say and had no idea how to begin to carry out the obligation laid upon me by obedience, a thought occurred to me which I will now set down, in order to have some foundation on which to build. I began to think of the soul as if it were a castle made of a single diamond or of very clear crystal, in which there are many rooms,1 just as in Heaven there are many mansions.2 Now if we think carefully over this, sisters, the soul of the righteous man is nothing but a paradise, in which, as God tells us, He takes His delight.3 For what do you think a room will be like which is the delight of a King so mighty, so wise, so pure and so full of all that is good? I can find nothing with which to compare the great beauty of a soul and its great capacity. In fact, however acute our intellects may be, they will no more be able to attain to a comprehension of this than to an understanding of God; for, as He Himself says, He created us in His image and likeness.4 Now if this is so--and it is--there is no point in our fatiguing ourselves by attempting to comprehend the beauty of this castle; for, though it is His creature, and there is therefore as much difference between it and God as between creature and Creator, the very fact that His Majesty says it is made in His image means that we can hardly form any conception of the soul's great dignity and beauty.5

It is no small pity, and should cause us no little shame, that, through our own fault, we do not understand ourselves, or know who we are. Would it not be a sign of great ignorance, my daughters, if a person were asked who he was, and could not say, and had no idea who his father or his mother was, or from what country he came? Though that is great stupidity, our own is incomparably greater if we make no attempt to discover what we are, and only know that we are living in these bodies, and have a vague idea, because we have heard it and because our Faith tells us so, that we possess souls. As to what good qualities there may be in our souls, or Who dwells within them, or how precious they are--those are things which we seldom consider and so we trouble little about carefully preserving the soul's beauty. All our interest is centred in the rough setting of the diamond, and in the outer wall of the castle--that is to say, in these bodies of ours.

Let us now imagine that this castle, as I have said, contains many mansions,6 some above, others below, others at each side; and in the centre and midst of them all is the chiefest mansion where the most secret things pass between God and the soul. You must think over this comparison very carefully; perhaps God will be pleased to use it to show you something of the favours which He is pleased to grant to souls, and of the differences between them, so far as I have understood this to be possible, for there are so many of them that nobody can possibly understand them all, much less anyone as stupid as I. If the Lord grants you these favours, it will be a great consolation to you to know that such things are possible; and, if you never receive any, you can still praise His great goodness. For, as it does us no harm to think of the things laid up for us in Heaven, and of the joys of the blessed, but rather makes us rejoice and strive to attain those joys ourselves, just so it will do us no harm to find that it is possible in this our exile for so great a God to commune with such malodorous worms, and to love Him for His great goodness and boundless mercy. I am sure that anyone who finds it harmful to realize that it is possible for God to grant such favours during this our exile must be greatly lacking in humility and in love of his neighbour; for otherwise how could we help rejoicing that God should grant these favours to one of our brethren when this in no way hinders Him from granting them to ourselves, and that His Majesty should bestow an understanding of His greatness upon anyone soever? Sometimes He will do this only to manifest His power, as He said of the blind man to whom He gave his sight, when the Apostles asked Him if he were suffering for his own sins or for the sins of his parents.7 He grants these favours, then, not because those who receive them are holier than those who do not, but in order that His greatness may be made known, as we see in the case of Saint Paul and the Magdalen, and in order that we may praise Him in His creatures.

It may be said that these things seem impossible and that it is better not to scandalize the weak. But less harm is done by their disbelieving us than by our failing to edify those to whom God grants these favours, and who will rejoice and will awaken others to a fresh love of Him Who grants such mercies, according to the greatness of His power and majesty. In any case I know that none to whom I am speaking will run into this danger, because they all know and believe that God grants still greater proofs of His love. I am sure that, if any one of you does not believe this, she will never learn it by experience. For God's will is that no bounds should be set to His works. Never do such a thing, then, sisters, if the Lord does not lead you by this road.

Now let us return to our beautiful and delightful castle and see how we can enter it. I seem rather to be talking nonsense; for, if this castle is the soul, there can clearly be no question of our entering it. For we ourselves are the castle: and it would be absurd to tell someone to enter a room when he was in it already! But you must understand that there are many ways of "being" in a place. Many souls remain in the outer court of the castle, which is the place occupied by the guards; they are not interested in entering it, and have no idea what there is in that wonderful place, or who dwells in it, or even how many rooms it has. You will have read certain books on prayer which advise the soul to enter within itself: and that is exactly what this means.

A short time ago I was told by a very learned man that souls without prayer are like people whose bodies or limbs are paralysed: they possess feet and hands but they cannot control them. In the same way, there are souls so infirm and so accustomed to busying themselves with outside affairs that nothing can be done for them, and it seems as though they are incapable of entering within themselves at all. So accustomed have they grown to living all the time with the reptiles and other creatures to be found in the outer court of the castle that they have almost become like them; and although by nature they are so richly endowed as to have the power of holding converse with none other than God Himself, there is nothing that can be done for them. Unless they strive to realize their miserable condition and to remedy it, they will be turned into pillars of salt for not looking within themselves, just as Lot's wife was because she looked back.8

As far as I can understand, the door of entry into this castle is prayer and meditation: I do not say mental prayer rather than vocal, for, if it is prayer at all, it must be accompanied by meditation. If a person does not think Whom he is addressing, and what he is asking for, and who it is that is asking and of Whom he is asking it, I do not consider that he is praying at all even though he be constantly moving his lips. True, it is sometimes possible to pray without paying heed to these things, but that is only because they have been thought about previously; if a man is in the habit of speaking to God's Majesty as he would speak to his slave, and never wonders if he is expressing himself properly, but merely utters the words that come to his lips because he has learned them by heart through constant repetition, I do not call that prayer at all--and God grant no Christian may ever speak to Him so! At any rate, sisters, I hope in God that none of you will, for we are accustomed here to talk about interior matters, and that is a good way of keeping oneself from falling into such animal-like habits.9

Let us say no more, then, of these paralysed souls, who, unless the Lord Himself comes and commands them to rise, are like the man who had lain beside the pool for thirty years:10 they are unfortunate creatures and live in great peril. Let us rather think of certain other souls, who do eventually enter the castle. These are very much absorbed in worldly affairs; but their desires are good; sometimes, though infrequently, they commend themselves to Our Lord; and they think about the state of their souls, though not very carefully. Full of a thousand preoccupations as they are, they pray only a few times a month, and as a rule they are thinking all the time of their preoccupations, for they are very much attached to them, and, where their treasure is, there is their heart also.11 From time to time, however, they shake their minds free of them and it is a great thing that they should know themselves well enough to realize that they are not going the right way to reach the castle door. Eventually they enter the first rooms on the lowest floor, but so many reptiles get in with them that they are unable to appreciate the beauty of the castle or to find any peace within it. Still, they have done a good deal by entering at all.

You will think this is beside the point, daughters, since by the goodness of the Lord you are not one of these. But you must be patient, for there is no other way in which I can explain to you some ideas I have had about certain interior matters concerning prayer. May it please the Lord to enable me to say something about them; for to explain to you what I should like is very difficult unless you have had personal experience; and anyone with such experience, as you will see, cannot help touching upon subjects which, please God, shall, by His mercy, never concern us.



Chapter II



Describes the hideousness of a soul in mortal sin, some part of which God was pleased to manifest to a certain person. Says something also of self-knowledge. This chapter is profitable, since it contains some noteworthy matters. Explains in what sense the Mansions are to be understood.



Before passing on, I want you to consider what will be the state of this castle, so beautiful and resplendent, this Orient pearl, this tree of life, planted in the living waters of life1--namely, in God--when the soul falls into a mortal sin. No thicker darkness exists, and there is nothing dark and black which is not much less so than this. You need know only one thing about it--that, although the Sun Himself, Who has given it all its splendour and beauty, is still there in the centre of the soul, it is as if He were not there for any participation which the soul has in Him, though it is as capable of enjoying Him as is the crystal of reflecting the sun. While in a state like this the soul will find profit in nothing; and hence, being as it is in mortal sin, none of the good works it may do will be of any avail2 to win it glory; for they will not have their origin in that First Principle, which is God, through Whom alone our virtue is true virtue. And, since this soul has separated itself from Him, it cannot be pleasing in His eyes; for, after all, the intention of a person who commits a mortal sin is not to please Him but to give pleasure to the devil; and, as the devil is darkness itself, the poor soul becomes darkness itself likewise.

I know of a person3 to whom Our Lord wished to show what a soul was like when it committed mortal sin. That person says that, if people could understand this, she thinks they would find it impossible to sin at all, and, rather than meet occasions of sin, would put themselves to the greatest trouble imaginable. So she was very anxious that everyone should realize this. May you be no less anxious, daughters, to pray earnestly to God for those who are in this state and who, with all their works, have become sheer darkness. For, just as all the streamlets that flow from a clear spring are as clear as the spring itself, so the works of a soul in grace are pleasing in the eyes both of God and of men, since they proceed from this spring of life, in which the soul is as a tree planted. It would give no shade and yield no fruit if it proceeded not thence, for the spring sustains it and prevents it from drying up and causes it to produce good fruit. When the soul, on the other hand, through its own fault, leaves this spring and becomes rooted in a pool of pitch-black, evil-smelling water, it produces nothing but misery and filth.

It should be noted here that it is not the spring, or the brilliant sun which is in the centre of the soul, that loses its splendour and beauty, for they are always within it and nothing can take away their beauty. If a thick black cloth be placed over a crystal in the sunshine, however, it is clear that, although the sun may be shining upon it, its brightness will have no effect upon the crystal.