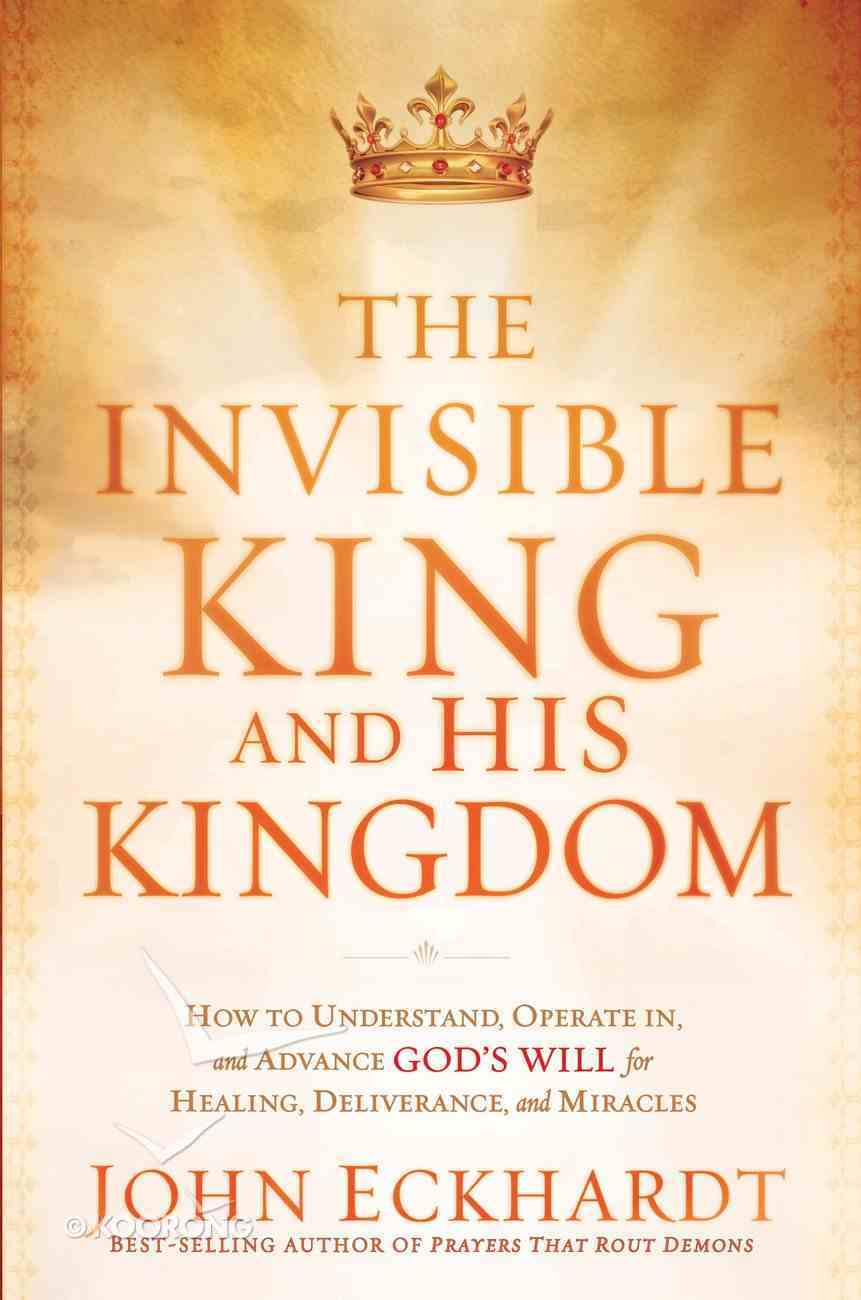 The Invisible King and His Kingdom
The Kingdom of God Is Near During His ministry on earth, Jesus repeatedly talked about, explained, and defined the kingdom of God. When He announced that the kingdom was at hand, it was the turning point...
Instant download
---
Read using our free app on your tablet or mobile!
---
Free Shipping
for orders over $99.


The Kingdom of God Is Near

During His ministry on earth, Jesus repeatedly talked about, explained, and defined the kingdom of God. When He announced that the kingdom was at hand, it was the turning point in human history. But what did He mean? And how does it apply to our families and our communities today?

In The Invisible King and His Kingdom, John Eckhardt presents the good news about God's promises for our world and how to obtain them. Challenging the negative worldview of many Christians, he explains the realities of the kingdom of God that is here now and gives answers to important questions such as…
What are the signs of the kingdom of God? How do we walk in and access this kingdom? How do we live in this kingdom? How do we operate in the power and the authority of this kingdom?
The kingdom of God has been forcefully advancing since the days of John the

Baptist, and it is still advancing today! Discover how to seize the kingdom for healing, deliverance, and faith and how to demonstrate authority over the powers of darkness.


-Publisher
JOHN ECKHARDT is overseer of Crusaders Ministries, located in Chicago, Illinois. Gifted with a strong apostolic call, he has ministered throughout the United States and overseas in more than seventy nations. He is a sought-after international conference speaker, has authored more than twenty books and produces a daily radio broadcast. His television program, Perfecting the Saints, is seen weekly throughout the United States on The Word Network. Eckhardt resides in the Chicago area with his wife, Wanda, and their five children. C
<div> <div><b>the Kingdom Of God Is Near</b></div> <div>during His Ministry On Earth, Jesus Repeatedly Talked About, Explained, And Defined The Kingdom Of God. When He Announced That The Kingdom Was At Hand, It Was The Turning Point In Human History. But What Did He Mean? And How Does It Apply To Our Families And Our Communities Today?</div> <div> </div> <div>in <i>the Invisible King And His Kingdom</i>, John Eckhardt Presents The Good News About God's Promises For Our World And How To Obtain Them. Challenging The Negative Worldview Of Many Christians, He Explains The Realities Of The Kingdom Of God That Is Here Now And Gives Answers To Important Questions Such As&hellip;</div> <div> </div> <ul Type="disc" Style="margin-top: 0in"> <li Style="margin: 0in 0in 0pt">what Are The Signs Of The Kingdom Of God?</li> <li Style="margin: 0in 0in 0pt">how Do We Walk In And Access This Kingdom?</li> <li Style="margin: 0in 0in 0pt">how Do We Live In This Kingdom?</li> <li Style="margin: 0in 0in 0pt">how Do We Operate In The Power And The Authority Of This Kingdom?</li> </ul> <div>the Kingdom Of God Has Been Forcefully Advancing Since The Days Of John The</div> <div>baptist, And It Is Still Advancing Today! Discover How To Seize The Kingdom For Healing, Deliverance, And Faith And How To Demonstrate Authority Over The Powers Of Darkness.</div> <div> </div> </div>
Bestsellers in Christian Living