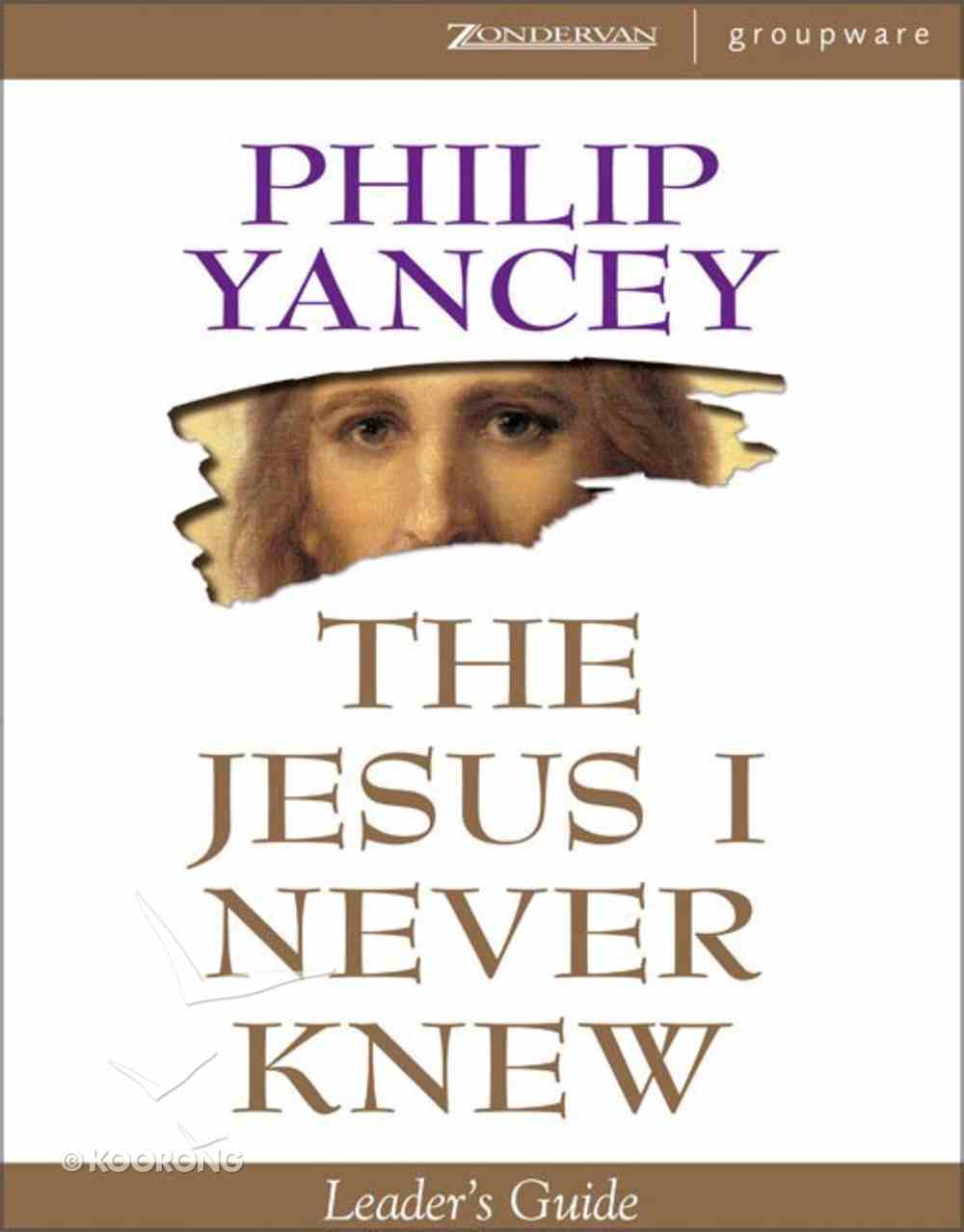 The Jesus I Never Knew (Leaders Guide)
This leader's guide makes for a complete, easy to lead, interactive curriculum for groups large or small who want to capture a fresh, challenging, and life-changing vision of the Jesus of the Gospels.
---
Available in other Formats
---
Free Shipping
for orders over $99.
This leader's guide makes for a complete, easy to lead, interactive curriculum for groups large or small who want to capture a fresh, challenging, and life-changing vision of the Jesus of the Gospels.
-Publisher
PRODUCT DETAIL
Catalogue Code 

120628

Product Code 

0310224322

EAN 

9780310224327

UPC 

025986224325

Pages 

176

Department General Books
Category Christian Living
Sub-Category General
Publisher Zondervan
Publication Date 

Jun 1998

Dimensions 

215 x 276 x 15

mm

Weight 

0.496

kg
Growing up in a strict, fundamentalist church in the southern USA, a young Philip Yancey tended to view God as 'a scowling Supercop, searching for anyone who might be having a good time in order to squash them.' Yancey jokes today about being 'in recovery' from a toxic church. 'Of course, there were good qualities too. If a neighbour's house burned down, the congregation would rally around and show charity if, that is, the house belonged to a white person. I grew up confused by the contradictions. We heard about love and grace, but I didn't experience much. And we were taught that God answers prayers, miraculously, but my father died of polio just after my first birthday, despite many prayers for his healing.'

For Yancey, reading offered a window to a different world. So, he devoured books that opened his mind, challenged his upbringing, and went against what he had been taught. A sense of betrayal engulfed him. 'I felt I had been lied to. For instance, what I learned from a book like To Kill a Mockingbird or Black Like Me contradicted the racism I encountered in church. I went through a period of reacting against everything I was taught and even discarding my faith. I began my journey back mainly by encountering a world very different than I had been taught, an expansive world of beauty and goodness. Along the way I realized that God had been misrepresented to me. Cautiously, warily, I returned, circling around the faith to see if it might be true.'

Ever since Yancey has explored the most basic questions and deepest mysteries of the Christian faith, taking millions of readers with him. Early on he crafted best-selling books such as Disappointment with God and Where is God When it Hurts? while also editing The Student Bible. He co-authored three books with the renowned surgeon Dr. Paul Brand. 'No one has influenced me more' he says. 'We had quite a trade: I gave words to his faith, and in the process he gave faith to my words.' More recently, he has felt the freedom to explore central issues of the Christian faith, penning award-winning titles such as The Jesus I Never Knew, What's So Amazing About Grace? and Prayer: Does It Make Any Difference? His books have garnered 13 Gold Medallion Awards from Christian publishers and booksellers. He currently has more than 15 million books in print, published in 35 languages worldwide.

Yancey worked as a journalist in Chicago for some twenty years, editing the youth magazine Campus Life while also writing for a wide variety of magazines including Reader's Digest, Saturday Evening Post, National Wildlife, and Christianity Today. In the process he interviewed diverse people enriched by their personal faith, such as President Jimmy Carter, Habitat for Humanity founder Millard Fuller, and Dame Cicely Saunders, founder of the modern hospice movement. In 1992 he and his wife Janet, a social worker and hospice chaplain, moved to the foothills of Colorado. His writing took a more personal, introspective turn even as his activities turned outward. 'Writing is such an introspective act that I found myself looking for ways to connect with the planet bodily. My interests include skiing, climbing mountains, mountain-biking, golf, international travel, jogging, nature, theology (in small doses), politics, literature, and classical music.'

'I write books for myself,' he says. 'I'm a pilgrim, recovering from a bad church upbringing, searching for a faith that makes its followers larger and not smaller. I feel overwhelming gratitude that I can make a living writing about the questions that most interest me. My books are a process of exploration and investigation of things I wonder about and worry about.' Yancey writes with an eye for detail, irony, and honest skepticism.

So, just how does a man who's been through all Yancey has, draw close to the God he once feared? He spends about an hour each morning reading spiritually nourishing books, meditating, and praying. This morning time, he says, helps him 'align' himself with God for the day. 'I tend to go back to the Bible as a model, because I don't know a more honest book,' Yancey explains. 'I can't think of any argument against God that isn't already included in the Bible. To those who struggle with my books, I reply, 'Then maybe you shouldn't be reading them. Yet some people do need the kinds of books I write. They've been burned by the church or they're upset about certain aspects of Christianity. I understand that feeling of disappointment, even betrayal. I feel called to speak to those living in the borderlands of faith.' He lives with his wife in Colorado.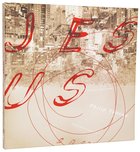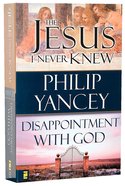 Contents
Introduction
Foreword
This Kit Contains
How This Leader's Guide Is Organized
Before The First Session
Five Tips For Leading Group Discussion
Session 1: The Jesus I Thought I Knew
Session 2: Birth: The Visited Planet
Session 3: Background: Jewish Roots And Soil
Session 4: Temptation: Showdown In The Desert
Session 5: Profile: What Would I Have Noticed?
Session 6: Beatitudes: Lucky Are The Unlucky
Session 7: Message: A Sermon Of Offense
Session 8: Mission: A Revolution Of Grace
Session 9: Miracles: Snapshots Of The Supernatural
Session 10: Death: The Final Week
Session 11: Resurrection: A Morning Beyond Belief
Session 12: Ascension: A Blank Blue Sky
Session 13: Kingdom: Wheat Among The Weeds
Session 14: The Difference He Makes
Appendix
About The Writer
Introduction Foreword Philip Yancey's study of Jesus began with a class he taught at LaSalle Street Church in Chicago. The use of movies about the life of Jesus, the discussion from class members, and his personal study all combined to give him a new view of Jesus---hence the title of his book The Jesus I Never Knew. Yet all along he had another goal in mind: He wanted his quest for Jesus to serve as a guide for other people. As Yancey himself wrote, 'In the end, what does it matter if a reader learns about 'The Jesus Philip Yancey Never Knew?' What matters infinitely more is for you to get to know Jesus.' For this reason, we have produced a curriculum to help you delve into the topic with a class of your own using movies as a springboard for discussion. Finding the right video clips and obtaining permission to show them can be a long and tedious task---this curriculum takes that step away from you! Philip Yancey recommended the best clips for each topic and we obtained permission to include them in this curriculum. For each session we have provided several different film clips along with a brief teaching segment with Philip Yancey and a variety of exercises and discussion questions to help the participants of your class begin to think about the Jesus they never knew. This course is bound to change the perceptions of those who seriously engage themselves in it. With a willingness to tackle difficult questions, Philip Yancey helps us to look at the radical words of Jesus and ask whether we are taking him seriously enough in our own day and age. For those who have been raised in the church and have known Jesus all of their lives, and for those who are meeting Jesus for the first time, Philip Yancey challenges us to think about this man as the Bible presents him---brilliant, creative, challenging, fearless, compassionate, unpredictable, and ultimately satisfying. You will find that the video clips combined with Bible study and your own discussion will help you to discover the Jesus you never knew! This Kit Contains * The Jesus I Never Knew---This is the award-winning book by Philip Yancey in which he offers his perspective on the life of Christ and his work---his teaching, his miracles, his death and resurrection---and ultimately, who he was and why he came. This book is based on Yancey's own discoveries as he led a group in Chicago through a similar approach to taking a look at Jesus. * The Jesus I Never Knew Video---A fourteen-part video series of live sessions with Philip Yancey as well as different film clips portraying the life of Jesus. These ten-minute video vignettes will serve as the basis for your discussion in each session. * The Jesus I Never Knew Leader's Guide---This comprehensive guide provides all the information you will need to lead your group through the different sessions of this course. * The Jesus I Never Knew Participant's Guide---This workbook contains questions and exercises for each session, designed to help participants process the material. Additional kits and copies of the Participant's Guide as well as the book are available from: Zondervan Publishing House 5300 Patterson Avenue SE Grand Rapids, MI 49530 Phone: 1--800--727--3480 How This Leader's Guide Is Organized This Leader's Guide is divided into fourteen sessions. Each 45-minute session corresponds to a chapter in Philip Yancey's book The Jesus I Never Knew. For each session the leader will need: Leader's Guide Bible Philip Yancey's Book The Jesus I Never Knew Video Player, Monitor, Stand, Extension Cord, etc. Videotape For each session each participant will need: Participant's Guide Bible Pen or Pencil Philip Yancey's Book The Jesus I Never Knew (optional) Each session is divided into five parts: Before You Lead, Introduction, Warm-Up, Content, and Summary. 1. Before You Lead Synopsis This material is provided for the leader's information. It is a summary of the ideas contained in Philip Yancey's book and presents the main ideas for the session. Session Outline An overview of the content and activities to be covered throughout the session. Materials The materials listed above are critical for both the leader and each participant. In this section you will find a list of additional materials needed for this specific session. Additional materials are needed in sessions 1, 2, and 11. Recommended Reading The leader is encouraged to read the appropriate chapter of Philip Yancey's book The Jesus I Never Knew in preparation for each session. 2. Introduction Includes calling the class together, an opening prayer, and a brief review. 3. Warm-Up These exercises and/or questions are designed to help everyone begin thinking about the session topic. A corresponding page is found in the Participant's Guide. 4. Content The bulk of the session is focused on content that you will walk through. The session material is found on the left-hand page of the Leader's Guide. You may want to read the material word for word, or you might just want to highlight key words and phrases. We encourage you to amplify various points with your own material illustrations. Make it personal! On the right-hand page is a copy of the corresponding Participant's Guide page(s). There is also space on this right-hand page for the leader to write in any additional planning notes. Having the corresponding Participant's Guide page in front of you allows you to view the page the participants are seeing as you talk without having to hold two books at the same time. It also lets you know where the participants are in their book when someone asks you a question.
Bestsellers in Christian Living