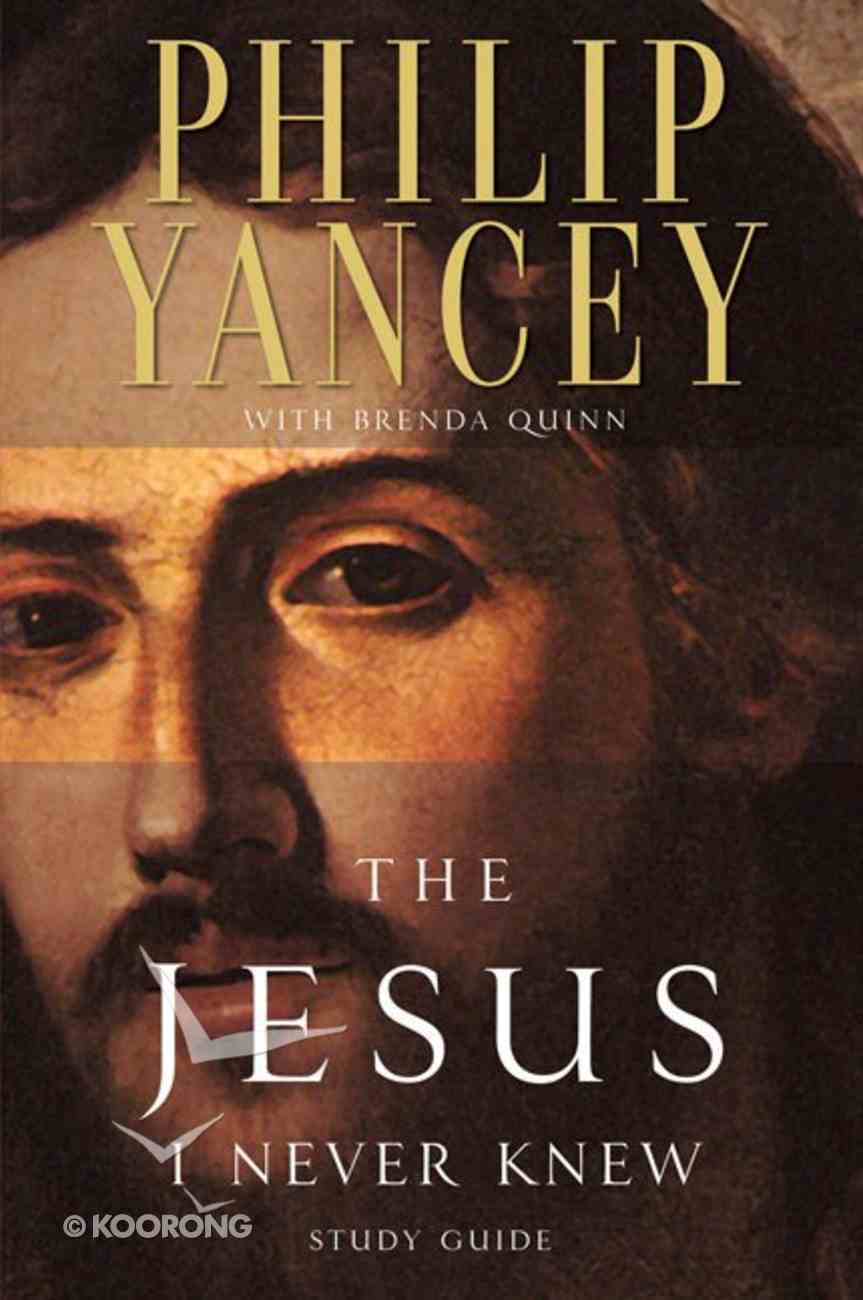 The Jesus I Never Knew (Study Guide)
Critically acclaimed as the most significant Christian book of the last ten years, The Jesus I Never Knew was selected for the prestigious Gold Medallion Christian Book of the Year Award in 1996. In it, best-selling author Philip Yancey peeled...
---
Expected to ship tomorrow from Australia.
---
Free Shipping
for orders over $99.
Critically acclaimed as the most significant Christian book of the last ten years, The Jesus I Never Knew was selected for the prestigious Gold Medallion Christian Book of the Year Award in 1996. In it, best-selling author Philip Yancey peeled away popular stereotypes to present a brilliant and challenging portrait of Christ. Now individuals and groups can join Yancey in this probing look at Jesus Christ - his teaching, his miracles, his death and resurrection, and ultimately, who he was and why he came. This study guide helps readers press beyond the traditional picture to uncover a Jesus who is brilliant, creative, challenging, fearless, compassionate, unpredictable, and ultimately satisfying. Each chapter begins with Yancey's reflections on rediscovering Jesus. Questions that stimulate journaling follow, with note-writing sections that assist the reader in - Seeing Jesus Through Scripture - Looking at Jesus Within and Without - Being Seen by Jesus - Further Glimpses of Jesus - Gazi
-Publisher
A complete study guide and workbook for 'The Jesus I Never Knew,' this recipient of the 1996 Gold Medallion Christian Book of the Year and ongoing best-seller for Zondervan will help the reader in his or her process of rediscovering Jesus.
-Publisher
PRODUCT DETAIL
Catalogue Code 

107687

Product Code 

0310218055

EAN 

9780310218050

UPC 

025986218058

Pages 

144

Department General Books
Category Christian Living
Sub-Category General
Publisher Zondervan
Publication Date 

Jun 1997

Sales Rank 

30431

Dimensions 

200 x 132 x 10

mm

Weight 

0.163

kg
Growing up in a strict, fundamentalist church in the southern USA, a young Philip Yancey tended to view God as 'a scowling Supercop, searching for anyone who might be having a good time in order to squash them.' Yancey jokes today about being 'in recovery' from a toxic church. 'Of course, there were good qualities too. If a neighbour's house burned down, the congregation would rally around and show charity if, that is, the house belonged to a white person. I grew up confused by the contradictions. We heard about love and grace, but I didn't experience much. And we were taught that God answers prayers, miraculously, but my father died of polio just after my first birthday, despite many prayers for his healing.'

For Yancey, reading offered a window to a different world. So, he devoured books that opened his mind, challenged his upbringing, and went against what he had been taught. A sense of betrayal engulfed him. 'I felt I had been lied to. For instance, what I learned from a book like To Kill a Mockingbird or Black Like Me contradicted the racism I encountered in church. I went through a period of reacting against everything I was taught and even discarding my faith. I began my journey back mainly by encountering a world very different than I had been taught, an expansive world of beauty and goodness. Along the way I realized that God had been misrepresented to me. Cautiously, warily, I returned, circling around the faith to see if it might be true.'

Ever since Yancey has explored the most basic questions and deepest mysteries of the Christian faith, taking millions of readers with him. Early on he crafted best-selling books such as Disappointment with God and Where is God When it Hurts? while also editing The Student Bible. He co-authored three books with the renowned surgeon Dr. Paul Brand. 'No one has influenced me more' he says. 'We had quite a trade: I gave words to his faith, and in the process he gave faith to my words.' More recently, he has felt the freedom to explore central issues of the Christian faith, penning award-winning titles such as The Jesus I Never Knew, What's So Amazing About Grace? and Prayer: Does It Make Any Difference? His books have garnered 13 Gold Medallion Awards from Christian publishers and booksellers. He currently has more than 15 million books in print, published in 35 languages worldwide.

Yancey worked as a journalist in Chicago for some twenty years, editing the youth magazine Campus Life while also writing for a wide variety of magazines including Reader's Digest, Saturday Evening Post, National Wildlife, and Christianity Today. In the process he interviewed diverse people enriched by their personal faith, such as President Jimmy Carter, Habitat for Humanity founder Millard Fuller, and Dame Cicely Saunders, founder of the modern hospice movement. In 1992 he and his wife Janet, a social worker and hospice chaplain, moved to the foothills of Colorado. His writing took a more personal, introspective turn even as his activities turned outward. 'Writing is such an introspective act that I found myself looking for ways to connect with the planet bodily. My interests include skiing, climbing mountains, mountain-biking, golf, international travel, jogging, nature, theology (in small doses), politics, literature, and classical music.'

'I write books for myself,' he says. 'I'm a pilgrim, recovering from a bad church upbringing, searching for a faith that makes its followers larger and not smaller. I feel overwhelming gratitude that I can make a living writing about the questions that most interest me. My books are a process of exploration and investigation of things I wonder about and worry about.' Yancey writes with an eye for detail, irony, and honest skepticism.

So, just how does a man who's been through all Yancey has, draw close to the God he once feared? He spends about an hour each morning reading spiritually nourishing books, meditating, and praying. This morning time, he says, helps him 'align' himself with God for the day. 'I tend to go back to the Bible as a model, because I don't know a more honest book,' Yancey explains. 'I can't think of any argument against God that isn't already included in the Bible. To those who struggle with my books, I reply, 'Then maybe you shouldn't be reading them. Yet some people do need the kinds of books I write. They've been burned by the church or they're upset about certain aspects of Christianity. I understand that feeling of disappointment, even betrayal. I feel called to speak to those living in the borderlands of faith.' He lives with his wife in Colorado.
Brenda Quinn, former staff editor for Serendipity House and editorial coordinator for MOPS International, Inc., is cowriter of study guides for both 'The Jesus I Never Knew' and 'What's So Amazing About Grace?' She coauthored the devotional 'Meet the Bible' with Philip Yancey. Brenda lives with her husband and son in Colorado.
Week One The Jesus I Thought I Knew I first got acquainted with Jesus when I was a child, singing 'Jesus Loves Me' in Sunday school, addressing bedtime prayers to 'Dear Lord Jesus,' watching Bible club teachers move cutout figures across a flannelgraph board. I associated Jesus with Kool-Aid and sugar cookies and gold stars for good attendance. Later, while attending a Bible college, I encountered a different image. A painting popular in those days depicted Jesus, hands outstretched, suspended in a Dali-like pose over the United Nations building in New York City. In 1971 the film The Gospel According to St. Matthew, by Italian filmmaker Pier Paolo Pasolini, again helped to force a disturbing revaluation of my image of Jesus. In Pasolini's portrayal, in physical appearance Jesus favored those who would have been kicked out of Bible college and rejected by most churches. Among his contemporaries, the Bible says he somehow gained a reputation as a 'winebibber and a glutton.' Those in authority, whether religious or political, regarded him as a troublemaker, a disturber of the peace. I have studied Jesus extensively in Catholic, liberal Protestant, and conservative evangelical seminaries. For two years I taught a class on the life of Jesus, using a variety of movies about his life as a springboard for discussion. In all of my study, I learned that whenever I returned to the Gospels, the fog that accompanied an academic approach seemed to lift. The films about Jesus helped restore Jesus' humanity. Jesus, I found, was far less tame than the Jesus I had met in Sunday school and Bible college. He seemed more emotional than the average person, not less. More passionate, not less. How is it, then, that the church has tamed such a character? I have not written a book about Jesus because he is a great man who changed history. I am drawn to Jesus, irresistibly, because he positioned himself as the dividing point of life---my life. He said, 'I tell you, whoever acknowledges me before men, the Son of Man will also acknowledge him before the angels of God' (Luke 12:8). According to Jesus, what I think about him and how I respond will determine my destiny for all eternity. Can I resolve my own inner tension between doubter and lover? Viewing Jesus on Film, Optional, 10 Minutes Note: In the introduction to this guide, you will find information about how to use movies as a study aid in your weekly groups or classes. In addition, in the back of this guide I have included a section titled 'Movie Appendix,' which lists some of the movies I've used for my teaching purposes, summarized in order of their potential usefulness. Consider using clips from the following films as an opening to your time together. Oh, God!: At the twenty-five-minute mark, God, played by George Burns, answers some of the most troubling questions about him, with surprising answers. Godspell: Begins with a buoyant 'Prepare ye the way of the Lord' scene. Jesus of Nazareth, tape 3: Jesus blasts the Pharisees, at the fifteen-minute mark. Also, five minutes after this scene, a member of the Sanhedrin debates who Jesus really is. Heaven: See the segment 'What Is God Like?' around the thirty-minute mark, but be sure to avoid the profanity. Also see a depiction of how Christians come across in the debate on 'Can You Prove There's a Heaven?' around the fifty-three-minute mark. Jesus of Montreal: Confused, modern actor on quest for Jesus, at the ten-minute mark. King of Kings I: Classic portrayal of 'Jesus meek and mild' healing a little girl's Roman soldier doll (!) at the thirty-five- minute mark. Seeing Jesus through Scripture Read together the following passage: Mark 6:1--6 Looking at Jesus Within and Without, 25 Minutes You may be studying in a small group (less than twelve people) or in a larger group. For this section, break into groups of four to six people. Introduce yourselves to one another and tell about your family. How many siblings do you have? Where did you grow up? Are you married? Do you have children? 1. What did the people in Jesus' hometown think of him? Imagine your brother or cousin or friend suddenly beginning to teach, with no formal training, in the city's biggest church. Imagine this person performing miracles. What would you think? What would people say? 2. Have you had someone close to you who really didn't know or understand you? How did this make you feel? Share as you feel comfortable. Do you think Jesus felt something similar? 3. How did the lack of understanding by Jesus' own people affect his use of his power through miracles? My friend isn't attending church, because she says Christians give Jesus a bad name. She claims the church could be the most powerful movement in the world if Christians would really get to know Jesus. What do you think of her opinion of Christians? 4. Do you think people today have any clearer picture of who Jesus is than did the people in his day? How do you think Jesus feels about the confusing portrait presented in today's church or by some individuals? 5. The vision of Christ that thou dost see Is my vision's greatest enemy: Thine has a great hook nose like to mine.... Both read the Bible day and night, But thou read'st black where I read white. WILLIAM BLAKE In your mind's eye, what did Jesus look like? Tall? Short? Handsome? Curly hair or straight? Dark- or light-complected? Where did you get this picture of him (films, paintings, books, Sunday school)? Can you describe specific images from the past? 6. I mention several images of Jesus from my past. Which of these do you identify with? * A Victorian nanny who pats the heads of children and advises kindness to mummy and daddy * An ever friendly Mister Rogers---kind, gentle, and soft-spoken *A Star Trek Vulcan---calm, cool, and collected among excitable human beings on spaceship earth *A cosmic Christ hovering over the United Nations building *A radical hippie concerned with politics and peace-making * A televangelist type---always spiritual, full of God-talk, and eager to prove his identity through miracles * Other: Who or what prompted this vision? Talk about the church or religious environment in which you grew up. Has your vision of Jesus changed much? 7. What scares you about coming to know the real Jesus? 8. With the help of Jesus and this group, what do you most want to understand about Jesus? Do you have any prayer needs to share with the group? No one who meets Jesus ever stays the same. Being Seen by Jesus, 5--10 Minutes This last section of each study will give you a few minutes to personally invite Jesus into your study. It will be a time of silence, giving you a chance to share with him your questions, your needs, your thanks. You may not be accustomed to sharing quiet time together, but give it a try. This is a time to sit in the presence of Jesus as a corporate body and receive from him in a personal way. As you become comfortable, you'll find it a rich experience. Spend the time today in quiet, individual prayer. Feel free to add to the following prayer in the space provided. You may choose to keep a journal throughout the study. Bring it to class and use it during this time, to write your prayers, record your thoughts, or make notes on the discussion. Dear Jesus, I am setting out on a journey that will bring me to a place of clearer vision, a place where I can better see you. A part of me wants only to close my eyes and stay where I am. But a part of me needs to know you better, needs to gaze on nothing but you. Enter the eyes of my mind, my heart. Help me along....
Bestsellers in Christian Living