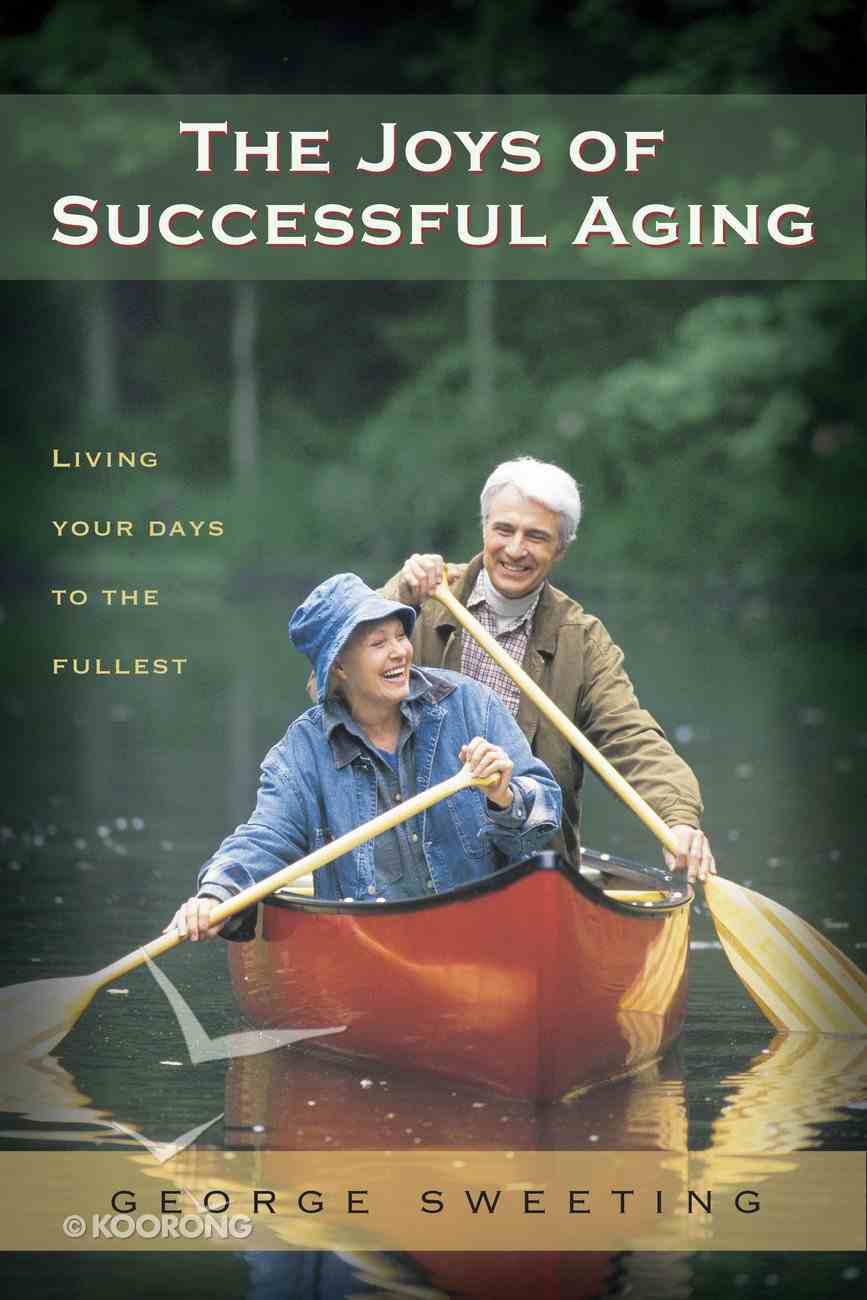 The Joys of Successful Aging
DR. GEORGE SWEETING is the former president and chancellor of the ?Moody Bible Institute (1971-1999) and is currently Chancellor Emeritus. As a world-renowned ?evangelist, pastor, teacher, and writer, few are better equipped to explain how ?to grow in your salvation. ...
Instant download
---
Expected to ship within 8 hours from Australia.
---
Read using our free app on your tablet or mobile!
---
Free Shipping
for orders over $99.

DR. GEORGE SWEETING is the former president and chancellor of the ?Moody Bible Institute (1971-1999) and is currently Chancellor Emeritus. As a world-renowned ?evangelist, pastor, teacher, and writer, few are better equipped to explain how ?to grow in your salvation. How to Begin the Christian Life is a modern classic ?with more than a million copies in print in English and other languages.

The last years of life can be joyful and fulfilling. But for some, aging ?is a challenge-joy and aging are seldom linked together. Despite the difficulties, ?Dr. Sweeting has discovered many unexpected joys in his senior years and shares ?them in this insightful and easy-to-read book for the Builder Generation.


CONTENTS


Preface


1. Lighten Up!
2. People of Faith Tend ?to Live Longer
3. Temple Keeping
4. The Age Boom
5. Aging with Joy
6. ?Arteries Plus Attitude
7. Why Comedians Live So Long
8. Role Models for Aging
9. ?The Caleb Secret
10. Nothing to Fear...but Fear Itself
11. Do Your Giving ?While You're Living
12. Finishing with Grace
13. Leaving a Legacy
14. Great ?Quotations on Aging and Dying


Notes



The last years of life can be joyful and fulfilling. But for some, aging ?is a challenge-joy and aging are seldom linked together. Despite the difficulties, ?Dr. Sweeting has discovered many unexpected joys in his senior years and shares ?them in this insightful and easy-to-read book for the Builder Generation.


Since only an untimely death can keep us from growing old, it is ?the better part of wisdom for us to decide in advance that we will both welcome ?and enjoy that stage of our lives. The book you hold in your hands will help all ?of us to live our lives to the fullest and make the best of all the days God gives ?us. Dr. Sweeting is uniquely qualified to write on this subject. He is convinced ?that retirement is only a time when we are redirected by God to serve Him in other ?ways. What impressed me most is this book's practicality: here we have sensible ?advice about everything from laughter to nutrition to money matters. Best of all, ?it breathes the optimism that should characterize all of God's children, even in ?their old age. Read this book and pass it along to a friend. Dr. Erwin Lutzer, Moody ?Church, Chicago Following Jesus is a life-long journey. So, if you want someone ?to help guide you in the abundant life for all seasons, then read this book. Dr. ?George Sweeting is a wise leader, teacher, and servant of Christ. His words will ?inspire you and motivate you to live a fulfilling and faithful life.
-Dr. ?Jack Graham, Pastor, Prestonwood Baptist Church, Plano, Texas


Following ?Jesus is a life-long journey.  So, if you want someone to help guide you in ?the abundant life for all seasons, then read this book.
-Dr. Jack Graham, ?pastor, Prestonwood Baptist Church, Plano, Texas


The book you hold in ?your hands will help all of us to live our lives to the fullest and make the best ?of all the days God gives us. Read this book and pass it along to a friend.
-Dr. ?Erwin Lutzer, Moody Church, Chicago


It is great to know that there is ?a resource like The Joys of Successful Aging to help us maximize, for time ?and eternity, our remaining days on earth.
-Dr. Tony Evans, senior pastor, ?Oak Cliff Bible Fellowship; president, The Urban Alternative


Aging is ?like climbing above the tree line on a high mountain.  Everything is more difficult ?but the exquisite exhilaration of getting there is nearly indescribable.  George ?Sweeting's superb report from the highlands gives every climber a leg-up for the ?journey.
-Dr. Howard G. Hendricks, Distinguished Professor; chairman, Center ?for Christian Leadership, Dallas Theological Seminary


With maturity, grace, ?and wisdom, Dr. Sweeting shows us all how to "be joyful in hope, patient in affliction, ?and faithful in prayer" as we all get a little older.
-Joni Eareckson Tada, ?president, Joni and Friends



DR. GEORGE SWEETING is a former president and chancellor of the Moody Bible Institute He received a diploma from Moody Bible Institute, his B.A. from Gordon College, and his Doctor of Divinity from Gordon-Conwell Theological Seminary. Dr. Sweeting has served as a pastor in several churches, including Grace Church, Madison Avenue Baptist Church, and The Moody Church and also spent nine years traveling the world as an evangelist.Dr. Sweeting has written numerous books, including "The Joys of Successful Aging, Too Soon to Quit, Lessons from the Life of Moody", and "Don't Doubt in the Dark". He is
Bestsellers in Christian Living