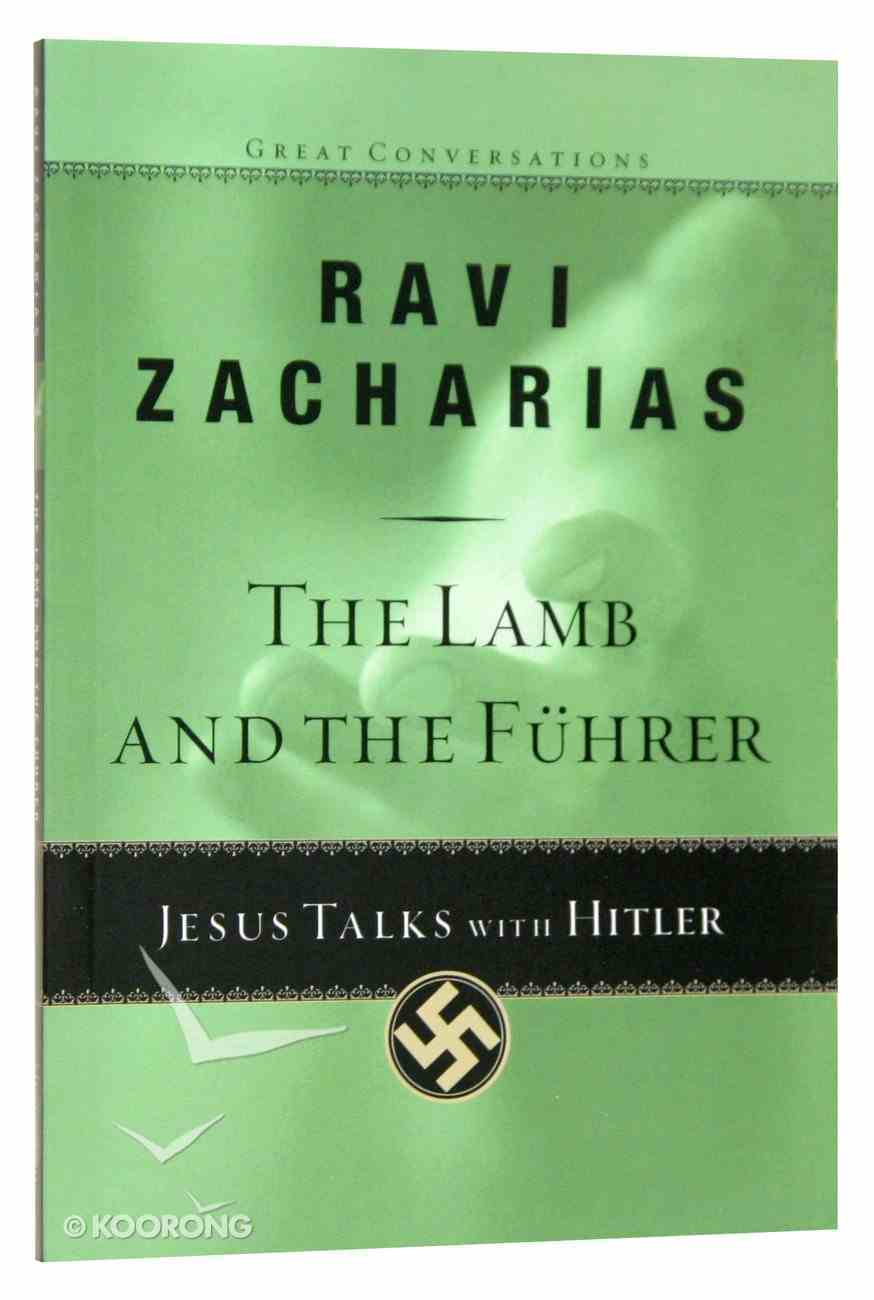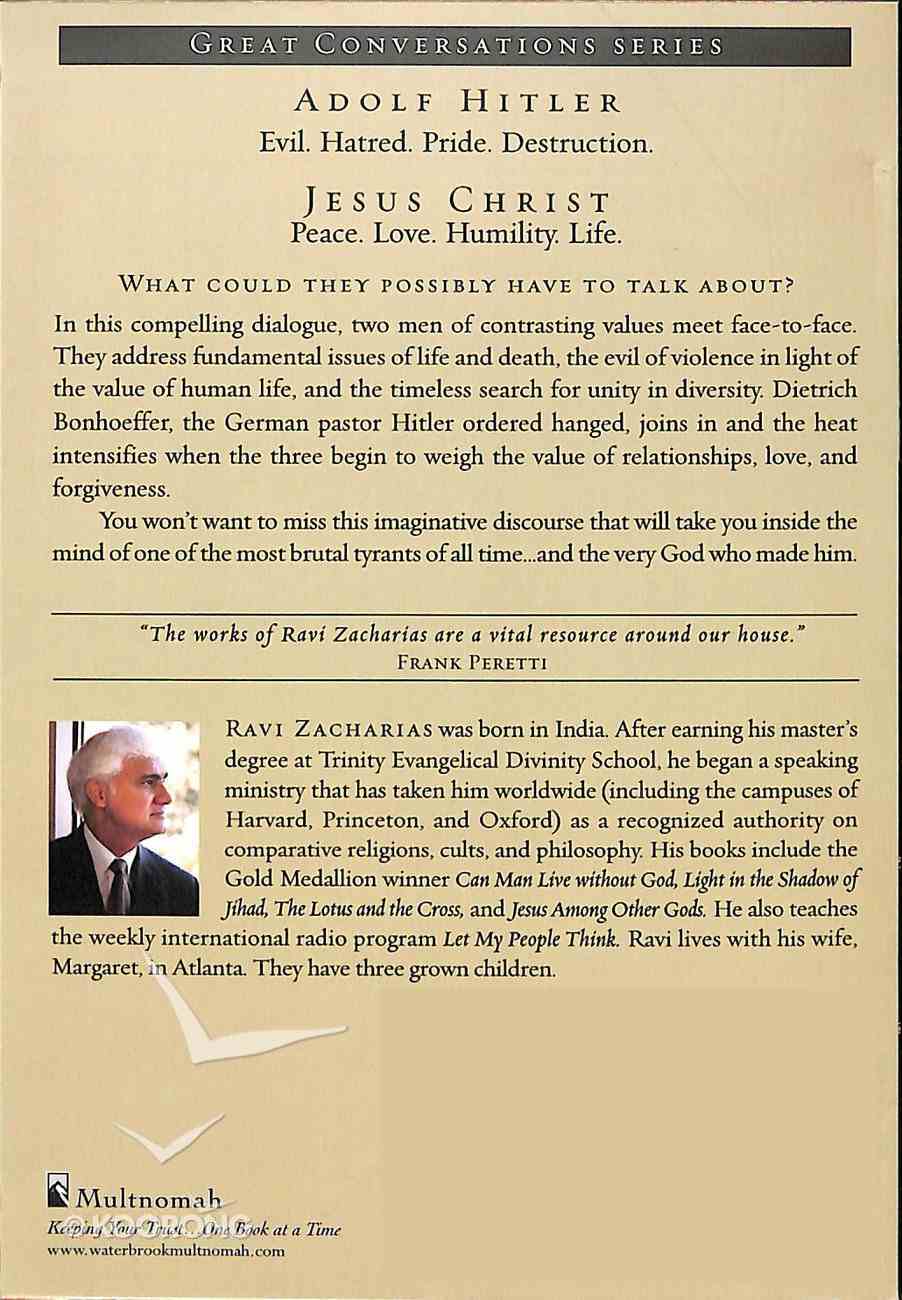 The Lamb and the Fuhrer (#03 in Great Conversations Series)
ADOLF HITLER Evil. Hatred. Pride. Destruction. JESUS CHRIST Peace. Love. Humility. Life. WHAT COULD THEY POSSIBLY HAVE TO TALK ABOUT? In this compelling dialogue, two men of contrasting values meet face-to-face. They address fundamental issues of life...
Available Now.
4 Available
---
Expected to ship tomorrow from Australia.
---
Free Shipping
for orders over $99.
ADOLF HITLER
Evil. Hatred. Pride. Destruction.

JESUS CHRIST
Peace. Love. Humility. Life.

WHAT COULD THEY POSSIBLY HAVE TO TALK ABOUT?

In this compelling dialogue, two men of contrasting values meet face-to-face. They address fundamental issues of life and death, the evil of violence in light of the value of human life, and the timeless search for unity in diversity. Dietrich Bonhoeffer, the German pastor Hitler ordered hanged, joins in and the heat intensifies when the three begin to weigh the value of relationships, love, and forgiveness.

You won't want to miss this imaginative discourse that will take you inside the mind of one of the most brutal tyrants of all time. . . and the very God who made him.
-Publisher
PRODUCT DETAIL
Catalogue Code 

306445

Product Code 

9781601423207

ISBN 

1601423209

EAN 

9781601423207

Pages 

96

Department Academic
Category Apologetic
Sub-Category General
Publisher Multnomah Publishers
Publication Date 

Oct 2009

Sales Rank 

14407

Dimensions 

183 x 125 x 5

mm

Weight 

0.079

kg
Frederick Anthony Ravi Kumar Zacharias was born into a nominally Christian (Anglican) Indian family in Madras in 1946, and grew up in Delhi. He was an atheist in his youth, but had a conversion experience after reading John 14:19 while recovering from a suicide attempt at age 17. Ravi emigrated with his family to Canada in 1966. He earned his M.Div. degree from Trinity International University, Deerfield, Illinois, in 1972.

Since 1971, when he first ministered to GIs and POWs in Vietnam, Ravi has spoken all over the world in great halls and universities including Harvard, Princeton, and Oxford.

He is listed as a distinguished lecturer with the Staley Foundation and has appeared on CNN and other international broadcasts.

The author of numerous books, he powerfully mixes biblical teaching and Christian apologetics. His weekly radio program, Let My People Think, is broadcast over 1,500 stations worldwide, and his weekday program, Just Thinking, began airing in November 2004. He is president of Ravi Zacharias International Ministries.

Some of his publications include Beyond Opinion: Living the Faith We Defend; The End of Reason; Walking from East to West; The Grand Weaver; Cries of The Heart; Recapture the Wonder: Experiencing God's Amazing Promise of Childlike Joy, and Jesus Among Other Gods: The Absolute Claims of the Christian Message.

Ravi has been married to his wife Margie since 1972, and they have three adult children.
Introduction
 
"I want to raise a generation of young people, imperious, relentless, and cruel." With these words, Adolf Hitler spilled the blood of millions of people, his own as well as others, when he set himself as a god in the minds of his people. He pursued his dream and unleashed a hell upon the earth. As I traveled through the sites of the carnage of the Second World War, I was reminded afresh of the horror and the extent of human pain and suffering inflicted on so many by one man and those willing to follow him. The concentration camps, the Gestapo offices, and the gas ovens still speak today of the incalculable price that was paid. Any words that try to describe it become dwarfed because the story is monstrous.
 
There is no name today more synonymous with power, wickedness, and unprecedented violence than his. But nearly two thousand years before him, another walked this earth whose name
is symbolic of love, peace, and life. His was a name also associated with the spilling of blood—His own, shed for the sake of the world. He endured hell to open the way to heaven. What would a conversation between these two be like? There were voices in Hitler's day that tried to stop him. One was Dietrich Bonhoeffer, a German pastor, who went so far as to be part of a plot to assassinate Hitler. Bonhoeffer believed that for the sake of the world, Hitler had to be removed, and he paid for that conviction with his life.
 
In this conversation that we imagine between Jesus and Hitler, Bonhoeffer joins in because he brings into focus the reality of the struggle that good men and women faced under national socialism. Violence, racism, power, lies, death, philosophy, evil are all given a face here. But then there is the face of love, individual worth, supreme goodness, power, truth, peace, and life in Jesus Christ. In the face of Bonhoeffer we see anguish, helplessness, and a will to change evil for good.
 
It was not difficult to find Hitler's own words of self-justification for his actions. It was not that difficult either to find Bonhoeffer's words that described the soul struggle he faced. But what would Jesus have said when ethics comes into conflict with an ethic that chose to kill to stop the killing? That part was harder, and it is in those words alone that the huge reality of these issues can be grasped.
 
So enter with me into Hitler's bunker and listen in as the Führer, gun in hand, is about to end his life (synonymous in his mind with Germany itself ), knowing that his Third Reich did not last a thousand years or bring a Final Solution, but in fact resulted in the destruction of his own country and much of Europe. How could good people have followed such an evil man? What is the origin of such violence? How does blood recompense for blood? Listen as Jesus, Hitler, and Bonhoeffer engage in a life-and-death discussion.
 
It is my earnest hope that, in a world now full of violence, the voice of Jesus will be heard again calling men and women to submit to His sacrifice so that we will not continue to sacrifice our
own sons and daughters on the battlefields of human ego and ideological conflict.
Bestsellers in Apologetic