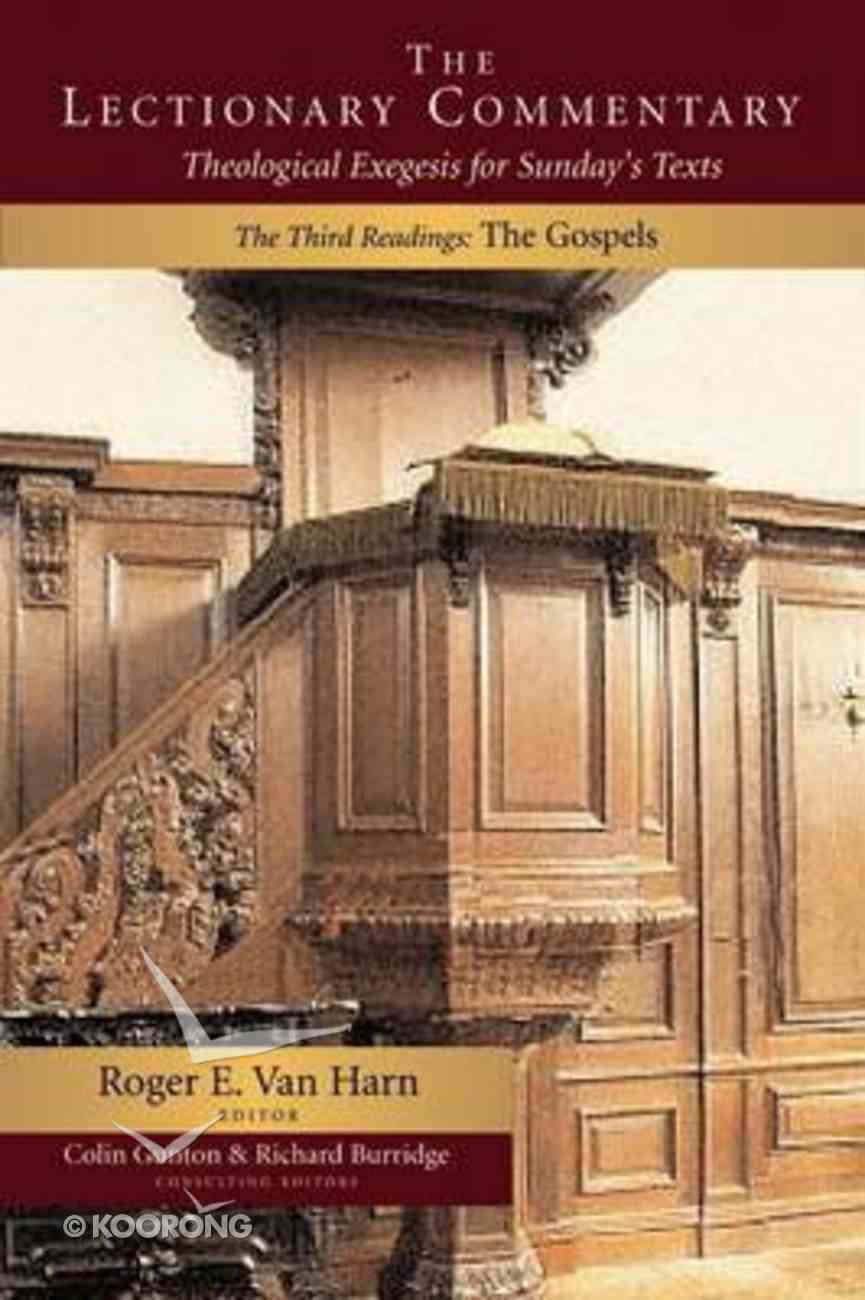 The Lectionary Commentary (Vol 3 The Gospels)
Supplier is out of stock indefinitely
Unavailable
---
Free Shipping
for orders over $99.
The Lectionary Commentary (Vol 3 The Gospels)
Professor Colin E. Gunton was a British United Reformed systematic theologian. He taught at King's College, London from 1969 until his death in 2003. His writings include The Barth Lectures, ed. Paul Brazier (T&T Clark), The Theologian As Preacher: Further Sermons from Colin E. Gunton, eds. Sarah J. Gunton and John E. Colwell (T&T Clark), Act and Being: Towards a Theology of the Divine Attributes (Eerdmans), The Christian Faith. An Introduction to Christian Doctrine (Blackwell), The Cambridge Companion to Christian Doctrine, ed. (Cambridge), and The Promise of Trinitarian Theology (T&T Clark).
Koorong -Editorial Review.
Revd. Dr. Richard A. Burridge has been Dean of King's College London since 1993; He was originally a classicist and schoolmaster before being ordained in 1985. He has written several books on Jesus and the Gospels (notably What are the Gospels? A Comparison with Graeco-Roman Biography(1992); Four Gospels - One Jesus?(1994); Imitating Jesus: An Inclusive Approach to New Testament Ethics; Jesus: Now and Then and The Gospel of John (People's Bible Commentary). Christian responses to contemporary film and fiction are found in Faith Odyssey( 2001).
Dr Burridge is a member of the Church of England's General Synod and chaired the Education Validation Panel for ordination training and theological education from 1997-2004; he also takes study days for clergy and lay people across England. He is the chair of the Christian Evidence Society. He has acted as a writer and Consultant to the Millennium Dome at Greenwich and for the National Gallery, London and appears regularly on national TV and radio


Roger van Harn is an American Presbyterial theologian and pastor. He was editor of the Three Volume Lectionary Commentaries published by Continuum.David Ford is Regius Professor of Divinity in The University of Cambridge.
Bestsellers in Church Resources