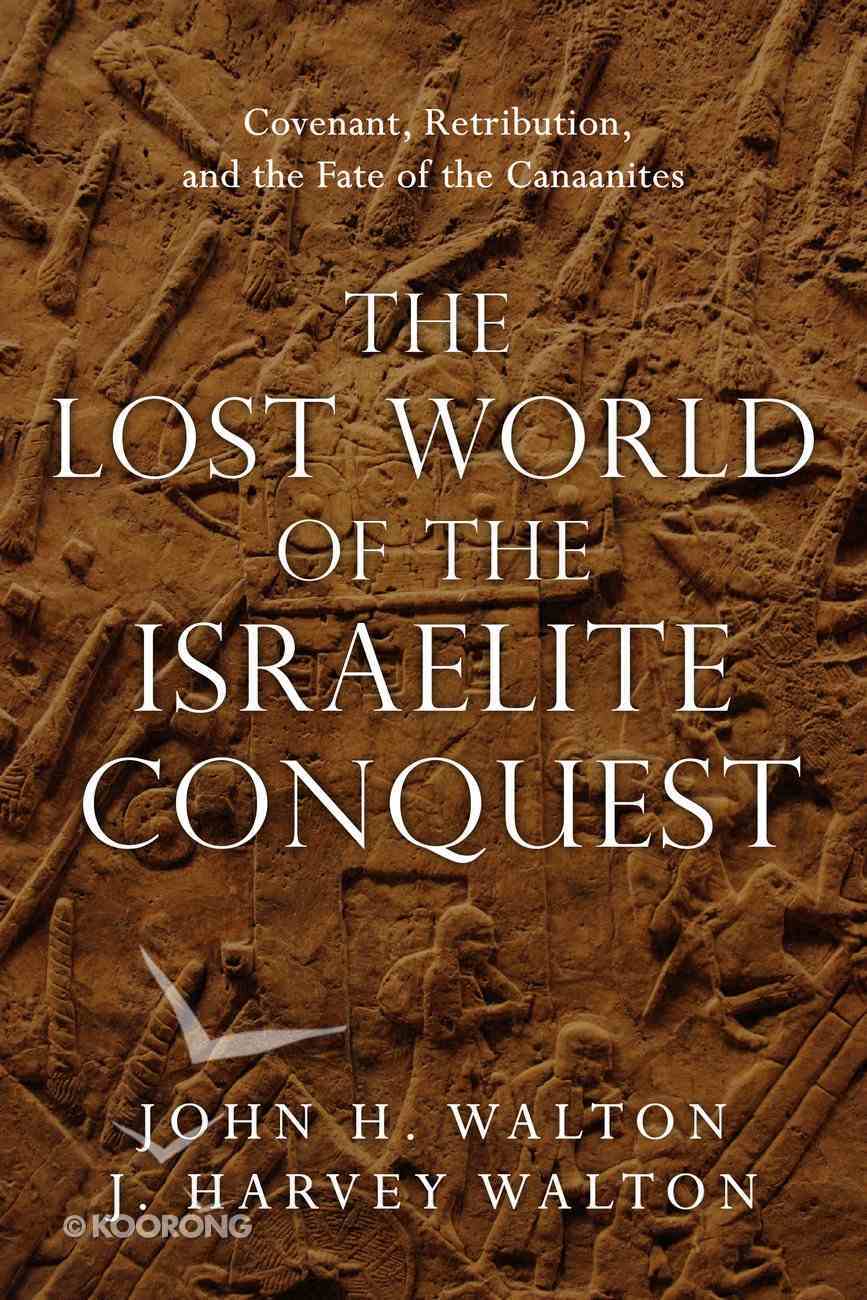 The Lost World of the Israelite Conquest
Holy warfare is the festering wound on the conscience of Bible-believing Christians. Of all the problems the Old Testament poses for our modern age, this is the one we want to avoid in mixed company. But do the so-called holy...
Instant download
---
Read using our free app on your tablet or mobile!
---
Free Shipping
for orders over $99.
Holy warfare is the festering wound on the conscience of Bible-believing Christians. Of all the problems the Old Testament poses for our modern age, this is the one we want to avoid in mixed company. But do the so-called holy war texts of the Old Testament portray a divinely inspired genocide? Did Israel slaughter Canaanites at God's command? Were they enforcing divine retribution on an unholy people? These texts shock. And we turn the page. But have we rightly understood them? In The Lost World of the Israelite Conquest, John Walton and J. Harvey Walton take us on an archaeological dig, excavating the layers of translation and interpretation that over time have encrusted these texts and our perceptions. What happens when we take new approaches, frame new questions? When we weigh again their language and rhetoric? Were the Canaanites punished for sinning against the covenanting God? Does the Hebrew word herem mean "devote to destruction"? How are the Canaanites portrayed and why? And what happens when we backlight these texts with their ancient context? The Lost World of the Israelite Conquest keenly recalibrates our perception and reframes our questions. While not attempting to provide all the answers, it offers surprising new insights and clears the ground for further understanding.
-Publisher
Holy Warfare Is The Festering Wound On The Conscience Of Bible-believing Christians. Of All The Problems The Old Testament Poses For Our Modern Age, This Is The One We Want To Avoid In Mixed Company. But Do The So-called Holy War Texts Of The Old Testament Portray A Divinely Inspired Genocide? Did Israel Slaughter Canaanites At God's Command? Were They Enforcing Divine Retribution On An Unholy People? These Texts Shock. And We Turn The Page. But Have We Rightly Understood Them? In <em>the Lost World Of The Israelite Conquest</em>, John Walton And J. Harvey Walton Take Us On An Archaeological Dig, Excavating The Layers Of Translation And Interpretation That Over Time Have Encrusted These Texts And Our Perceptions. What Happens When We Take New Approaches, Frame New Questions? When We Weigh Again Their Language And Rhetoric? Were The Canaanites Punished For Sinning Against The Covenanting God? Does The Hebrew Word <em>herem</em> Mean "devote To Destruction"? How Are The Canaanites Portrayed And Why? And What Happens When We Backlight These Texts With Their Ancient Context? <em>the Lost World Of The Israelite Conquest</em> Keenly Recalibrates Our Perception And Reframes Our Questions. While Not Attempting To Provide All The Answers, It Offers Surprising New Insights And Clears The Ground For Further Understanding.
<strong>part I: Interpretation</strong>
Proposition 1: Reading The Bible Consistently Means Reading It As An Ancient Documentproposition 2: We Should Approach The Problem Of The Conquest By Adjusting Our Expectations About What The Bible Isproposition 3: God&#x92;s Plans And Purposes Are Good
<strong>part Ii: The Canaanites Are Not Depicted As Guilty Of Sin</strong>
Proposition 4: The Bible Teaches Clearly And Consistently That Affliction By God Cannot Be Automatically Attributed To Wrongdoing On The Part Of The Victimproposition 5: None Of The Usual Textual Indicators For Divine Retribution Occur In The Case Of The Canaanitesproposition 6: Genesis 15:16 Does Not Indicate That The Canaanites Were Committing Sinproposition 7: Neither The Israelites Nor The Canaanites Are Depicted As Stealing The Other&#x92;s Rightful Property
<strong>part Iii: God's Law Is Not A List Of Rules, And The Canaanites Are Not Depicted As Guilty Of Breaking Them</strong>
Proposition 8: The People Of The Land Are Not Indicted For Not Following The Stipulations Of The Covenant, And Neither Is Israel Expected To Bring Them Into The Covenantproposition 9: Ancient Law Codes Such As The One Contained In Leviticus 18-20 Are Not Lists Of Rules To Be Obeyed, And Therefore The Canaanites Cannot Be Guilty Of Violating Themproposition 10: Holiness Is A Status Granted By God; It Is Not Earned Through Moral Performance, And Failing To Have It Does Not Subject One To Judgmentproposition 11: The Expulsion Of The Canaanites From The Land In The Conquest Cannot Be Evaluated By Comparison To The Expulsion Of The Israelites From The Land In The Exile Because Israel Is Under The Covenant And The Canaanites Are Not
<strong>part Iv: The Language And Imagery Of The Conquest Account Has Literary And Theological Significance</strong>
Proposition 12: The Depiction Of The Canaanites In Leviticus And Deuteronomy Is A Sophisticated Appropriation Of A Common Ancient Near Eastern Literary Device, Not An Indictmentproposition 13: Behaviors That Are Described As Detestable Are Intended To Contrast With Ideal Behavior Under The Israelite Covenant, Not To Convict The People Who Did Them Of Crimesproposition 14: The Imagery Of The Conquest Account Recapitulates Creation
<strong>part V: What God And The Israelites Are Doing Is Often Misunderstood Because The Hebrew Word <em>herem</em> Is Commonly Mistranslated</strong>
Proposition 15: <em>herem</em> Does Not Mean "utterly Destroy"proposition 16: <em>herem</em> Against Communities Focuses On Destroying Identity, Not Killing People Of Certain Ethnicitiesproposition 17: The Wars Of Israelite Conquest Were Fought In The Same Manner As All Ancient Warsproposition 18: Rahab And The Gibeonites Are Not Exceptions To The <em>herem</em>, And The Use Of <em>herem</em> Against The Amalekites Does Not Indicate That <strong>herem</strong> Is Punishmentproposition 19: The Logic Of The <em>herem</em> Event Of The Conquest Operates In The Context Of Israel&#x92;s Vassal Treaty
<strong>part Vi: How To Apply This Understanding</strong>
Proposition 20: The Old Testament, Including The Conquest Account, Provides A Template For Interpreting The New Testament, Which In Turn Gives Insight Into God's Purposes For Us Todayproposition 21: The Application Of <em>herem</em> In The New Covenant Is Found In Putting Off Our Former Identity And Surrendering To The Lordship Of Christ, And Therefore <em>herem</em> Has Nothing To Do With Killing People
Conclusionnotessubject Indexscripture Index
Bestsellers in Biblical Studies