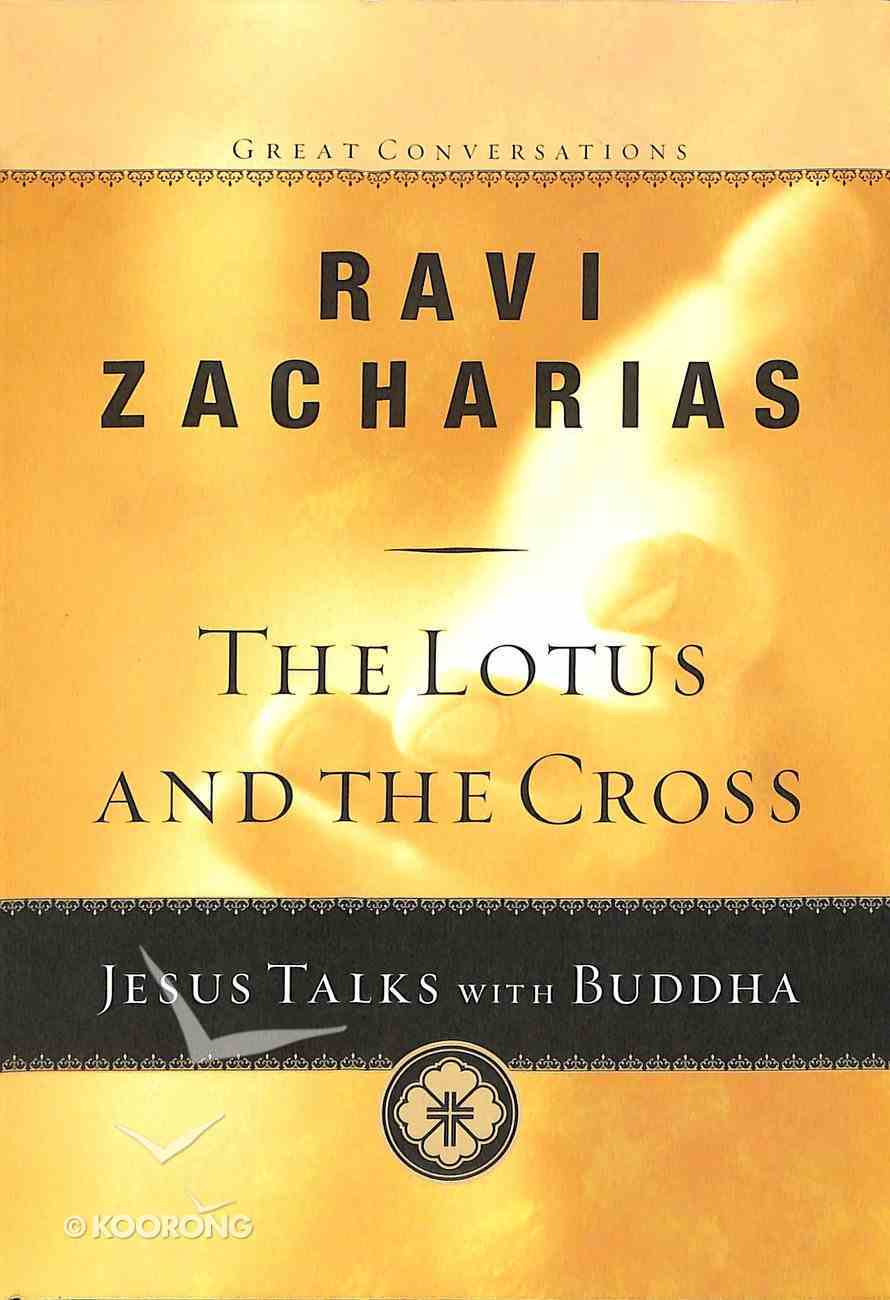 The Lotus and the Cross (#01 in Great Conversations Series)
aRavi takes a scholarly yet imaginative approach to apologetics. The dialogue he sets forth in this unique drama will educate, enthrall, and enlighten you-and everyone you share it with-for years to come.a BRUCE WILKINSON, AUTHOR OF THE #1 NEW YORK...
Order now to secure your copy when our stock arrives.
0 Available. Expected to ship July 2020.
---
Expected to ship July 2020.
---
Free Shipping
for orders over $99.
aRavi takes a scholarly yet imaginative approach to apologetics. The dialogue he sets forth in this unique drama will educate, enthrall, and enlighten you-and everyone you share it with-for years to come.a BRUCE WILKINSON, AUTHOR OF THE #1 NEW YORK TIMESBESTSELLER THE PRAYER OF JABEZ aThe works of Ravi Zacharias are a vital resource around our house, and this latest addition to our intellectual arsenal is delightfully different: a vivid, dramatized meeting of the minds through which the truth of the gospel-and Dr. Zachariasas impeccable logic-shines forth with enjoyable clarity.a FRANK PERETTI aRavi Zacharias is a first-rate thinker and a preeminent Christian apologist. With The Lotus and the Cross,Zacharias now demonstrates that he is also a gifted and imaginative writer. This captivating dialogue not only clears up confusion about the claims of Christ and Buddha, but also provides us with a highly entertaining read.a CHUCK COLSON aWith signs of spiritual warfare all around us, this book challenges all Christians-male and female-to arm up and engage the enemy. Its pages are chock-full of fascinating insights and solid, practical, biblical advice. Itas a must-read for everyone who takes seriously Christas command to aFight the good fight.aa MARY KASSIAN, PRESIDENT OF ALABASTER FLASK MINISTRIES
-Publisher
Have you ever wondered what Jesus would say to Mohammed? Or Buddha? Or Oscar Wilde? Maybe you have a friend who practices another religion or admires a more contemporary figure. Drop in on a conversation between Jesus and some well-known individuals whose search for the meaning of life took them in many directions -- and influenced millions. Popular scholar Ravi Zacharias sets a captivating scene in this first in the intriguing Conversations with Jesus books. Through dialogue between Christ and Gautama Buddha that reveals Jesus' warm, impassioned concern for all people, God's true nature is explored. It's a well-priced, hard cover volume readers will want to own, and also share with others.


From the Hardcover edition.
-Publisher
PRODUCT DETAIL
Catalogue Code 

306513

Product Code 

9781601423184

ISBN 

1601423187

EAN 

9781601423184

Pages 

96

Department Academic
Category Apologetic
Sub-Category General
Publisher Multnomah Publishers
Publication Date 

Nov 2010

Sales Rank 

5083

Dimensions 

183 x 127 x 7

mm

Weight 

0.073

kg
Frederick Anthony Ravi Kumar Zacharias was born into a nominally Christian (Anglican) Indian family in Madras in 1946, and grew up in Delhi. He was an atheist in his youth, but had a conversion experience after reading John 14:19 while recovering from a suicide attempt at age 17. Ravi emigrated with his family to Canada in 1966. He earned his M.Div. degree from Trinity International University, Deerfield, Illinois, in 1972.

Since 1971, when he first ministered to GIs and POWs in Vietnam, Ravi has spoken all over the world in great halls and universities including Harvard, Princeton, and Oxford.

He is listed as a distinguished lecturer with the Staley Foundation and has appeared on CNN and other international broadcasts.

The author of numerous books, he powerfully mixes biblical teaching and Christian apologetics. His weekly radio program, Let My People Think, is broadcast over 1,500 stations worldwide, and his weekday program, Just Thinking, began airing in November 2004. He is president of Ravi Zacharias International Ministries.

Some of his publications include Beyond Opinion: Living the Faith We Defend; The End of Reason; Walking from East to West; The Grand Weaver; Cries of The Heart; Recapture the Wonder: Experiencing God's Amazing Promise of Childlike Joy, and Jesus Among Other Gods: The Absolute Claims of the Christian Message.

Ravi has been married to his wife Margie since 1972, and they have three adult children.
Introduction
 
Writing this book has been an incredible experience. I spent scores of hours in temples with monks and with instructors of students of Buddhist thought. The discussions I had were always cordial and delightful. Over many a cup of tea, we lingered and talked about life's deepest questions and contrasting answers.
 
Having enjoyed such rapport with those who embrace the Buddhist worldview, I found it difficult to highlight the deep differences between Buddhism and Christianity and not bring offense. Those differences may be discomforting, but they are real. Even the answers the monks gave to my questions were not always the same depending on which school of Buddhism they represented. At times there was frustration on their faces when the questions became tough and their answers dissimilar. But even in the midst of disagreements, they drew comfort from the fact that, for them, agreement was not as important as the pursuit itself.
 
I will always be grateful for their courtesy and hospitality. Although we have radically different answers to life's fundamental questions, we dare not shrink from asking the hard questions just to avoid discomfort.
 
Although a book like this could be slanted any way one pleases, some fundamental ideas are inescapable and must be engaged. In that sense, at least, I trust I have presented the ideas fairly and subjected them to scrutiny. Many of those I talked with will be reading this, and I look forward to their responses. Jesus and Buddha cannot both be right. The lotus is the symbol of Buddhism; the cross, the symbol of the Christian faith. Behind the two symbols stand two diametrically opposed beliefs. I ask you, the reader, to examine the message of each, using both your heart and your mind. It is worth the exercise because it will determine your destiny. One day we will all find out that being respectful and sincere does not give us license to be wrong. Truth demands investigation and commitment. Our conclusions must be in keeping with Truth that can be tested. To be handcuffed by a lie is the worst of all imprisonments. May the God of all truth lead you to the Truth that sets you free indeed.
 
Prologue
It is the first blush of dawn as I step into this long-tailed boat after haggling with the boatman for a suitable price. His jolly countenance and leathery skin tell a story all their own. His toothless grin is a cartoonist's dream, and a comb has not visited his sparse scalp for ages. If one has to wake up this early, the sight of him beats the face of a clock any day.
 
He has agreed to take me on a journey along the famed River of Kings. We wend our way through back canals that teem with life, dotted by the corrugated iron rooftops along shores that house a large part of this megacity. A sense of nostalgia surfaces within me as the slumbering multitude begins to stir among the backdrop of temples and pagodas spiraling toward the sky. It is as if the calendar collides here, the past, present, and future all speaking in unison. The morning air is fragrant with aromas ranging from lemongrass to fish sauce, all being prepared for the day's consumption. Yes, the food here wins the palate of virtually every traveler. This is a city I have
visited often and its people are among the most winsome in the world. The smiles, the graces, and the charms exude as in no other land I know. A carefree attitude toward life is writ large in the cultural ethos, and strangers make you feel very welcome, even when one may have just cheated you into buying a fake name-brand watch or a pirated copy of the latest movie.
 
I am very much at home on this continent, for it reminds me so much of the land of my birth. But there is a reality here that compels me to ask some hard questions about life. Within this culture, the most reverent of expressions mix with the most unashamed abandon for the sensual. I see a monk walking in the distance, a bowl for begging in his hand, but I also see a man who spends most of his day waylaying tourists and seducing them with pictures to come and visit a nearby brothel. He does that from dawn to dusk, seven days a week. It is quite a juxtaposition: the monk, austere and in pursuit of nirvana; the man, with a roguish smile, promising a different kind of bliss.
 
Here a cultural immersion would be impossible without visiting a host of temples—the Emerald Buddha, the Reclining Buddha, the Golden Buddha, and a long list of others. But here, too, the newspapers sound a somber tone. The income from prostitution, they declare, exceeds the entire national budget. Here, drugs and AIDS have ravaged the population, and sincere politicians are trying desperately to deal with it. But this very city is exploited by money-hungry opportunists who bring in planeloads of men, promising them orgies to fulfill every imaginable craving.
 
And so as I sit in this sputtering boat, smothered in a misty spray, I feel nearly drowned in a sea of emotions. How does one talk about the eternal when both religion and riotous living argue that nothing is permanent? An odd mix of the glory and the shame of humanity within this microcosm ignites a series of difficult questions.
 
As we make our way down the canal, able to look almost directly into the living quarters of those who live along its shores, I cannot shake the memory of a newspaper article on the front page the previous day. It told the story of a young, attractive woman who left home to earn a living, only to pay the heaviest price of all: the devastation of AIDS. This a summary of that story:
 
At seventeen, young and beautiful Priya decided to head to the big city to work. Within hours of her arrival, the very friend who had enticed her with the promise of big money mercilessly raped her. Thus began a fourteen-year stretch of untold heartache and tragedy. As if to mend Priya's torn spirit, the "friend" found her a job as a seamstress. But even there Priya found no relief from the plundering ways of those she had cast her lot with. She was soon being used and abused to deviant ends, only with a new twist—she was paid for satisfying their perverse pleasures. By the age of twenty-three she had become a full-fledged prostitute, managed by a handful of thugs who
shared in the spoils.
 
Fate struck hard one day when she became pregnant. For a few months her profession was put on hold. Inevitably, financial strain set in, and she could hardly wait to give birth to the child so she could give it away, then return to the sordid life that had enslaved her.
 
But a more devastating shock awaited her: She discovered that she was HIV-positive. She could not discontinue her lifestyle, for she needed the money to treat her disease and hang onto life. Hardened, calloused, and almost vengeful, she continued to sell her services to hundreds of customers, including bankers, businessmen, and doctors, of whom she kept a detailed record. She knew she was signing each man's death warrant, but she was drowning in despair, and her life had lost all value.
 
Eventually she could no longer hide the disfiguring marks of her disease. Blisters blanketed her body. She resorted to desperate methods in search of a cure, even boiling a toad and drinking the
water, a practice that villagers believed might cure her. She made numerous attempts to kill herself, only to fail each time. Finally Priya poisoned herself once more, and this time she set her house on fire and lay down for the last time, enshrouded in flames.
 
Her once-beautiful body was reduced to ashes. No one would even come close to her charred remains for fear of infection. She died alone. And not far from her others played the same
deadly game, thinking that this same end would never be theirs.
 
How can I forget this story? My heart is heavy as I remember it. Are some of the faces I see this morning headed toward the same fearsome future? I am told that hundreds, if not thousands, have made their way to this very city over the years, and that the script has been the same for scores of them.
 
What, Lord Jesus, would You have said to Priya, had she brought her decrepit body and aching heart to You? (Actually, many women in similar situations did come to Jesus.)
 
And what would Buddha have said to her, this being a land where 95 percent of its people are Buddhists? Interestingly, the faces of suffering were what led Gautama (the birth name of Buddha) to pursue the answers to such grief, and in that pursuit, he became the Buddha, the "Enlightened One."
 
A waterfall of questions flows over me, and my mind is caught in a vortex of possibilities. What, I wonder, would Buddha or Jesus say to each other if they were in this boat with me, breathing the pungent smells, witnessing the extreme sights, hearing the lively sounds, and discussing the plight of this young woman? Many Buddhist scholars have drawn parallels between Buddha's and Jesus' teachings; one noted scholar even called them "brothers." Is that an accurate portrayal? Or did this scholar, among others, completely miss the fundamental differences?
 
I let my imagination take a ride and picture just such a conversation.
Bestsellers in Apologetic