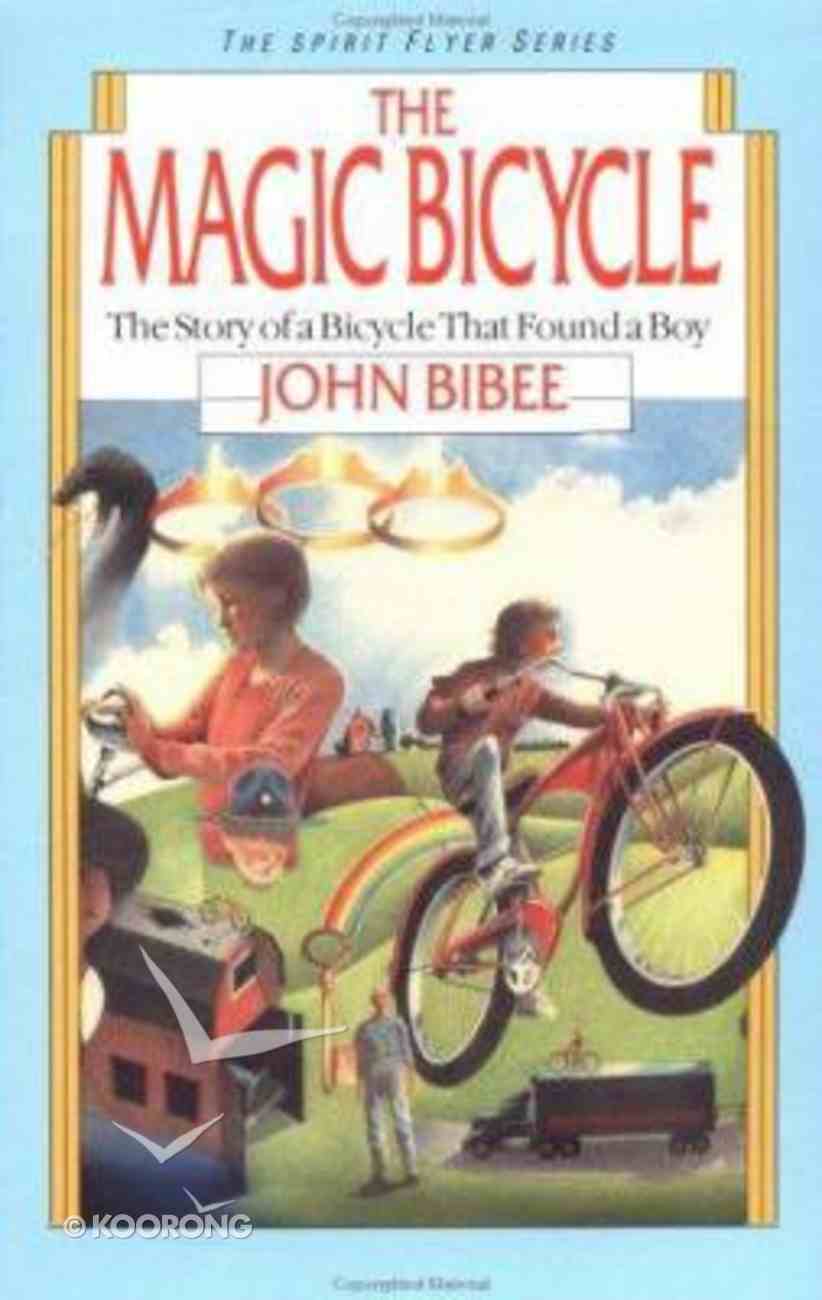 The Magic Bicycle (#01 in Spirit Flyer Series)
1. The Bicycle That Found a Boy2. Fixing the Spirit Flyer3. The Magic in the Bicycle4. The Rain and Mr. Grinsby5. Fire at the McCradles'6. Grounded Again7. The Offer of a Trade8. Mrs. McCradle's Thank You9. The Cobra Club Strikes10....
---
Free Shipping
for orders over $99.
1. The Bicycle That Found a Boy2. Fixing the Spirit Flyer3. The Magic in the Bicycle4. The Rain and Mr. Grinsby5. Fire at the McCradles'6. Grounded Again7. The Offer of a Trade8. Mrs. McCradle's Thank You9. The Cobra Club Strikes10. Barry's Wild Ride11. The Day of the Bicycle Contests12. Remember Joe13. Work to Do14. The Parade at Six in the Morning15. The X-Removal Plan16. A Visit with Grandfather Kramer17. The Deeper World18. Fighting Tragic with Magic19. Into the Mouth of Darkness20. The Centerville Bureau of Children and Parent Relations21. The Slingshot of the Kings22. Unlocking Their Chains23. Much to Learn about Magic24. What Happened to Horace Grinsby and Barry Smedlowe25. Maybe He Went Deeper
-Publisher
"Once there was a magic bicycle that found a boy," begins this tale of adventure and suspense. When John Kramer comes across an old, rusty Spirit Flyer bicycle, he finds it far from ordinary. First, the bike helps him save a neighbor's barn from burning. Then it brings him into conflict with the boys in the Cobra Club, a representative of Goliath Toys and other forces that not only want John's bike, but want it destroyed.While John learns about the Magic in the bicycle, every reader will be delighted as they join him for this fantastic ride.
-Publisher
John Bibee is the author of 8 adventure books in the Spirit John Bibee is the author of 8 adventure books in the Spirit Flyer Series and 8 mystery books in the Home School DetectivFlyer Series and 8 mystery books in the Home School Detectives series. Some of his books have been read during children'es series. Some of his books have been read during children's story hours broadcast on radio stations across the countrys story hours broadcast on radio stations across the country. Several have also won awards from Christian Home & School . Several have also won awards from Christian Home & School C
1. The Bicycle That Found A Boy
2. Fixing The Spirit Flyer
3. The Magic In The Bicycle
4. The Rain And Mr. Grinsby
5. Fire At The Mccradles'
6. Grounded Again
7. The Offer Of A Trade
8. Mrs. Mccradle's Thank You
9. The Cobra Club Strikes
10. Barry's Wild Ride
11. The Day Of The Bicycle Contests
12. Remember Joe
13. Work To Do
14. The Parade At Six In The Morning
15. The X-removal Plan
16. A Visit With Grandfather Kramer
17. The Deeper World
18. Fighting Tragic With Magic
19. Into The Mouth Of Darkness
20. The Centerville Bureau Of Children And Parent Relations
21. The Slingshot Of The Kings
22. Unlocking Their Chains
23. Much To Learn About Magic
24. What Happened To Horace Grinsby And Barry Smedlowe
25. Maybe He Went Deeper
Bestsellers in Confident Readers (Age 8-12)