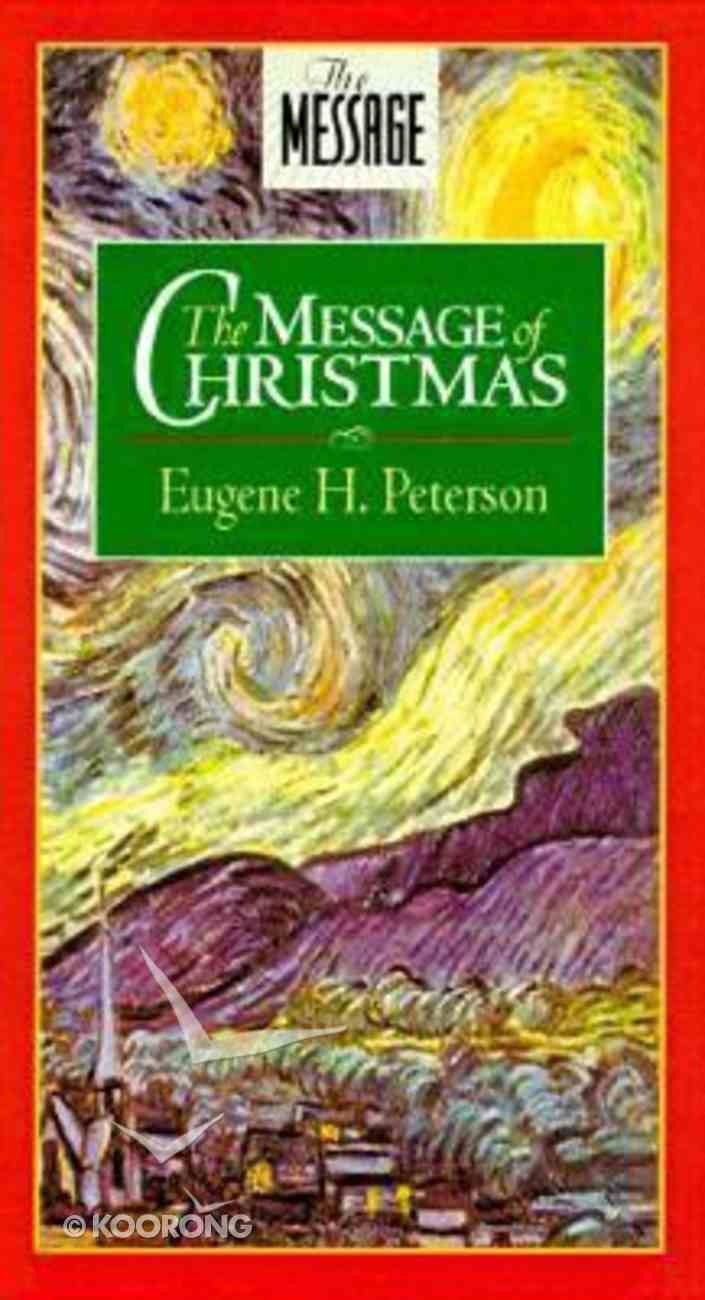 ---
Free Shipping
for orders over $99.
30 Pages
-Publisher
More thabn two thousand years ago, the universe was shaken by the birth of one ordinary, yet extraordinary child. That miraculous birth unfolded as a stunning paradox: unremarkable by human standards, yet utterly profound by God's during his life on earth, Jesus was both fully human and wholly God; though mankind routinely overlooked his significance, the entire cosmos celebrated upon seeing his glorious face. Centuries before Jesus came in the flesh, the Hebrews expected and longed for his coming. Today, believers worldwide cherish accounts of his life, death, and resurrection and eagerly anticipate his return. A compilation of startling Old Testament prophecies and rich gospel accounts - drawn from "The Message", Eugene H. Peterson's immensely readable contemporary Scripture translation - "The Message Of Christmas" uses fresh, personal language to lead you to an intimate and life-impacting rendezvous with the one who is the very message of Christmas.
-Publisher
Written in the Message style, this product includes scripture regarding the prophecy of Christ's coming, the Christmas Story of Christ's Birth and a special section entitled: The Savior Lives On.A Savior ForetoldOld Testament scriptures told us of Christ's coming. The wonderful plan that God was putting in place to a plan for sanctification of His creation. The passages from Isaiah, Jeremiah, Zechariah and Luke show how God worked in people's lives and hearts to open their thinking to the Messiah's coming.The Birth of a SaviorPassages from Luke and Matthew tell the story of a primitive birth, a beloved son, the visit of the magi and Elizabeth and Mary's ponderings as they await their special children. In Message text the story unfolds of this awaited King that came to earth in the form of a human child, ready to grow, serve and die for the sins of mankind, past, present and future.A Savior Lives OnThe reader will meet Jesus as a child presented in the temple from Luke. From Colossians, the preeminence of Christ is presented. "He was there before any of it came into existence and holds it all together right up to this moment". The text ends with Celebrating the Visit of Christ from Luke 68:69 -- "Blessed be the Lord, the God of Israel; he came and set his people free. He set the power of salvation in the center of our lives, and in the very house of David his servant".
-Publisher
Dr. Eugene H. Peterson is a pastor, scholar, author, and poet. He has written nearly thirty influential books including, Praying with the Psalms; Praying with Jesus; Reversed Thunder; Leap Over a Wall; Run with the Horses and Answering God , but he is best known for The Message: The Bible in Contemporary Language a contemporary paraphrase of the Bible.
Eugene Peterson was educated at Seattle Pacific University, New York Theological Seminary, and Johns Hopkins University, and in 1962, Peterson became founding pastor of Christ Our King Presbyterian Church in Bel Air, Maryland, where he served for 29 years before retiring. He is Professor Emeritus of Spiritual Theology at Regent College in Vancouver, British Columbia retiring in 2002.


His most recent publications have been the Spiritual Theology Series including Eat this Book; Christ Dances in a Thousand Places; The Word Made Flesh; The Jesus Way and the fifth volume Practising Resurrection.
Koorong -Editorial Review.


Bestsellers in Tracts/booklets