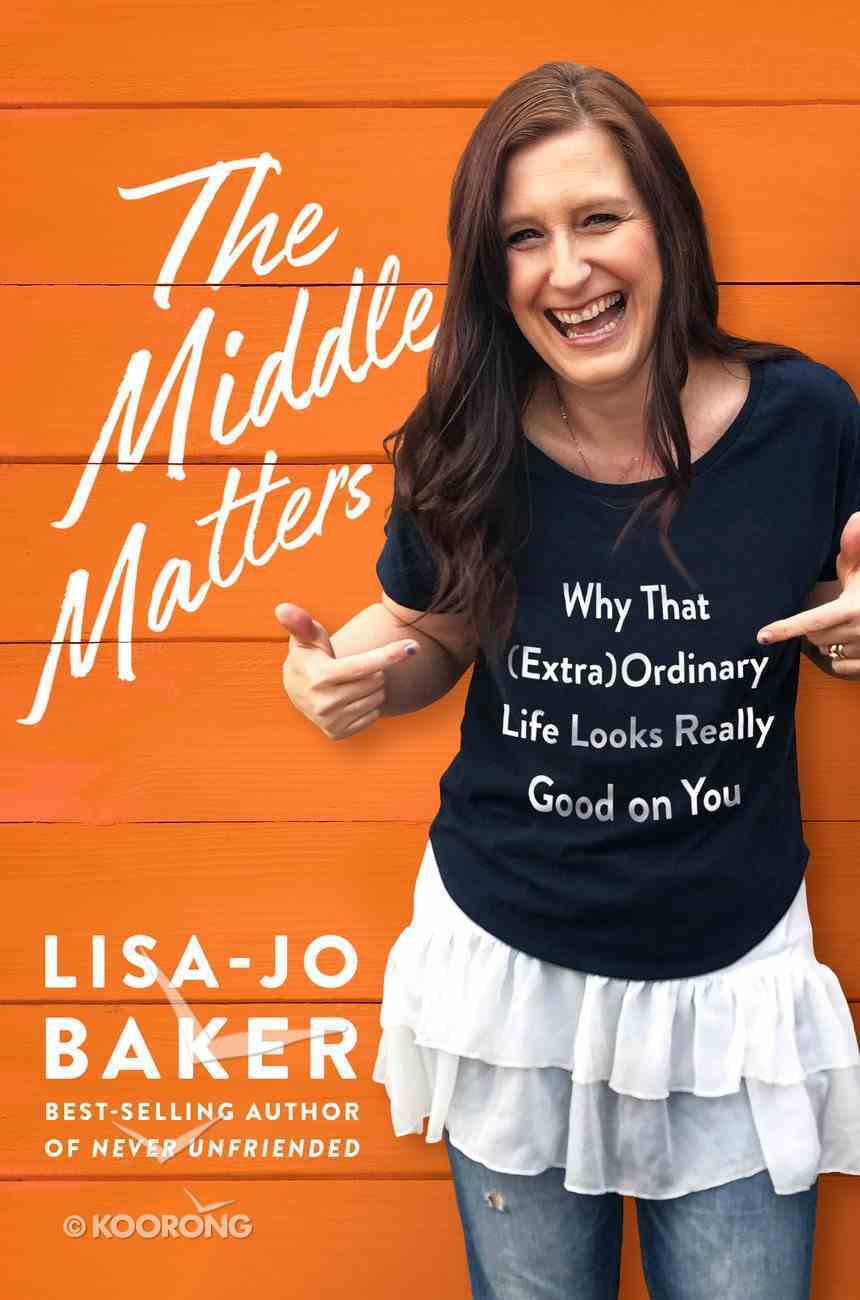 The Middle Matters: Why That Ordinary Life Looks Really Good on You (Extra)
:The best-selling author of "Never Unfriended" reflects on the middle years of life and embraces the meaning found in the ordinary. The middle years of life get a bad rap and tend to be described as flavourless. The thrill of...
Out of Stock
Available to Order
---
Expected to ship in 4 to 5 weeks from Australia.
---
Free Shipping
for orders over $99.
:The best-selling author of "Never Unfriended" reflects on the middle years of life and embraces the meaning found in the ordinary. The middle years of life get a bad rap and tend to be described as flavourless. The thrill of the chase has slowed down and we settle into familiar routines. But if we take a second between school bus schedules and finding new Instant Pot recipes to actually see it for what it is, we'll find the wildly ordinary glory steeped within the squishy bits. In this collection of bite-sized essays, Lisa-Jo Baker invites women to get a good look at their middles and gives permission to embrace them--beyond what the media, the mirror, the magazines, or our teenagers say. Through gutsy, beautiful storytelling, she admits out loud what most women are thinking about marriage, parenting, failure, and how badly we all want to buy those matching Magnolia Market mugs. Her delicious stories come from not being afraid of who she is. Because Lisa-Jo knows that although the middle is a place where we might have outgrown the shape of our jeans, we have finally grown into the shape of our souls.
-Publisher
PRODUCT DETAIL
Catalogue Code 

537601

Product Code 

9780525652847

ISBN 

0525652841

EAN 

9780525652847

Pages 

272

Department General Books
Category Women
Sub-Category General
Publisher Waterbrook Press
Publication Date 

Jul 2019

Sales Rank 

51647

Dimensions 

215 x 145 x 20

mm

Weight 

0.374

kg
LISA-JO BAKER, a former attorney and longtime Community Manager at (in)courage, is the bestselling author of Never Unfriended and Surprised by Motherhood. Her writings have resonated with thousands and been featured on Huffington Post Parents, Bible Gateway, Fox News, Christianity Today, IF Table, and more. She is the co-host of the Out of the Ordinary Podcast and a sought-after national speaker who considers connecting with women in real life the best part of her job. Lisa-Jo and her husband of over twenty years live just outside Washington, DC, with their three very loud children.
:
Welcome to the Middle!


Once upon a time, I had no idea what a muffin top was. That time, my friend, has long passed. I'm in my forties now, and me and my muffin top—that chubby little bulge of tummy that refuses to stay tucked away behind the top button of my jeans but insists on grinning around at the world over the top of my waistband—are on the closest of terms. Maybe more so than I would like.


It is one of the landmarks of my middle. Literally. And metaphorically. Because when I bump up against that chunky midsection that I'm trying to accept, it's with the same surprise I feel late at night after I've exhausted another day of being in charge of my own life and the lives of all these people who live in our house, plus the cats.


I keep waiting to feel like a grown-up while going through all the grown-up motions. I'm not sure if these are the things you're supposed to say out loud. But isn't it weird to have all the responsibilities of a grown-up and look like a grown-up and have a grown-up job and a grown-up mortgage and still not be sure how or when to change the air filters?


It's a shock to find myself here in the middle. I'm pretty much at the halfway point of my life. What on earth? In true muffin-top character, it is not glamorous. This middle is mostly the part where it's easy to pass by without slowing down long enough to pay attention. You just want to tuck that chubby midsection into your pants, drape a flowy shirt over it, and call it "good enough." You know what I'm talking about, yes? What this middle, muffin-top stage of life looks like?


Maybe like me you've now lived longer with your man than without, and that's insane. Because when you were eighteen, maybe you also swore you'd never be anyone's wife or mother, and now he knows every nook, cranny, and (let's face it) pockmark of your "wonderland." And you are a reluctant connoisseur when it comes to the entire range of his nightly snore repertoire. You both wear glasses and secretly enjoy going to Costco. Your kids are toddling into middle school or high school instead of just around your living room. And while on the outside you look like a grown-up, your inside self is still frozen in time at your favorite age, but you no longer recognize the tween celebrities featured on magazines at the checkout aisle.


Instead, you leaf through the home decor mags while waiting to pay for the mound of food it now takes to feed your constantly starving tiny humans who are no longer tiny and sometimes walk into the living room, wink, and call you "Woman!" Your kids are human Shazams for all the songs you no longer recognize on the radio, and when you watch movies these days, you're rooting for the parents instead of the angsty teens.


There are so many soccer and football and dance practices that you often drive to the wrong location or show up at the wrong time on the wrong day. And maybe there's still one little left in the house who gets schlepped along to all the bigs' sporting events, and you end up feeling bad for her and sometimes for yourself that you both have to be on the bleachers so much. None of these are bad things—they're just the pebble stuck in the bottom of your shoe that at first is only annoying but on the hard days makes you want to throw that shoe across the room.




Welcome to the muffin-top middle!


Normal feels all stretched out and squidgy around the edges when you're splitting time and to-dos, yet it's the stuff of life and marriage and kids and work that everyone lives. And now there's also the reality of retirement as more than just that infomercial you used to fast-forward through but also something you will actually need in the no-longer-distant future. And there's the no-less-essential investment of fighting for time to keep dating the man you're raising kids with so you feel like a couple and not just a couple of people running a summer camp together.


Add to that the more mundane (but still significant) figuring out of new school systems that require you to give five days' advance notice to make a change to the bus schedule and how that complicates organizing playdates for while you're out of town. (Although your kids tell you that you're embarrassing them and "It's not a playdate, Mom; it's called hanging out.") But you're the grown-up, and while this still surprises you, this is the work of grown-ups: organizing the boring details that keep a family chugging along.


This is the stuff of our seasons right now. How we wake up to morning breath and steal quickie Sunday afternoon love and hope we can also squeeze in a just-as-sexy nap. These are the years of driving the curving bends of our neighborhood between school and practices and parent-teacher conferences and games and study sessions and recitals and the gas station and the grocery store, every morning and afternoon and evening and never getting tired of the golden, glorious trees while we often get tired of the driving.


This is just what we do. We drive and feed and keep breaking our days and our lives wide open. We have winding conversations about sports and pop culture and try to explain Kim Kardashian to our tweens while our middles get squishier. It takes work to keep paying attention, to keep parenting with intention, because there's a lazy side of us that just wants to hit cruise control and sleep in now that our kids are sleeping through the night. Please tell me you know what I'm talking about here?


But the stakes are higher now because our kids can remember our mistakes. Combine that with the side of insanity that comes with finally understanding what work you feel meant and fulfilled to do, while also constantly having to juggle it with the schedules of everyone else who lives in your house, including the pets. I've been giving eye drops six times a day to one of my kids and also one of my cats. What on earth? At night the fish need to be fed, and I never remember to actually go pick the tomatoes we tried to grow in our garden this year.


Over and over and over again.


The middle is the place where our lives really live. This is the place where we have grown into the shapes of our souls even as we might have outgrown the shapes of our jeans.


The middle is the marrow. The glorious ordinary of your life that utterly exhausts you but that you might have finally started to understand in ways you didn't at the beginning. Listen, I'm not asking you to seize the day here; I'm just asking you to actually see it. Even if just out of the corner of one eye. The middle is worth remembering while you are actually living it, because you won't pass by this way again.


So it's worth slowing down long enough on random afternoons to really look around at your life and your husband and the human beings you are raising together and let it sink in that you've grown up and that it's good. You are living at the very center of what will be your story. Right now. Let's stop long enough to read a few lines of these lives out loud. Because trust me when I tell you, sister, the middle is worth reading.


The middle is ridiculous and terrible, so funny and so much fun, and also so exhausting. But it's the stuff of the stories our kids will one day tell about us. These are the days of miracle and wonder. The stories we will one day tell each other as we laugh at all those times we spent all those hours carpooling kids all over the planet of our neighborhood. These are the stories that will line our empty nests one day. We are living the memories that will be passed down to the ones who are still living their beginnings. The middle is the gift you didn't know you were right in the middle of, friend.


Seriously.


Let's relish the middle. Let's savor the middle. Let's embrace the middle in all its mundane glory. Because maybe the middle isn't so bad. Maybe we don't want to hide it, ignore it, or miss it. Sister, maybe the middle is the part where it really starts to get good!