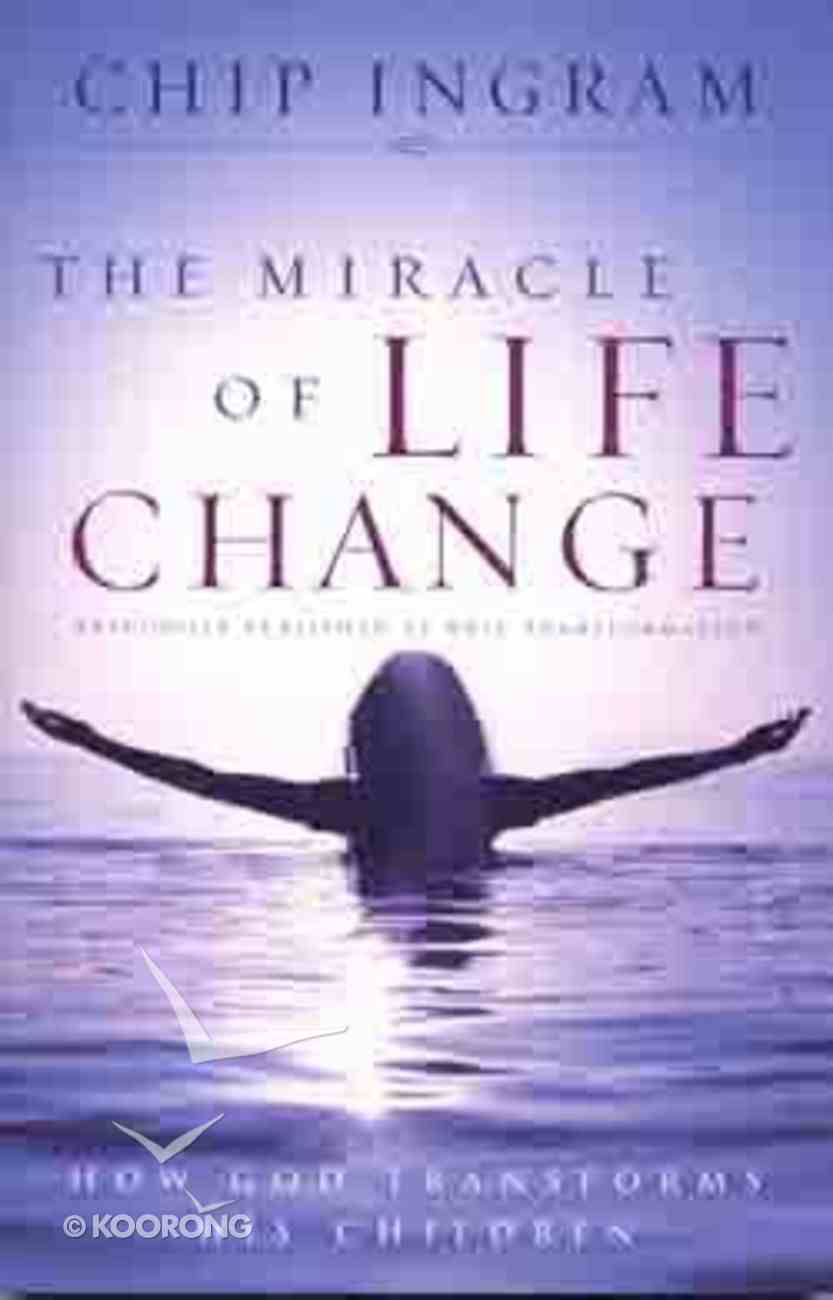 The Miracle of Life Change
What stunts growth in the Christian's life? First, we fail to understand our identity in Christ. Second, we don't understand the process by which we grow. Chip Ingram challenges readers to understand and achieve spiritual metamorphosis in their own lives....
---
Free Shipping
for orders over $99.
What stunts growth in the Christian's life? First, we fail to understand our identity in Christ. Second, we don't understand the process by which we grow. Chip Ingram challenges readers to understand and achieve spiritual metamorphosis in their own lives. Formerly published as Holy Transformation."
-Publisher

So, you've been 'born again'...now what? You were made for intimacy, beauty, impact and adventure, but you still struggle to break old habits and keep your temper in check. Is it really possible to become more like Christ? It is! In this series, Chip explores how life-change really happens, even in the midst of frustrating, painful or mundane circumstances. Don't give up!

-Publisher
Chip Ingram is the President and Teaching Pastor for Living on the Edge, an international teaching and discipleship ministry. His passion is to help everyday Christians actually "live like Christians" by raising the bar of discipleship. A pastor for over twenty years, Chip has a unique ability to communicate truth and winsomely challenge people to live out their faith. Chip is author of nine books, including God: As He Longs for You to See Him; The Invisible War; Love, Sex, and Lasting Relationships; Good to Great in God's Eyes: 10 Practices Great Christians Have in Common and most recently Overcoming Emotions That Destroy: Practical Help for Those Angry Feelings That Ruin Relationships
<div>1. What Does A Changed Life Look Like?<br><br>2. Morphing Is For Everyone!<br><br>3. Three Reasons We Fail To Morph<br><br>4. The Key To Morphing: Life-change<br><br>5. Where Do We Get The Power To Morph?<br><br>6. A Look At One Transformed Life<br><br>7. Let's Get Practical Or God's Game Plan<br><br>8. How To Know If You're Really Morphing<br><br>9. Why Is Living This New Life So Difficult?<br><br>10. The Process Of Morphing: How To Break Out Of A Destructive Lifestyle<br><br>11. Why Trying Hard To Be Holy Doesn't Work<br><br>12. God's Spiritual Training Program</div>
Bestsellers in Christian Living