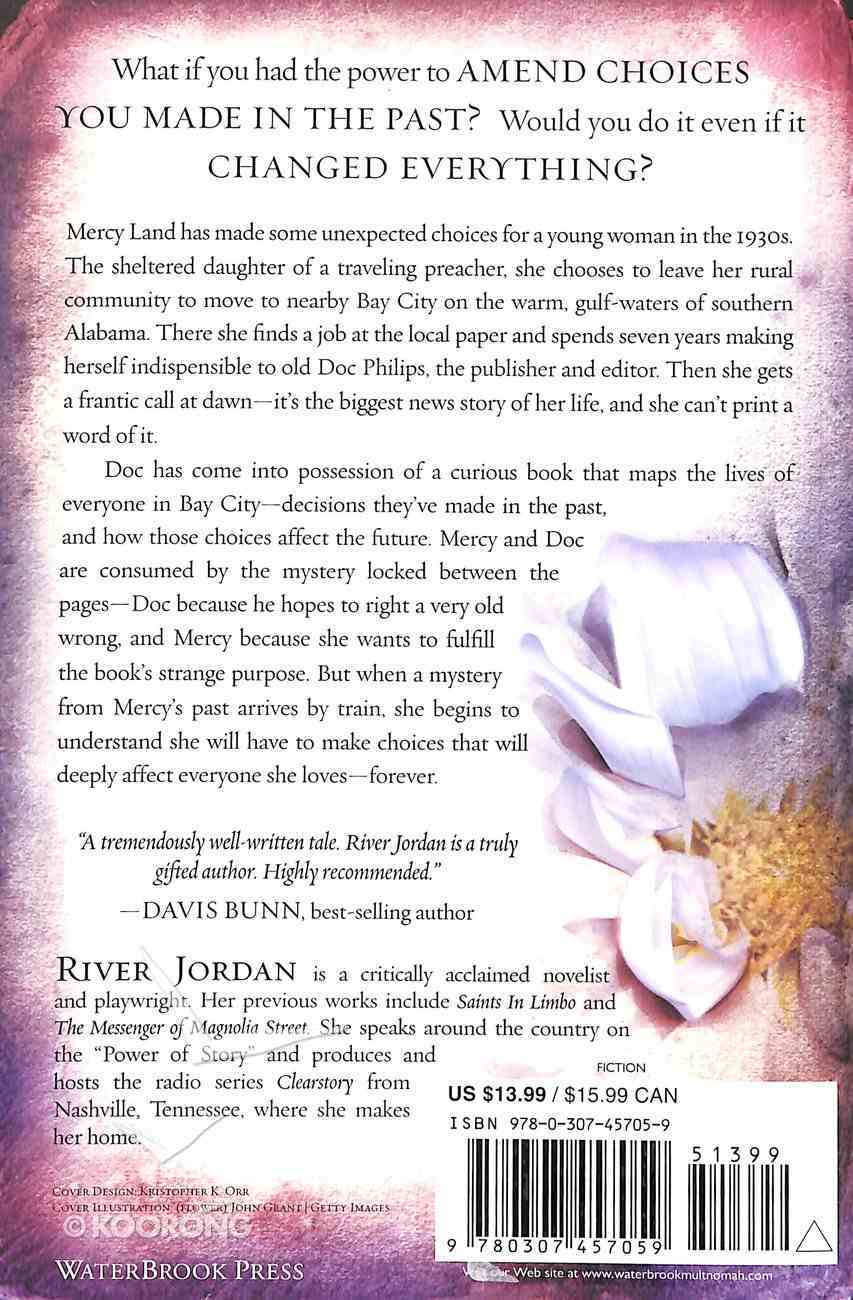 The Miracle of Mercy Land
1. The novel opens with the birth ofMercy Land along the backwaters of Bittersweet Creek, a small, rural outcropping of people where she is raised, but the character later moves to a nearby city. Have you ever found yourself living...
Out of Stock
Available to Order
---
Expected to ship in 4 to 5 weeks from Australia.
---
Free Shipping
for orders over $99.
1. The novel opens with the birth ofMercy Land along the backwaters of Bittersweet Creek, a small, rural outcropping of people where she is raised, but the character later moves to a nearby city. Have you ever found yourself living in a place very different from the one you grew up in? Did you remain there or return ;home ; again? How did the change of place or the return home affect your life? 2. There is an undercurrent of the influence thatMercy's mother and father had on her life by their steady presence and certain faith. However, another person in Bittersweet Creek also had a lot of input into her upbringing. How was Aunt Ida's influence different from that ofMercy's parents? How mightMercy's life have turned out differently without Aunt Ida? Have you had a similar experience in your life?Were there other family members or friends who contributed to your life experience in a distinct way? 3. Part of Mercy Land's moxie comes from her rural upbringing where she had the freedom to run and romp along the trees and creeks in a fearless kind of way. How was your childhood similar or different? Do you believe having a more sheltered life as a child might cause a person to be more hesitant or fearful of the unknown? 4. One thread running through the novel isMercy's relationship with Doc. Perhaps in the beginning Doc was a bit of a hero, a larger-than-life character toMercy, who saw him and his wife, Opal, as a king and queen of Bay City. Throughout the story their relationship changes as he becomes her boss, her mentor, and ultimately her friend. Have you experienced relationships that have gone through stages or seasons of change? How have those changes affected the relationships? 5. When Doc's book shows up, at firstMercy is hesitant to touch it.Why?Why does she change her mind? Do you think she ever really regretted seeing the book and wished that Doc had kept the secret to himself? 6. Mercy becomes dedicated to solving the riddle of the book, fulfilling that purpose, and it being returned to where it belonged. What characteristics does she possess that allow her to tread through such mystical, supernatural waters? 7. John Quincy's appearance in Bay City stirs up conflicting emotions and revelations for Mercy.What stands out to you as the most prevalent internal conflict? As the story progresses, how does Mercy come to terms with these things? 8. The story is told through the eyes of three main characters: Mercy, Doc, and John Quincy.Whose voice resonates most with you? Did you enjoy hearing the story from one character's point of view more than the others'? If so, why? 9. The novel is set a few years before World War II, in 1938. How did this time period affect your experiencing the characters, the setting, and the events? 10. The book reveals the paths that people have chosen-and the ones that they have left behind. Have you ever considered some of the choices you made in life to have been a major turning point for you? Do you think that your life would have been much different had you taken another road or that you would be exactly where you are at this point in your life regardless? Is life more a destiny created by our choices or an inherent fate that cannot be changed? 11. A strange woman shows up in Bay City in search of John Quincy. Ultimately, she knows about the book and wants control of it. Who do you think Pricilla really is? If she were a symbolic representation for something, what do you believe that would be? 12. John Quincy eventually experiences deep changes, but they certainly weren't the ones he was hoping for or expecting. Do you think he ultimately makes a change for the better? When you have experienced changes or events in life that have been different than you anticipated, was the outcome sometimes better than you expected? Have you learned things or built relationships through these unexpected turns of events? 13. Mercy comes to believe that the book is primarily a book of stories-one that illustrates clearly how those lives, those stories, interrelate and intersect. Do you believe that our choices affect not only our lives but also the lives of those around us? That even people we don't know are affected by our choices? 14. The daily newspaper in Bay City plays a significant role in the novel. Why is it so important? How does it affect the story's unfolding? Why do Doc and Mercy love the paper so much? 15. When you turn the last page of The Miracle of Mercy Land, what is the strongest impression the novel leaves with you? If you were to have one takeaway memory of the novel- something you could apply to your everyday world-what would it be?
-Publisher
What if you had the power to amend choices you made in the past? Would you do it even if it changed everything?
 
Mercy Land has made some unexpected choices for a young woman in the 1930s. The sheltered daughter of a traveling preacher, she chooses to leave her rural community to move to nearby Bay City on the warm, gulf-waters of southern Alabama. There she finds a job at the local paper and spends seven years making herself indispensible to old Doc Philips, the publisher and editor. Then she gets a frantic call at dawn—it's the biggest news story of her life, and she can't print a word of it.
           
Doc has come into possession of a curious book that maps the lives of everyone in Bay City—decisions they've made in the past, and how those choices affect the future. Mercy and Doc are consumed by the mystery locked between the pages—Doc because he hopes to right a very old wrong, and Mercy because she wants to fulfill the book's strange purpose. But when a mystery from Mercy's past arrives by train, she begins to understand that she will have to make choices that will deeply affect everyone she loves—forever.
 
"A tremendously well-written tale. River Jordan is a truly gifted author. Highly recommended." – Davis Bunn, best-selling author
-Publisher
PRODUCT DETAIL
Catalogue Code 

306488

Product Code 

9780307457059

ISBN 

0307457052

EAN 

9780307457059

Pages 

352

Department General Books
Category Fiction
Sub-Category General
Publisher Waterbrook Press
Publication Date 

Sep 2010

Sales Rank 

49123

Dimensions 

209 x 139 x 24

mm

Weight 

0.308

kg
River Jordan is a critically acclaimed novelist and playwright whose unique mixture of Southern and mystic writing has drawn comparisons to Sarah Addison Allen, Leif Enger, and Flannery O'Connor. Her previous works include The Messenger of Magnolia Street, lauded by Kirkus Reviews as "a beautifully written, atmospheric tale." She speaks around the country on "Inspiring the Passion of the Story" and makes her home in Nashville.
 
ONE
 
I was born in a bolt of lightning on the banks of Bittersweet Creek. Mama said it was a prophecy, and as she is given to having visions of the biblical kind, no one argues with her. She can match what she sees with ancient words, and truth be told, she is frightening with the speaking of them. Mama can swipe you with her eyes so that you feel like you have either been hushed or resurrected by God's own hand.
 
On the fateful day of my birth, there had been no signs, natural or otherwise, that foretold what the day would bring. No wild birds roosting in the trees, no funny-yolked eggs, no hints to suggest that a baby was about to show up in a stormy kind of way. The only visible condition at all had been Mama's fat feet. They were so swollen by that time that they were no longer like feet at all. That's what drove her down to the creek bed, searching out an herb known for helping such as this. She had on Daddy's big boots on account of the fact that not a single pair of her own would fit over her feet, and she had just managed to get down to the water's edge when the first thing happened: the storm came up. The second was I showed up, just as quick and sudden as the wild wind.
 
Mama tried to call for Ida, but her cries were snuffed by the rolling thunder. So there she was with bolts of lightning crashing all around, hitting the water—she told me she could feel that electricity run through her body, that it was like fire coming from the sky—then she cried out for mercy. That's how me and Mama came to have a private moment suspended in the crook of the bank. By the time Aunt Ida found us, the storm had passed, the clouds had given way, and the blue sky hovered above her like an eagle's eye. Mama said she took one look at me and said the only
name that came to mind. "Mercy," she whispered to me. I answered her with a wailing cry.
 
Bittersweet is a knotty gathering of simple people who live along the riverbank. The entire place is no more than a boot stomp. It has no official standing as a town at all. It is simply called that by the people who have built their lives along those banks. Had I stayed there, rocking on Aunt Ida's front porch, watching the water rise and fall, fearing the floods and staying on in spite of them, I wouldn't be in the middle of where I am now: Bay City. Well, they call it a city, such as it is. But it is nothing more, really, than a beautiful little town rolled out right around the warm, gulf water bay of southern Alabama. It is a city of refuge, bright with possibilities. Everyone who has ever crossed into this place feels that way right down to their toes. When you visit, it will make you believe that it is a place where you can live in fruitful fullness. All
sugar, no spice. Or at least that was what it was like when I arrived.
 
But that was seven years ago. Everything was more peaceful then, but now, it seemed that the whole world was on the verge of war. President Roosevelt said we were staying out of it, but the dark things that were happening overseas tugged at our ankles like a small, nipping dog. The world would not go away no matter how much we tried to shake it off. The events that lay before us as a nation were a large, uncharted territory, watery in their shifting possibilities. The only thing certain was that the future would have to reveal itself in due time, and most likely it would be different from anything we had expected. In the meantime we went through our daily routine with a type of laughter we hoped would stave off impending enemies and allow our sacred routines to remain a part of our carefully plotted lives. For the moment the edges of our existence played out sweetly, simply, and untouched by the things we knew were happening beyond the borders of our existence. There was a whole ocean between us and the trouble. It seemed like an ocean should be enough.
 
Maybe that's why, in the midst of our time of innocence and uncertainty, the very thing that happened to me was the most wildly unexpected: the mysterious wonder of something that I will attempt to understand fully for the rest of my days. I should make a feeble effort at explaining what took place. My words might be nothing more than a ripple across the waters of time, but they are surely better than no record at all. It began last winter along the Alabama shores. And it was all because of Doc. That's where the business started.
 
Doc Philips owned the Banner, and owning Bay City's only paper was better than being mayor. It was better than being anybody else in town. People trusted Doc with the most important thing of all—the truth.
 
The second best thing to owning the paper is what I did. I was Doc's assistant, and that meant I was really the assistant editor. To his credit, Doc tried to give me that title, but it didn't stick because people just called me Doc's girl. That's what they'd say 'cause it made it easy on them. No official title would tarry. They made up their own. Doc's girl. I didn't mind.
 
The Banner was my life, and I loved everything about it. It was a pinch-me-quick-I'm-dreaming kind of situation: the smell of the ink from the printer downstairs. I could probably typeset the whole thing, but that's Herman's job, though I've helped him in a rush, put on an apron, and hit the presses with him showing me the ropes. I know the smell and sound of every corner of the Banner. The ticker machines clicking off the news by the minute, going to sleep when nothing in the world is happening but then coming alive all at once when the wires are just burning up with stories. That's my favorite part of the job: getting the skinny on what's happening around the world before most folks have even had their morning coffee.
 
Sometimes we ran the stories just the way they were, straight off the wire, but other times Doc decided to give them a little local flavor. He'd tie in DiMaggio's home run with what one of the local boys did Saturday down at the park. That's the way he was— "bringing it home," he called it. "Let's just remember, Mercy," he'd tell me. "The news doesn't mean a thing at all unless we're bringing it home."
 
I always said, "You got it, Doc. Sure thing." But I didn't get a huge chance to bring the big news home. That was Doc's job. I wrote up the smaller stories that happened around Bay City, like all the events of people's lives that must be made public. Births and deaths, marriages and other procurements. Doc covered the real news—any criminal cases, bank robberies, and kidnappings. Since we hadn't had any of those, he mostly reported on things like the new traffic light going in and the worldwide news from the wire.
 
But that was before Doc's big secret showed up in town. It's not that I loved the paper less; neither did Doc. How could we? It was the heart of Bay City and the pulse of the world. But then something just appeared—from another world or time or, well, let's just say, it sure wasn't from around here. To say it became a distraction would be a flat-out lie. It became an obsession.Doc swore me to complete secrecy so that no one in town knew a thing. But that wasn't the toughest part; he swore me to keep the secret even from everyone in Bittersweet Creek. All of them thought I was going about my regular life, taking care of business and printing the news. They were completely wrong. The greatest story in the entire world had fallen right into my hands, and I couldn't print a word of it.