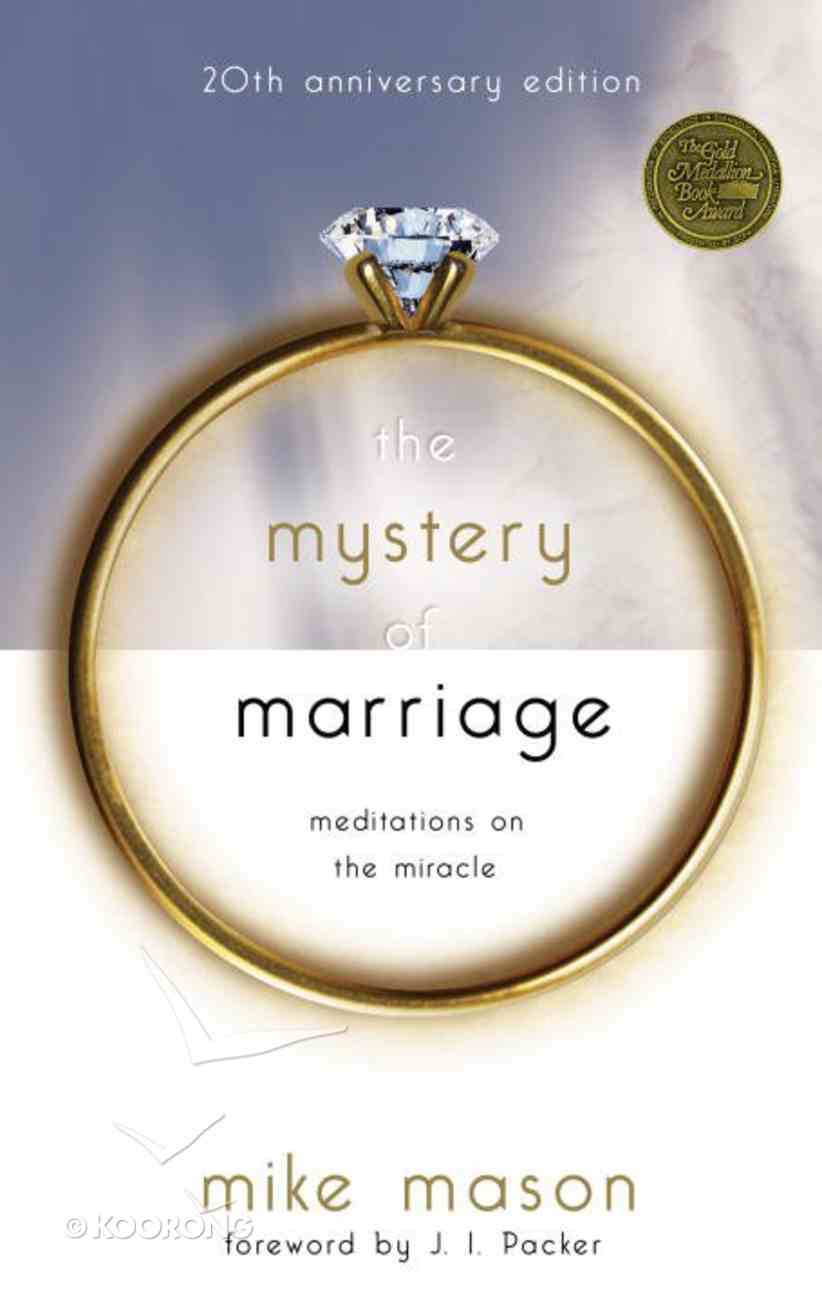 The Mystery of Marriage (20th Anniversary Edition)
Meditate on the Spiritual Significance of Marriage In the 20th Anniversary Edition of this Gold Medallion Award winner, Mike Mason goes on a poetic search to understand the wondrous dynamics of committed love. In highly readable, first-person style, Mason's...
Instant download
---
Expected to ship within 3 hours from Australia.
---
Read using our free app on your tablet or mobile!
---
Free Shipping
for orders over $99.
Meditate on the Spiritual Significance of Marriage

In the 20th Anniversary Edition of this Gold Medallion Award winner, Mike Mason goes on a poetic search to understand the wondrous dynamics of committed love. In highly readable, first-person style, Mason's writing stimulates readers' thoughts and prayers and propels couples to deeper intimacy. "A marriage is not a joining of two worlds," says the author, "but an abandoning of two worlds in order that one new one might be formed." Rich chapters on "Otherness," "Vows," "Intimacy," "Sex," "Submission," and an all-new chapter on "Oneness" lift readers to view the eternal, spiritual nature of this faith-filled, "impossible," wild-yet wonderful-frontier.

"An outstanding achievement. Rarely has a book aroused in me so much enthusiasm as has the combination of wisdom, depth, dignity, and glow that I find in these chapters."
-J.I. Packer

"Absolutely exquisite. It reaches down deep into our innermost being, revealing, revitalizing, rewarding. A real classic."
-Gigi Graham Tchividjian

"A drop everything book. Mason deals with the stunning paradoxes of the mystery, the problems, and the glories of marriage. I don't need to read any other book on the subject."
-Elisabeth Elliot

Story Behind the Book

"Over the twenty years since its publication, many couples have told me that they've read my book aloud to each other. This always amazes me and gives me great joy. I'm also amazed that many single people have read it. Either way, my goal is for hearts to be warmed by the mystery of divine love. I want couples to enter into deeper intimacy by thinking together about the mystery of marriage-about how their love, besides being a gift of God, reflects the very love He has for Himself in the Trinity. For God is not a bachelor, and throughout the Bible marriage is a supreme picture of the nature of God's love and of His kingdom. I want people who read my book to feel so soaked in these wonderful, divine mysteries that it deepens their reverence for marriage and inspires them to greater love."
-Mike Mason


From the Trade Paperback edition.
-Publisher
James Innell Packer was born in Gloucester, UK, in 1926, the son of a clerk for the Great Western Railway. Packer won a scholarship to Oxford University, where he obtained a BA (1948), MA (1954), and PhD (1954). It was at Oxford that Packer attended lectures by C.S. Lewis, whose teachings would become a major influence in his life. In a meeting of the Oxford Inter-Collegiate Christian Union, Packer committed his life to Christian service.

After briefly teaching Greek at Oak Hill College in London, Packer entered Wycliffe Hall to study theology and was ordained in the Anglican Church, becoming a presbyter in 1953. From the 1950s through the 1970s, Packer held several academic positions at Tyndale Hall, Bristol and Oxford. During this time, he became recognized as a leader in the evangelical movement in the Church of England. In 1978, he signed the Chicago Statement on Biblical Inerrancy, which affirmed the conservative position on inerrancy, although he is not a literalist with regard to the creation narratives of Genesis. On the matter of ministry roles in the church, Packer is a complementarian. His theology is Reformed, though he is open to ecumenical rapprochement with Anglo-Catholics, which has drawn sharp criticism from some quarters. He famously parted ways with Martyn Lloyd-Jones over this issue in the late 1960s.

In 1979, Packer moved to Vancouver, BC, Canada, to take up a position with Regent College, where he would become Professor of Theology, a position he retains beyond the age of 90, even though his vision is now seriously impaired. Since 2009, Packer has been theologian emeritus of the Anglican Church in North America.

During a ministry career spanning over six decades, and through his prolific written output, Packer has distinguished himself as one of the leading theologians and church historians of our time. His book Knowing God (1973) has become a modern classic, and he has done much to stimulate wider interest in the great works of Puritan spirituality - a great passion of his. He has been a frequent contributor to and an executive editor of Christianity Today. Packer served as general editor for the English Standard Version of the Bible (2001), an evangelical revision of the Revised Standard Version of 1971. His other books include, A Quest for Godliness, Evangelism and the Sovereignty of God, Growing in Christ, and Rediscovering Holiness.

Packer and his wife Kit have three adopted children. Packer rises early at four in the morning, and until he lost his eyesight wrote by means of his old manual typewriter. He loves seriously hot and spicy food, and his favourite book of the Bible is Ecclesiastes.
Mike Mason is the best-selling, award-winning author of The Mystery of Marriage; The Gospel According to Job; Practicing the Presence of People; and many others. He has an M.A. in English and has studied theology at Regent College. He lives in Langley, BC, Canada, with his wife, Karen, a family physician. They have one daughter, Heather, who is pursuing a career in dance and the arts . The Blue Umbrella is Mike's first novel.
Bestsellers in Relationships