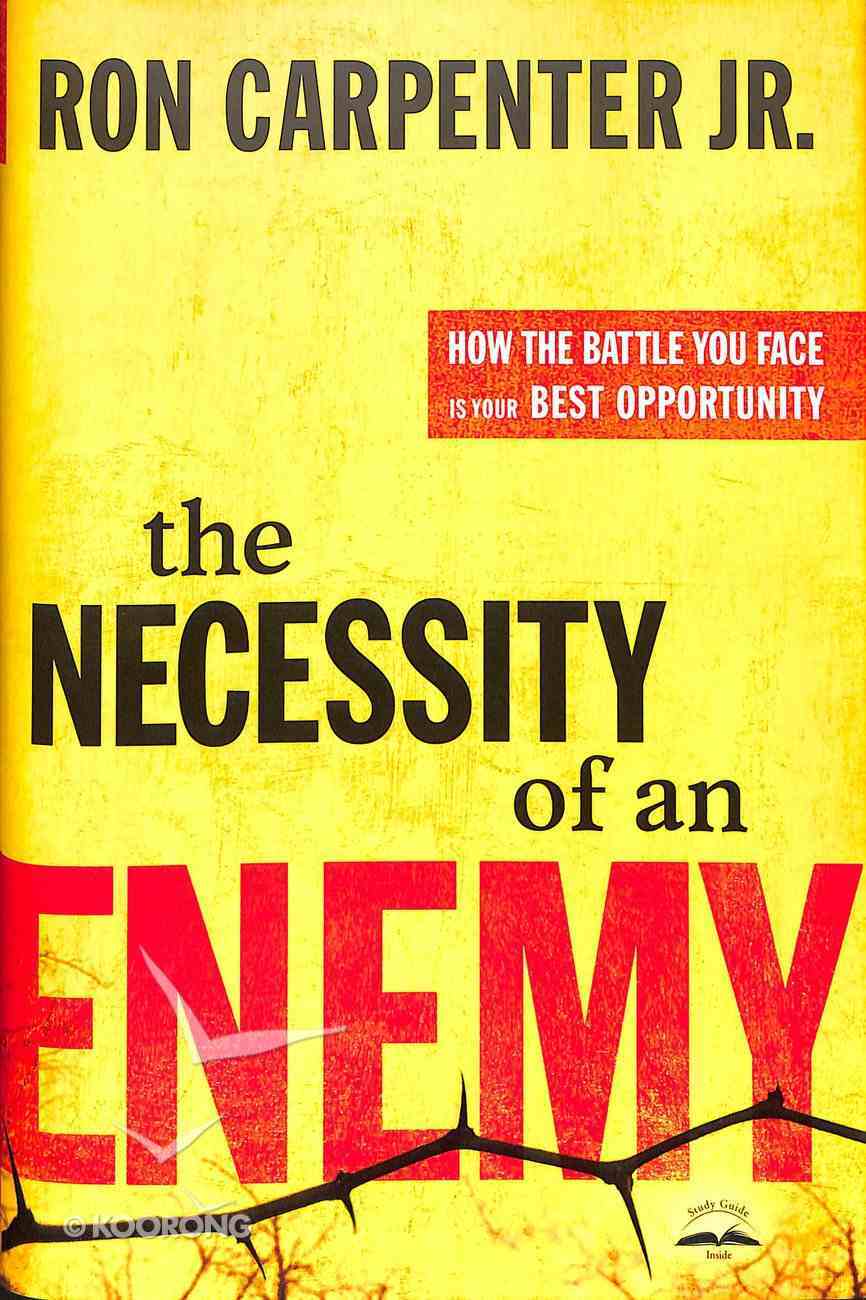 The Necessity of An Enemy
"Blessed are those who are persecuted for righteousness' sake, for theirs is the kingdom of heaven." —  Jesus   Congratulations!  Your Goliath Has Arrived.   Enemies often seem to get in the way of our plans, leaving...
Out of Stock
Available to Order
---
Expected to ship in 4 to 5 weeks from Australia.
---
Free Shipping
for orders over $99.
"Blessed are those who are persecuted for righteousness' sake, for theirs is the kingdom of heaven." —  Jesus
 
Congratulations!  Your Goliath Has Arrived.
 
Enemies often seem to get in the way of our plans, leaving us discouraged and disoriented.  But what if these obstacles are a part of God's plans for us?
 
Our enemies - whether our weaknesses, circumstances, deep-seated sins, other people, or any other challenge—can become our stepping stool to new breakthroughs in life, if we leverage the opportunity.  Just as David's encounter with Goliath transformed him from a delivery boy to a national hero, our enemies can be a blessing in disguise - if only we recognize and face them head-on.
 
Human nature tells us to flee our enemies, but Ron Carpenter will challenge you to embrace them. In The Necessity of an Enemy, Ron shares engaging insights like: 

   • God intended for every enemy to be your footstool for promotion.
   • If you want to be number one, you can't just beat number nine.
   • The depth of your battle gives you insight into the greatness of the potential God put in you, and enemies are your key to unlocking that potential.
   • All battles are fought over your future, not over your past or present circumstances.

Are you ready to reach your next goal in life? Do you want biblically-based wisdom to help defeat every enemy and move with confidence to your destiny?  The Necessity of an Enemy will give you the tools to change your perspective – and find meaning and purpose in all of life's trials.
-Publisher
RON CARPENTER, senior pastor of Redemption World Outreach Center in Greenville, South Carolina, is recognized worldwide as a leader of leaders. As both a senior pastor and an entrepreneur, Ron's relentless passion for developing potential in others permeates his organization. After graduation from Emmanuel College, Ron and his wife, Hope, founded their church in 1991 with three members and a passion for breaking down walls of racism, crossing cultural lines, and changing poverty mindsets. Today the congregation numbers over 16,000 and the ministry of the church includes 150 community outreaches, television and web programming, and a worldwide network of over 1,500 affiliated churches, Ministers, and leaders.
I want you to consider something that may surprise you.

If you had lived in Judea in the first century and were acquainted with Jesus and His ministry, who among His twelve disciples would you have said was a close friend? Which disciple was Jesus's enemy (not the Enemy, Satan, but a
flesh-and-blood enemy)?

His friends are usually identified as Peter, James, John, and the other faithful disciples. The enemy? That seems a no-brainer—has to be Judas, the notorious betrayer, right?

Now, I warn you: I'm going to mess with your mind, because in a moment I want you to consider a principle of the Christian life that's often ignored. But first, back to my questions about Jesus and His relationships. Let's look first at a familiar incident involving one of Jesus's "buddies," the fiery, foot-inmouth Peter. One day Jesus and the disciples were having a discussion, and Peter got high-fives for saying that Jesus was "the Christ." But a little later, when Peter
pulled Jesus aside and started criticizing the Lord for saying that He had to go to Jerusalem to suffer and die, Jesus got in Peter's face and said, "Get behind Me, Satan!" (Matthew 16:13–23.)

Whoa! What happened to the "nice" Jesus?

Now flash forward a few days to the Garden of Gethsemane, where Jesus is in agony about upcoming events. Judas shows up with a group of soldiers who intend to take Jesus prisoner. The betrayer steps forward, greets Jesus, and gives Him a kiss. Jesus (who of course knows what's up) responds, "Friend, why have you come?"

The kiss is the secret signal to the soldiers that "this is the guy," and they rush forward to grab Jesus. One of the disciples—yup, it's Peter—pulls his sword and takes a whack at the head of a servant of the high priest, slashing off
the poor man's ear. Jesus will have none of it and, after telling His "friend" he has it all wrong and needs to sheath his sword, says, "Do you think that I cannot now pray to My Father, and He will provide Me with more than twelve legions
of angels? How then could the Scriptures be fulfilled, that it must happen thus?" And later Jesus also says, "All this was done that the Scriptures of the prophets might be fulfilled" (Matthew 26:50–56).

Now, I ask you, taking into consideration these two incidents involving Peter and Judas, which man ultimately did the most to advance Jesus's mission on earth? Who did Jesus call "Satan"? Who did Jesus greet as "Friend"? Here's the point. The message Jesus was trying to get across to Peter was something like this: "You do not have in mind the things of God. You are trying to keep Me from the cross. Right now you are an enemy." And later, Jesus effectively
said to Judas, "You have come to sell Me out so that I will complete My destiny. You, therefore, are My friend."

In this circumstance—which because of the Cross is the most important moment in history—Judas did for Jesus what Peter and the other disciples could not do.

You already know that God's ways, including His view of enemies, are different from our ways. But an understanding of how God uses people coming against us and situations that are very negative can change everything. If we are to make authentic progress in life, we have to face up to the necessity of an enemy.

The Worst Day…or the Best Day?

Have you ever had a day when, by about noon, all you wanted to do was go home and crawl up in your mama's lap?

I know, grown men are probably not supposed to say things like that, but likely my worst "run to mama day" was September 24, 2007. Without that day I don't think I would ever have learned the life-altering message of this book.
On that fall day, there I was—a well-known pastor in the community of Greenville, South Carolina—sitting in a room with steel walls and no windows, sweat running down my sides, my head pounding like a drum as three FBI
agents fired one question after another at me.

As you may have guessed, I wasn't in the federal building in Greenville that day to conduct any pastoral duties. No, I was under investigation for possible criminal activity. As the hours dragged on, all I could think was, How did I end
up here? Why is this happening to me?

And the irony of my predicament was that it was my purpose in life and my calling to be a pastor that had gotten me into this mess!

Let me tell some of the backstory.

In 2002, our church in South Carolina was approached by a businessman from another state. He seemed to be a consummate professional and came highly recommended. He told us of a program he'd developed that would lead
people who were down on their luck, particularly single moms, toward home ownership. This was a turnkey proposition, as this businessman had already prequalified and lined up home builders, financial institutions, and representatives
from other legitimate companies so that an individual with few resources and bad credit could go through financial training and rehabilitation and become a first-time home buyer.

I loved the idea because helping people is why I'm breathing, and it always has been a huge emphasis in our church. Any day I can show people in need how God can help them realize their dreams and get on their feet—that's a very good day for me! In short order we got all over this idea.

But, having been in ministry for a while and knowing that talk is cheap, I insisted that we not go into this deal blind. So our team did our due diligence by conducting extensive, hands-on investigations into every aspect of the project.
We ran credit checks on the businessman and even took the whole plan to the attorney general of South Carolina for review. He gave it a thumbs-up, so we enthusiastically kicked everything into gear.

About 250 people from our church got involved—almost all of them single moms. The early results were amazing! People began making sense of their finances and changing bad habits. My best friend and ministry partner—my
wife, Hope—and I were like two kids locked in a candy store. We were thrilled and so grateful at what God was doing for single moms and their kids. We should not have been so excited. What we didn't know was that our business partner was meeting secretly with wealthier members in our congregation, enticing them to invest in the project. Checks for thousands of dollars were flowing into our business "partner's" bank account.

After about ten months, when the businessman had accumulated over $1 million (most of it from our church members), he stopped returning phone calls. The next thing we knew, the money had disappeared and so had he. It was no comfort at all to find out later that the FBI was on his trail for similar fraud in another state.

All hell broke loose. After a phone call informing me of the crisis, I cut short a speaking engagement in San Francisco and flew home. Many people were very angry at me because I was their pastor—the one who had encouraged them to
participate in the program. Call after call came asking me or the church to refund money. But I had never had that money, and neither I nor the church could do anything about it.

Media outlets had reporters, once my friends but now resembling enemies, pushing cameras in my face. Local talk-show hosts, who had previously applauded our community impact efforts, were now howling at us like ferocious
animals. Police were stationed in my front yard because of threats to my family from people who had once called me Pastor. I was a prisoner in my own house, my wife was depressed, and my kids had to change schools to escape ridicule from former friends. Our life had taken a major turn that we'd never anticipated. The pressure became so intense on my family and ministry, I wondered if I'd ever survive.

Every track record of success that had been laid, everything about me, my heart, and my motives was in question. In a million years I never would have dreamed I would be in this situation.

How would you feel if your life had taken this turn?

I'm certainly not minimizing any trial you may be facing now, but I do want you to understand what I endured so you can recognize the power of the truth I'm about to share! It will change your paradigm of how you see people
around you.

It was during this low point in my life that I felt I was surrounded by enemies, much like you may be feeling right now in your own battle in life. It was then I realized a truth firsthand (a principle I'll talk about more in depth later): the ultimate enemy of our souls is Satan, and I learned through my study of Scripture during my personal tragedy the truth about how he operates through people.

The Bible is clear: because we live in a natural world with natural authority established by God as unbreakable, people can be used by God to be the windows of heaven or by Satan to be the gates of hell.

That's how your real Enemy shows up, through people he uses as enemies. Enemies, therefore, aren't people who cut in front of you in the lunch line, or cut you off at the traffic light. They are people who have allowed Satan the  opportunity to work through them, as the gates of hell into your life, to oppose your destiny and your purpose; they set their desires against what God has in line for your life.

In a matter of days, my successful, comfortable life as the pastor of a growing, effective church crumbled. I had done nothing wrong, but people were accusing me of misdeeds, trampling on my good name, and calling me foul names. I felt surrounded by enemies.

What in the world was happening to me?

What about you? Are you facing something—or somebody—in your life now that is causing you pain and stress that just won't go away? Maybe it's a banker who won't give you the loan, a best friend who's stabbed you in the back, or a
family that no longer invites you to Thanksgiving? Are you baffled? confused? intimidated? threatened? heartbroken?

Maybe you have a plan or a dream that you know in your gut is your destiny, but something is standing in the way.

Enemies are the people, mind-sets, weaknesses, and situations in your life that try to destroy the passion you have for God's purpose and plans for you. I have some important news for you: to fulfill your purpose and stay true to your calling, you'll need to understand the reason for enemies. If you do that, then when they rise up against you, you will quickly recognize what's happening.

The truth is, it's not really them—it's the ultimate enemy, Satan, who is using them to try to sabotage and abort your future.

As I was determining how to respond to the enemies coming against me from all sides, I found one scripture that I hung on to like a drowning man grasping a piece of wood: "Our light affliction, which is but for a moment, is working for us a far more exceeding and eternal weight of glory" (2 Corinthians 4:17).

What this means is that all our afflictions or problems in life, no matter how horrible they seem, are not a big deal compared to the payoff for facing and enduring them. And the results for us in heaven will be great and eternal. You may not know me, but if you did, you would understand that I sometimes say things that have an edge to them. I grew up in a wide space in the road called Possum Kingdom, South Carolina. People there are known for saying what's on their minds in a blunt fashion. That's how I am as a pastor, and now I'm going to say something that may rattle you a bit:

You will never be an exceptional person if you fight only ordinary battles.

I had always prayed that God would use me exceptionally, let me stand out from the crowd, have me do things that had never been done before. But what I concluded, primarily after living through the story that is the basis for this book, was that I was going to have to fight battles I'd never fought before. And until this major crisis in my life, I had never put those two concepts together. What I know now for sure is that we all need a really good enemy now and
then. For example, in a sport like college football…

If you want to be No. 1, you can't just beat No. 9!

Honestly, the right fight can be a good thing in your life.

And if there are no enemies on your horizon, don't worry, they will show up in due time if you sincerely want to follow God in this world.

Ever since a guy named Job had a few problems, the question, Why do bad things happen to good people? has been on the lips of almost everyone alive. Having been directly impacted by this notion myself, I chose to write this book.

To be candid, I never had heard anyone (myself included) adequately explain why so much suffering can fall on a person who is just trying to live a godly life. Regardless of the type of pain each individual experiences, it's a universal
question that usually goes like this: "I know I'm not perfect, but I am trying really hard to do the right things. So why is my world falling apart?" Now it was my turn to ask the question.

Based on a profound personal crisis and some heavy lifting with the Word of God, this book is my attempt to deepen our understanding of the meaning of suffering.

The Bible's perspective on adversity is that it is always working for you. Sometimes God sends it. And even if He doesn't, He still uses it. So, as a biblical believer, I conclude:

There is no way to lose in any given situation.

I believe if we understand why we might be going through something, the grace and strength to see it through will be there. But if we don't know why tough things have fallen in our laps, it's hard to stay focused.

That wisest of all men, Solomon, once said, "In all your getting, get understanding" (Proverbs 4:7).

I was in a situation where I desperately needed understanding. I had to have it!

It was day by day, God and me, tears on the floor, my Bible open, clawing my way out of a hole. And every day God gave me a revelation of thought, another piece to the puzzle, and in time I saw the picture of what I was going through. I was in the process of moving on to a greater day, like what Paul wrote: "For a great and effective door has opened to me, and there are many adversaries" (1 Corinthians 16:9).

I realized that there's a pattern to how God moves us along in life: right before you open a new door of opportunity, there's some giant you have to slay. And in my land of giants, I had to rise above my pain and open that door. I saw the pattern, from Genesis to Revelation, revealed in the lives of men and women of the Bible as well as in what the Bible teaches. This inspired me to take action, to position myself for my future instead of wallowing in my pain and self-pity.

The arrival of an enemy in your life is a sign to you that this present season you're in is finally coming to an end. God often assigns an enemy as a catalyst for you to exit one season and enter another.

We might never have known anything about David if God had not arranged for Goliath to arise between David and his kingship. It's a compelling story—one day David was delivering cheese and biscuits and ended up killing a giant. The next day he was carried through downtown Jerusalem, with women hanging over balconies singing songs to his name. Would any of that have happened without a great enemy?

What would the nation Israel have been without Moses facing down Pharaoh before the great migration out of Egypt? Maybe those 450 years of slavery the Jews endured would have lasted much longer.

Even Jesus lived in anonymity until Satan determined that He was more than Joseph the carpenter's oldest boy.

Here's why I say an enemy is a necessity:

There's a Goliath, a Pharaoh, a Satan standing between you and who you are destined to become.

As you move through life and ascend to new levels of potential and breakthrough, you'll discover that your enemies are just as essential as your friends; in fact, they may be even more critical in your times of transition, if you'll recognize them for the stepstools they are for you.

Enemies are indicators to you that God is planning movement in your life, and transition is right around the corner.

I do want to make a couple of things clear: My intent here is not to turn you into an obsessive enemy hunter. The Bible teaches us to watch, not to search, for trouble. It can happen that the Enemy will use a demonic spirit to  challenge your purpose and rob you of your potential, but I believe this is rare. The vast majority of the time, your enemy will show up in the form of a person, a mindset, a situation, or an internal struggle. The remainder of the book explains all of this. And, I want to issue a particula r heads-up to husbands and wives and moms and dads. The enemy is not your spouse or your child! Marriage and parenthood are examples of a covenant relationship. These are meant to go the distance in life. They are usually incredibly challenging relationships and require huge amounts of work.

I will give you this—there are times when it seems like a spouse or child is the enemy! But he or she is not. The enemy is the issue between you that may be driving you crazy! Our responsibility is to fight the problem, not the person.

As a result of my journey, I want you to know that if you are in crisis or feeling beaten down for any reason, life has not handed you something sour just because life doesn't like you. Life has handed you an opportunity to open a great door. But you need a correct perspective on your difficulty. This is how I like to describe it: An enemy arising in your life is a key indicator that the next stage of your future is about to be born.

That's what this book is about. This is a perspective out of the Word of God that saved my life. I had to learn that an enemy can be a blessing, not a curse. I journeyed through the Bible to make sure that this principle is consistent throughout Scripture. I found that in the life of many great Bible heroes, it was a great enemy that catapulted each of them to a great place and multiplied their influence.

• It was Potiphar's wife, through her false accusations, who sent Joseph to prison and ultimately opened the door for him to become a prince (Genesis 39).
• It was Pharaoh whose persecution served to multiply the Israelites into a mighty nation (Exodus 1).
• It was also Pharaoh who, by multiplying the power and influence of Moses, forced this fugitive to become the historic leader of a mighty nation (Exodus 5–12).
• It was Delilah who caused Samson to renew his strength and multiply his influence by killing more Philistines in his second season than he did in his first (Judges 13–16). 
• It was Goliath who took David from obscurity to notoriety, from sheepherder to king (1 Samuel 17–18).
• It was a shipwreck that enabled Paul to share the gospel with the inhabitants of an entire island (Acts 27–28).
• Even Jesus Himself had to fight the enemy of His own will in the Garden of Gethsemane (Luke 22:39–45) to receive a name above all names, that at His name every knee would bow and every tongue confess that He is Lord (Philippians 2:9–11).

I reached the lowest point of my life during this series of events, but when I knew for certain that I wasn't going through pain for the sake of pain, I found hope. I discovered I was going through pain for the sake of promotion.
There's something about facing life's enemies that enlarges your capacity. I'm not just talking about external challenges. I'm talking about internal changes that increase our ability to grow stronger, to have the "fuel" for future battles. You can see what battles with enemies did for Joseph, Moses, Samson, David, Paul, and others. For me, by God's grace and mercy, this biblical principle fueled me to overcome great days of adversity and changed my  perspective on life, family, ministry, and my future.

Overcoming these enemies creates such a great internal strength that you become like Joshua and Caleb who, after looking at the giants in the land, said in so many words, "Aw, they're just bread for us! We will eat these giants!" The
other ten spies were scared, but Joshua and Caleb saw the giants that would become the fuel for power and strength (Numbers 14:9).

In my darkest day, when I felt I had no friends, I opened the Word of God and found many friends with many similarities. Then I understood why the Bible says we're "surrounded by so great a cloud of witnesses" (Hebrews 12:1).
I could hear the cheers of David, Joshua, Moses, and the others ringing in my ears: "Get up, Ron! Get up! This is not your worst day! This is God's greatest opportunity!"

That's why there's a necessity for an enemy.
Bestsellers in Christian Living