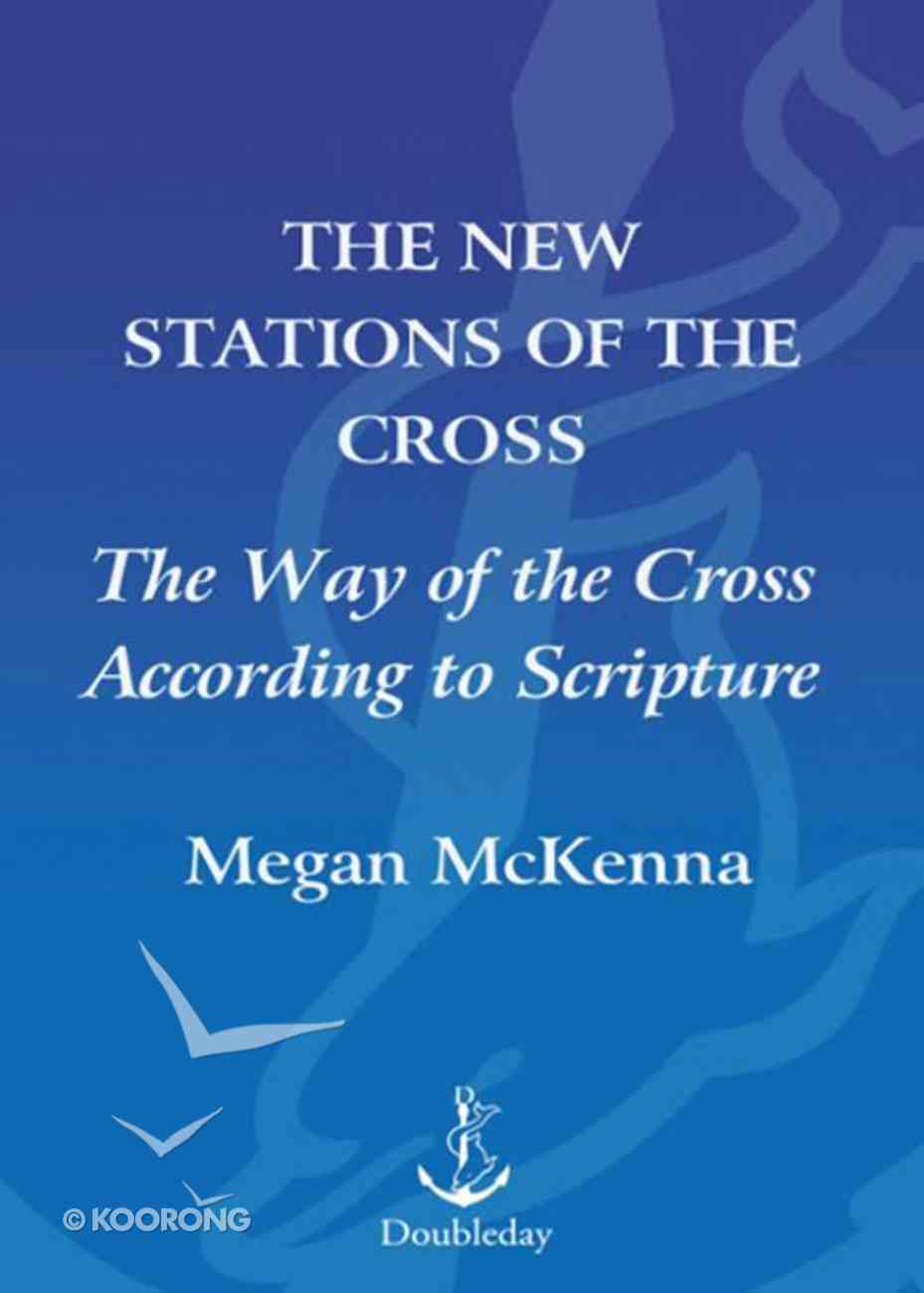 The New Stations of the Cross
One of today's most popular and respected Catholic writers presents the first guide to the new Stations of the Cross, reflecting the revisions made by Pope John Paul II. A traditional devotion for Catholics for more than four hundred...
Order now to secure your copy when our stock arrives.
0 Available.
---
Free Shipping
for orders over $99.
One of today's most popular and respected Catholic writers presents the first guide to the new Stations of the Cross, reflecting the revisions made by Pope John Paul II.

A traditional devotion for Catholics for more than four hundred years, the Stations of the Cross commemorates the route Jesus traveled from being sentenced to death, crucified, and then buried in a borrowed tomb on the outskirts of Jerusalem. In the past, the devotion included a number of stations based on popular stories of piety and devotion, but not mentioned in the Gospels. Over the past eight years, however, Pope John Paul II has made substantial changes to the devotion in his Good Friday celebrations of the stations, removing those not found in the Bible and replacing them with stations that more accurately follow scriptural accounts of Christ's passion.

The revised Stations of the Cross focuses on the condemned Jesus and on the community walking the way with him to the cross. Unrelieved by stories like Veronica's wiping blood off the face of Jesus and his meeting with his mother; this is a story of an execution. The new stations deal directly with the pain, suffering, betrayal, and injustice to which Jesus was subjected. In explaining his reasons for revising the stations, the Pope has said that the alterations are intended to serve as a model for other devotions and to encourage the return to the Scriptures as the source of and inspiration for contemporary worship.

In this helpful, authoritative guide, Megan McKenna presents the fourteen new stations with the scriptural passages that Pope John Paul II uses on Good Friday. She also provides a basic introduction to the practices and reflections on the importance of the devotion for present-day Catholics and Episcopalians.
-Publisher
PRODUCT DETAIL
Catalogue Code 

396044

Product Code 

9780385508155

ISBN 

0385508158

EAN 

9780385508155

Pages 

144

Department Academic
Category Theology
Sub-Category Christology
Publisher Image
Publication Date 

Jan 2003

Dimensions 

215 x 139 x 12

mm

Weight 

0.170

kg
Megan McKenna is an internationally known author of more than thirty books, lecturer, retreat leader, spiritual director, and peace and justice activist.
:First Station

JESUS PRAYS IN THE GARDEN OF OLIVES

Scripture: Luke 22:39-42, 45-46

He went, as usual, to the Mount of Olives with the disciples following him. When they reached the place, he said to them, "Pray now, that you may be faithful to what God wants." Then he withdrew from them about a stone's throw, knelt down, and prayed, "O Holy One, if you are willing, remove this cup from me; yet, not my will but yours be done." . . . When he rose from prayer, he returned to his disciples but found them sleeping because of their grief. He said to them, "Why are you sleeping? Rise up and pray so that you may be faithful."

Or

Scripture: Mark 14:33-36

Jesus took Peter, James, and John with him to the garden. He was greatly distressed and troubled. He said to them, "My soul is sorrowful, even unto death. Remain here. Watch." He fell on the ground and prayed if it were possible, this hour might pass from him. "Abba, Father, all things are possible to you; remove this cup from me: yet not what I will, but what you will."

Prayers and love are learned in the hour when prayer has become impossible and your heart has turned to stone.

THOMAS MERTON

It begins: the Way of the Cross, the Via Crucis, as Jesus, the Holy One, turns his face toward Jerusalem and the destiny of all the prophets of God. This is the time of decision, of determination and conscious prayer in the face of the destruction that lies ahead. This is where Jesus begins to face down his fear. And it is where we, as his followers, begin to face down our fears. Death is close, but it is the death that is conceived in hate, in violence, leading to the deliberate, extinction of another's life. It is the death of the prophet, the truth-teller, the person who serves and obeys the will of God above the will of any nation, any government, any religious body, any group with affluence or power. His death will be a long time coming, in anguish, terrible aloneness, betrayal, and horror, the vicious horror that only human beings can inflict on one another.

Jesus enters the garden deliberately, in preparation, intending to face his fears by facing his God, his Father. His greatest fear is to offend his Father, to disobey his own calling, his integrity, and the word of God in his life. This is the prayer of hope and desperation, of acceptance and commitment, the cry for strength and endurance, the prayer that he might live, and if he must die, to die with hope, with steadfast belief in his Father, and if need be, without consolation. He prays to be faithful to what God wants, and exhorts his followers, already caught in the grip of grief and fear that grows palatable, to pray with him and to pray for themselves in this time of darkness.

The Father is the God of life, of love, of forgiveness and freedom for all. And he himself has come for life, life ever more abundant and creative. And so Jesus falls before his Father, on his knees, begging and pleading for life instead of the cup of bitterness that others will offer him as they wrest his life from him in violence. But this night, this garden will be the place of freedom and obedience for Jesus, and he will look and watch and pray. He will contemplate and will himself to a death of nonviolent and loving response toward all, even toward those who seek only to kill him, silence him, and stop such goodness and unbearable truth from existing in a human being in this world.

Contemplation is a long, loving look at reality, especially reality that is painful and hard to look at, but this is what Jesus does. He bends before his Father and his God and recommits himself in obedience to life, the life of the freedom of the children of God. He prays for peace, for holiness and wholeness even as his life begins to pour forth from him. He lives and faces terror and violent death and reveals to all how to exist in spite of the hate and harm that others intend for us. We must learn. We must imitate. We must pray and we must demonstrate again as we begin this journey to the cross that we are dedicated to a life of nonviolence and a life of contemplation, in obedience to our God, following on the way of our brother and master, Jesus.

Our history tells us of those who walked this way, struggling as Jesus did, seeking life in the face of death. Dietrich Bonhoeffer wrote in one of his journals while he was in prison, "Once Jesus bids you come and follow him, he bids you come and die." He sought to express his knowledge, born of prayer in the face of fear, this way:

There is no way to peace along the way of safety. For peace must be dared. It is the great venture. It can never be safe. Peace is the opposite of security. To demand guarantees is to mistrust, and this mistrust in turn brings forth war. Peace means to give oneself altogether to the law of God, wanting no security, but in faith and obedience laying the destiny of the nations in the hand of Almighty God, not trying to direct it for selfish purposes. Battles are won, not with weapons, but with God. They are won where the way leads to the cross.

(DIETRICH BONHOEFFER, NO RUSTY SWORDS: LETTERS, LECTURES AND NOTES, 1928-1936 [COLLINS, 1965])

Some people do this with their whole life, as a way of living, of resisting evil, and others find themselves having to face their fears and resist because of history, because of how the world of evil and violence intrudes upon them rudely and unexpectedly. In the 1970s in Argentina the military dictatorship brutally "disappeared" anyone who spoke out against injustice, against the regime, against the military, or anyone the dictatorship suspected of support for the opposition, sometimes two or three or more members of the same family. Husbands and wives, pregnant women, single men and women, leaders and organizers--all suffered the same fate: being "disappeared." It was their mothers, many of them elderly, but from all age groups, who responded to the horror by gathering together publically in the Plaza de Mayo in the downtown area They gathered, congregated as they would in church, carrying placards like banners, chanting, praying, mourning, crying out their frustrations with the military and the government bureaucracies, all of which refused them a hearing or any information on their loved ones. They came, week after week, day after day, facing the prospect that they too would be recognized and later suffer the same fate as their children and loved ones. Their stories are told, still, now thirty years or more later. Listen. Watch. Pray.

When the women congregated at the plaza, police snapped at them to keep moving. So the fourteen mothers walked the plaza in slow circles. They kept coming back to protest, braving nightsticks, police dogs, and military spies who infiltrated the group and killed three leaders.

"They say the Mothers of the Plaza de Mayo were fearless," said Maria Adela Antokolez, now eighty-five, who moves with slow, tottering steps and enormous dignity, "but we were scared to death. We learned to walk with fear, to live with fear. We had an obligation to find our children."

The mothers still march every Thursday afternoon demanding justice. The ritual moves bystanders to tears and applause. The women are elderly and fragile now. They walk arm in arm, hunched beneath the white head scarves that have become an international symbol of the fight for human rights.

"We never found our children," Maria Adela said. "But in the plaza we went to school. We told our story fifty times. We cried together. It was our educational academy. The plaza saved us from the madhouse." . . . It spread by word of mouth. When Cortezar, our great writer, heard about it in Paris, he said, "The mothers are out, the military have already lost."

(JACK KORNFIELD, AFTER THE ECSTASY, THE LAUNDRY [NEW YORK: BANTAM DOUBLEDAY DELL, 2001], p. 232)

Others discover and seek out this stance of contemplation and nonviolent love and living through the Scriptures, through association with prophets and monks, or through the grace of God in prayer. Dorothy Day, in the company of Thomas Merton, Daniel Berrigan, and many others, spoke for many when she wrote,

We were setting our faces against the world, against things as they are, the terrible injustice of our capitalist industrial system, which lives by war and by preparing for war; setting our faces against race hatreds and all the nationalistic strivings. But especially we wanted to act against war and the preparation for war; nerve gas, guided missiles, the testing and stockpiling of nuclear bombs, conscription, the collection of income tax--against the entire military state. We made our gesture; we disobeyed a law. . . .

(CATHOLIC WORKER, 1957, AFTER A JAIL STAY)

Our heritage is filled with prayers that echo Jesus' own words to his beloved Father as he prayed in the garden. Charles de Foucauld prayed: "Father, I abandon myself into Your hands; do with me what You will. Whatever You may do, I thank you: I am ready for all, I accept all. Let only Your will be done in me and in all Your creatures--I wish no more than this, Lord." Even more simply and to the point for many of us, Peter Julian Eymard prays, "Lord, I dare not say I love Thee, but I WILL love thee."

Obedience to the will of God is the only way to face down our fears in a world intent on killing, on silencing the truth and keeping to its own way. We walk with Jesus into the garden, praying with him, choosing instead to walk his way, the Way of the Cross, to walk in life, in nonviolent love and contemplation. Let us go with Jesus to God. Amen.

Let us pray: Lord, always you went to your Father, seeking his will and obeying his word to you. This was an integral part of your daily life, and you knew this night was coming long before others did because you prayed and because you saw what was going on around you in others' lives and in the world that sought to silence your word of truth and compassion. May we watch with you. May we pray with you. May we share your burden of knowing what human beings are capable of doing to one another in hate and yet fearing only God, not what others can do to us. May we fall with you before the Father and begin this Way of the Cross, saying with you, Father, if this cup can pass me by, let it be. But if I must drink it because of others' choices, then may I drink it with all those who seek to live for love and bring your kingdom more truly into our world. Amen.

Second Station

JESUS IS BETRAYED BY JUDAS

Scripture: Matthew 26:45-49

Then Jesus once again came back from his prayer to the disciples and said to them, "Sleep and rest now because as you can plainly see, everything is culminating here and I will be handed over to sinners. Rise, then, and let us go. See, my betrayer is at hand." While he was still speaking, Judas arrived. He was one of the Twelve, and he had with him a large crowd sent from the chief priests and the elders of the people and they carried swords and clubs. Now the betrayer had given them a sign: "The one I will kiss," he had told them, "is the man: seize him." Upon arriving, Judas immediately came up to Jesus and said, "Greetings, Rabbi!" and kissed him.

Or

Scripture: Mark 14:43, 45-46

And immediately while he was still speaking, Judas came, one of the Twelve, and with him a crowd with swords and clubs, from the chief priests and the scribes and elders. . . . And when he came, he went up to him at once, and said, "Master!" And he kissed him. And they laid hands on him and seized him.

God does not require of us the martydom of the body; he requires only the martyrdom of the heart and the will.

JOHN VIANNEY

The first steps and the first confrontation are perhaps the hardest, the most terrible to bear. Was the betrayal expected? Did Jesus know his disciples and friends well? Does he know us well and see into our hearts and faltering faith? Judas is described as one of the Twelve, one of the inner circle, the ones to whom he entrusted his message of forgiveness and love, of good news to the poor, of healing, and hope for the kingdom of God to reign upon the earth even now. There was a closeness, an intimacy, a shared tenderness among them all. They ate together, prayed together and walked the roads of Galilee together. They went up to Jerusalem and to the Passover feasts together, singing and waiting for the coming of God's presence and justice among them and their nation so long in bondage.

This is the pain of the heart, of the mind and soul. Susan Sontag once said that there are times when "the problem is how not to avert one's glance. How not to give way to the impulse to stop looking . . . this insistence on staring down--on reading--the unbearable, the too intimate . . . of refractions, revelations . . . complex interplay and correspondence . . . sights crossed by sounds, of visionary transformations" (in the introduction to Edward Hirsch's Transforming Vision: Writers on Art, Art Institute of Chicago [Boston: Little, Brown and Co., 1994]. She was speaking in reference to her looking at Francisco Goya's painting, "The Disaster of War," and lamenting that such a reality existed. But she could just as truly be describing the disaster of betrayal. Sometimes living with memory, with the thought of what friends, those who shared your soul and dreams, will do to you is worse than taking a bullet or having someone stab your flesh. There is a way of bleeding from one's soul.

The journey begins, still in the garden, among friends and now a crowd, a mob armed with clubs and swords, is brought in from outside. This is a form of personal violence, and there is no consolation here. This will mar the face of Jesus--where Judas kisses him--and his heart, where the words mock him: "Master" . . . "Rabbi" . . . It is executed in public in the presence of the other disciples and preplanned with his enemies and strangers intent on being in on the taking, the laying hands on him and seizing his life.