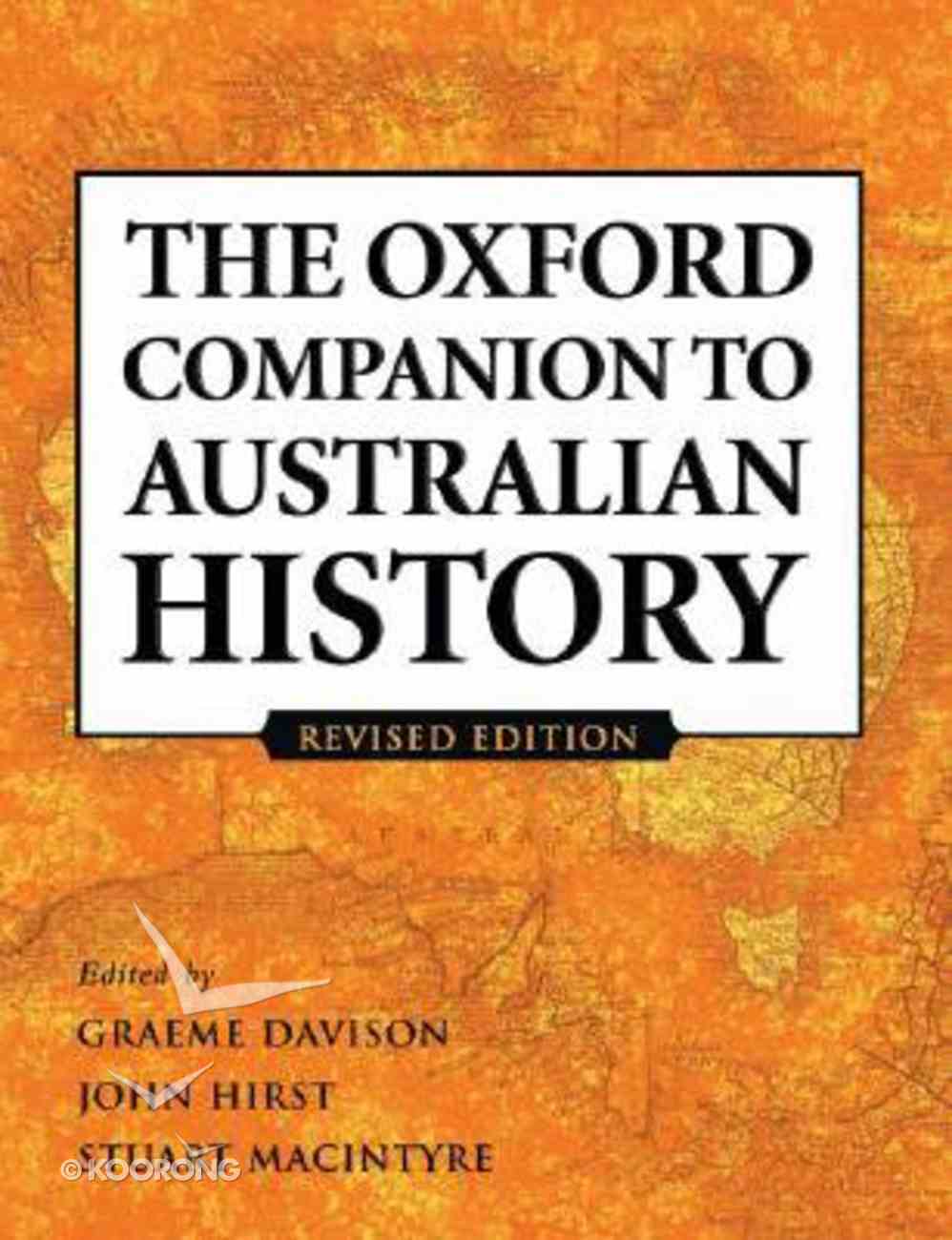 The Oxford Companion to Australian History
This thoroughly revised Companion (first published in 1998) is immensely readable and entertaining with a range of curious and unexpected entries, such as those on duels, two-up, Vegemite, and the six o'clock swill. Thoroughly cross-referenced for easy access to all...
Special Order Item
0 Available.
---
Free Shipping
for orders over $99.
This thoroughly revised Companion (first published in 1998) is immensely readable and entertaining with a range of curious and unexpected entries, such as those on duels, two-up, Vegemite, and the six o'clock swill. Thoroughly cross-referenced for easy access to all information, this volume< br> contains many new entries as well as revisions on existing entries. This is a superb reference for all Australians as well as those interested in Australian history.
-Publisher
This thoroughly revised edition maintains all the features that make TheOxford Companion to Australian History (first published in 1998) a superbreference for all those interested in Australian history. The editors, three ofAustralia's finest historians, have together with their team of over 300scholars provided here a comprehensive and authoritative reference work on allaspects of Australian history.The Companion contains approximately 1,600 entries, ranging from essays of up to2,000 words in length to factual entries of about 100 words in length. There areentries on politicians, colonizers, visionaries, newspaper barons,industrialists, explorers, artists, and scientists. New entries have beenwritten on topics such as the Olympic Games and Reconciliation. Entries on thestates, key institutions, prominent families, and famous events have beenrevised as necessary to take into account recent events and developments inscholarship. Readers will find incisive entries on matters such as art, capitalpunishment, gambling, literature, language, and republicanism. Thebibliographical citations, a key feature of the book, are also now completely upto date.The Companion is immensely readable and entertaining with a range of curious andunexpected entries such as those on duels, two-up, Vegemite, and the six o'clockswill. The text is thoroughly cross-referenced, to allow for easy access to allthe information, and there is a very useful subject index providing readers withan alternative means of accessing the material.
-Publisher
:preface 
directory Of Contributors 
style Notes 
alphabetical Entries 
subject Index