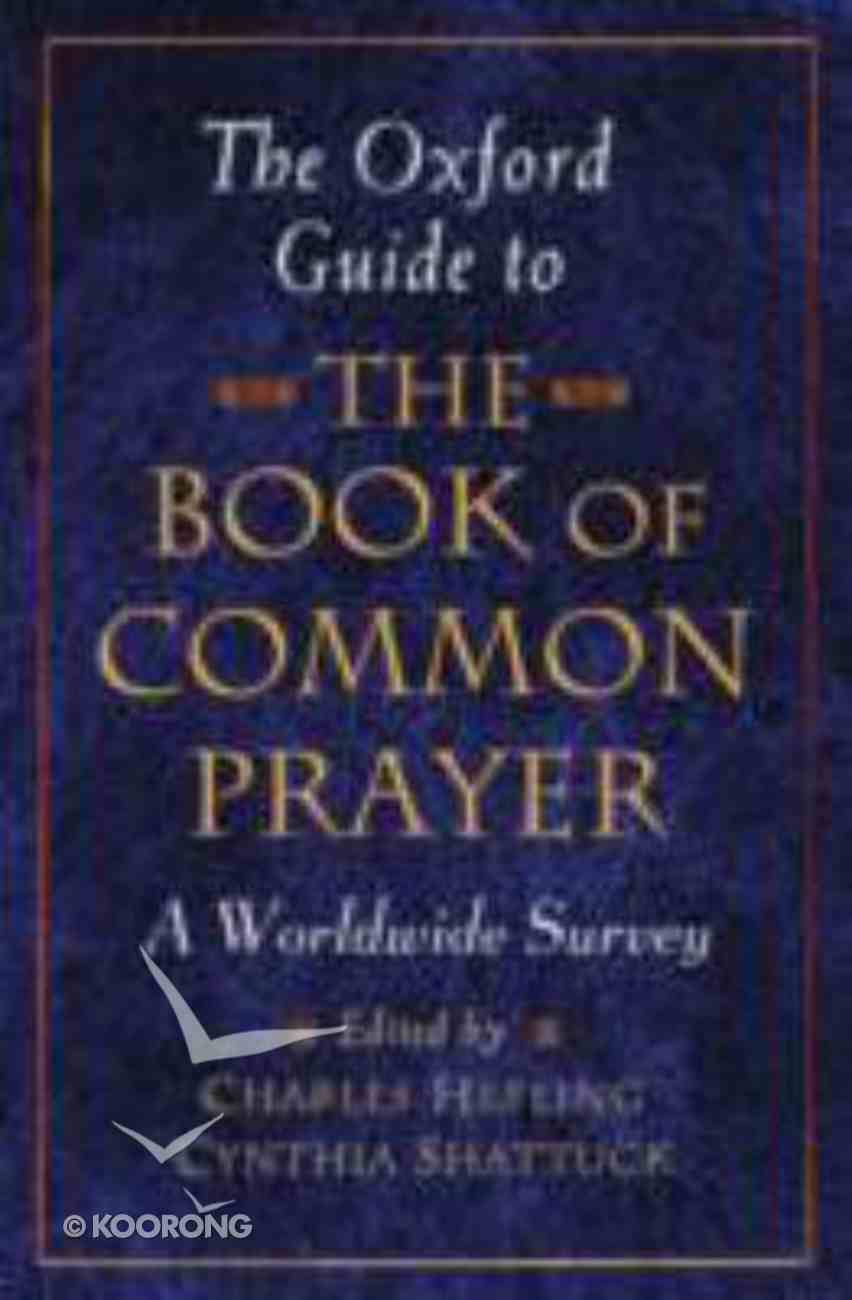 The Oxford Guide to the Book of Common Prayer
The Book of Common Prayer runs like a golden thread through the history ofthe Church of England and the worldwide Anglican Communion. The Oxford Guide tothe Book of Common Prayer is the first comprehensive guide to the history andusage of...
Special Order
Payment is by credit card only. Orders for this item cannot be cancelled or returned.
---
Free Shipping
for orders over $99.
The Book of Common Prayer runs like a golden thread through the history ofthe Church of England and the worldwide Anglican Communion. The Oxford Guide tothe Book of Common Prayer is the first comprehensive guide to the history andusage of the original Book of Common Prayer and its numerous descendantsthroughout the world. It shows how a seminal text for Christian worship anddevotion has inspired a varied family of religious resources that have had aninfluence far beyond their use in the churches of a single tradition. The Guide is unique. In it, experts from every part of the globe and everybranch of Anglicanism, as well as from the Lutheran, Roman Catholic, Methodist,and Unitarian traditions, provide an unparalleled examination of The Book ofCommon Prayer and its lineage. Much more than simply a history, this volumedescribes how Anglican churches at all points of the compass have developedtheir own Prayer Books and adapted the time-honored Anglican liturgies to theirdiverse local cultures. In the dozens of editions now in use throughout theworld, the same texts--Daily Prayers, the Eucharist, Marriage and Funerals, andmany others--resemble each other, and yet differ from each other in interestingways. A brief look at "electronic Prayer Books" offers a glimpse at how thisstory of development and adaptation may continue in the Information Age. From 1549 to the twenty-first century, The Oxford Guide to the Book ofCommon Prayer offers a fascinating journey through the history and developmentof a classic of world literature. "A wonderful and useful book. This book asks all the important questions andprovides essential material for those who are looking for answers." --(The Rev.) Christopher Webber, The Living Church "It is well conceived physically, graced with both illustrations of historicprayer books and text boxes from the liturgies being discussed, which are asignificant help to the reader. This authoritative guide to the Book of CommonPrayer as it once was and has now become will well serve anyone interested inAnglicanism or the prayer book tradition." --Christian Century "The editors have assembled a roster of authors that is a veritable who's whoamong Anglican liturgical scholars. [They] have provided a service to the entire Communion by editing this worldwide survey of the Book of Common Prayer." --Frank C. Senn, Anglican Theological Review "Hefling and Shattuck have kept a tight hand; they have maintained narrativeinterest, eliminated overlaps, discreetly filled holes themselves. Excerpts fromspecimen prayers and documents are given in boxes on the page. In a big book,room has been found for thirty black-and-white illustrations, a chronology, aglossary, a bibliography, a good index, and a world map in the endpapers." --John Whale, Times Literary Supplement "Monumental and magnificent! This Guide makes clear why The Book of CommonPrayer is both a religious and a literary masterpiece." --Phyllis Tickle
-Publisher
The Book of Common Prayer runs like a golden thread through the history of the Church of England and the worldwide Anglican Communion. The Oxford Guide to the Book of Common Prayer is the first comprehensive guide to the history and usage of the original Book of Common Prayer and its numerous descendants throughout the world. It shows how a seminal text for Christian worship and devotion has inspired a varied family of religious resources that have had an influence far beyond their use in the churches of a single tradition.^ The Guide is unique. In it, experts from every part of the globe and every branch of Anglicanism, as well as from the Lutheran, Roman Catholic, Methodist, and Unitarian traditions, provide an unparalleled examination of The Book of Common Prayer and its lineage. Much more than simply a history, this volume describes how Anglican churches at all points of the compass have developed their own Prayer Books and adapted the time-honored Anglican liturgies to their d
-Publisher
Birth, History, And Use Of The Prayer Book; The Prayer Book Outside England; 20th Century Prayer Books; Family Portraits: International Prayer Books Today; Worship In The Prayer Book; The Future Of The Book Of Common Prayer