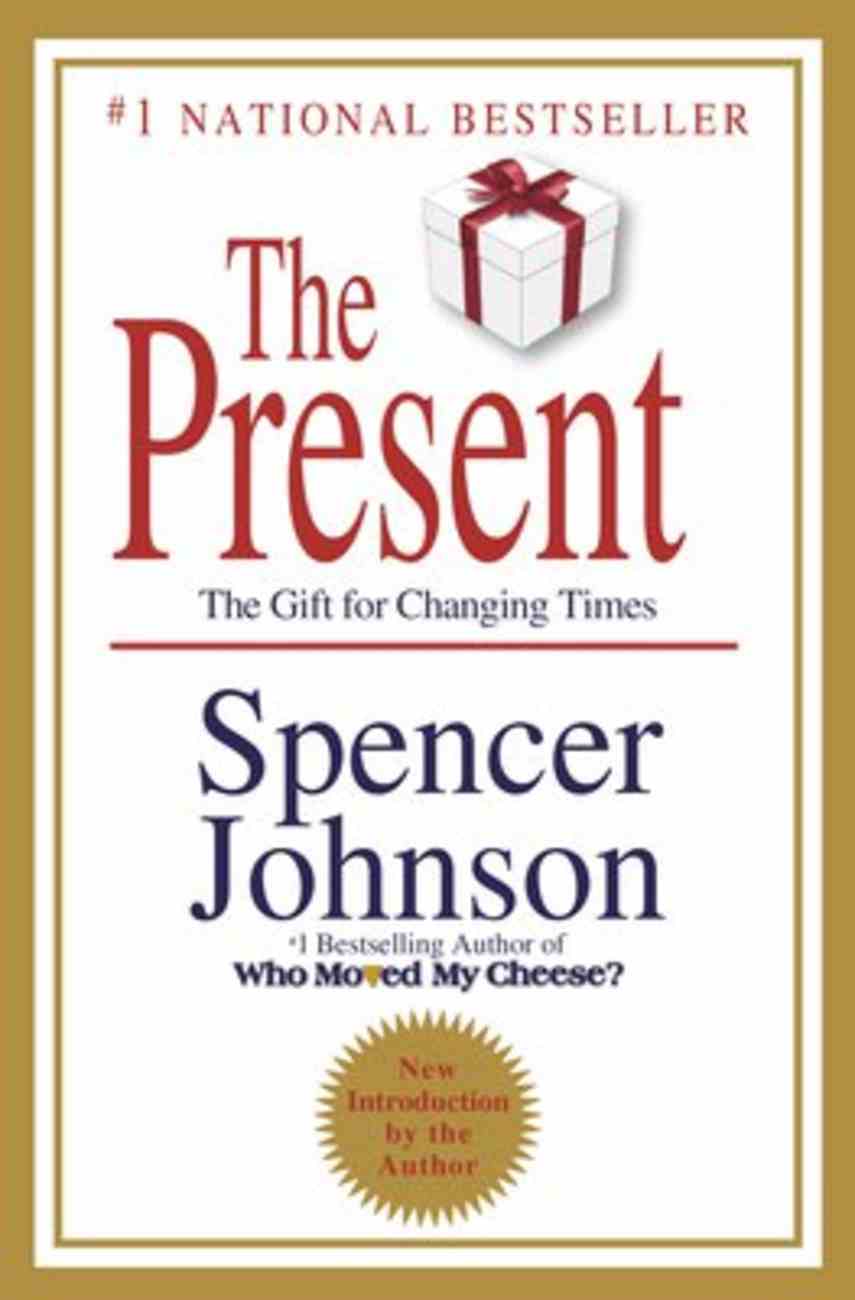 :For over two decades, Spencer Johnson has been inspiring readers with his simple yet profound stories of the challenges we face in these times of unprecedented change. The Present is an engaging story of a young man's journey...
Out of Stock
Available to Order
---
Expected to ship in 4 to 5 weeks from Australia.
---
Free Shipping
for orders over $99.
:For over two decades, Spencer Johnson has been inspiring readers with his simple yet profound stories of the challenges we face in these times of unprecedented change.

The Present is an engaging story of a young man's journey to adulthood, and his tireless search for The Present, a mysterious and elusive gift he first hears about from a wise old man. This Present, according to the old man, is the most valuable gift a person can receive. Why? Because it is the one thing that doesn't change in changing times.

As the young boy becomes a man, he grows disillusioned with his work and his life. So he returns to ask the old man to help him find The Present. The old man responds, "Only you have the power to find The Present for yourself." Heeding the old man's advice, the young man embarks on a worldwide search for this magical gift that remains unchanging in a changing world, and holds the secret to personal happiness and lifelong success.

It is only after the young man has searched high and low and all but given up his relentless pursuit that he discovers The Present-and all of the promises it offers.

Like the young man, you may find that it is the best gift you can ever give to yourself - and to those you care about.
-Publisher
PRODUCT DETAIL
Catalogue Code 

462320

Product Code 

0307719545

EAN 

9780307719546

Pages 

112

Department General Books
Category Christian Living
Sub-Category General
Publisher Doubleday
Publication Date 

Apr 2010

Sales Rank 

34490

Dimensions 

215 x 147 x 12

mm

Weight 

0.254

kg
Spencer Johnson is an internationally respected thought leader and number one bestselling author whose insights help millions of people discover simple truths they can use to have healthier lives with more success and less stress. He has often been called "the best there is at taking complex subjects and presenting simple solutions that work." ý He is the author of the #1 bestselling books "Who Moved My Cheese?", an amazing way to deal with change, and "The One Minute Manager"(R), the world's most popular management method, written with legendary management consultant Kenneth Blanchard. ý

:Before the Story

Late one afternoon, Bill Green received an urgent phone call from Liz Michaels, who he used to work with.

She had heard Bill was experiencing great success, and she got right to the point, "Could I meet with you soon?" she asked. He thought he heard strain in her voice.

Bill said yes and rearranged his schedule so they could meet for lunch the next day. When Liz entered the restaurant, he noticed how tired she looked.

After some small talk and ordering their meals, Liz told him, "I have Harrison's job now."

"Congratulations," Bill said. "I'm not surprised you've been promoted."

"Thanks, but the problems are mounting," she admitted.

"A lot has changed since you were with us. We have fewer people, but more work. There never seems to be enough time to get everything done - at work or at home.

"And I'm just not enjoying life as much as I'd like to.

"By the way, Bill," she added, changing the subject, "you look good."

"I am good," he said. "I'm enjoying my work and life more. It's a nice change for me!"

"Oh?" she said. "Did your job change?"

Bill laughed. "No, but if feels like it. It all came together about a year ago."

"What happened?" Liz wanted to know.

Bill began, "Remember how hard I used to push myself and others to get good results? And how much time and effort it took us to get things done?"

Liz laughed. "I remember all too well."

Bill smiled, as though amused by his old behavior. "Well I've learned a few things. And so have many other people in my department. We're getting better results, faster and with less stress.

"And to top it off, I'm enjoying life more."

"What's happened?" Liz asked.

"If I told you, you probably wouldn't believe it."

"Try me," she replied.

He paused and then said, "I heard a story from a good friend of mine. It turned out to be a real gift. In fact, the story is called The Present."

"What is it about?" Liz inquired.

"It's a story about a young man who discovers a way to live and work that makes him happier and more successful.

"After I heard it, I thought a lot about the story and how I could benefit from using it. I started using what I learned, first at work and then later in my personal life. It had a big impact on me, and others began to notice.

"Like the young man in the story, I'm happier now, and I'm doing better."

"How?" Liz asked. "In what way?"

"Well, I now concentrate better on what I am doing. I learn more from what happens, and I'm able to plan better. I can focus now on getting the more important things done, without taking so long to do them."

"You got all that out of one story?" Liz seemed amazed.

"Well that's what I got out of the story. Different people get different things from The Present, depending on where they are in their work or life when they hear it. Of course, some people just don't get it at all.

"The story is a practical parable," Bill continued. "So it's not just what's in the story. It's what you take out of it that gives it value."

Liz asked, "Can you tell it to me?"

Bill sipped his glass of water and then said slowly, "Liz I hesitate because you've always seemed to be so skeptical. And this is the type of story you might dismiss too easily."

At that point, Liz let her guard down. She confessed that she was under a great deal of stress, in her job and personal life, and had come to lunch hoping to get some help.

Bill remembered when he felt that way.

Liz said, "I really want to hear the story."

Bill had always liked and respected Liz. So he said, "I'd be happy to tell it to you, if you agree that what you get and use from the story is up to you.

"And," he added, "If you find it useful, that you will share it with others."

Liz agreed and Bill continued. "When I first heard it, I realized at some point in the story that there was a great deal more to it than I had anticipated.

"I found myself taking notes throughout the story to help me remember the insights I might want to use later."

Liz wondered what she might fine useful for herself. She took out a small notepad and said, "I'm ready to listen."

Then Bill began to tell the story of The Present.
Bestsellers in Christian Living