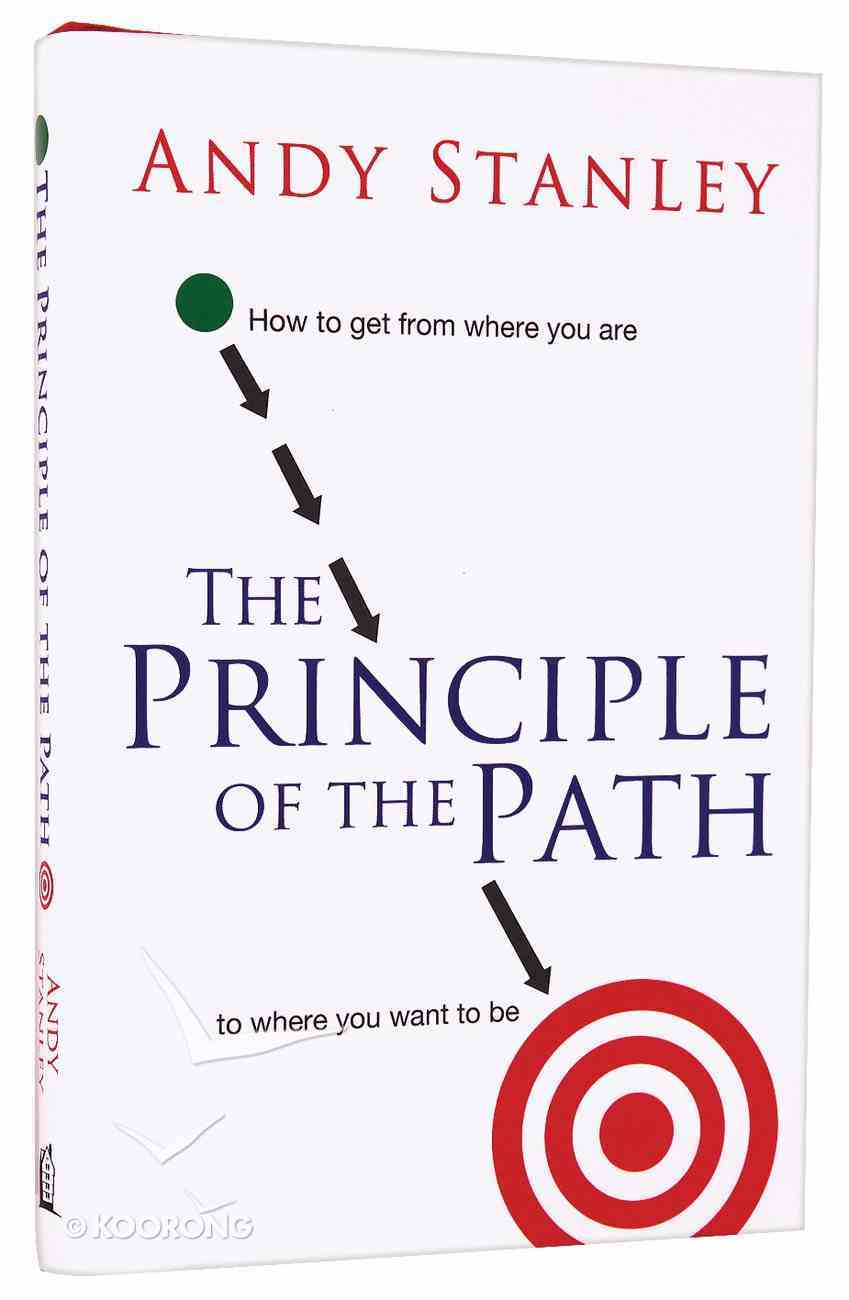 The Principle of the Path
Your Direction, not Your Intention, Determines Your Destination. There is often a tension between where we want to end up in life and the path we choose to get there. We fail to see that having good intentions is...
---
Free Shipping
for orders over $99.
Your Direction, not Your Intention, Determines Your Destination.

There is often a tension between where we want to end up in life and the path we choose to get there. We fail to see that having good intentions is never good enough. Like Charlie Brown, we wrongly believe there's something to be said for trying hard. We need to understand why, in spite of our good intentions, we may have ended up at the wrong destination with our finances, our marriages, our careers, or a host of other dreams. So how do we get from where we are to where we truly want to be? The Principle of the Path is a roadmap to proper direction and discipline. Includes an extensive study guide.

- Publisher
Andy Stanley is a pastor, communicator, author, and the founder of North Point Ministries, Inc. (NPM). Since its inception in 1995, North Point Ministries has grown from one campus to three in the Atlanta area, and has helped plant fourteen strategic partner churches throughout the United States. Each Sunday, over 20,000 adults attend worship services at one of NPM's three campuses, North Point Community Church, Browns Bridge Community Church, and Buckhead Church. Andy's books include It Came From Within, Communicating for a Change, Making Vision Stick, and Next Generation Leader. Andy lives in Alpharetta, Georgia, with his wife, Sandra, and their three children.
-Publisher

Not where you want to be?

Wondering how to get there?




Why is it that smart people with admirable life goals often end up far from where they intended to be? Why is it that so many people start out with a clear mental picture of where they want to be relationally, financially, and professionally and yet years later

find themselves far from their desired destination? Why do our expectations about our own future often go unmet?




What if you knew the answer to those questions? What if there was one simple idea that explained why so many people get lost along the way?




There is. It's called the principle of the path. And not only does it explain the disappointment and regret that characterize the lives of so many, it provides a way for you to be the exception.




As you are about to discover, the principle of the path is at work in your life every single day. Once embraced, this compelling principle will empower you to identify and follow the path that leads to your desired destination. And this same principle will enable you to avoid life-wasting detours along the way.




?If you're ready to break the bad habits, bad behaviors, and bad decisions that have been leading you into trouble, you need Andy Stanley's The Principle of the Path.?

?Dave Ramsey, host of The Dave Ramsey Show

and best-selling author of The Total Money Makeover

-Publisher
Andy Stanley is a pastor, communicator, author, and the founder of North Point Ministries, Inc. (NPM). Since its inception in 1995, North Point Ministries has grown from one campus to three in the Atlanta area, and has helped plant fourteen strategic partner churches throughout the United States. Each Sunday, over 20,000 adults attend worship services at one of NPM's three campuses, North Point Community Church, Browns Bridge Community Church, and Buckhead Church.
Andy's books include It Came From Within; Communicating for a Change; Making Vision Stick; Visioneering; Next Generation Leader and most recently The Grace of God. Andy lives in Alpharetta, Georgia, with his wife, Sandra, and their three children


Bestsellers in Christian Living