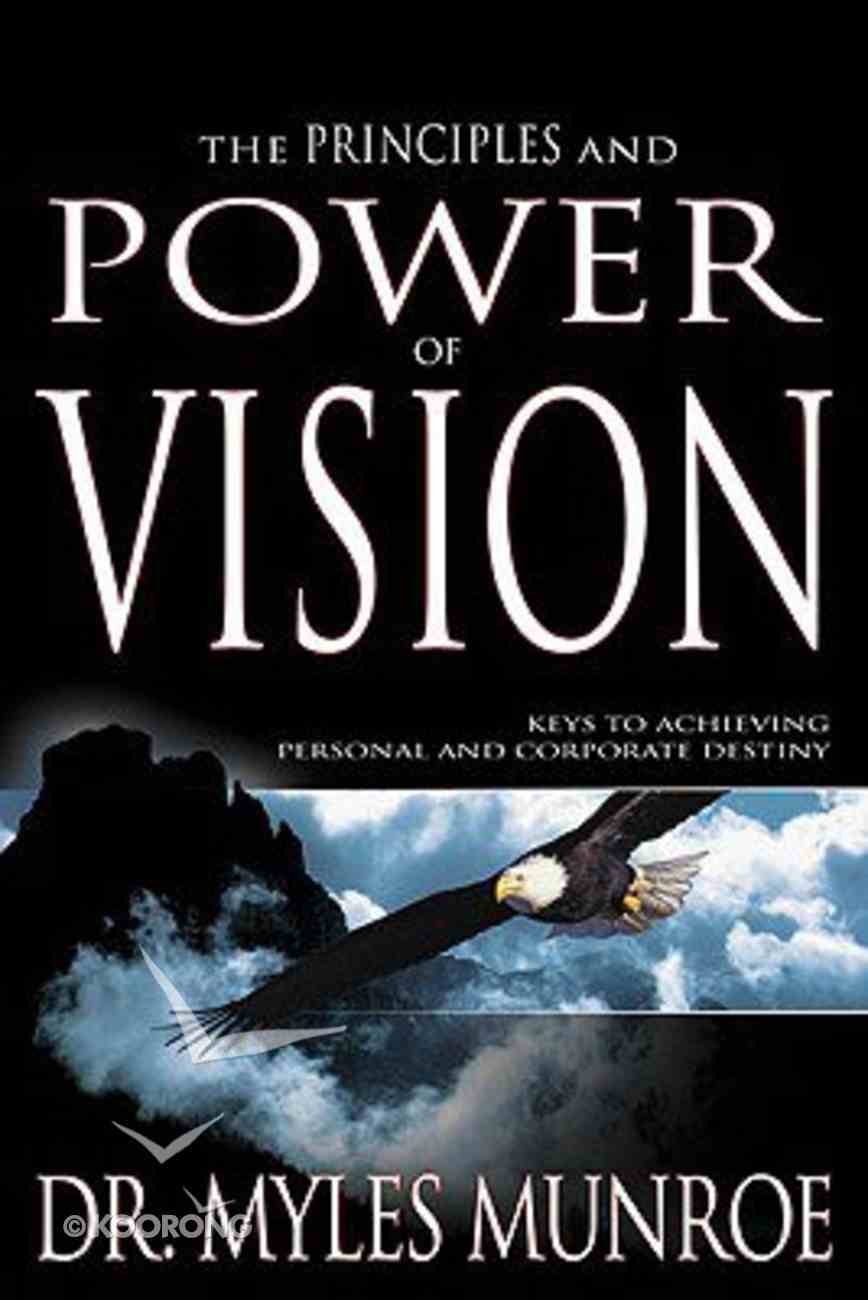 The Principles and Power of Vision
---
Free Shipping
for orders over $99.
240 Pages
-Publisher
Dr. Myles Munroe, an internationally acclaimed speaker and best-selling writer, inspires believers everywhere with his anointing to communicate Gods message of personal potential, purpose, and destiny. He travels extensively sharing his talents and his faith in God. As founder and president of Bahamas Faith Ministries International, host of a number of radio and television programs, and a trustee of Azusa Fellowship International, he knows that people need to understand their roles and responsibilities in order to be successful and fulfilled. As he addresses critical issues affecting individuals social and spiritual development, the central theme of Dr. Munroes message is the transformation of followers into leaders and the maximization of individual potential. He has earned degrees from Oral Roberts University and the University of Tulsa, and has an honorary doctorate from Oral Roberts University. Dr. Munroe and his wife, Ruth, travel together as seminar speakers, and they are the proud parents of two children, Charisa and Myles, Jr.
-Publisher
Whether you are a businessperson, a homemaker, a student, or a head of state, author Myles Munroe explains how you can make your dreams and hopes a living reality. Your success is not dependent on the state of the economy or what the job market is like. You do not need to be hindered by the limited perceptions of others or by a lack of resources. Discover time?tested principles that will enable you to fulfill your vision no matter who you are or where you come from. You were not meant for a mundane or mediocre life. You do not exist just to earn a paycheck. Revive your passion for living. Pursue your dream. Discover your vision??and find your true life.
-Publisher
Dr. Myles Munroe (1954-2014) was an ordained Pentecotal minister, the Founder, President, and Senior Pastor of Bahamas Faith Ministries International, an all-encompassing network of ministries headquartered in Nassau, Bahamas. He was a multi-gifted international motivational speaker, prolific best-selling author and sought-after business consultant. His books and presentations comprehensively address many aspects of human, social and spiritual development.
Prefaceintroduction: Life Without Visionpart I: What Is Vision?1.vision: The Key To Fulfilling Your Life's Purpose2.the Source Of Vision3.overcoming Obstacles To Visionpart Ii: Twelve Principles For Fulfilling Personal Visionintroduction To Part Ii4.principle 1:be Directed By A Clear Vision5.principle 2:know Your Potential For Fulfilling Vision6.principle 3:develop A Concrete Plan For Your Vision7.principle 4:possess The Passion Of Vision8.principle 5:develop The Faith Of Vision9.principle 6:understand The Process Of Vision10.principle 7:set The Priorities Of Vision11.principle 8:recognize People's Influence On Vision12.principle 9:employ The Provision Of Vision13.principle 10:use Persistence In Achieving The Vision14.principle 11: Be Patient In The Fulfillment Of Vision15.principle 12: Stay Connected To The Source Of Visionpart Iii: The Power Of Vision16.the Generational Nature Of Vision17.how To Write Your Personal Vision Plantaking Action: Action Steps To Bringing Your Vision Into Realitya Word To Third-world Nationsabout The Author
Bestsellers in Christian Living