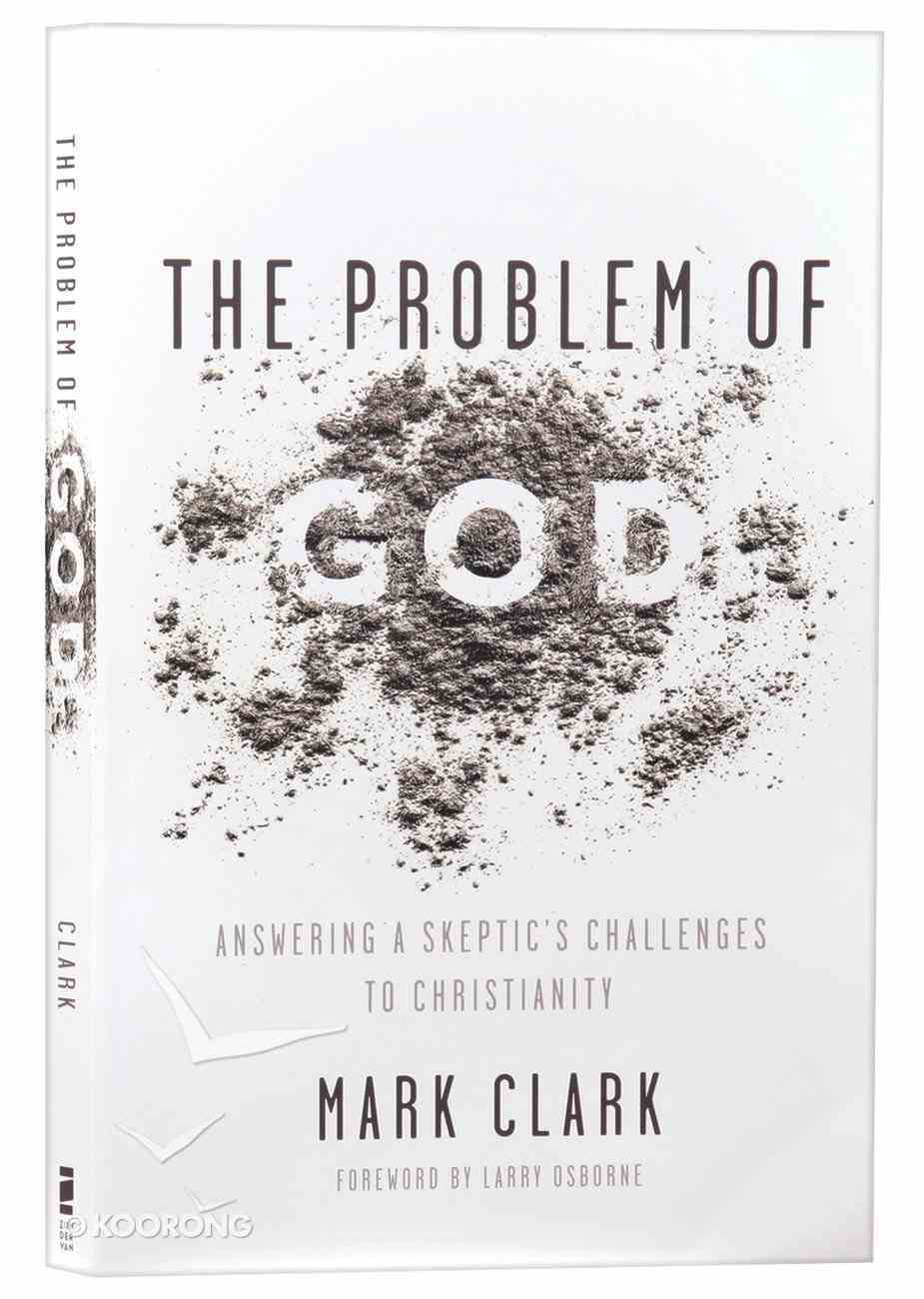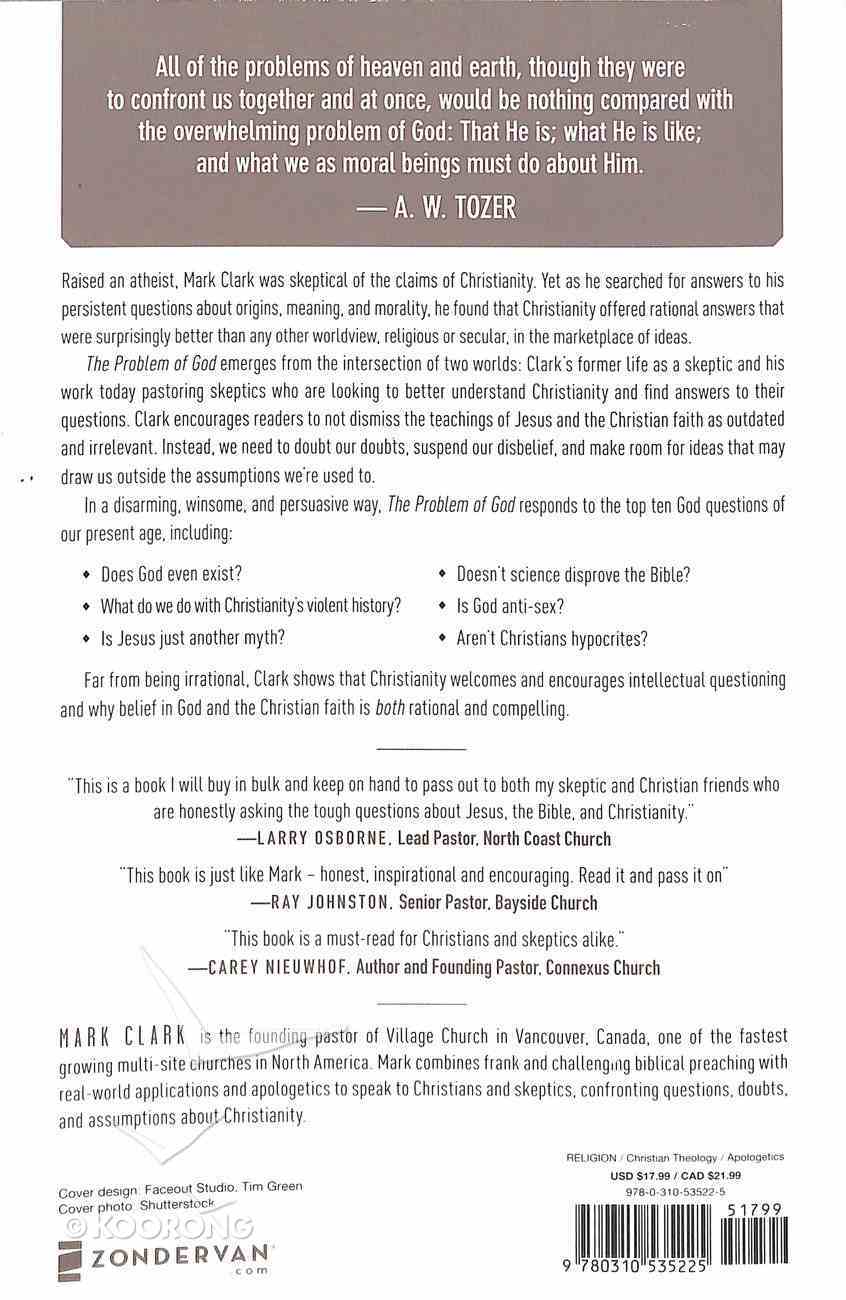 The Problem of God: Answering a Skeptic's Challenges to Christianity
$19.99
20% OFF
―
save $4.00
Mark Clark knows what it is to be a skeptic. His atheistic upbringing - culminating in a broken home - set him on a search for truth that led him eventually to Christianity. In this book, he responds to the...
---
Expected to ship within 4 hours from Australia.
---
Free Shipping
for orders over $99.
Mark Clark knows what it is to be a skeptic. His atheistic upbringing - culminating in a broken home - set him on a search for truth that led him eventually to Christianity. In this book, he responds to the top ten 'God questions' of our time, with winsome persuasion.
:
The Problem of God is written by a skeptic who became a Christian and then a pastor, all while exploring answers to the most difficult questions raised against Christianity. Growing up in an atheistic home, Mark Clark struggled through his parents' divorce, acquiring Tourette syndrome and OCD in his teen years. After his father's death, he began a skeptical search for truth through science, philosophy, and history, eventually finding answers in Christianity.


In a disarming, winsome, and persuasive way, The Problem of God responds to the top ten God questions of our present age, including:

Does God even exist? What do we do with Christianity's violent history? Is Jesus just another myth? Can the Bible be trusted? Why should we believe in Hell anymore today?
The book concludes with Christianity's most audacious assertion: how should we respond to Jesus' claim that he is God and the only way to salvation.


-Publisher
PRODUCT DETAIL
Catalogue Code 

473082

Product Code 

9780310535225

ISBN 

0310535220

EAN 

9780310535225

UPC 

025986535223

Pages 

272

Department Academic
Category Apologetic
Sub-Category General
Publisher Zondervan
Publication Date 

Aug 2017

Sales Rank 

20801

Dimensions 

213 x 139 x 19

mm

Weight 

0.258

kg
Clark received his Ph.D. in international relations from the University of Southern California. He is professor of political science, and the chair of that department, as well as director of the National Security Studies program at California State University, San Bernardino. He is an adjunct fellow at the Claremont Institute and a consultant to TRW on strategic nuclear forces.
:introductionintroduces Mark???s Story, The Story Of The Church, And Frames The Questions Answered In The Book.part 1 ??? Evidential Challengeschapter 1: The Challenge Of Faith Vs. Reasonproposes That Everyone Has A Faith Position, That The Dichotomy Between Faith And Reason Is A Myth, And That The Best Worldviews Need To Be Coherent And Viable From A Historical, Philosophical, And Scientific Standpoint. (includes A Lot Of Engagement In Recent Scholarship And Atheism.)chapter 2: The Challenge Of God???s Existenceexplores Evidence For God???s Existence Taken From Three Major Areas. These Include Moral Law, Origins Of The Universe, And The Teleological Argument. (includes A Lot Of Engagement In Philosophy, Physics, And Cosmology.) Chapter 3: The Challenge Of The Biblegives A Defense Of The Legitimacy Of The Bible, From A Historical, Archeological, And Literary Standpoint. Chapter 4: The Challenge Of The Christ Myththis Chapter Answers The Challenge Of Jesus???s Existence, Deconstructs The Christ Myth, And Argues For The Legitimacy Of The Historical Jesus And His Resurrection. What Makes This Chapter Stand Out Is That It Directly Challenges The Christ Myth, Interacting Directly With Those Who Have Popularized This Theory. This Chapter Will Establish That The Parallels Are Imagined And That Jesus Is Unique In History. This Chapter Offers A Unique And Liberating Answer For Christians Who Encounter This Popular Challenge.part 2 ??? Moralistic Challengeschapter 5: The Challenge Of Evil And Sufferingexplores The Philosophical Reasons Behind The Reality Of Evil And Suffering In The World And Attempts To Reconcile The Reality Of Evil And Suffering With God???s Existence. (philosophical And Practical.)chapter 6: The Challenge Of Hellargues For The Legitimacy Of The Doctrine Of Hell. This Chapter Engages Some Of The More Popular Discussions On Hell, Including Universalism. It Also Offers A Biblical Presentation Of The Doctrine Of Hell Based On Scripture And The Logic Of Justice.chapter 7: The Challenge Of Sexthis Chapter Addresses The Popular Rejection Of Christianity Based On A Modern Cultural Construct Of Sexual Ethics, Which Asks If God Is Anti-sex. The Chapter Explores The Biblical Presentation Of Sex As A Pleasure-filled, God-glorifying Reality, And It Challenges Both The Worship Of Sex And The Suppression Of It. (this Chapter Is One Of The Unique Aspects Of This Book And Will Likely Get People Talking. The Author Calls For Sex To Play A Central Role In The Lives Of Married People And Discusses Topics Such As Pornography, Frequency, And Orgasms. The Content Draws On Scholarship, Modern Examples, And Years Of Pastoral Counseling And Preaching On The Topic.)chapter 8: The Challenge Of Christian Hypocrisyexplores Accusations That Christianity Is ???poison??? (hitchens), Judgmental, And Exclusive And Therefore Should Be Dismissed. This Chapter Explores Some Of The Classic Justifications For Rejecting Christianity (witch-burning, War) And Shows Them To Be Both Exaggerated And Antithetical To The Spirit Of Christianity.chapter 9: The Challenge Of Exclusivitythis Chapter Looks Closely At The Challenge Of Christianity On The Basis That It Excludes Other Worldviews And Religions, Finding That Such Exclusion Is Logical And Right. It Is A Winsome And Funny Chapter That Explores The Irony Of The Modern Worldview, Which Wants To Include Everyone And Say Everyone Is Right!chapter 10: The Challenge Of Jesusexplores The Person And Work Of Jesus As A Final Chapter, Which Forces Readers Into The Crisis Of Believing Jesus Was Who He Said He Was---or Choosing To Reject Him. If He Wasn???t Who The Prophets---and Jesus Himself---said He Was, Then Christianity Shouldn???t Be Believed. But If He Did Fulfill The Prophecies And Perform The Miracles That Are Attributed To Him, Not To Mention Dying And Rising Again, Then The Reader Should Trust In Christ.
Bestsellers in Apologetic