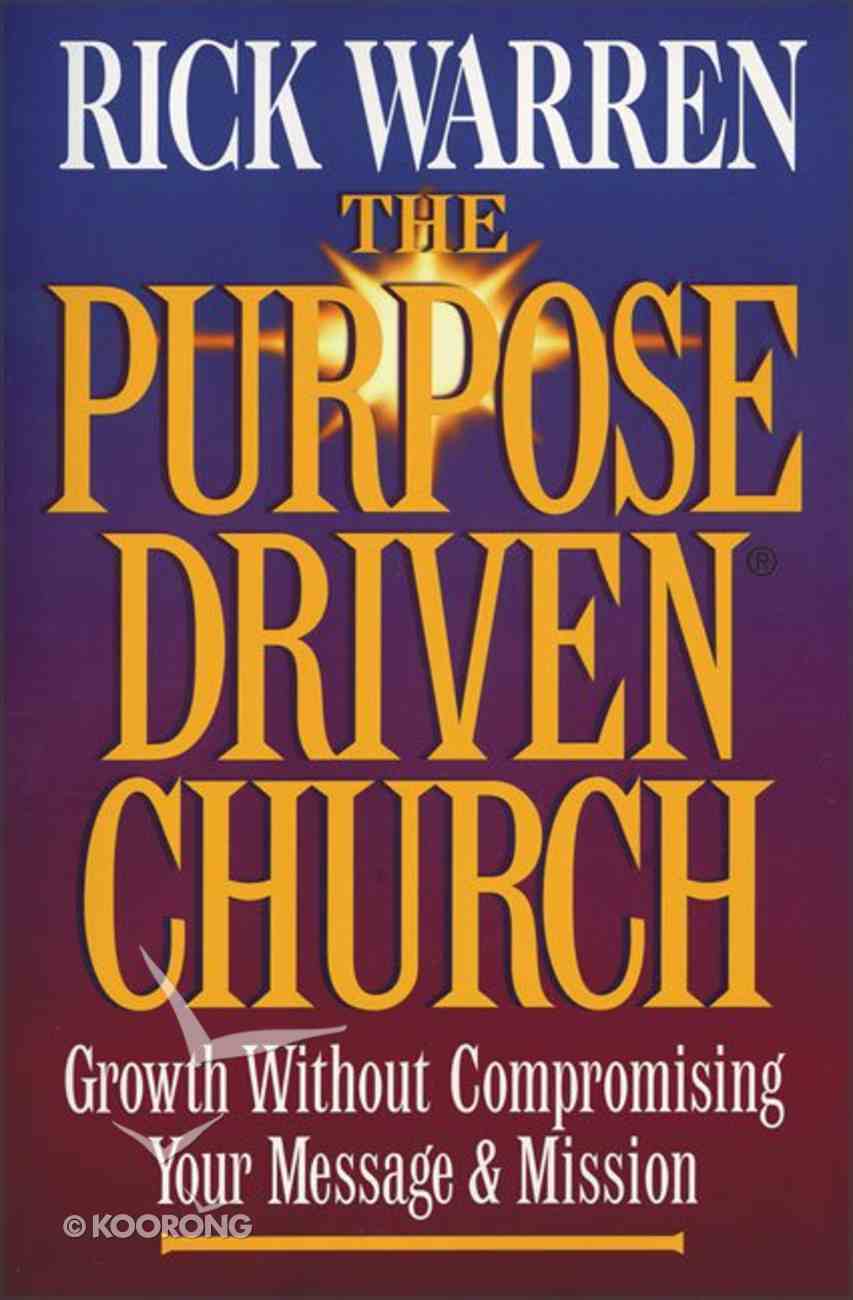 The Purpose Driven Church (The Purpose Driven Church Series)
"The Purpose-Driven(R) Church has brought focus and direction to more pastors and church leaders than you can count. What a gift!"--John Ortberg, bestselling authorEvery church is driven by something. Tradition, finances, programs, personalities, events, seekers, and even buildings can each...
---
Expected to ship within 3 hours from Australia.
---
Free Shipping
for orders over $99.
"The Purpose-Driven(R) Church has brought focus and direction to more pastors and church leaders than you can count. What a gift!"--John Ortberg, bestselling authorEvery church is driven by something. Tradition, finances, programs, personalities, events, seekers, and even buildings can each be the controlling force in a church. But Rick Warren believes that in order for a church to be healthy it must become a purpose-driven church, built around the five New Testament purposes given to the church by Jesus."The issue is church health, not church growth!" declares Warren. "If your church is healthy, growth will occur naturally. Healthy, consistent growth is the result of balancing the five biblical purposes of the church."Rick Warren shares a proven five-part strategy that will enable your church to grow- warmer through fellowship- deeper through discipleship- stronger through worship- broader through ministry- larger through evangelism.The Purpose-Driven(R) Church shifts the focus away
-Publisher
What Drives Your Church? "The Purpose-Driven Church has brought focus and direction to more pastors and church leaders than you can count. What a gift! I can't imagine anyone who's serious about the church not reading it." John Ortberg Author of Everybody's Normal Till You Get to Know Them "After reading The Purpose-Driven Church in 1995, I ordered twenty copies for my staff and elders. Eight years later, the message and strategy contained in this work are as significant and relevant as ever." Andy Stanley Senior Pastor, North Point Community Church "In 1985, I heard Rick present the contents of this book in a seminar format. As he spoke, for the first time I imagined leaving my teaching career in higher education to enter pastoral ministry. My heart was won by Rick's vision of the Church driven by her God-given purpose-rather than by doctrinal arguments, denominational competition, or institutional survival. That vision has been alive in me ever since, and you can catch it too, through these pages." Brian McLaren Pastor, Author, Fellow in Emergent (Emergentvillage.com) "One hundred years from now church leaders will be studying the movement known as 'purpose driven' churches. They will find Rick Warren as its architect and The Purpose-Driven Church as his blueprint." Erwin Raphael McManus Founder of Awaken and Lead Pastor of Mosaic "Although the actual form of ministry may look different from different types of people, there are extremely critical principles within this book that we all need to know, no matter what generation or philosophical mindset we are involved with." Dan Kimball Author of The Emerging Church and Pastor of Vintage Faith Church Discover What Business Leaders Can Learn from the Church "The best book on entrepreneurship, business, and investment..." Rick Karlgaard Forbes Magazine
-Publisher
Richard Duane Warren was born in San Jose, California 28 January 1954, the son of a Baptist minister, James Warren. Rick earned a Bachelor of Arts from California Baptist University, a Master of Divinity from Southwestern Theological Seminary, and a Doctor of Ministry from Fuller Theological Seminary.



Rick felt called to full-time ministry when he was still an undergraduate, and was actively involved in student Christian groups. He and his wife Kay; married since 1975; founded Saddleback Church in 1980 when he was just 26 years old, with a congregation of 200 attenders. In the decades since, Saddleback has grown phenomenally; it now has an average attendance of 20,000 a week, and the influence of its ministry style and resources has extended worldwide. Rick is still the senior pastor at Saddleback, where he is known as 'Papa Rick' a voice of wisdom, hope, encouragement, and vision. Since 2005, he and his wife have given away 90% of their income, due to the extraordinary success of his publications.



Pastor Rick took the lessons he learned building up Saddleback and distilled them into a fivefold ministry approach called 'Purpose Driven'. Zondervan's 1995 publication of Rick's The Purpose Driven Church was a huge bestseller, and Saddleback became a model for churches everywhere. This was followed in 2002 by The Purpose Driven Life - a 40-day devotional that would sell over 30 million copies in five years. In 2004, Pastor Rick was invited to Rwanda by its president Paul Kagame, who had read The Purpose Driven Life and wanted to make his country a 'purpose driven nation'. This trip changed the trajectory of Pastor Rick's life and mission. God gave him a vision for The PEACE Plan, a mission to fight the five giants of spiritual emptiness, self-serving leadership, poverty, pandemic disease, and illiteracy that devastate the lives of men, women, and children around the world. Rick and Kay consider it their life's work to empower local churches and local leaders to create sustainable change that gives a voice to the voiceless and help to the helpless. To date, PEACE teams have participated in missions outreach in every nation of the world. Rick and Kay have used the PEACE platform to advocate for HIV/AIDS sufferers globally, mobilizing local churches to help prevent the spread of the disease and to care for those already affected.



In the decades since founding Saddleback Church, Pastor Rick has become one of the most respected and influential pastors in the US. He mentors young leaders, and many of today's leading pastors credit him and The Purpose Driven Church for inspiring them to pursue their own callings to ministry. As pastor to pastors, Rick has built the Purpose Driven Network, a global alliance of pastors from more than 160 countries and hundreds of denominations and has also founded Pastors.com, an online interactive community that provides sermons, forums, and other practice resources for pastors.



Rick and Kay have three adult children and four grandchildren. Their youngest son Matthew took his own life in 2013 after a long struggle with mental illness. Rick has been active in recent years seeking to build awareness in the church with regard to mental illness.
Contents
Foreword By Dr. W. A. Criswell
Surfing Spiritual Waves
Part One * Seeing The Big Picture
1. The Saddleback Story
2. Myths About Growing Churches
Part Two * Becoming A Purpose-driven Church
3. What Drives Your Church?
4. The Foundation For A Healthy Church
5. Defining Your Purposes
6. Communicating Your Purposes
7. Organizing Around Your Purposes
8. Applying Your Purposes
Part Three * Reaching Out To Your Community
9. Who Is Your Target?
10. Knowing Whom You Can Best Reach
11. Developing Your Strategy
Part Four * Bringing In A Crowd
12. How Jesus Attracted Crowds
13. Worship Can Be A Witness
14. Designing A Seeker-sensitive Service
15. Selecting Your Music
16. Preaching To The Unchurched
Part Five * Building Up The Church
17. Turning Attenders Into Members (congregation)
18. Developing Mature Members (committed)
19. Turning Members Into Ministers (core)
20. God's Purpose For Your Church
Chapter 1 The Saddleback Story One generation will commend your works to another; they will tell of your mighty acts. Psalm 145:4 Praise the greatness of the LORD, who loves to see his servants do well. Psalm 35:27 (NCV) In November 1973, a buddy and I skipped out on our college classes and drove 350 miles to hear Dr. W. A. Criswell speak at the Jack Tar Hotel in San Francisco. Criswell was the renowned pastor of the largest Baptist church in the world, the First Baptist Church of Dallas, Texas. For me, as a young Southern Baptist, the opportunity to hear Criswell in person was the equivalent of a Catholic getting to hear the pope. I was determined to hear this living legend. I had felt God's call to ministry three years earlier and had begun speaking as a youth evangelist while still in high school. Although I was just nineteen years old, I'd already preached revival meetings in about fifty churches. I had no doubt that God had called me to ministry, but I was unsure if God wanted me to become a pastor. I believe W. A. Criswell is the greatest American pastor of the twentieth century. He pastored at First Baptist for fifty years, wrote fifty-three books, and developed the most widely copied church model of this century. Not only was he a powerful preacher and leader, he was an organizational genius. Most people think of tradition when they think of Criswell, but actually his ministry was incredibly innovative. It only became known as traditional after everyone copied him! We often hear today about celebrity pastors whose stars flame bright for a few years and then fizzle out. It's easy to make an impressive start. But Criswell's ministry lasted half a century in one church! It was no flash in the pan. It withstood the test of time. To me that is genuine success: loving and leading consistently and ending well. Ministry is a marathon. It's not how you start out that matters but how you end. So, how do you make it to the end? The Bible says, 'Love never fails' (1 Cor. 13:8). If you minister out of love you can never be considered a failure. As I listened to this great man of God preach, God spoke personally to me and made it very clear that he was calling me to be a pastor. Then and there, I promised God I'd give my entire life to pastoring a single church if that was his will for me. After the service, my buddy and I stood in line to shake hands with Dr. Criswell. When my turn finally arrived, something unexpected happened. Criswell looked at me with kind, loving eyes and said, quite emphatically, 'Young man, I feel led to lay hands on you and pray for you!' Without delay, he placed his hands on my head and prayed these words that I will never forget: 'Father, I ask that you give this young preacher a double portion of your Spirit. May the church he pastors grow to twice the size of the Dallas church. Bless him greatly, O Lord.' As I walked away with tears in my eyes, I said to my friend Danny, 'Did he pray what I think he prayed?' 'He sure did,' said Danny, also with wet eyes. I could not possibly imagine that God could ever use me like Dr. Criswell had prayed, but that holy experience confirmed in my heart that God had called me to pastor a local church. The Story Behind the Methods Every theology has a context. You won't understand Luther's theology without understanding Luther's life and how God was sovereignly working in the world at that time. Likewise, you can't fully appreciate Calvin's theology without understanding the circumstances in which he forged his beliefs. In the same way, every methodology has a story behind it. Many people look at the so-called 'megachurches' and assume those churches have always been big. They forget that every large church started off as a small church. And no church becomes large without struggling through years of problems, setbacks, and failures. For instance, Saddleback met for fifteen years before being able to build our first building. This one factor alone helped shape our strategy of reaching, retaining, and growing believers in Christ. It kept our focus on people and created a church culture very open to change. To understand many of the methods in this book, you need to understand the context in which they were developed. Otherwise you might be tempted to copy things we did without considering the context. Please do not do this! Instead, look beneath the methods to see the transferable principles on which they are based. I'll identify the principles, but first you need to know a little of Saddleback's history. Very little of Saddleback's ministry was preplanned. I didn't have any long-range strategy before I started the church. I simply knew God had called me to plant a new church built on the five New Testament purposes, and I had a bag of ideas I wanted to try out. Each innovation we've developed was just a response to the circumstances in which we found ourselves. I didn't plan them in advance. Most people think of 'vision' as the ability to see the future. But in today's rapidly changing world, vision is also the ability to accurately assess current changes and take advantage of them. Vision is being alert to opportunities. Because Saddleback is a young church and I am the founding pastor, we've been able to experiment with far more ideas than the average church---mostly due to the fact that we didn't have decades of tradition to deal with. (However we had many other problems that older churches don't have!) In the early years we had nothing to lose, so we tried out all kinds of ideas. Some of our ideas were spectacular failures. And I wish I could claim that all our successes happened just the way we planned them---but it would be untrue. I'm not that smart. Most of our successes have been the result of trial and error and some of our discoveries were purely accidental.