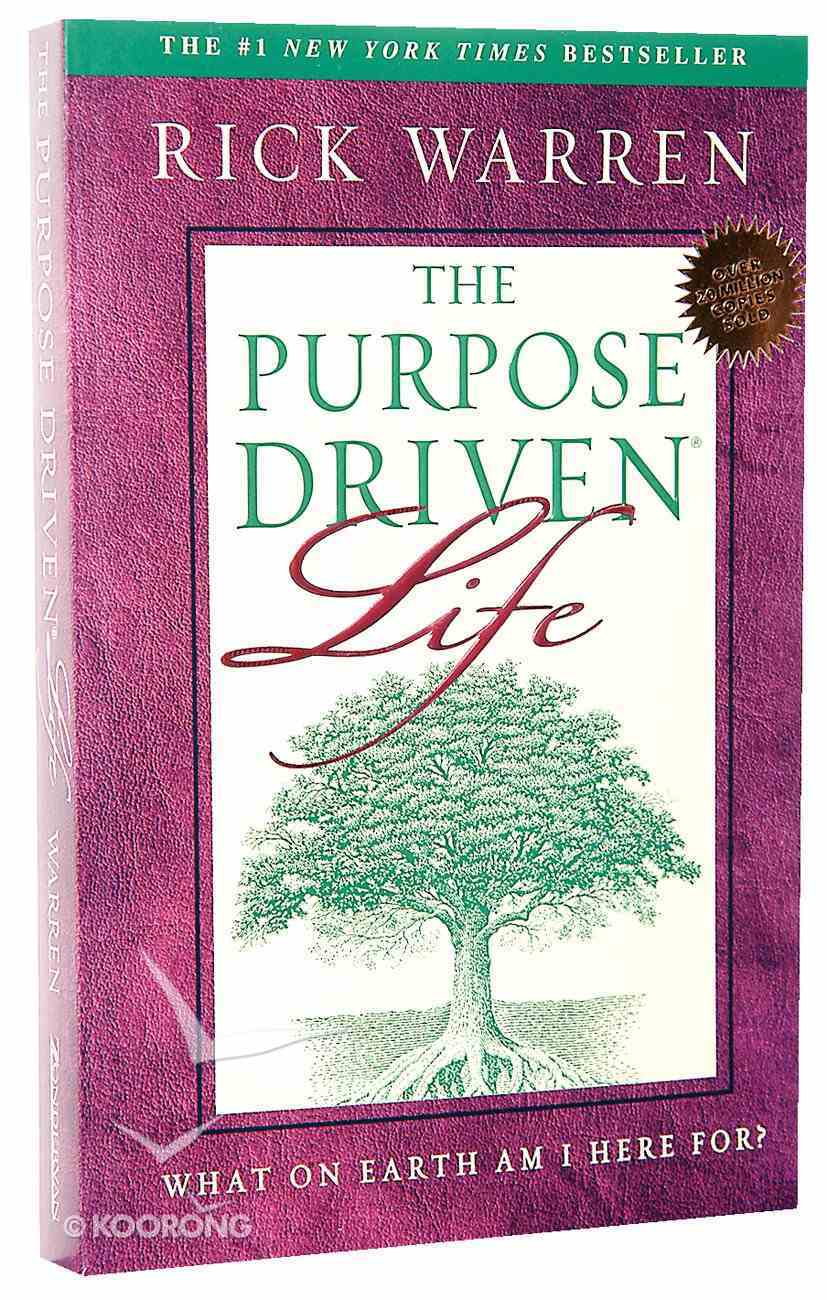 The most basic question we all face is "Why am I here?" Self-help books suggest we should look within, but real meaning comes from fulfilling God's purposes for putting us on earth. This book will help you understand God's incredible...
---
Free Shipping
for orders over $99.
The most basic question we all face is "Why am I here?" Self-help books suggest we should look within, but real meaning comes from fulfilling God's purposes for putting us on earth. This book will help you understand God's incredible plan for your life. 22 million copies in print!
A Groundbreaking Manifesto on the Meaning of LifeThis book will help you understand why you are alive and God's amazing plan for you--both here and now, and for eternity. Rick Warren will guide you through a personal 40-day spiritual journey that will transform your answer to life's most important question: What on earth am I here for? Knowing God's purpose for creating you will reduce your stress, focus your energy, simplify your decisions, give meaning to your life, and, most importantly, prepare you for eternity.The Purpose-Driven Life is a blueprint for Christian living in the 21st century--a lifestyle based on God's eternal purposes, not cultural values. Using over 1,200 Scriptural quotes and references, it challenges the conventional definitions of worship, fellowship, discipleship, ministry, and evangelism. In the tradition of Oswald Chambers, Rick Warren offers distilled wisdom on the essence of what life is all about. This is a book of hope and challenge that you will read an
-Publisher
It All Starts with GodFor everything, absolutely everything, above and below, visible and invisible, . . . everything got started in him and finds its purpose in him.Colossians 1:16 (Msg)Unless you assume a God, the question of life''s purpose is meaningless.Bertrand Russell, atheistIt''s not about you.The purpose of your life is far greater than your own personal fulfillment, your peace of mind, or even your happiness. It''s far greater than your family, your career, or even your wildest dreams and ambitions. If you want to know why you were placed on this planet, you must begin with God. You were born by his purpose and for his purpose.The search for the purpose of life has puzzled people for thousands of years. That''s because we typically begin at the wrong starting point-ourselves. We ask self-centered questions like What do I want to be? What should I do with my life? What are my goals, my ambitions, my dreams for my future? But focusing on ourselves will never reveal our life''s purpose. The Bible says, "It is God who directs the lives of his creatures; everyone''s life is in his power." Contrary to what many popular books, movies, and seminars tell you, you won''t discover your life''s meaning by looking within yourself. You''ve probably tried that already. You didn''t create yourself, so there is no way you can tell yourself what you were created for! If I handed you an invention you had never seen before, you wouldn''t know its purpose, and the invention itself wouldn''t be able to tell you either. Only the creator or the owner''s manual could reveal its purpose.I once got lost in the mountains. When I stopped to ask for directions to the campsite, I was told, "You can''t get there from here. You must start from the other side of the mountain!" In the same way, you cannot arrive at your life''s purpose by starting with a focus on yourself. You must begin with God, your Creator. You exist only because God wills that you exist. You were made by God and for God-and until you understand that, life will never make sense. It is only in God that we discover our origin, our identity, our meaning, our purpose, our significance, and our destiny. Every other path leads to a dead end.Many people try to use God for their own self-actualization, but that is a reversal of nature and is doomed to failure. You were made for God, not vice versa, and life is about letting God use you for his purposes, not your using him for your own purpose. The Bible says, "Obsession with self in these matters is a dead end; attention to God leads us out into the open, into a spacious, free life."I have read many books that suggest ways to discover the purpose of my life. All of them could be classified as "self-help" books because they approach the subject from a self-centered viewpoint. Self-help books, even Christian ones, usually offer the same predictable steps to finding your life''s purpose: Consider your dreams. Clarify your values. Set some goals. Figure out what you are good at. Aim high. Go for it! Be disciplined. Believe you can achieve your goals. Involve others. Never give up.Of course, these recommendations often lead to great success. You can usually succeed in reaching a goal if you put your mind to it. But being successful and fulfilling your life''s purpose are not at all the same issue! You could reach all your personal goals, becoming a raving success by the world''s standard, and still miss the purposes for which God created you. You need more than self-help advice. The Bible says, "Self-help is no help at all. Selfsacrifice is the way, my way, to finding yourself, your true self." This is not a self-help book. It is not about finding the right career, achieving your dreams, or planning your life. It is not about how to cram more activities into an overloaded schedule. Actually, it will teach you how to do less in life-by focusing on what matters most. It is about becoming what God created you to be.How, then, do you discover the purpose you were
-Publisher
Rick Warren helps readers to discover, develop, and fulfill God's purpose for their lives.
-Publisher
PRODUCT DETAIL
Catalogue Code 

103916

Product Code 

0310210747

EAN 

9780310210740

UPC 

025986210748

Pages 

336

Department General Books
Category Christian Living
Sub-Category General
Publisher Zondervan
Publication Date 

Sep 1997

Dimensions 

202 x 130 x 21

mm

Weight 

0.255

kg
Richard Duane Warren was born in San Jose, California 28 January 1954, the son of a Baptist minister, James Warren. Rick earned a Bachelor of Arts from California Baptist University, a Master of Divinity from Southwestern Theological Seminary, and a Doctor of Ministry from Fuller Theological Seminary.



Rick felt called to full-time ministry when he was still an undergraduate, and was actively involved in student Christian groups. He and his wife Kay; married since 1975; founded Saddleback Church in 1980 when he was just 26 years old, with a congregation of 200 attenders. In the decades since, Saddleback has grown phenomenally; it now has an average attendance of 20,000 a week, and the influence of its ministry style and resources has extended worldwide. Rick is still the senior pastor at Saddleback, where he is known as 'Papa Rick' a voice of wisdom, hope, encouragement, and vision. Since 2005, he and his wife have given away 90% of their income, due to the extraordinary success of his publications.



Pastor Rick took the lessons he learned building up Saddleback and distilled them into a fivefold ministry approach called 'Purpose Driven'. Zondervan's 1995 publication of Rick's The Purpose Driven Church was a huge bestseller, and Saddleback became a model for churches everywhere. This was followed in 2002 by The Purpose Driven Life - a 40-day devotional that would sell over 30 million copies in five years. In 2004, Pastor Rick was invited to Rwanda by its president Paul Kagame, who had read The Purpose Driven Life and wanted to make his country a 'purpose driven nation'. This trip changed the trajectory of Pastor Rick's life and mission. God gave him a vision for The PEACE Plan, a mission to fight the five giants of spiritual emptiness, self-serving leadership, poverty, pandemic disease, and illiteracy that devastate the lives of men, women, and children around the world. Rick and Kay consider it their life's work to empower local churches and local leaders to create sustainable change that gives a voice to the voiceless and help to the helpless. To date, PEACE teams have participated in missions outreach in every nation of the world. Rick and Kay have used the PEACE platform to advocate for HIV/AIDS sufferers globally, mobilizing local churches to help prevent the spread of the disease and to care for those already affected.



In the decades since founding Saddleback Church, Pastor Rick has become one of the most respected and influential pastors in the US. He mentors young leaders, and many of today's leading pastors credit him and The Purpose Driven Church for inspiring them to pursue their own callings to ministry. As pastor to pastors, Rick has built the Purpose Driven Network, a global alliance of pastors from more than 160 countries and hundreds of denominations and has also founded Pastors.com, an online interactive community that provides sermons, forums, and other practice resources for pastors.



Rick and Kay have three adult children and four grandchildren. Their youngest son Matthew took his own life in 2013 after a long struggle with mental illness. Rick has been active in recent years seeking to build awareness in the church with regard to mental illness.
Bestsellers in Christian Living