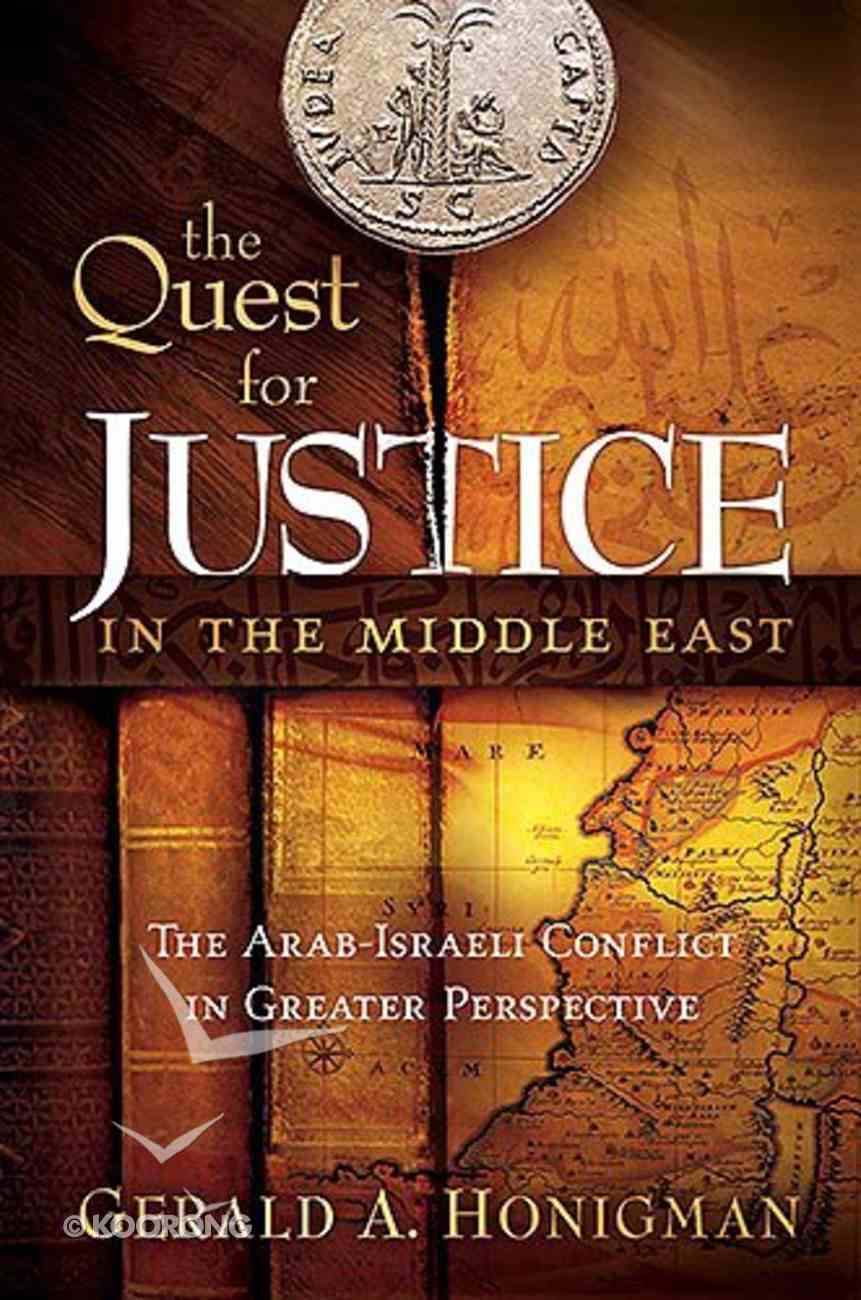 The Quest For Justice in the Middle East
For more than a century now, the conflict between Arab and Jew in the middle East has been rife with brutality. In reality, this struggle is just the most recognizable part of the much larger conflict which has been going...
Out of Print, Available while stocks last.
2 Available
---
Expected to ship within 9 hours from Australia.
---
Free Shipping
for orders over $99.
For more than a century now, the conflict between Arab and Jew in the middle East has been rife with brutality. In reality, this struggle is just the most recognizable part of the much larger conflict which has been going on for some fifteen centuries-ever since Arab armies burst out of the Arabian Peninsula, conquering, forcibly Arabizing, spreading their Dar ul-Islam in all directions, and massacring all who might disagree. In the modern age of nationalism after the breakup of empires, Arabs next proclaimed virtually the entire region as solely their own-despite scores of millions of native, non-Arab peoples who pre-dated the Arabs in what the latter now claimed to be purely Arab patrimony.
-Publisher


Spanning centuries, the Arab-Jewish conflict has been rife with brutality and injustice. But in recent decades, the Western press in conjunction with the commentariat have steered both coverage and debate toward a decidedly Arab and Muslim-centric focus. Constant terror attacks on Jewish and Israeli citizens in Tel Aviv or Jerusalem are barely noticed by the worldwide news. But when Israel attempts to halt repeated Qassam rocket assaults on its urban populations launched by Arab and Muslim terrorists-from schoolyards and hospital rooftops, behind ever-present "human shields"-the news and commentary elites erupt in indignation, with ready-made talking points on "disproportionate responses" and the constant refrain that Israel has no right to protect herself.









Gerald Honigman'sThe Quest for Justice In the Middle Eastfinally blows the whistle on generations of duplicity, shifting the debate once and for all back toward the center-and justice. For too long, the horrors wrought against non-Jews in the Middle East have gone unspoken, but now the forced conversions, inquisitions, expulsions, subjugation, pogroms, and dehumanization-against Jews and non-Jews alike-are exposed, hopefully toward the realization of equal justice and peace throughout the Middle East.



-Publisher
<div><p><div>table Of Contents</div> <p Style="line-height: Normal;" Class="contents">foreword</p><p Style="line-height: Normal;" Class="contents">introduction</p><p Style="line-height: Normal;" Class="contents">1: Nakba: The Tragedy That Didn&rsquo;t Have To Be</p><p Style="line-height: Normal;" Class="contents">2: &agrave; La Alaa</p><p Style="line-height: Normal;" Class="contents">3: What Would Ibn Khaldun Say?</p><p Style="line-height: Normal;" Class="contents">4: Arafat&rsquo;s Jesus</p><p Style="line-height: Normal;" Class="contents">5: Attack Of The Amnesiacs</p><p Style="line-height: Normal;" Class="contents">6: In Defense Of Bantustan</p><p Style="line-height: Normal;" Class="contents">7: Resolution To Kill The Resolution</p><p Style="line-height: Normal;" Class="contents">8: Missing: One Arab Altalena</p><p Style="line-height: Normal;" Class="contents">9: Thinking Jerusalem</p><p Style="line-height: Normal;" Class="contents">10: Chutzpah: Arab Style</p><p Style="line-height: Normal;" Class="contents">11: Beware Of Greeks&mdash;er, Arabs&mdash;bearing Gifts</p><p Style="line-height: Normal;" Class="contents">12: Too Predictable</p><p Style="line-height: Normal;" Class="contents">13: A Lesson From Kosovars And Palestinians For Atlasians</p><p Style="line-height: Normal;" Class="contents">14: Qassam, Kassam&mdash;so, What&rsquo;s In A Name?</p><p Style="line-height: Normal;" Class="contents">15: Evolution Of The Suicide/homicide Bomber</p><p Style="line-height: Normal;" Class="contents">16: Hunting Quail And Sitting Ducks</p><p Style="line-height: Normal;" Class="contents">17: Appetite Versus Starvation</p><p Style="line-height: Normal;" Class="contents">18: Mind-boggling: The Hypocrisy And Double Standards</p><p Style="line-height: Normal;" Class="contents">19: April Magic</p><p Style="line-height: Normal;" Class="contents">20: Al Chait Shechatanu, We Have Sinned Against You</p><p Style="line-height: Normal;" Class="contents">21: Uncle Boutros And Uncle Tom&mdash;a Lesson In Arab Tolerance</p><p Style="line-height: Normal;" Class="contents">22: Long Live Arabistan</p><p Style="line-height: Normal;" Class="contents">23: Pantsil, Darfur, And The Arab Man&rsquo;s Burden</p><p Style="line-height: Normal;" Class="contents">24: Partners: The Ultimate Trojan Horse</p><p Style="line-height: Normal;" Class="contents">25: Settlers, Now Think About This Long And Hard</p><p Style="line-height: Normal;" Class="contents">26: Chanukah Corroborations</p><p Style="line-height: Normal;" Class="contents">27: Focus On The Here And Now</p><p Style="line-height: Normal;" Class="contents">28: Samir Kuntar And Other Lessons For The Diaspora</p><p Style="line-height: Normal;" Class="contents">29: Israel Owes Gaza Nothing&mdash;except An Ultimatum</p><p Style="line-height: Normal;" Class="contents">30: No, Mr. Jihadi, Gaza Isn&rsquo;t Warsaw</p><p Style="line-height: Normal;" Class="contents">31: Between Ankara And Jerusalem</p><p Style="line-height: Normal;" Class="contents">32: Hamas, Gaza, And The Unn (united Nauseating Nations)</p><p Style="line-height: Normal;" Class="contents">33: The Saudi &ldquo;peace&rdquo; (of The Grave) Plan: An Offer Israel Must Refuse</p><p Style="line-height: Normal;" Class="contents">34: Ahmadinejad: Liar, Hypocrite, Or Just Islamist Iranian Stooge?</p><p Style="line-height: Normal;" Class="contents">35: Right Concept, Flawed Analogy, Done Purposely</p><p Style="line-height: Normal;" Class="contents">36: Proclaim Liberty Throughout The Land: The Israel Aid Issue</p><p Style="line-height: Normal;" Class="contents">37: If Jews Had Any Brains, They&rsquo;d Be Christians. (now, Don&rsquo;t Be Offended)</p><p Style="line-height: Normal;" Class="contents">38: Gandhi, Mumbai, And Beyond</p><p Style="line-height: Normal;" Class="contents">39: Why Is This So Hard To Understand?</p><p Style="line-height: Normal;" Class="contents">40: Jesus&rsquo; Bones: So, My Friends, How Does It Feel?</p><p Style="line-height: Normal;" Class="contents">41: Reports From The Inside: The Real Problem With President Obama&rsquo;s Khalidi</p><p Style="line-height: Normal;" Class="contents">42: Who Won&rsquo;t Be Making Jokes About Wmd</p><p Style="line-height: Normal;" Class="contents">43: Attention Ap And All You Mainstream Media Folks!</p><p Style="line-height: Normal;" Class="contents">44: Kurds, Jews, And Shi&rsquo;a Shoes</p><p Style="line-height: Normal;" Class="contents">45: The Litmus Test (national Public Radio And Israel)</p><p Style="line-height: Normal;" Class="contents">46: Tall Ships, Netanyahu, And America</p><p Style="line-height: Normal;" Class="contents">47: If It&rsquo;s Bike Week, It Must Be Kristof (juan Cole Vs. Daniel Pipes)</p><p Style="line-height: Normal;" Class="contents">48: The Pot Calling The Kettle Black&mdash;memories Of Old Athens</p><p Style="line-height: Normal;" Class="contents">49: Hugo&rsquo;s Peace Plan</p><p Style="line-height: Normal;" Class="contents">50: Ya Mustapha: Wrapping It Up (for Now)&hellip;et Tu, Czechs?</p><p Style="line-height: Normal;" Class="contents">notes</p><p Style="line-height: Normal;" Class="contents">bibliography</p></p></div>
Bestsellers in Christian Worldview